Wondering what to do with an empty wine bottle, besides recycle it? If you want to upcycle a wine bottle (or create a beautiful wine bottle holder for a gift), then you'll love this easy DIY macrame wine bottle hanger.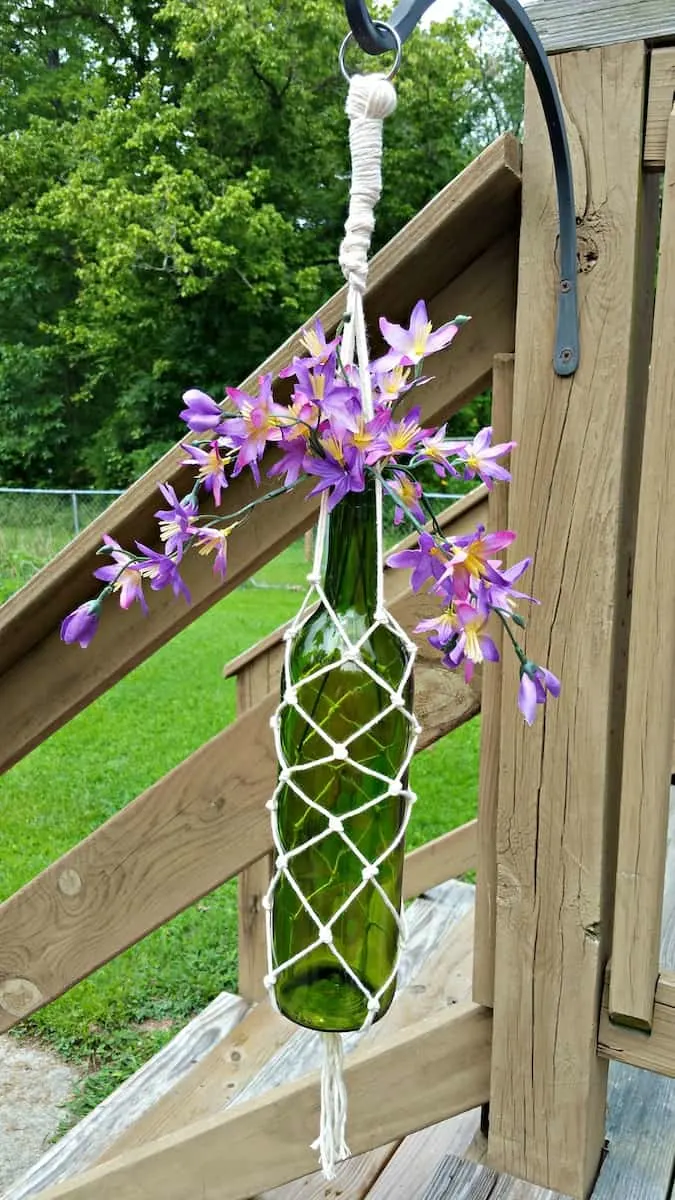 I used this tutorial to make a hanging wine bottle vase. But you can use this wine bottle hanger works in many ways, such as:
Plant holder (cuttings and rooting plants)
Decorative gift idea for giving wine
Hanging lights (if filled with battery operated lights)
While this craft uses a wine bottle, you can use any type of large bottle, such as:
Champagne bottle
Glass soda bottle
Olive oil bottle
Liquor bottle
Related Posts: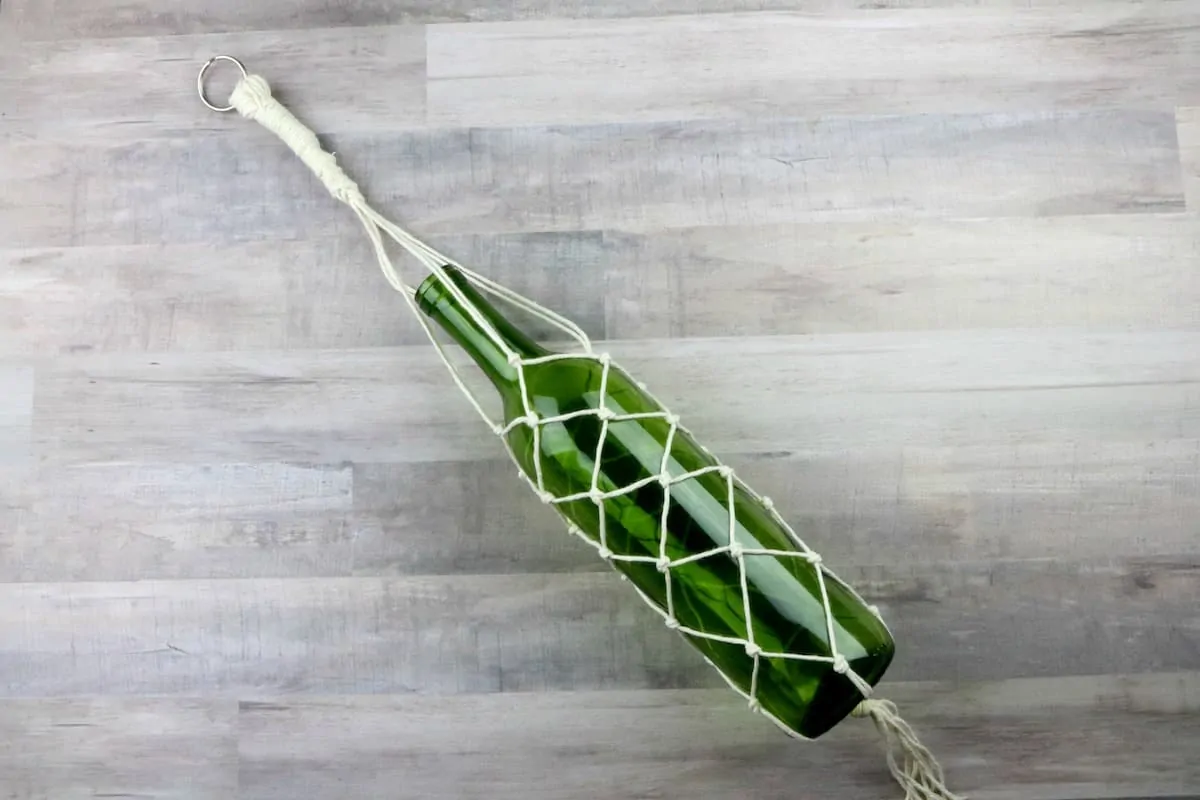 If you like crafts to hang in the window, you'll love our DIY suncatchers, too!
And you'll want to see my DIY macrame coasters and rainbow macrame wall hanging, too.
How to Make a Macrame a Wine Bottle Holder
Supplies
Wine Bottle (empty and cleaned if making a plant holder)
Scissors
Large Ring (such as a key ring)
Fluted cake pan (optional)
Tape (optional)
Small Crochet Hook (optional)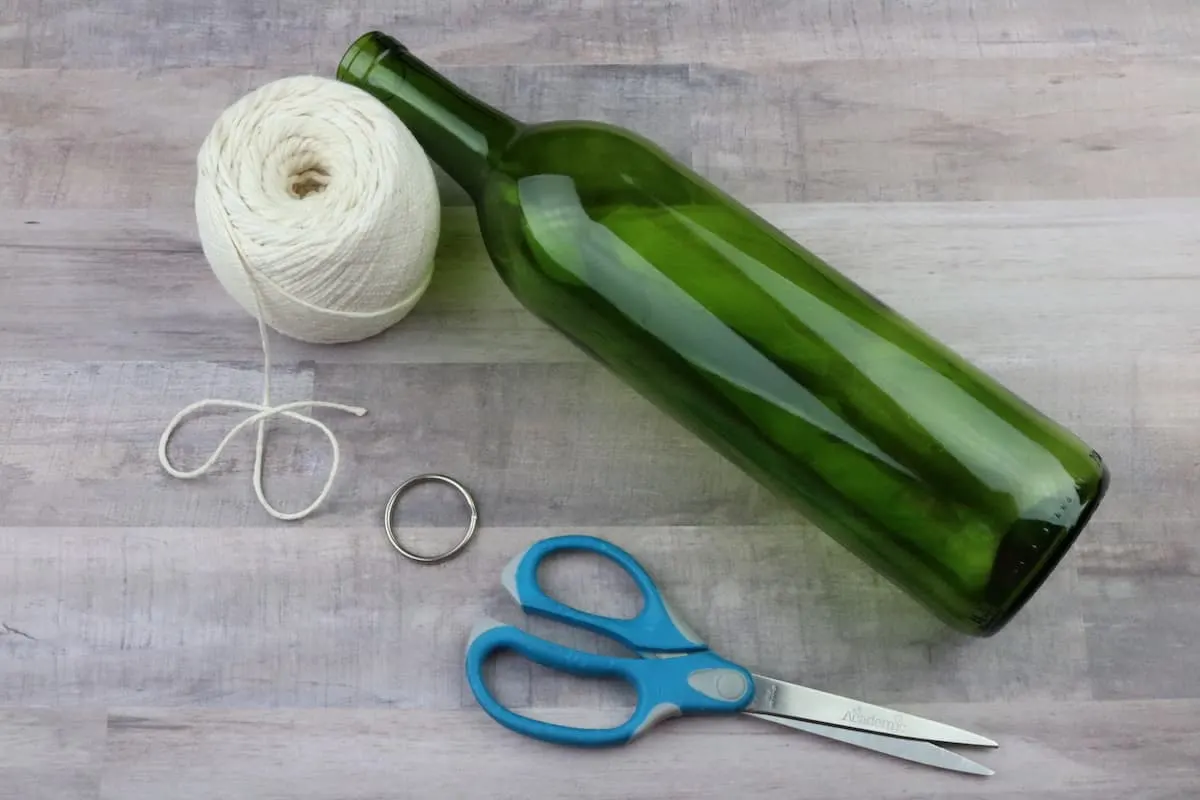 Directions
Cut eight 80-inch pieces of twine.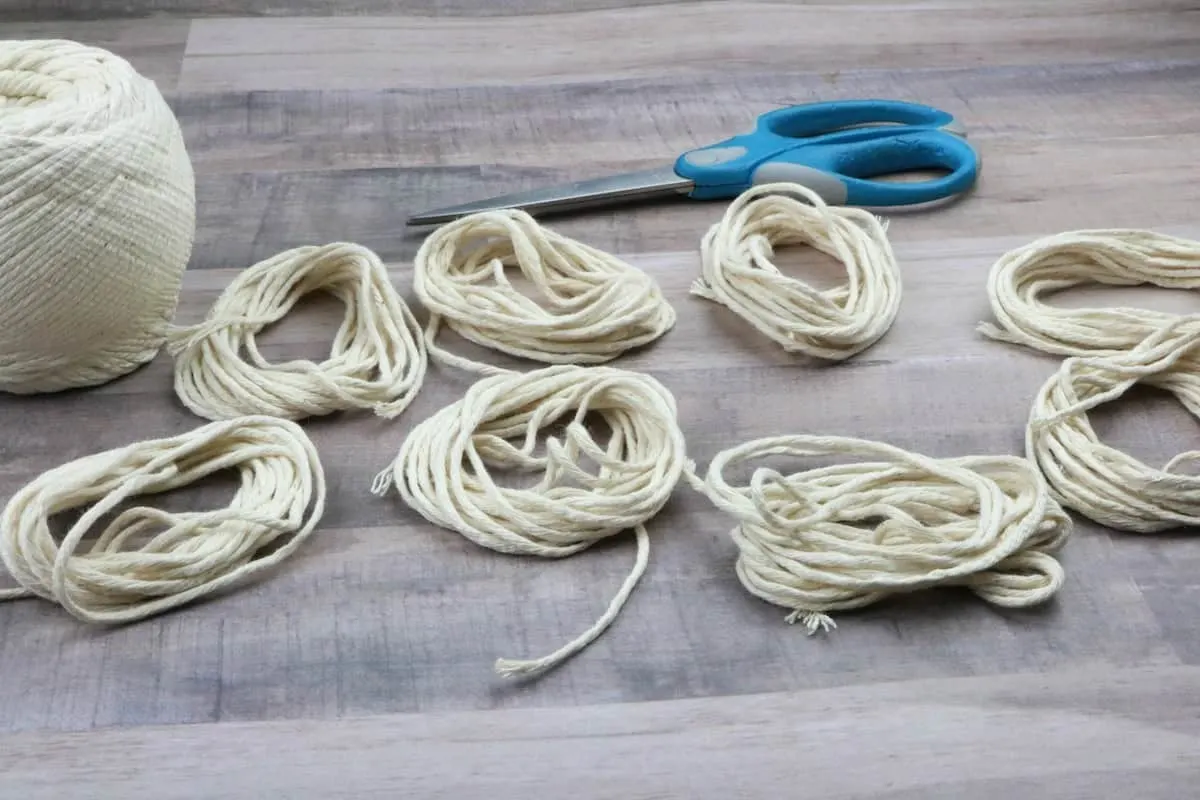 Gather each of the cut pieces of twine at one end. Tie in a knot.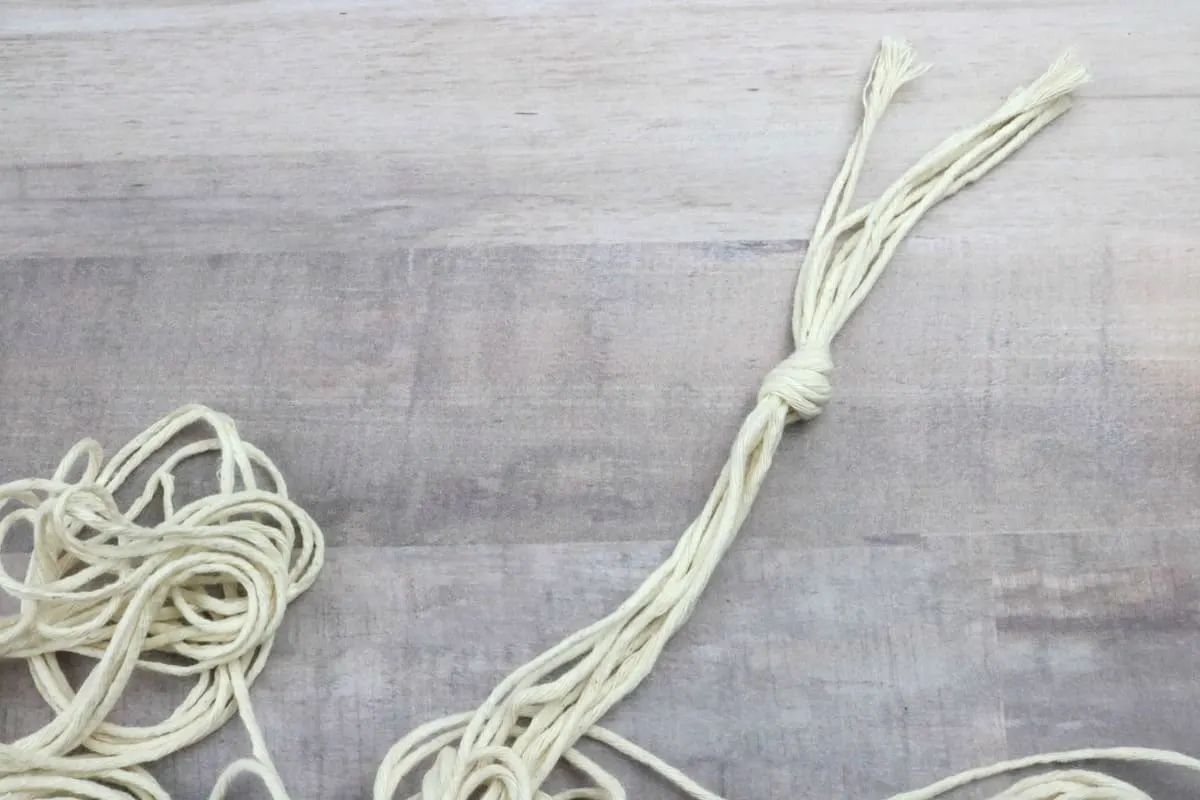 Place the bottle upside down in a fluted cake pan or another type of object that can keep it steady. Place the knot of the twine on the bottom of the bottle and tape in place with four strands of twine hanging on each side.
You don't have to use tape but I did find it helpful to keep the twine from moving around.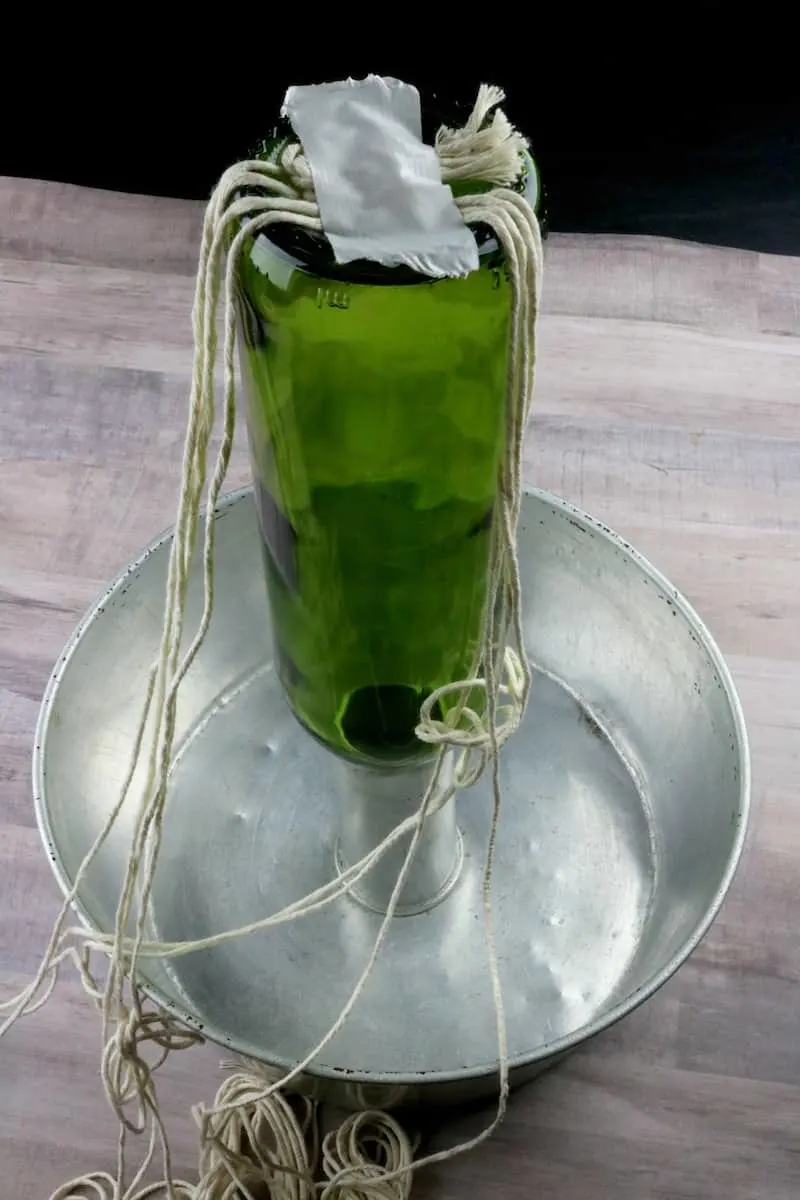 Straighten the twine pieces so they are spread out around the bottle.
Then gather two pieces of the twine that are side by side and knot them together about 1 inch down the side of the bottle.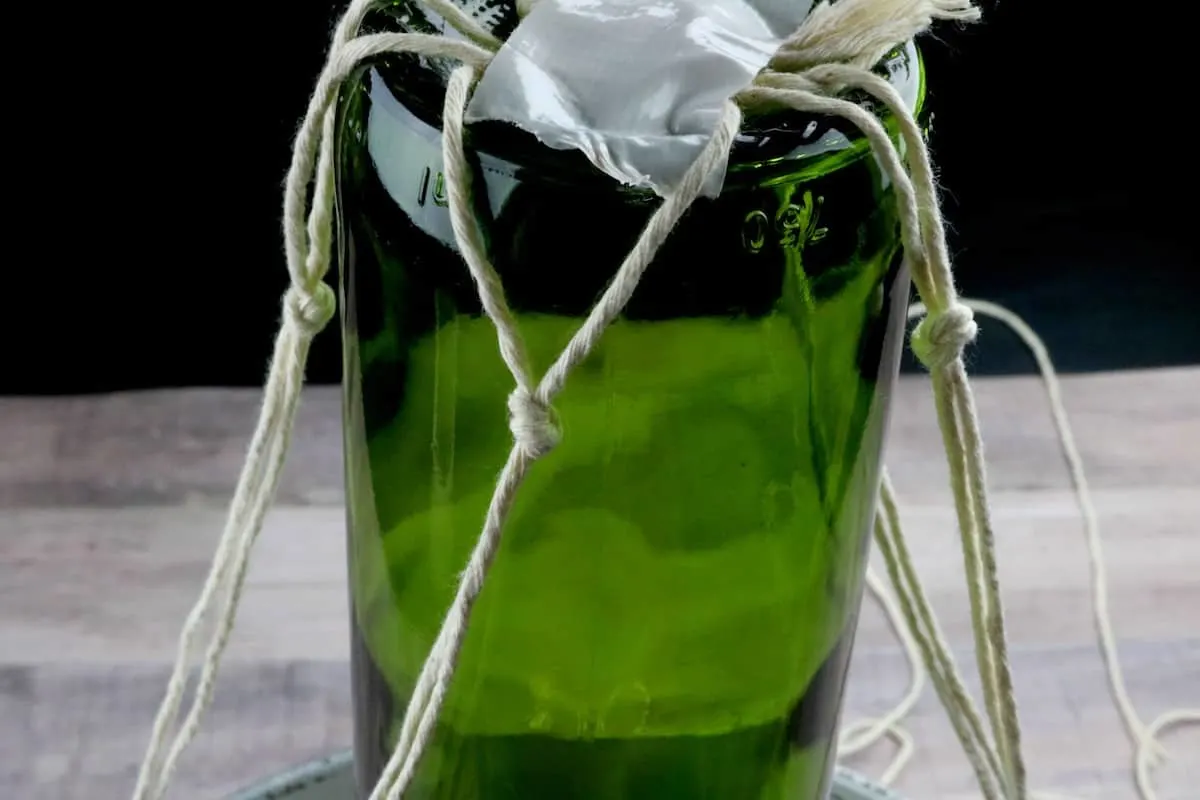 Repeat that step with the other pieces of twine until you have a total of 4 knots hanging on the side of the bottle.
Now grab one string from one knot on the left and a string from a knot on the right. Tie the two strings together making another knot.
You will be able to start seeing what looks like a net starting to be created.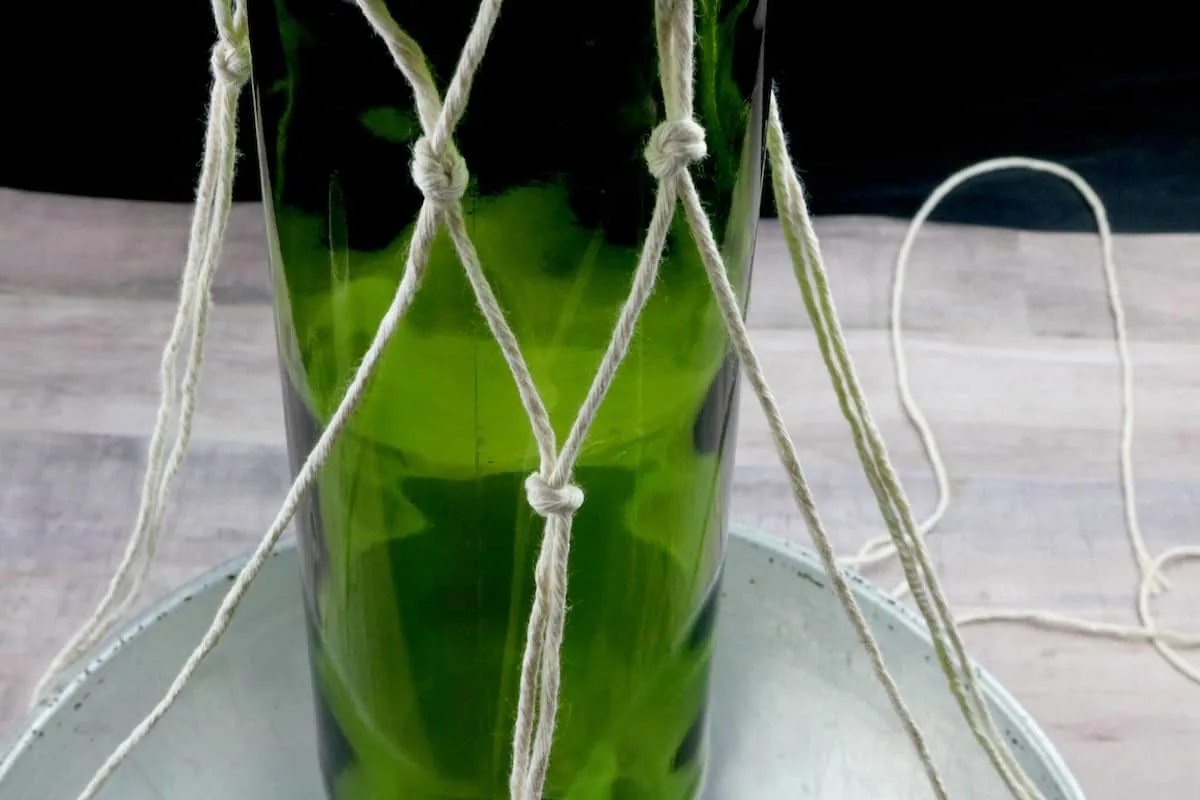 Keep repeating this step working your way around the bottle. Then move down doing the same thing to cover the whole bottle in netting.
Finish creating knots when you get to the neck of the wine bottle.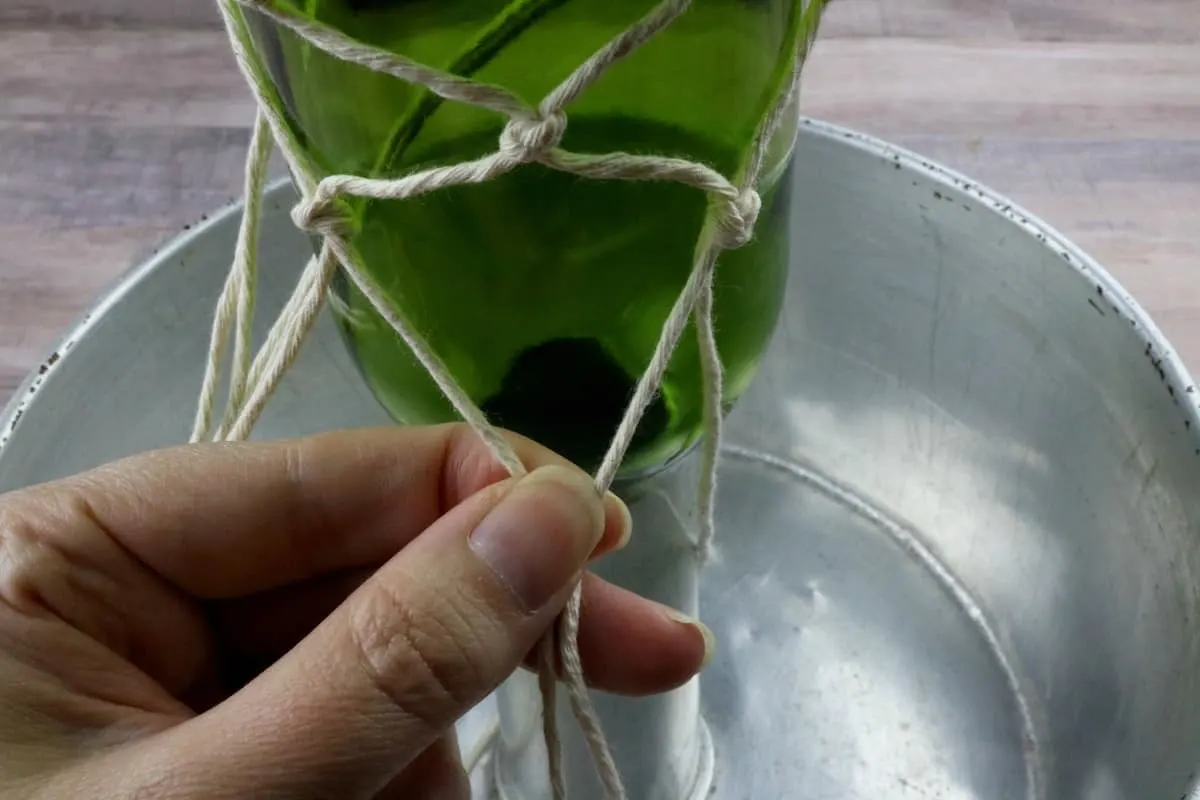 Remove the bottle from the pan. Turn the bottle over or on its side.
Pull all four knotted sections of string evenly together and tie in a knot about 3-4 inches from the end of the bottle.
About 3 inches up from that knot, loop the twine through the ring and tie in a knot.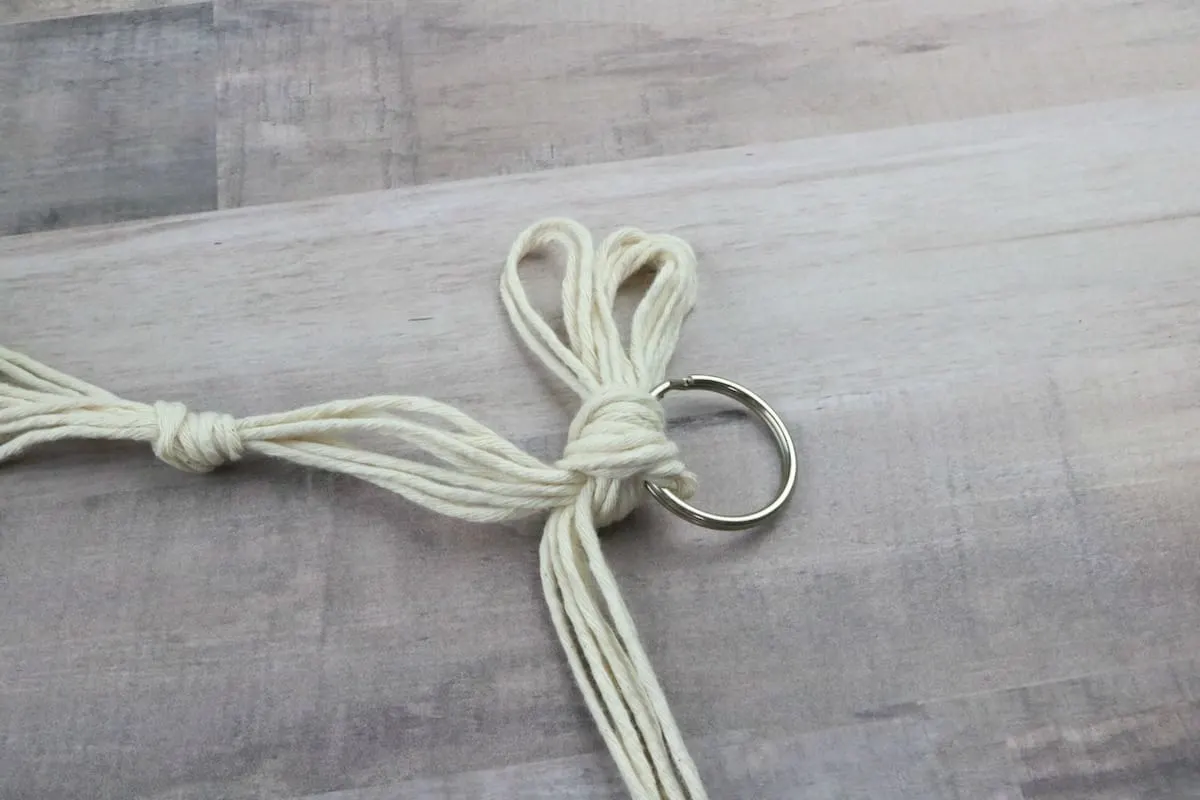 Cut the rest of the loose twine off to about the same length of twine that is left from the knot.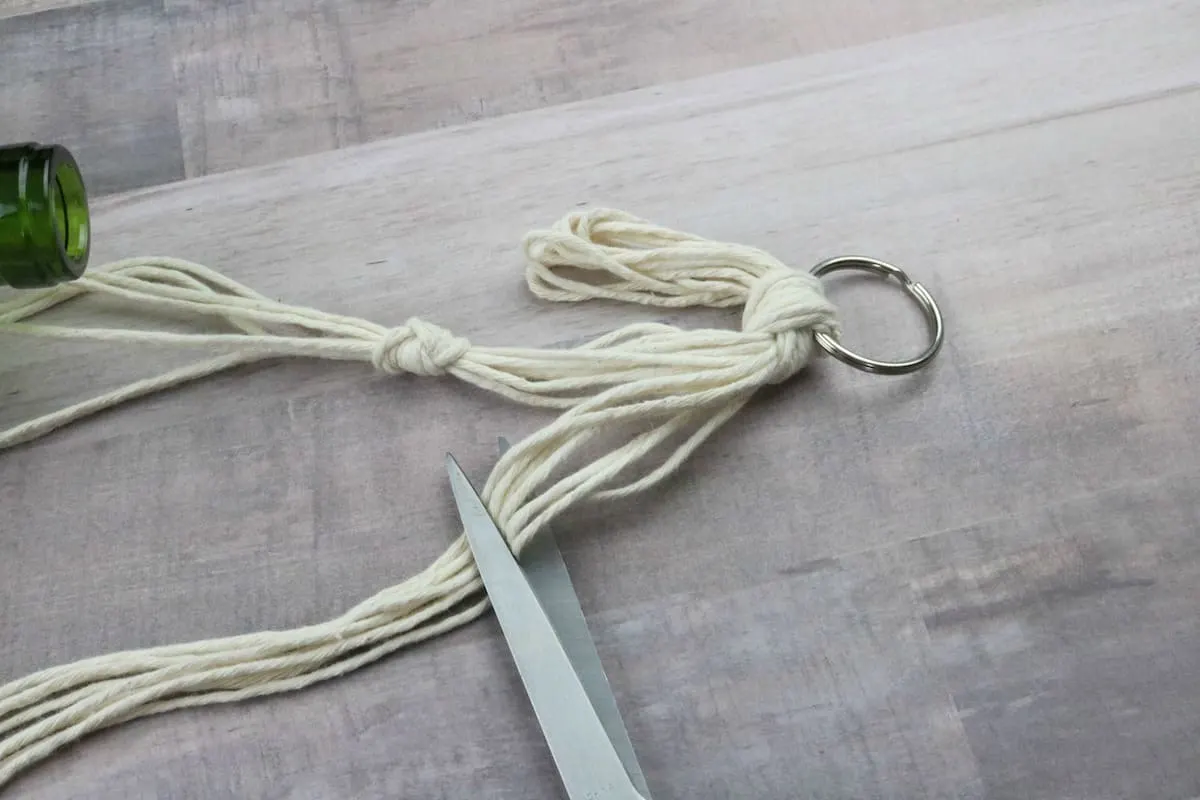 Take a loose piece of twine and tie it tightly around the loose ends from the knot and the ones you just cut.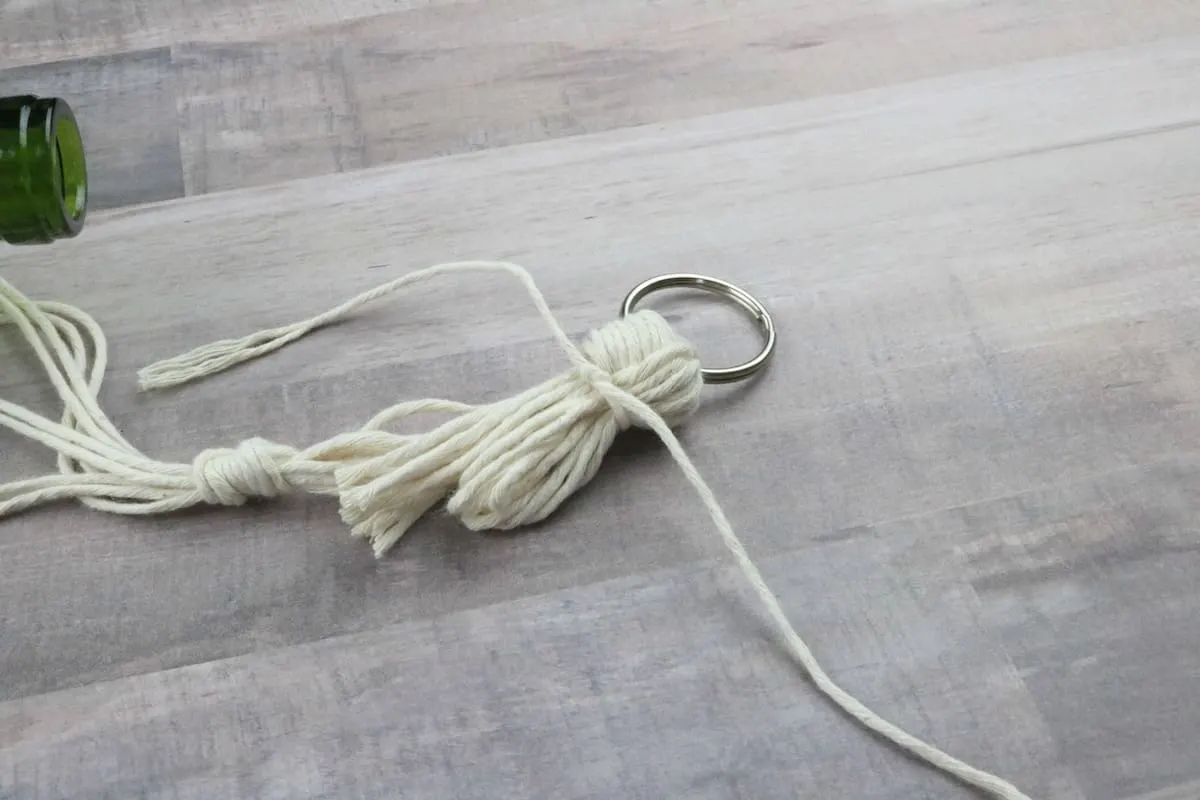 Start wrapping that tied twine around the loose ends working your way down to the knot in the twine. When you get to that knot tie it off.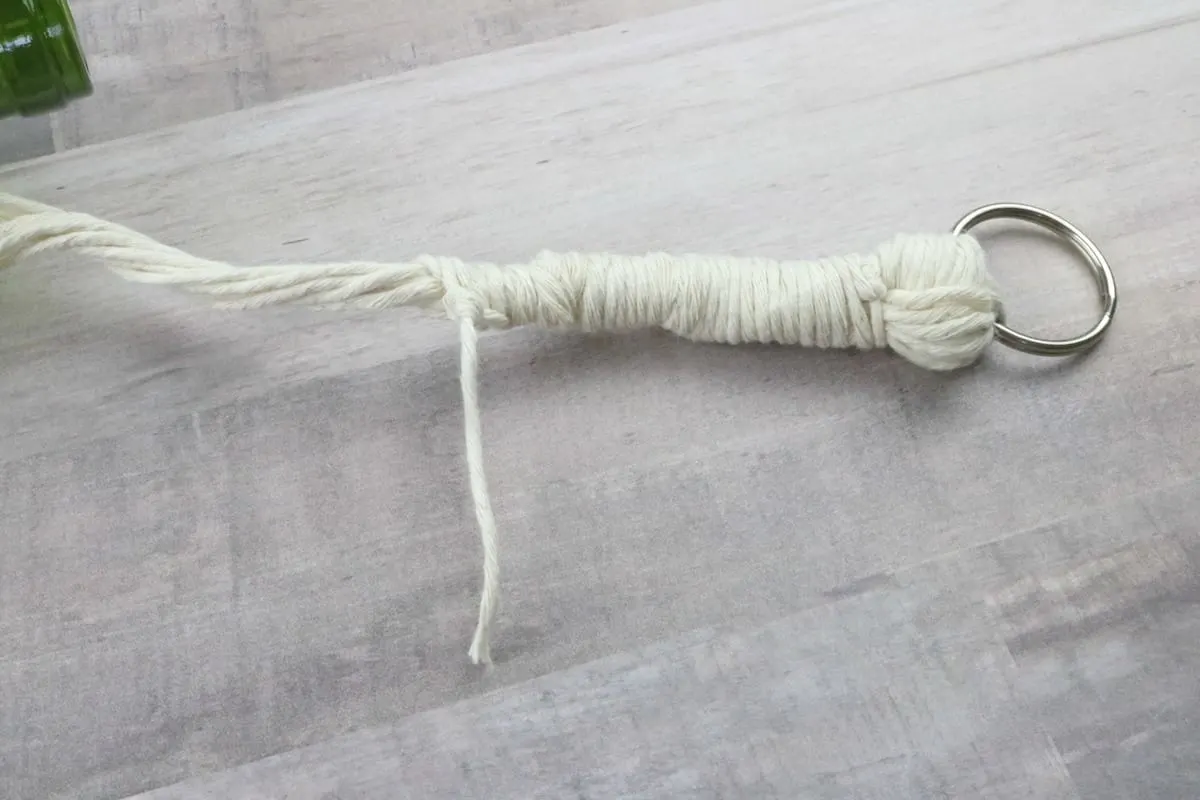 Now you can either just clip off the rest of the twine and leave as is, or hide it.
To hide it, I tucked it back under those wrapped pieces using a crochet hook.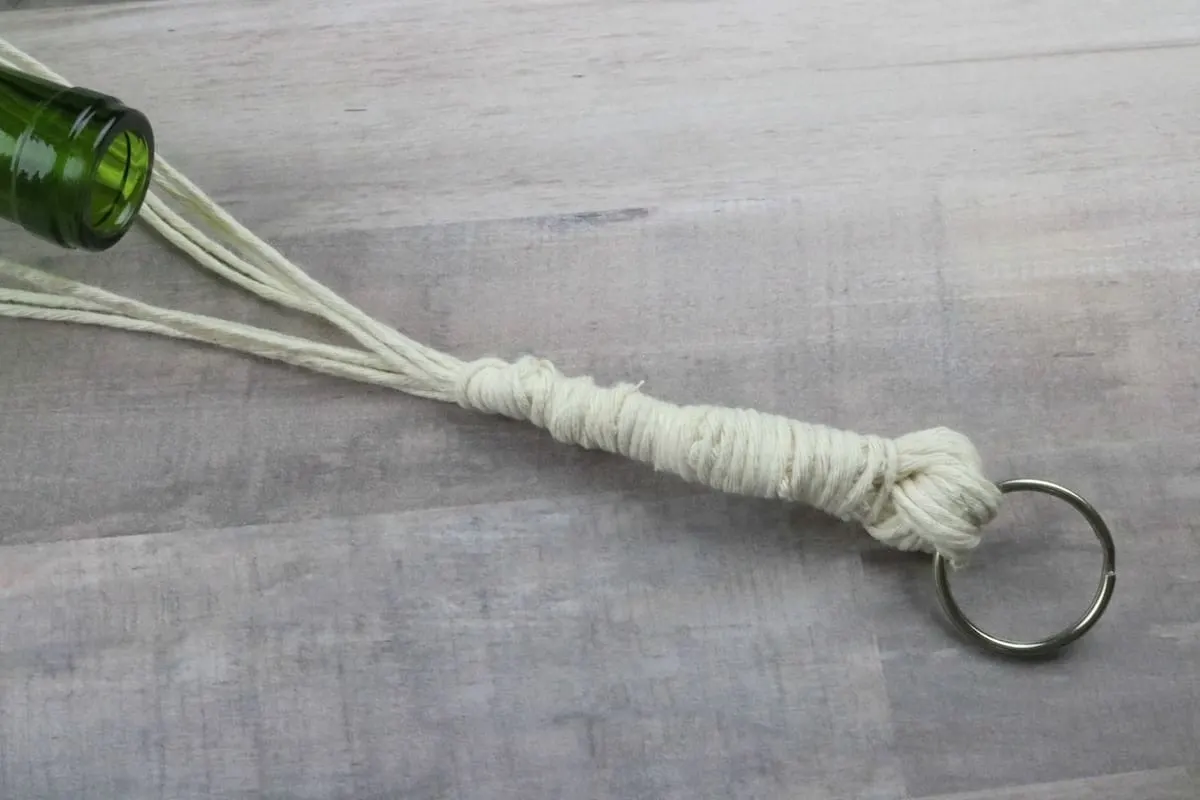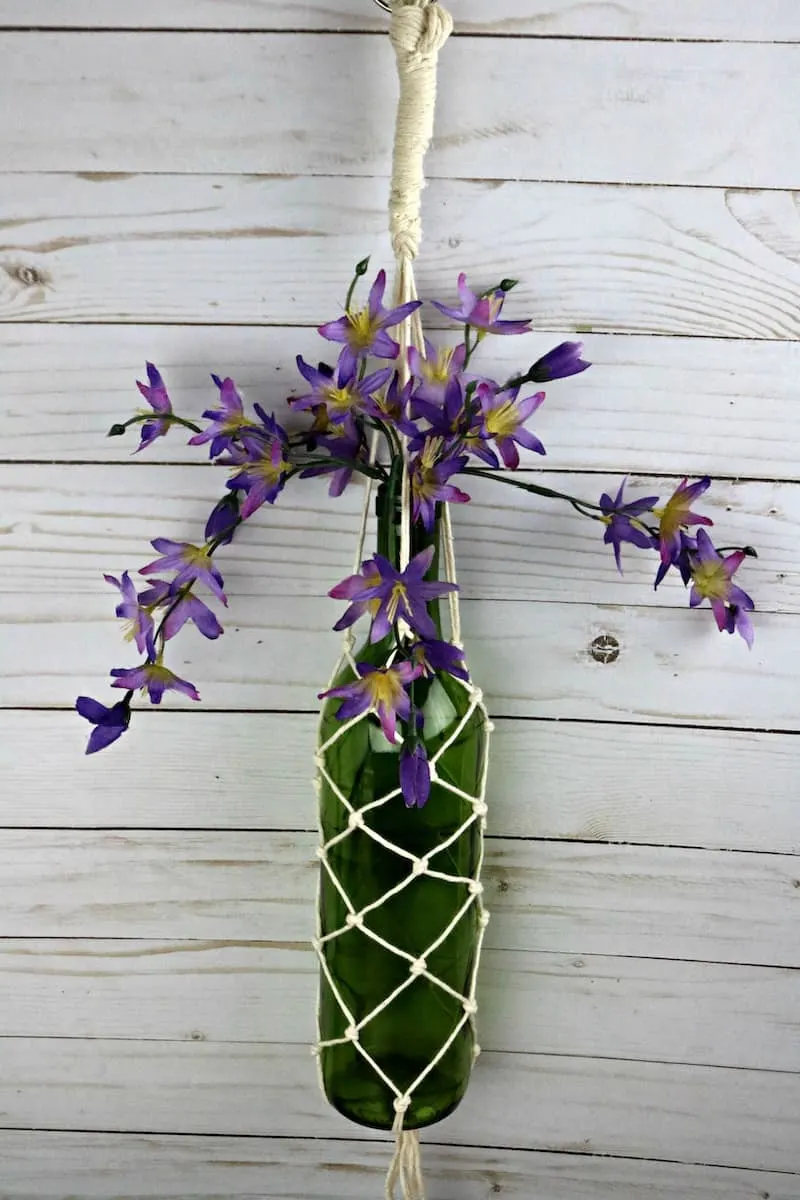 Want more upcycling crafts? I think you'll like these: