If you love a gentle fragrance wafting through the air, then you will want to make this easy DIY Reed Diffuser.
While you can diffuse essential oils with an electronic diffuser, sometimes it's nice to have something simple that you don't need to remember to plug in!
This homemade essential oil diffuser also makes a great, thoughtful gift!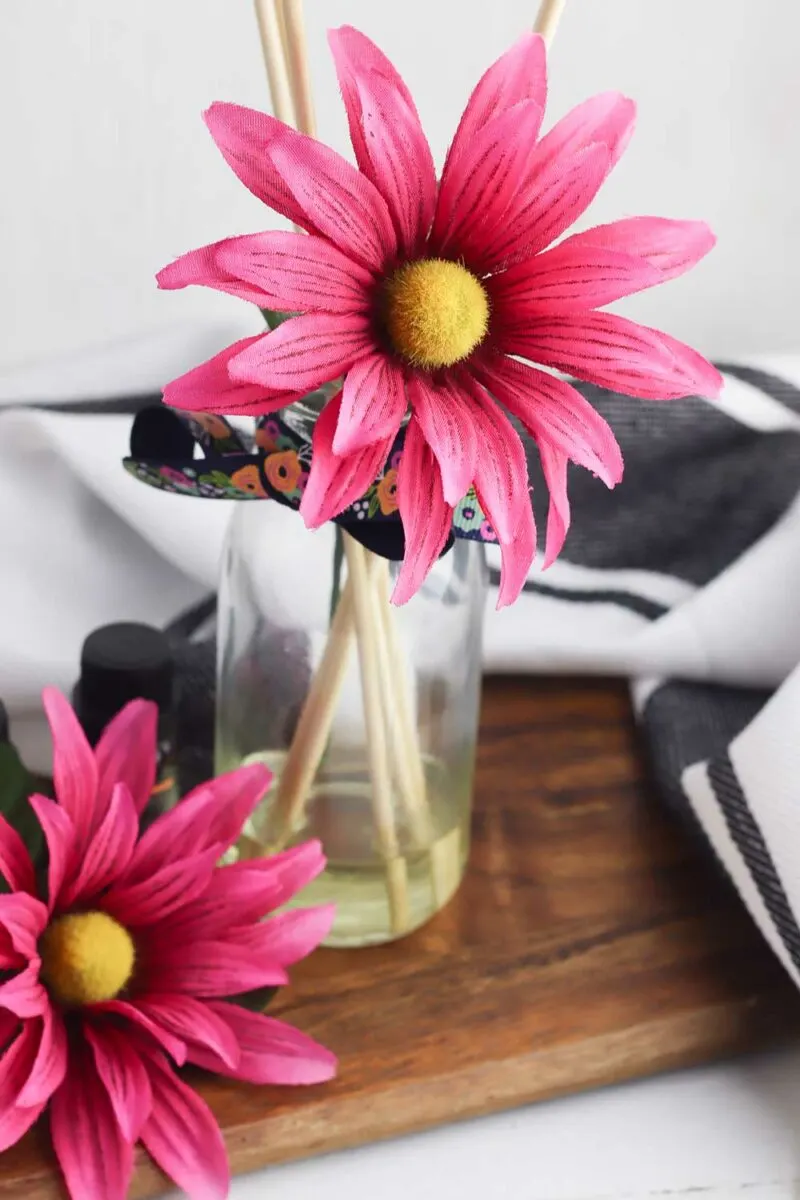 This reed diffuser would be perfect added to a woman's closet or a linen closet to add a gentle fragrance.
Best Type of Bottle To Use
It is important to use a bottle with a narrow opening and not a wide opening, such as a mason jar. The wider the opening, the more quickly the fragrance will escape out of the bottle.
I used a cute glass milk bottle for my diffuser. Any small mouth vase will work. Look for inexpensive ones at thrift stores or craft stores. Do not use a plastic bottle as essential oils and alcohol could eat away at the plastic over time.
Darker glass, such as amber glass or cobalt blue glass, will definitely keep sunlight from breaking down your essential oils more quickly. However, if your diffuser is not in direct sunlight, your essential oils will probably be fine for the short amount of time that they would be in the diffuser.
Reed Sticks Vs. Bamboo Skewers
Is it better to use bamboo skewers or reed sticks for a DIY diffuser? Bamboo skewers are cheaper and easier to find. However, reed diffuser sticks or rattan reeds are made specifically for better diffusing of essential oils. They have larger holes in the ends which allows the fragrance oil to travel up the entire reed.
Yes, bamboo skewers used for grilling (used for shish kebabs) can be used as reed diffusers. They might be less expensive if you get them at a dollar store, but they have fewer holes for the essential oil to travel though. You will need to replace them more often and the scent will not be as strong.
To be honest, you're not going to get much fragrance using bamboo skewers, but they will work in a pinch. Reed diffuser sticks cost about $6 for 100 reeds. (There are also black reed sticks, which you might prefer for your decor.)
Best Carrier Oil for a Diffuser
It is important to use a thin liquid oil to allow the oil to travel up the reeds to diffuse the scent. Fractionated coconut oil remains liquid, unlike coconut oil used for cooking, which will harden.
Coconut oil used for baking also has a stronger scent, too, which you don't want for your carrier oil. While fractionated coconut oil does not have a strong scent.
Sweet almond oil is also a great oil that remains liquid. And it is a thinner oil compared to others. It has no smell to it, so it won't affect the fragrance of the essential oils.
You would not want to use olive oil or canola oil, because it would impart its own scent with the essential oils.
Baby oil is also an option, however it could have an overwhelming fragrance to it. Definitely be sure to get an unscented variety.
Why Use Rubbing Alcohol in a Diffuser?
Rubbing alcohol (also called isopropyl alcohol) is used in DIY reed diffusers to thin the carrier oil so that it easily absorbs into the reeds. Any scent of the rubbing alcohol will quickly dissipate. The essential oils will mask any alcohol scent that could possibly remain.
It is important to use a rubbing alcohol with at least 90% alcohol in it. Some brands contain less. The stronger concentration will thin the oil more effectively.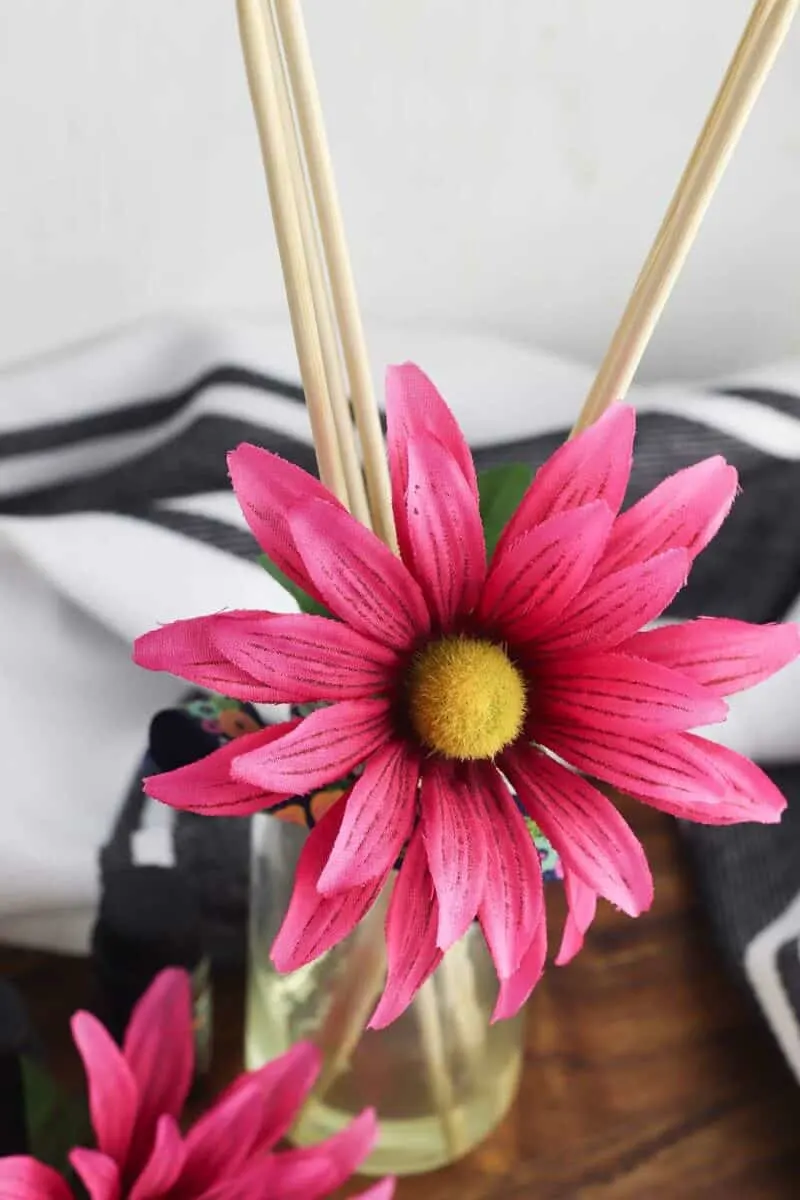 How to Make a Reed Diffuser
Supplies
Small glass bottle with a narrow opening
1/4 cup carrier oil, like almond oil or fractionated coconut oil
1 Tablespoon rubbing alcohol (make sure it's at least 90% alcohol)
30-50 drops of essential oils
Ribbon (optional)
Faux Flower (optional)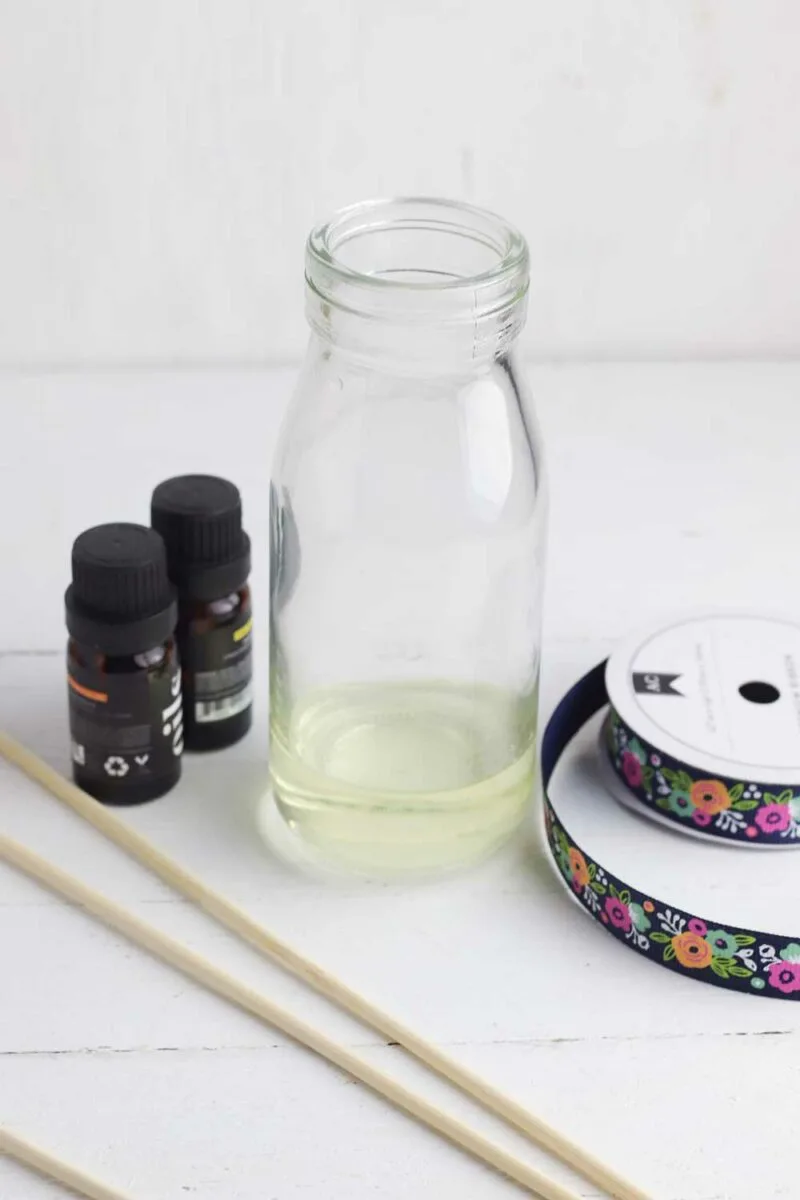 Instructions
Step 1
Add oil and alcohol to the glass bottle using a funnel. Then add a total combination of 30 to 50 drops of your favorite essential oil or a blend of oils. For instance if you wanted a cinnamon and orange spice fragrance, add 15 drops of cinnamon and 15 drops of orange essential oil for a total of 30 drops.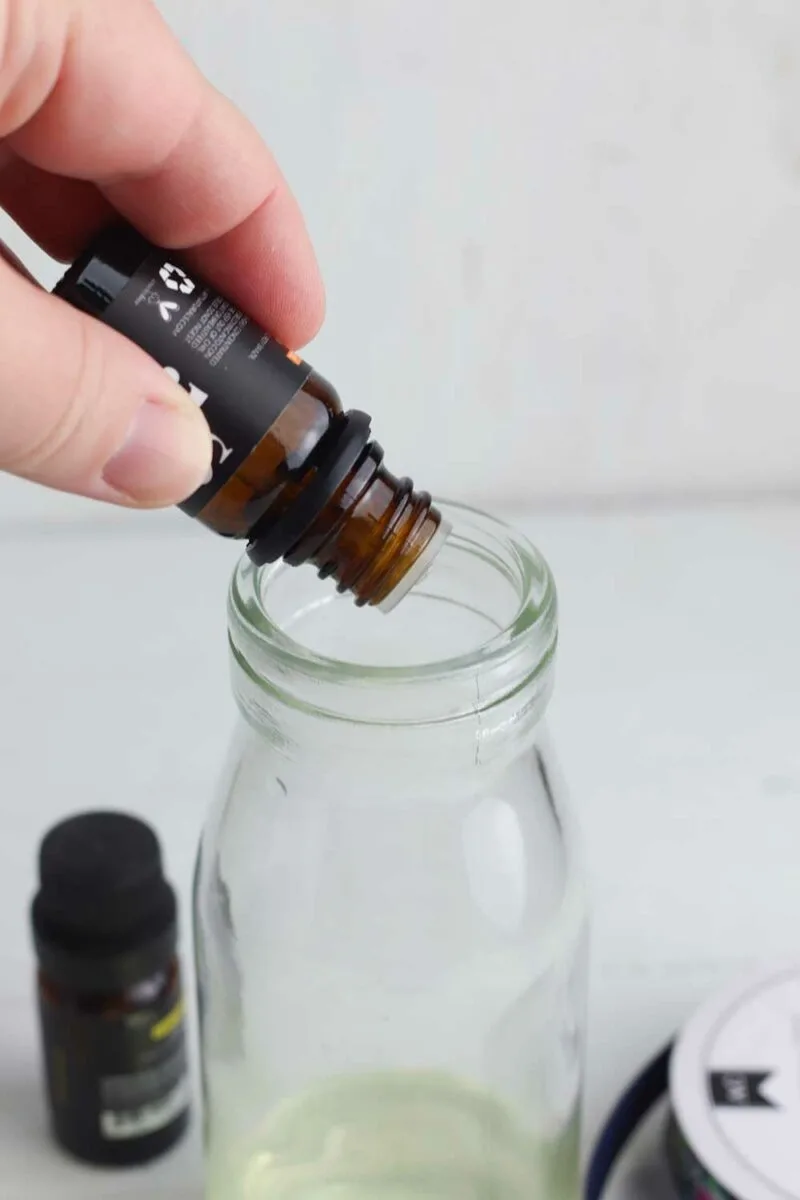 Step 2
Carefully stir with a reed or shake the bottle to combine the ingredients.
Step 3
Place about 5-6 skewers or sticks in the bottle, making sure that they are touching the bottom of the bottle to soak up the oil. You could add more sticks if you'd like, but use a minimum of five reeds.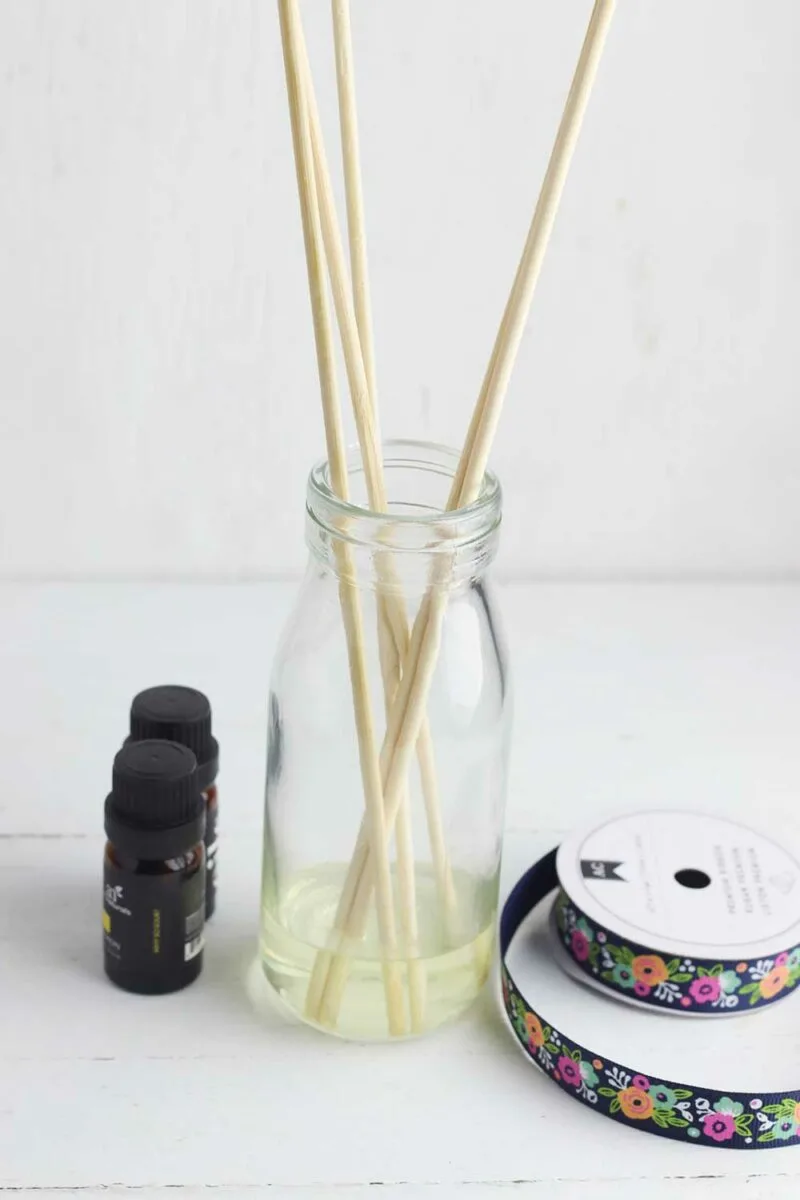 Step 4
Decorate the bottle with a ribbon tied in a bow around the neck and adding a faux flower, if desired.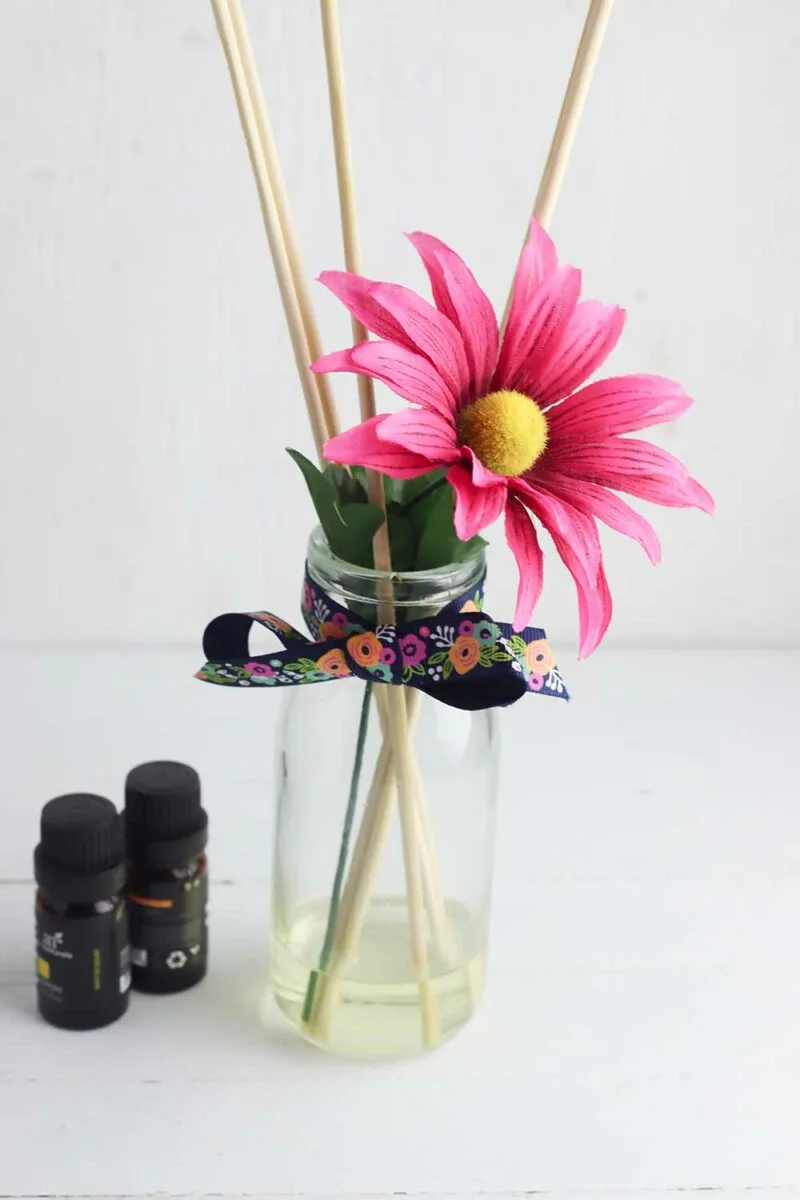 Step 5
Flip the sticks after one hour to fully saturate them. Then flip the sticks once per week to make sure that they are soaked with the essential oils.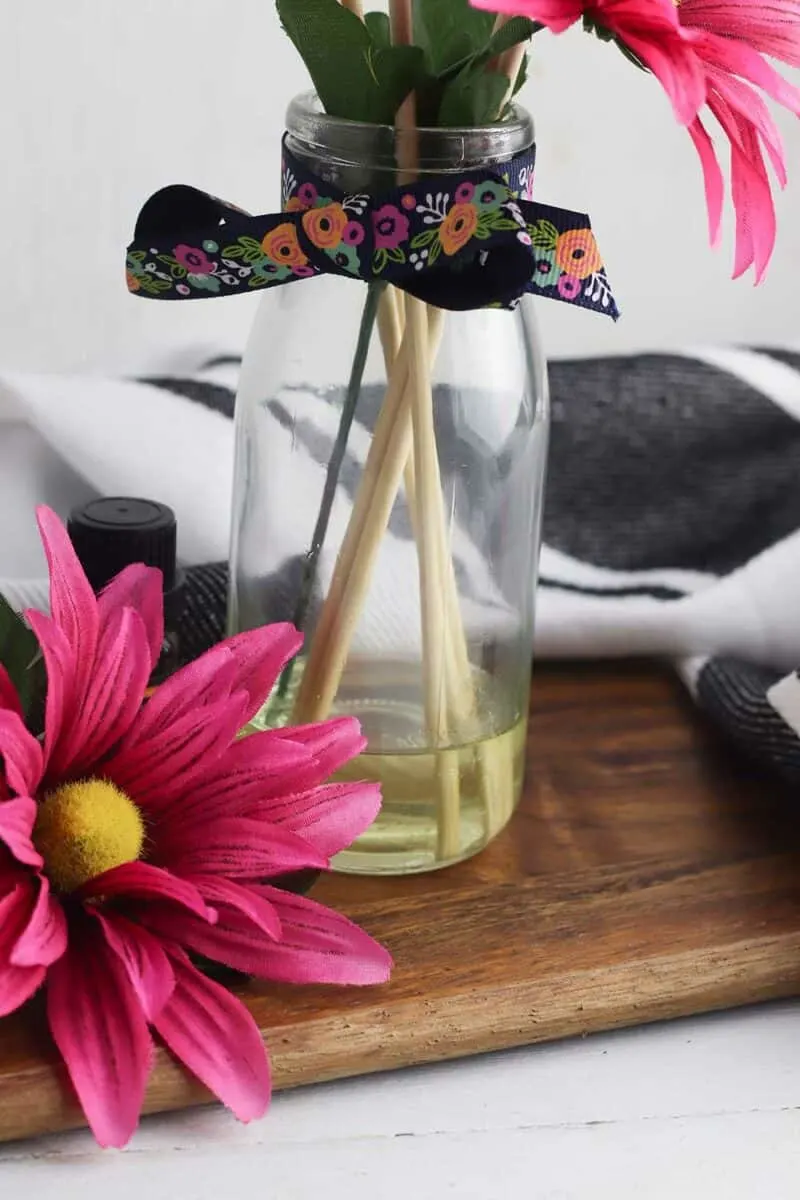 How Often Should I Refill The Diffuser?
If you notice that the reeds no longer smell, even though you keep flipping them once a week, it means that are overly saturated and won't diffuse a scent. Replace the reeds or bamboo skewers using the same method as above. You can keep the same carrier oil in the bottle. Add more essential oils if you would like.
After 2-3 months, you should replace the carrier oil solution and start fresh again.
Fragrance Oils Vs. Essential Oils for Diffusers
What is the difference between fragrance oils and essential oils? Fragrance oils are generally made with artificial fragrances. They are stronger in scent and less expensive. Essential oils are made with all natural ingredients. Their scent can be lighter.
If you choose a fragrance oil rather than an essential oil, use only 5-10 drops at first and see if you like the strength of the scent. Add more if necessary.
---
This homemade reed diffuser makes a thoughtful gift that doesn't cost a lot of money. Here are some more of my inexpensive DIY projects that make great gifts to give: