The best assortment of printable Christmas gift tags to download instantly!
Whether you forgot to get gift tags this year or just didn't like what you saw in the store, these instant download gift tags are sure to be the answer to your gift wrapping needs this year!
All of these gift tags are PDF files that can instantly be downloaded and printed at home or the office.
I've included a variety of different types of holiday gift tags, because each person and each celebration is unique. The tags include:
Funny Gift Tags
Gift Tags with Gift Card Pockets
Christmas Scripture Gift Tags
Boho Gift Tags
12 Days of Christmas Gift Tags
Hygge Holiday Tags
Four Gifts of Christmas printable tags
North Pole Shipping Label Gift Tags
Layered Christmas Gift Tags
Modern Holiday Gift Tags
Christmas Eve Box Labels and Tags
Geometric Tree Gift Tags
Disney Christmas Gift Tags
Retro Gift Tags
Winter Break Gift Tags
See our big list of 101 Ideas for Christmas Gift Tag Sayings for just the right words to write on your tags or in cards.
Funny Gift Tags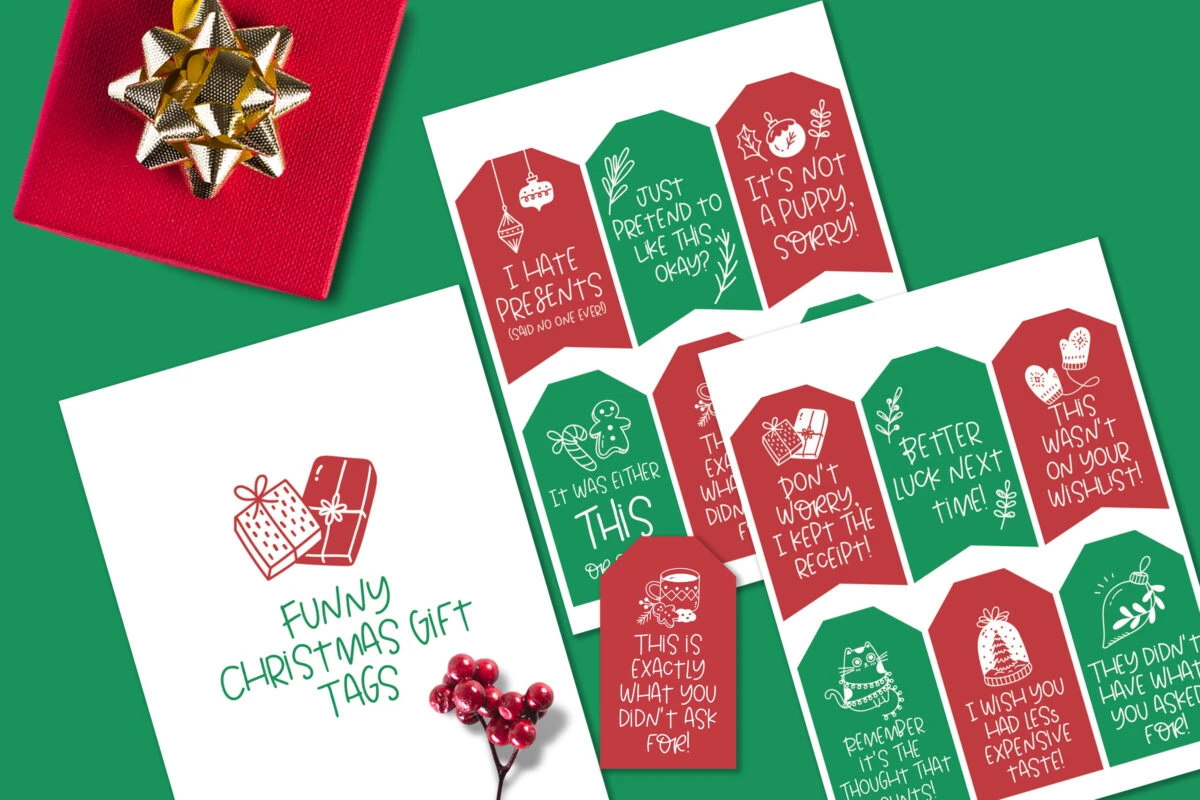 These funny printable Christmas gift tags will make them smile – or be confused – when they open your gift! There are 12 different humorous sayings on red or green gift tags.
Gift Tags with Gift Card Pockets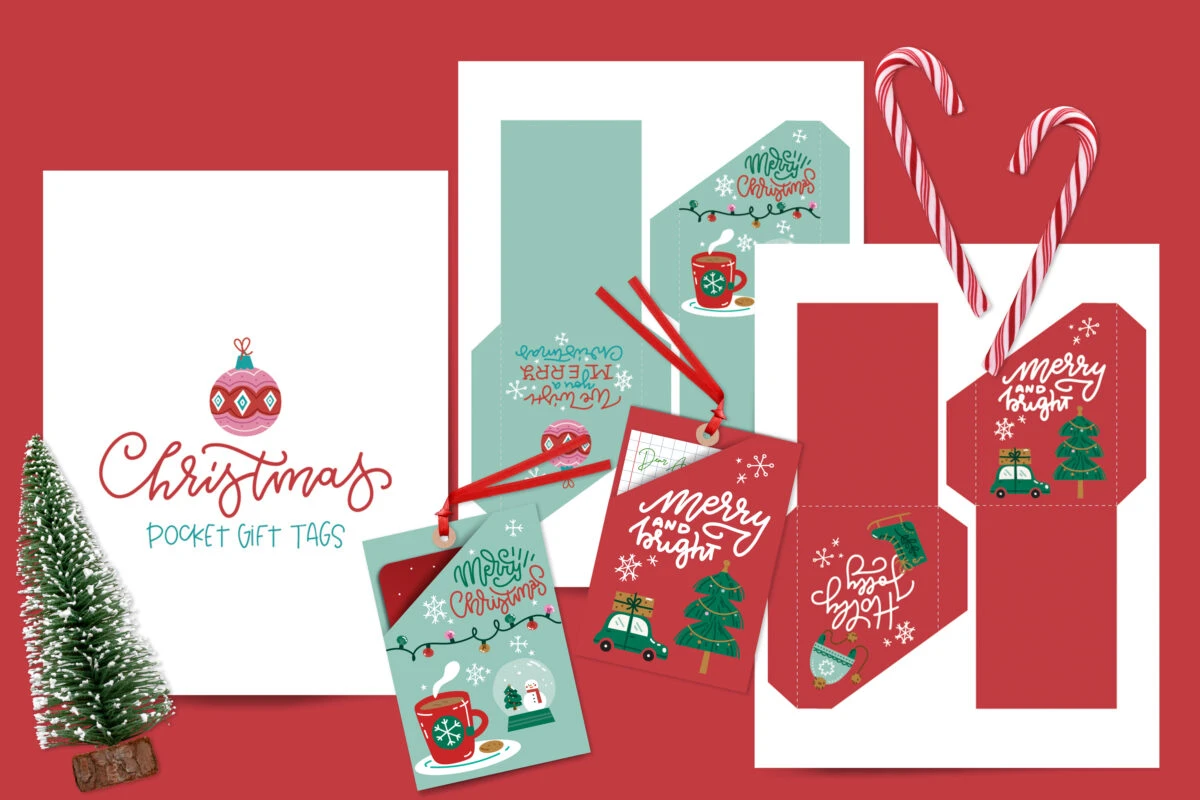 These pretty Christmas gift tags with pockets are perfect for inserting a gift card.
Or stick some stickers, a poem, a hand written note, etc. in the pocket.
These would be perfect to attach to a plant or succulent, with a gift card to a garden center. Or tie one onto a bag of coffee or tea with a cafe gift card.
Print out the gift card template and fold on the dotted lines to assemble. Then glue or tape together.
Christmas Scripture Gift Tags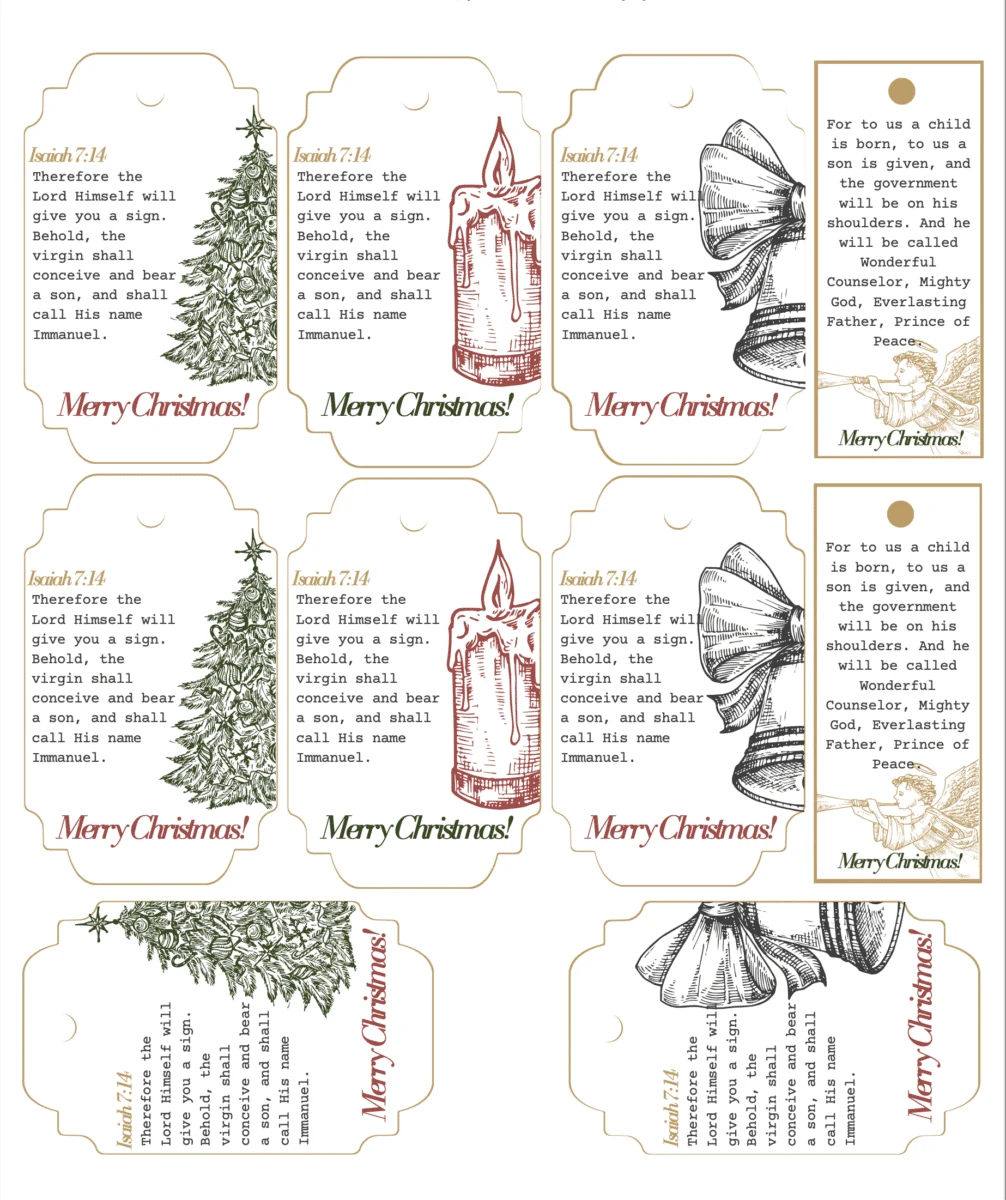 These elegant Scripture gift tags have a Bible verse on each tag. Four unique designs on one printable sheet.
Boho Christmas Gift Tags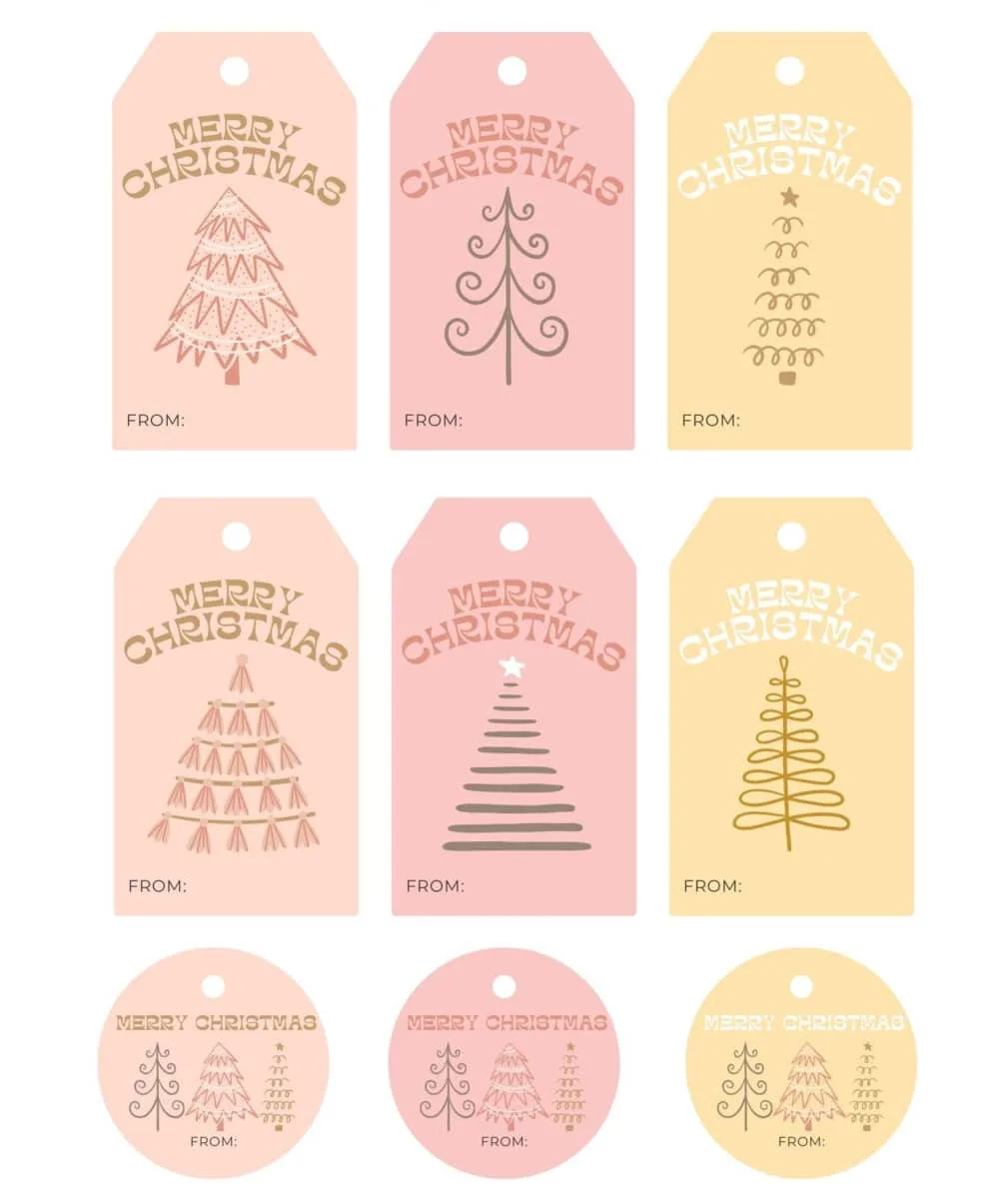 Muted colors, pastels and a vintage vibe is what you will get with these boho Christmas gift tags. Nine different designs on one printable sheet.
12 Days of Christmas Gift Tags
If you are giving a gift for each of the 12 Days of Christmas, then these gift tags are perfect for you!
Each tag has the day of the song and an image from the song lyrics.
There is a bonus list of 12 Days of Christmas gift ideas if you are struggling to come up with some gifts for the unique symbols. See our 12 Days of Christmas gift guide for even more ideas not found on this printable list.
Hygge Holiday Gift Tags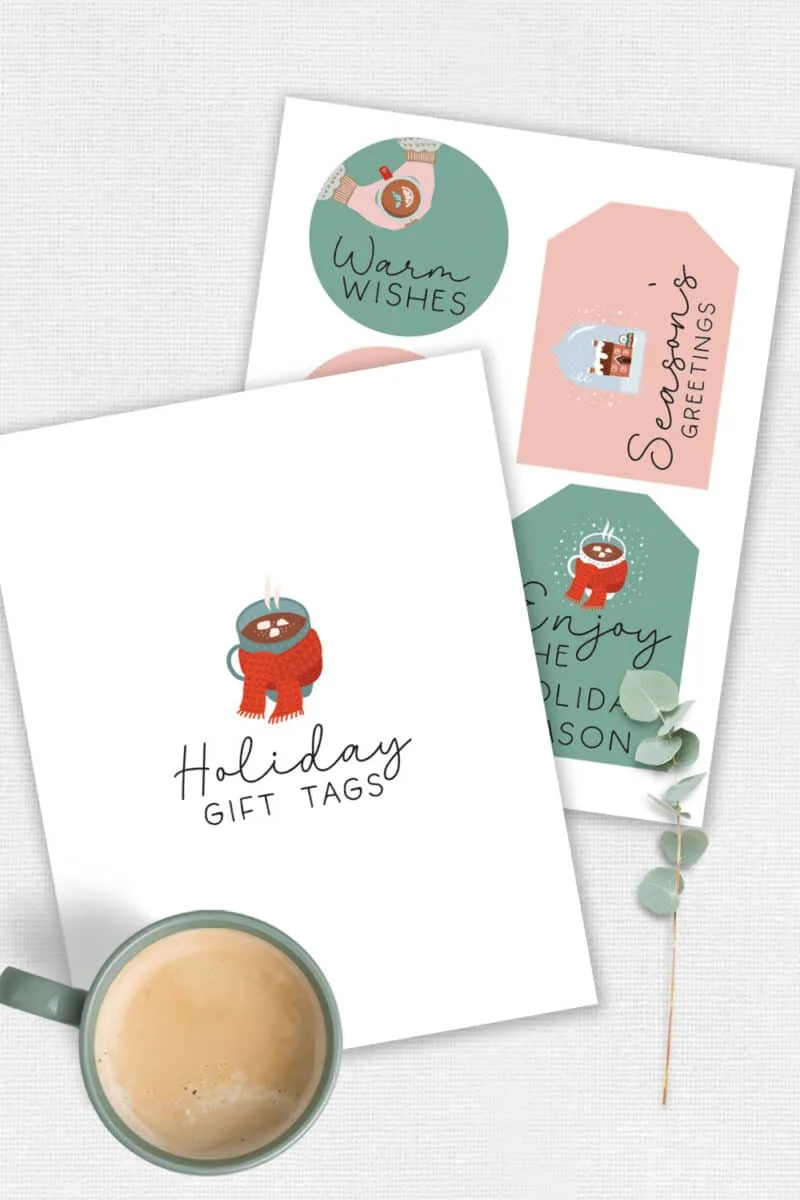 Peaceful, pastel holiday gift tags are perfect for a warm hygge atmosphere! Sage green and pastel pink are muted with cozy images from the holiday season.
Four Gifts for Christmas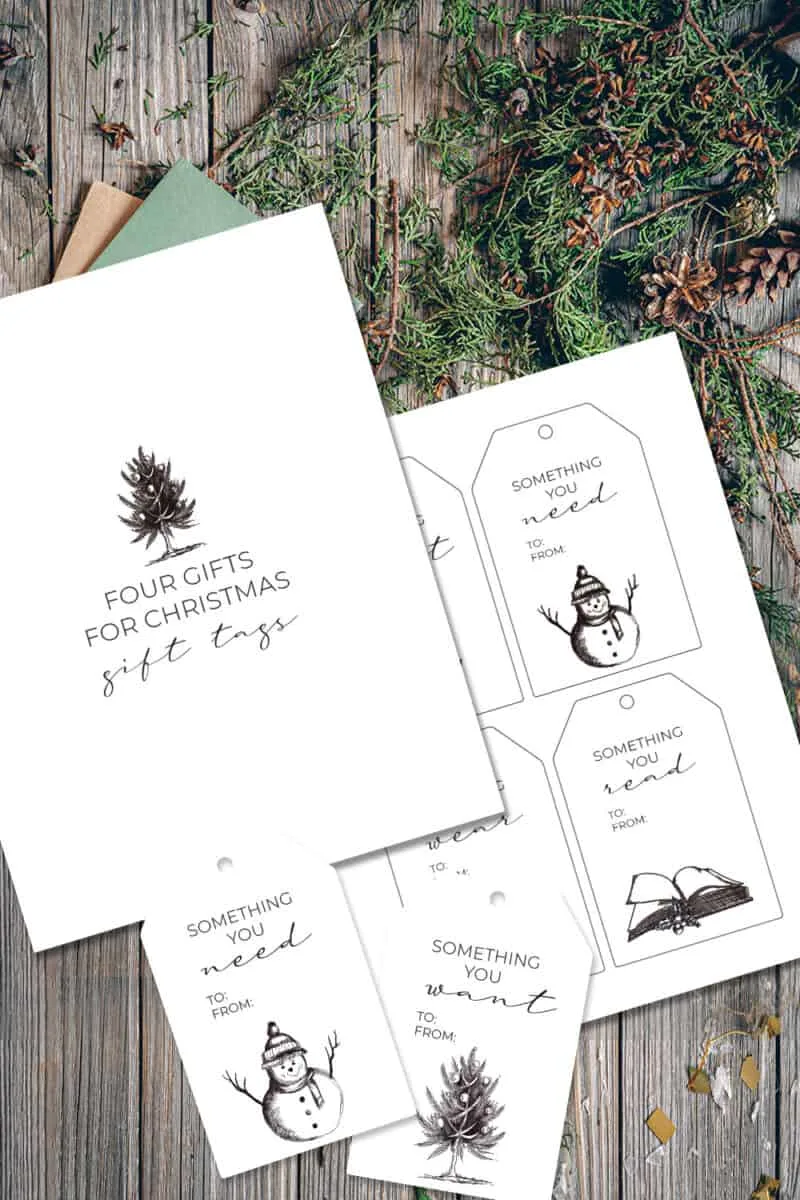 In previous generations, when money was tight, four gifts for Christmas was a popular way of giving presents. Only four items were exchanged, and they were:
Something You Want
Something You Need
Something You Wear
Something You Read
The tradition was a way to give family members the necessities, as well as a few fun items.
Continue this frugal gift-giving with these beautiful Four Gifts of Christmas printable tags.
North Pole Shipping Label Gift Tags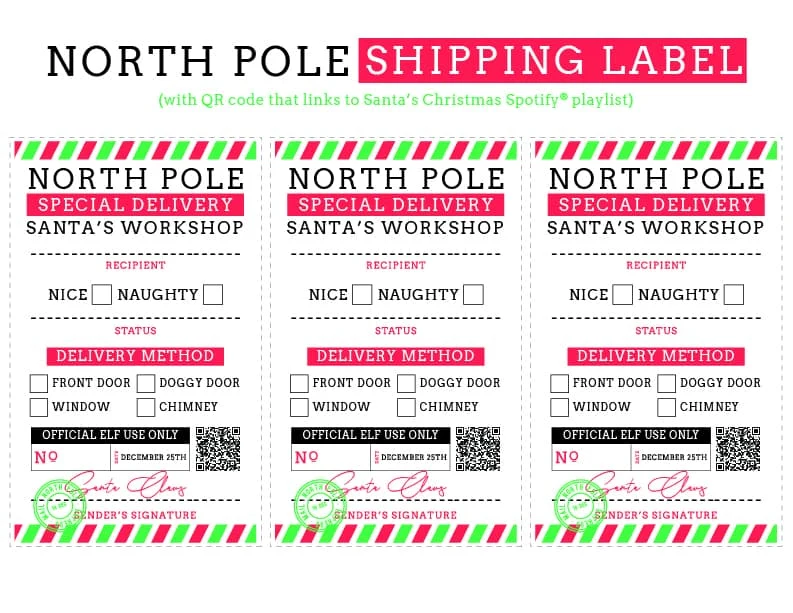 These cute gift tags come from Santa's Workshop in the North Pole. Check the appropriate boxes on the tags for delivery method and whether they've been naughty or nice.
Layered Christmas Gift Tags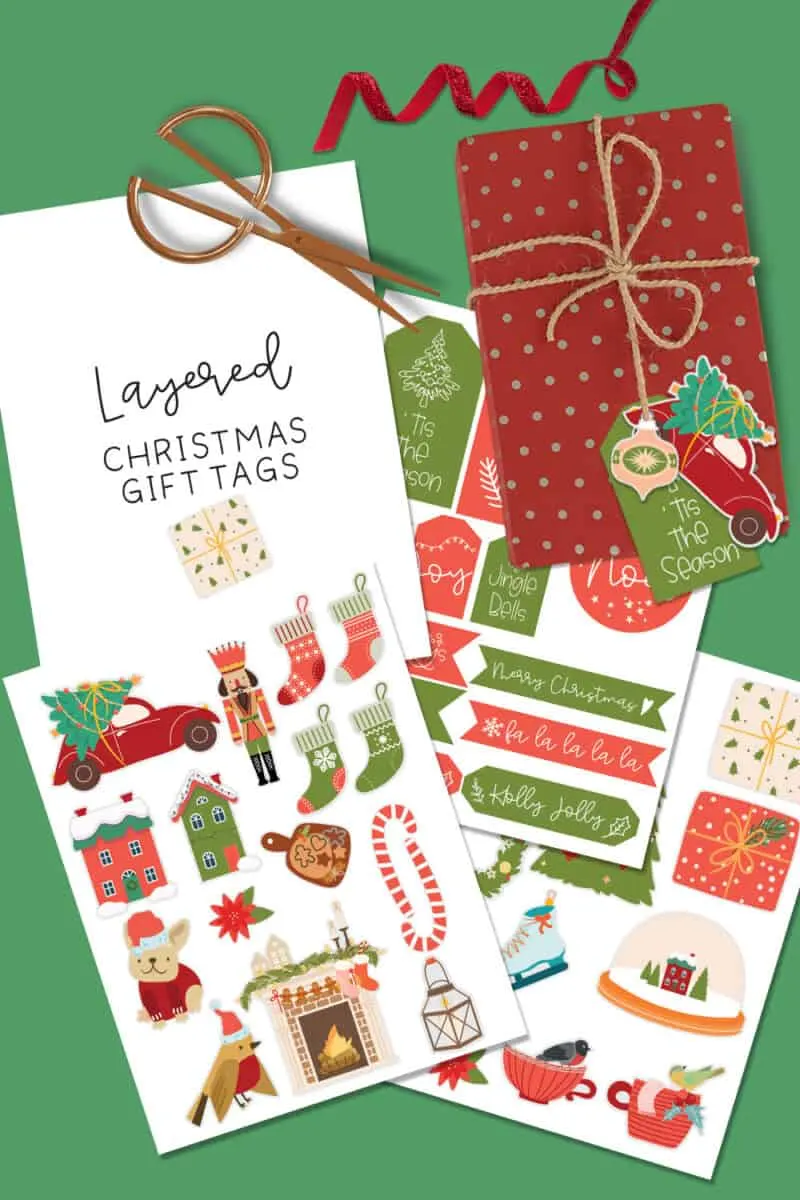 Layer on lots of Christmas cheer with these stackable gift tags! Cut out the designs and sayings and combine them for a cute gift topper.
I suggest using a mini clothespin to attach them together and clip on a string, or punch a hole in each layer and combine with string.
Modern Holiday Gift Tags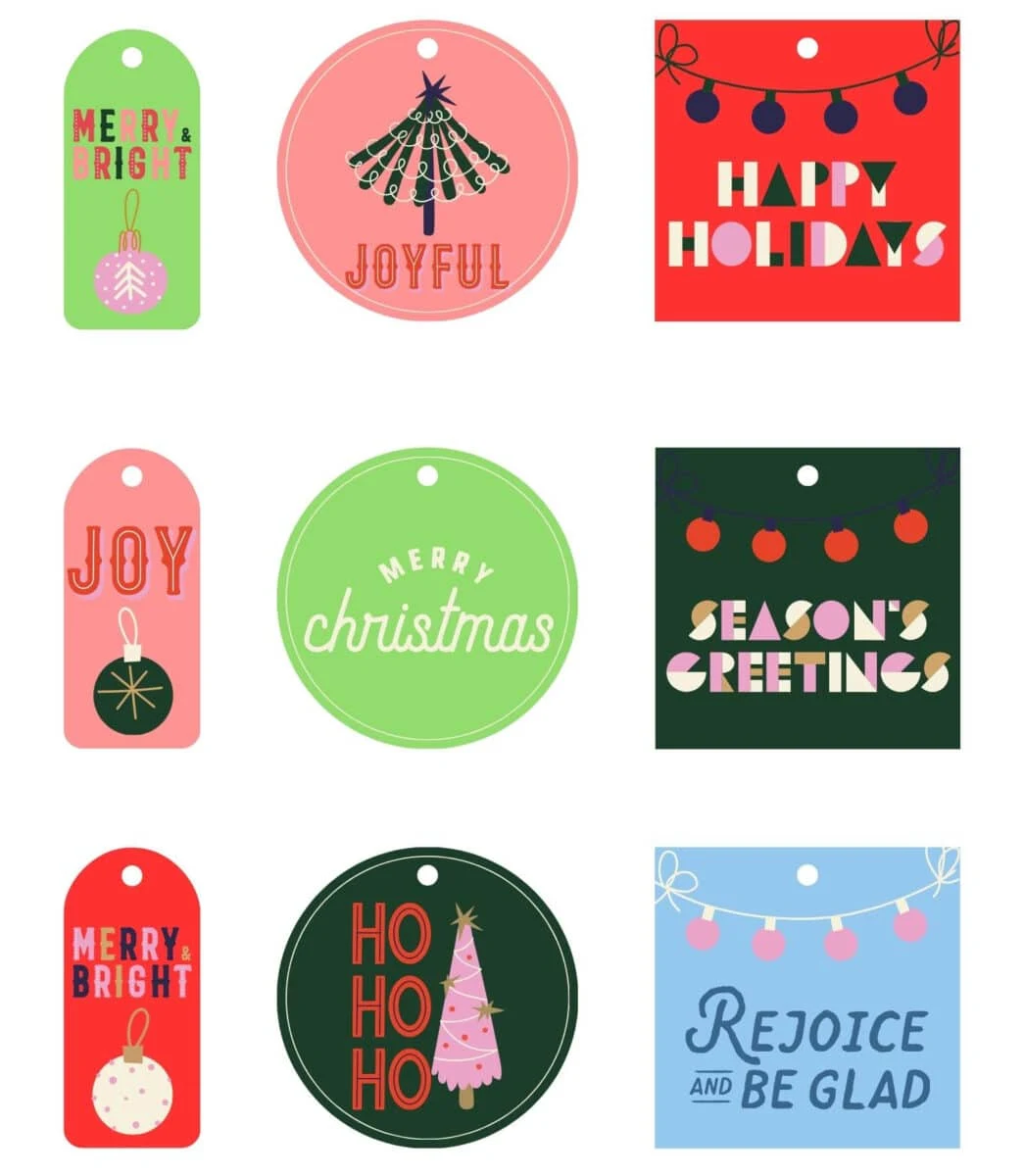 Big, bold colors and graphics make these modern Christmas gift tags perfect for tweens, teens and anyone who loves bright colors.
Christmas Eve Labels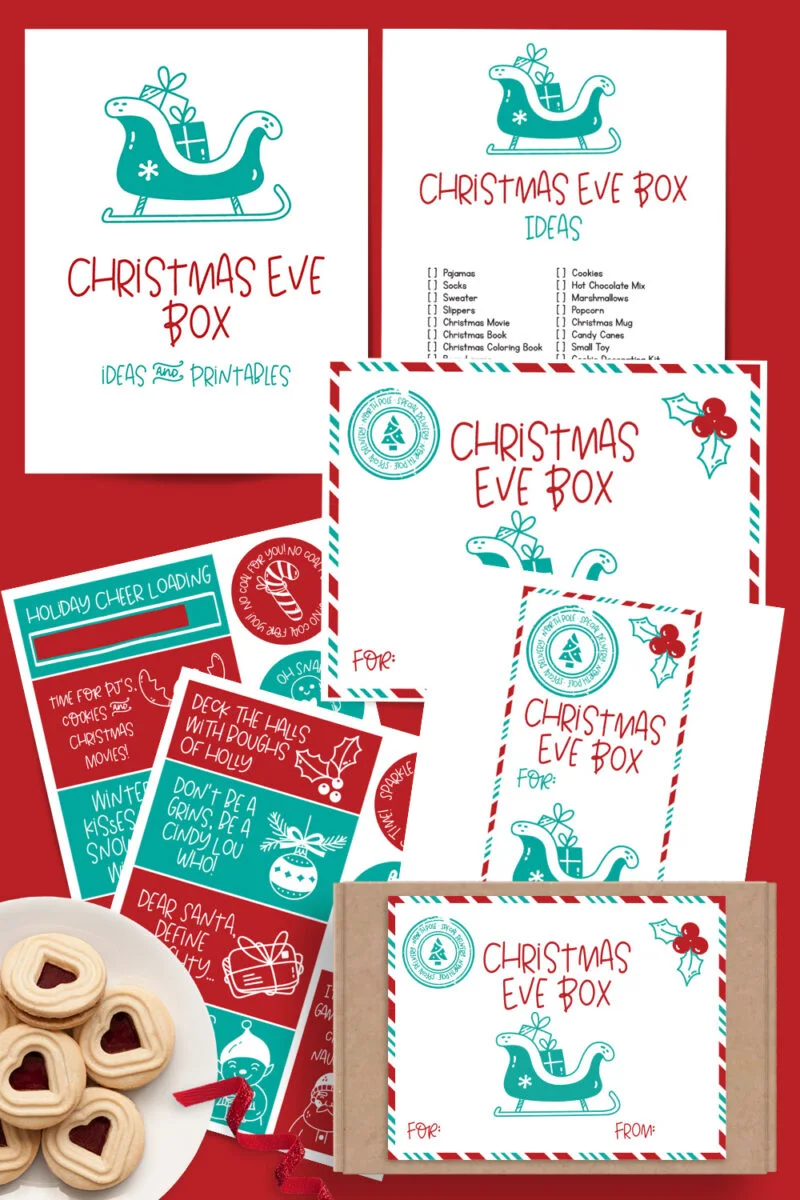 These Christmas Eve box labels are perfect to use on a variety of gifts. Use the general tags for presents all season long!
Geometric Gift Tags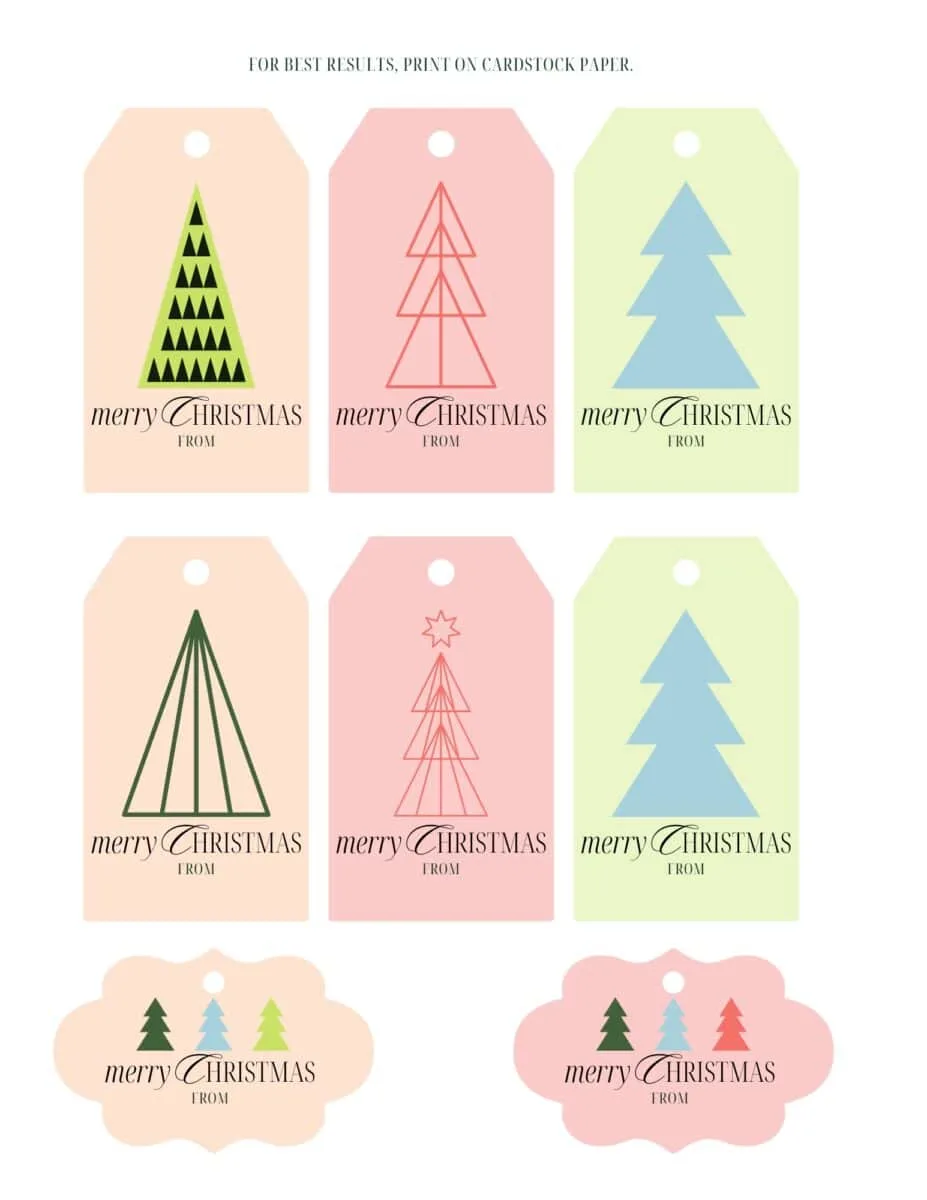 Modern, simple and minimalist gift tags for the holiday season. We love these graphic tree designs.
Disney Christmas Gift Tags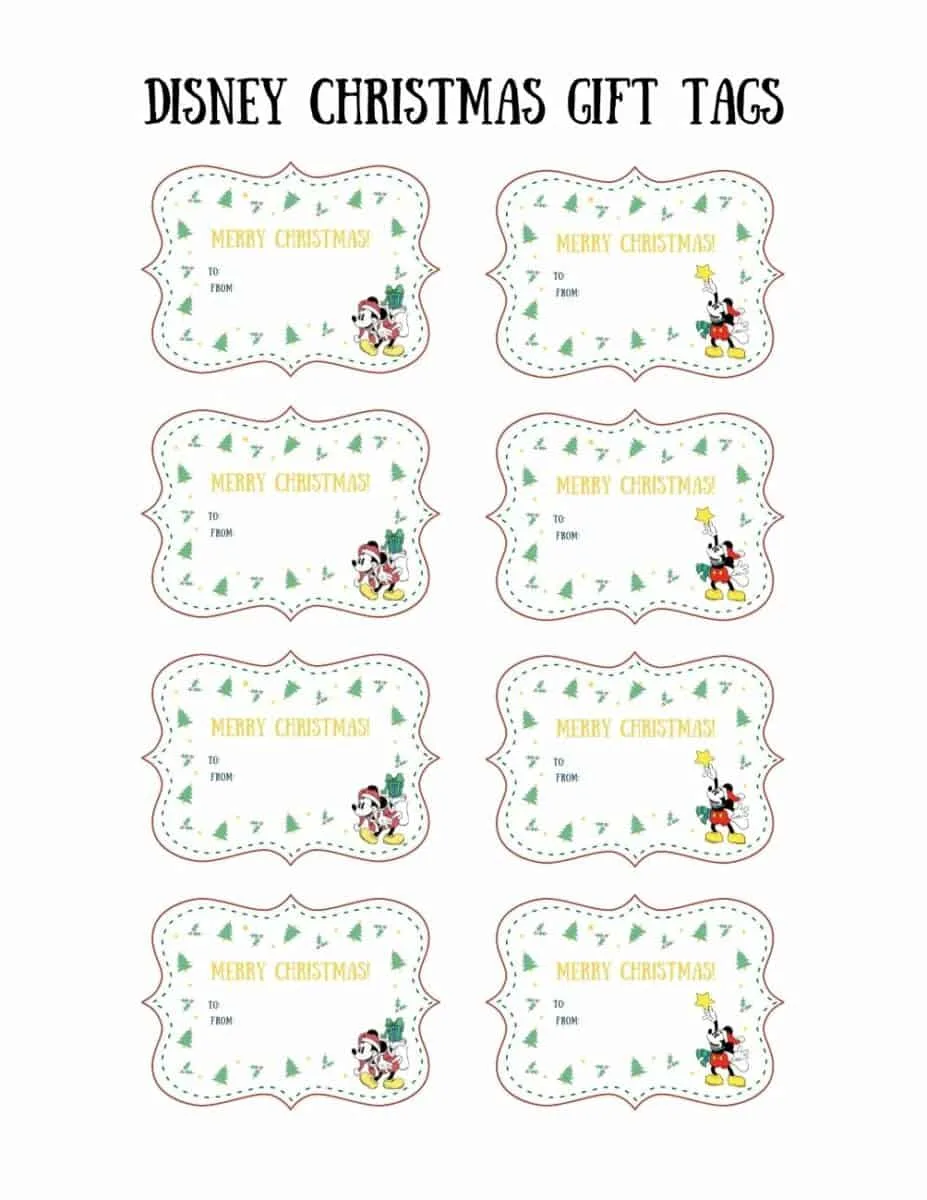 If you love Mickey Mouse or Disney, then you will be glad to have these free printable Disney Christmas gift tags. I love the unique shape and festive design!
Retro Christmas Gift Tags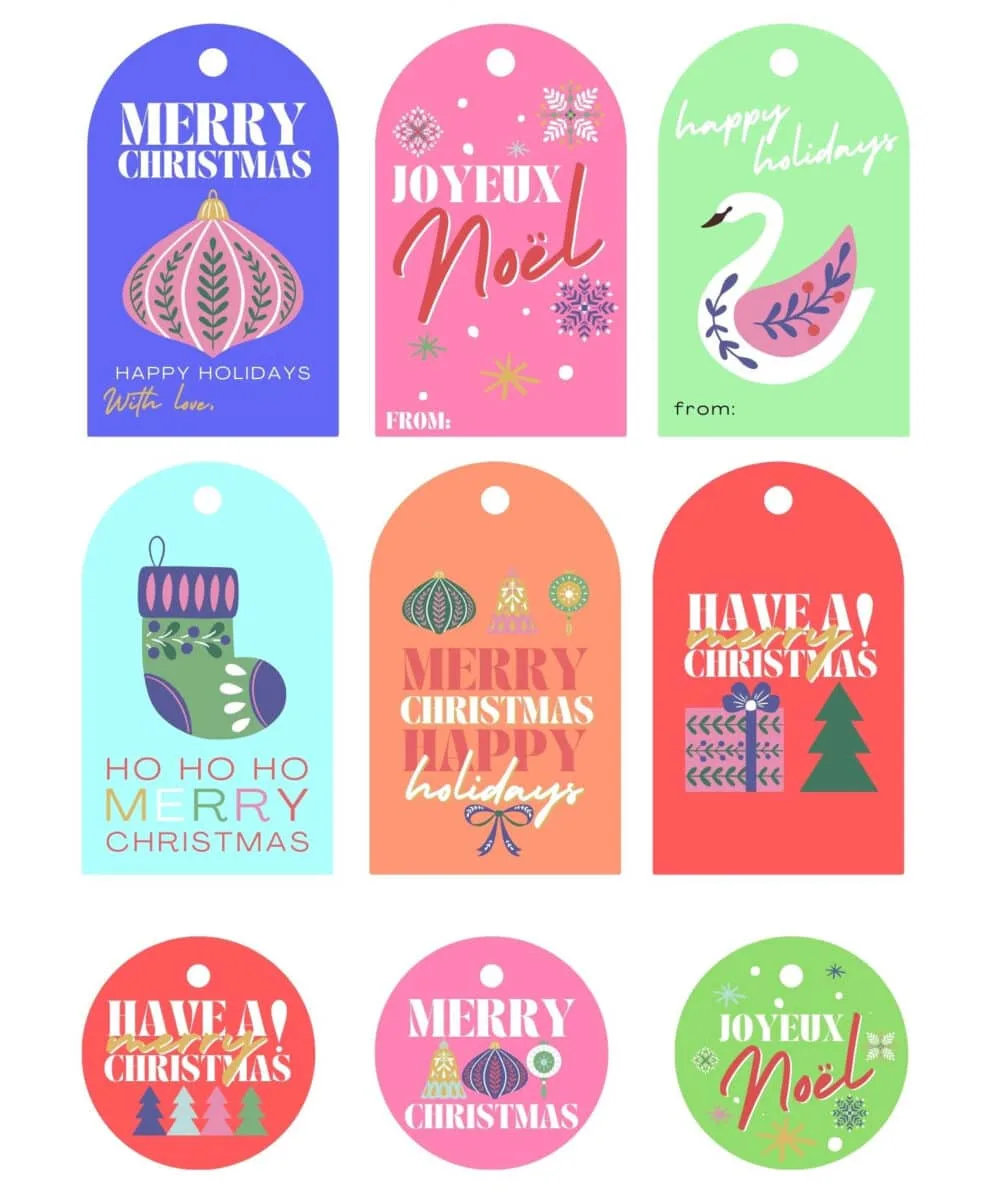 I love anything old-fashioned and these retro Christmas gift tags are no exception! How can you not be happy when you see these colors? And those designs that look like they are from your Grandma's attic!
Winter Break Gift Tags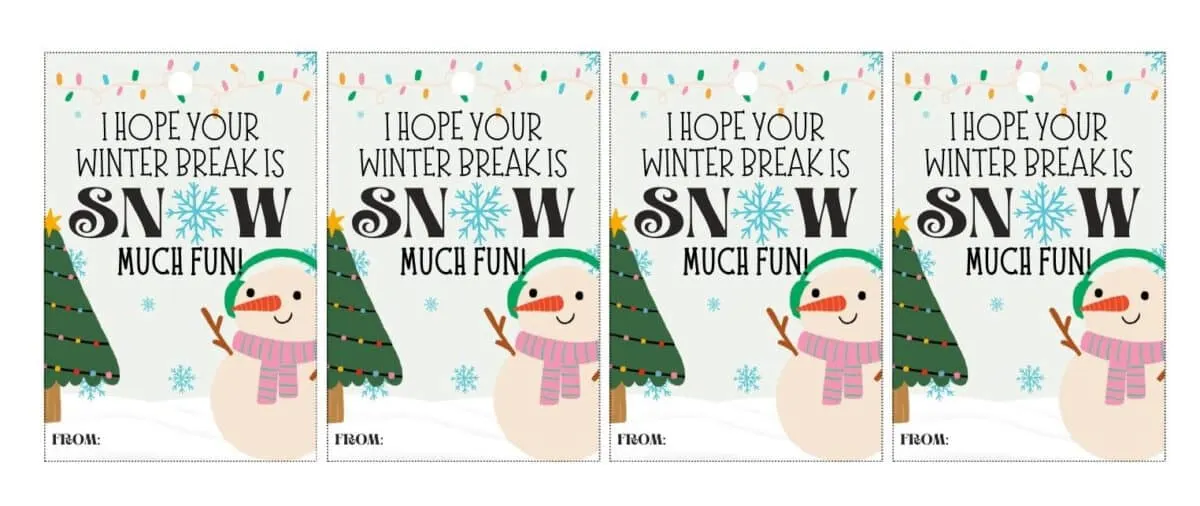 Perfect for students giving gifts to their friends, these Happy Winter Break gift tags are ideal for the last day of school.
---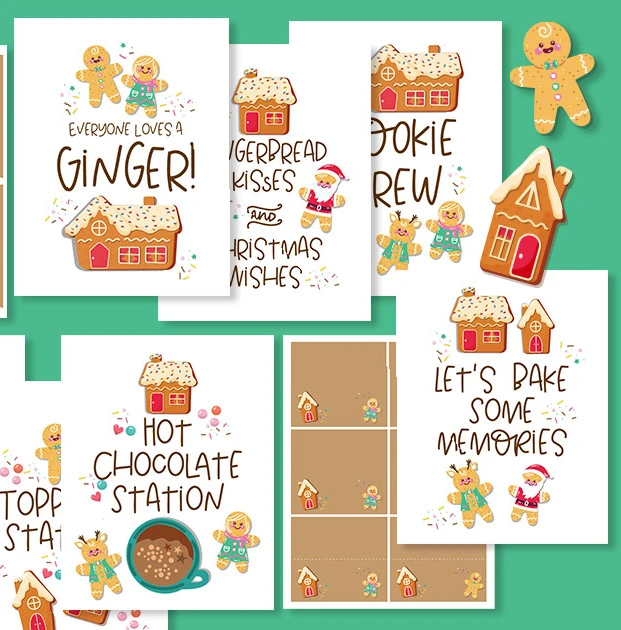 Gingerbread Decorating Printables
Love cute Christmas printables? Then be sure to get our fun gingerbread decorating signs, gift tags and cookie banner!

See more details of this cute party pack in the Single Girls DIY library!
---
If you love Christmas printables like these free gift tags, then be sure to see some of my other downloads: