The kind folks over at PetCo sent me a free sample of their new subscription service, PupBox.
PupBox is intended for owners of new puppies, to provide products and information that are designed to help both you and your pup get through puppyhood.
The subscription box includes treats, toys, accessories, and training guides to help you get off to a good start.
Contents inside are customized, based on the profile you fill out online.
PETCO Pupbox Review
Meet My Dog
I don't have a puppy, but I do have a volunteer reviewer. Meet my favorite helper, Kelly.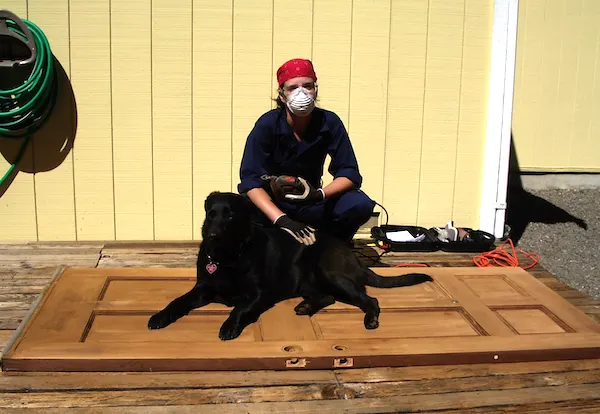 Kelly is a black lab and shepherd mix. She loves to play, and loves to eat. Even though she's 13 now, Kelly is still a puppy at heart. These are her honest opinions.
What Comes in a Pupbox?
I took a quick look through the box first, so I could tell you for sure what was in there. I knew as soon as Kelly started opening things, it would be tough for me to get a good look. (She loves opening things.)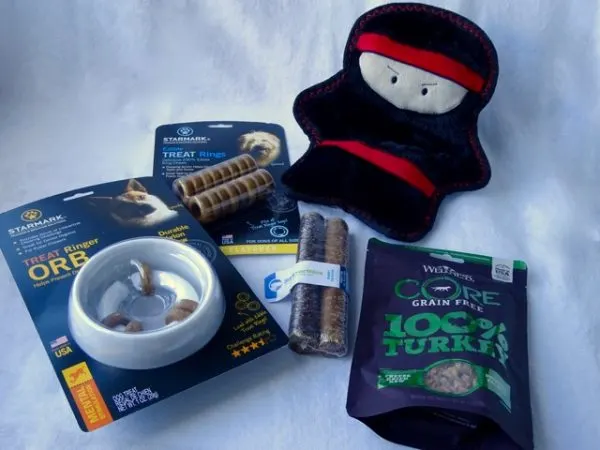 We received the box for large seven-month old puppies. It came with several treats, a toy, and a training guide.
Now, let's see what Kelly thinks.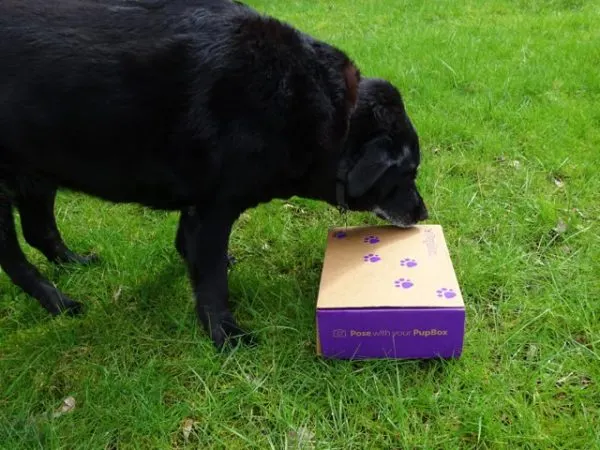 Turkey Treats
Once she got the box open, the very first thing Kelly pulled out was the bag of turkey treats.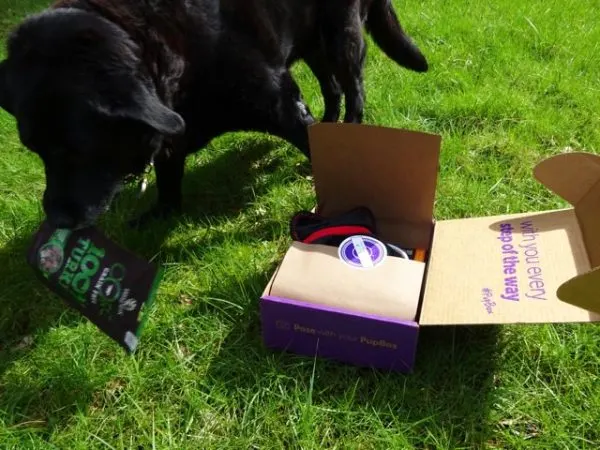 These treats come in small pieces, mainly intended for training rewards.
Considering how often Kelly came back to this bag, I think they would work well. They would be great to use in this DIY snuffle mat, too!
Squeaky Toy
The super cute star-shaped plush squeaky ninja toy was the next to come out of the box.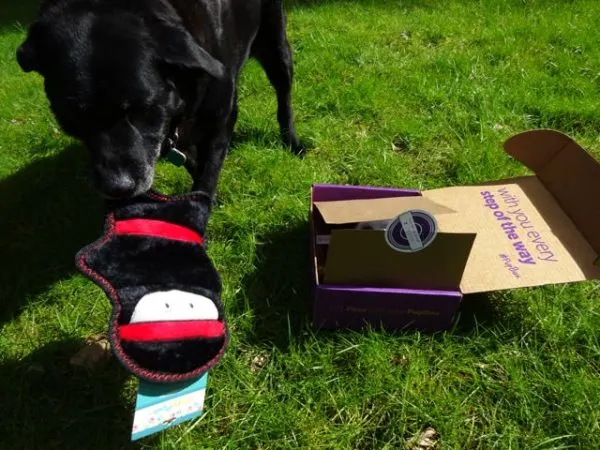 Mostly, Kelly just moved it out of the way so she could get to the rest of the food treats in the box. She loves food.
As an older dog, she doesn't play with toys much anymore, so let's not judge this one too harshly based on that reaction. She used to love squeaky toys, and this one had two good squeakers.
KELLY'S TIP: When she was younger, Kelly used to carry a different toy up to bed with her each night. One night, she rolled over onto a squeaky toy in her sleep. Everyone in the house woke with a jolt, wondering what had caused that terrifying sound. After that, squeaky toys were not allowed in the bedroom.
My DIY denim dog toy would not have made that noise! It's easy to make, but doesn't have an annoying squeaker!
Orb with Treat Rings
Next, we tried the treat orb. This is meant to keep puppies busy, as they work to get the treat rings off the plastic orb.
I really liked that not only did we get the orb, we also got a full pack of refill rings.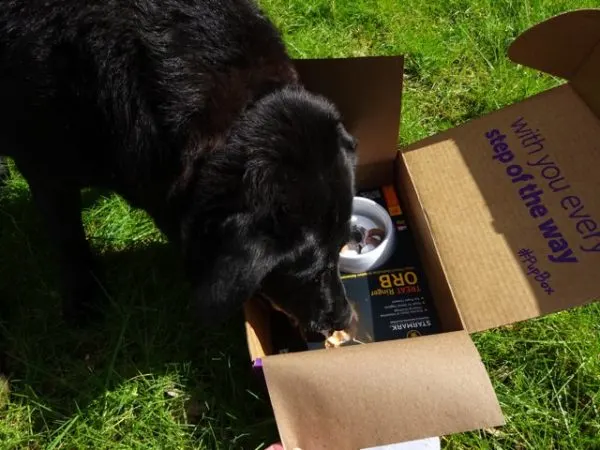 This one had Kelly a little confused. She carried it around, licked it, flipped it, looked at me….
Sometimes, a ring would fall off and land under the orb where Kelly didn't see it, so she wasn't getting her treats until I pointed them out. It certainly kept her busy for a while.
After a week, the plastic has some teeth marks in it, but is still intact. If it's left lying around, Kelly might eventually chew on it a bit, but it's not a top attention getter. She gets bored with it, but a more active puppy might have more fun with it.
KELLY'S TIP: Save your empty peanut butter jars as a way to keep your puppy busy. Remove the cap and label, and let your pup lick the jar clean. To keep them busy a little longer, just loosen the cap and let your dog try to get it off. Just be careful that they don't crack it into pieces that could be harmful. On long days home alone, Kelly enjoys the surprise of finding a jar hidden somewhere in the house.
Bunny Sausage
And finally, the sausage sticks.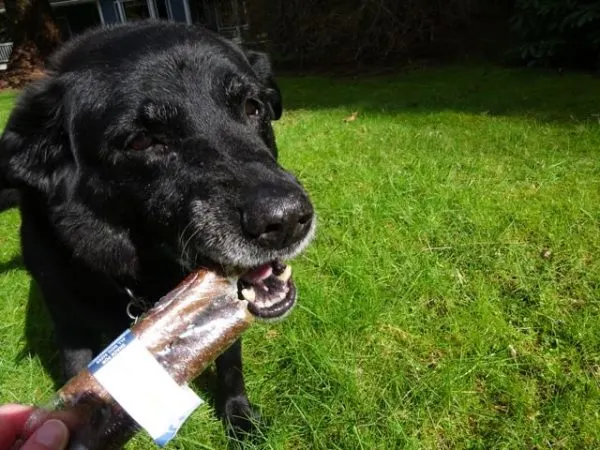 This was a big treat, even though it was gone in about a minute. Kelly said it was quite tasty.
Training Guide
The box comes with a two-sided card with training tips and puppy-owner advice.
The seven-month card is focused on getting through the "teenage" puppy phase, where there might be some regression in behavior.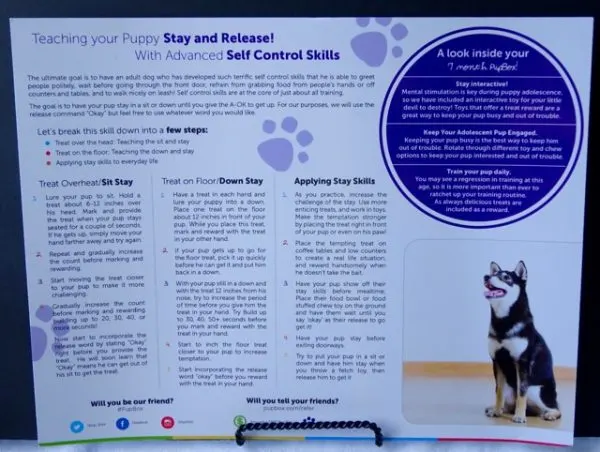 The advice was good, with encouragement for the owner, and applicable tips and training guidance.
How Much Does PupBox Cost?
Plans start at $29 a month for a PupBox filled with toys and treats.
Puppy Love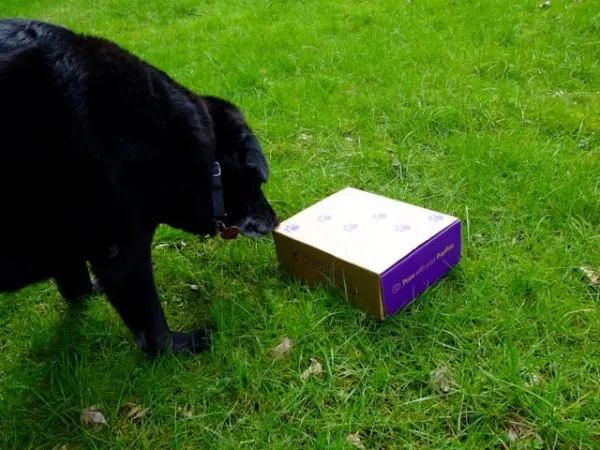 Kelly and I quite enjoyed opening the Petco PupBox. The quantity and quality of the products was good, especially the Pupbox toys. The training guide was helpful, too.
Want more dog-friendly ideas? Get the free download for our cute dog sign. Or learn how to custom etch dog tags.
And check out the custom dog house I built!