Our family dog loves to sit on the porch "guarding" the yard. She takes her duties seriously, and much like the post office, is not hindered by the weather. She will stay out there in rain, sleet or snow.
As a gift to our mom, my brother and I decided to build a custom doghouse, so the dog could still sit outside, but also have some cover.
No more wet dog smell inside, or muddy paw prints on the floors.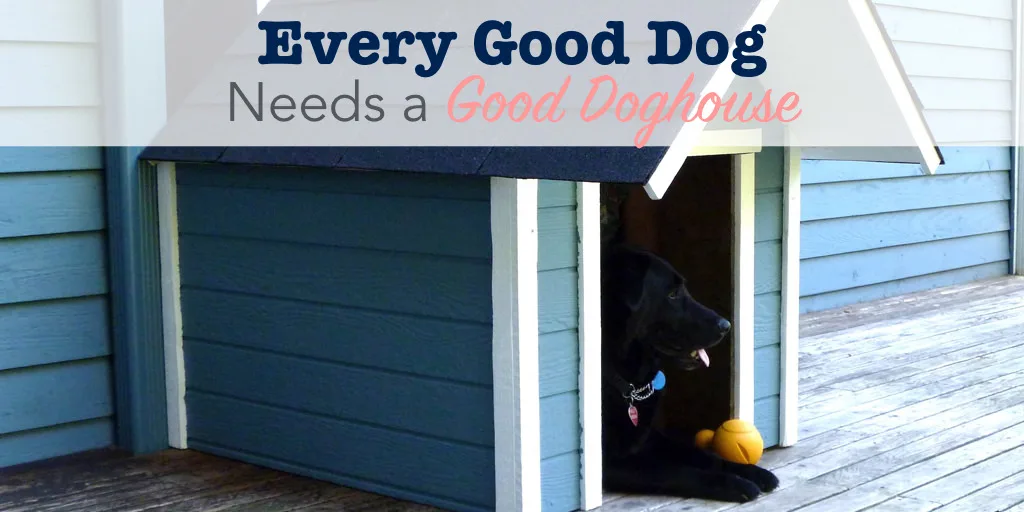 I have to say, one of my favorite things about making our own custom dog house is this cute weather vane that I put on top! It has a black dog on it, just like our dog.
How to Build a Custom Dog House
Your dog wants you to build one of these! For a really basic doghouse, you can do this in a weekend.
Customizing the Plans
To start, I downloaded basic plans (here are 35 free dog house plans), and purchased the materials.
I also found some really cute dog house plans on Etsy that I was considering getting. I especially liked the Mid-Century Modern dog house, but it didn't go with my mom's house!
Next, I considered how I wanted to customize the design. For example, I wanted this doghouse be a pass-through from the doggie door to the porch. It needed to have an opening on both ends.
One opening was offset from center, to align better with the doggie door.
I also extended the roof on the front end for a dog house door cover.
This allowed the doghouse to be flush with the doggie door on one side, and offer some extra cover to allow the dog to peek out the other.
Adding Our Own Unique Touches
After cutting and assembling the pieces, we painted the doghouse with leftover house paint, for the perfect match.
We also added some fancy trim pieces, to match the Victorian style of the main house.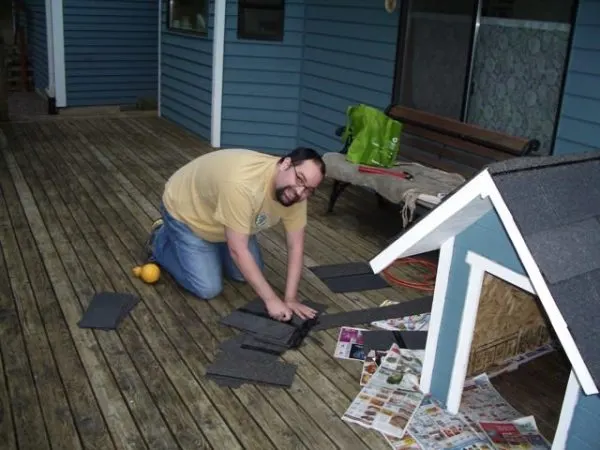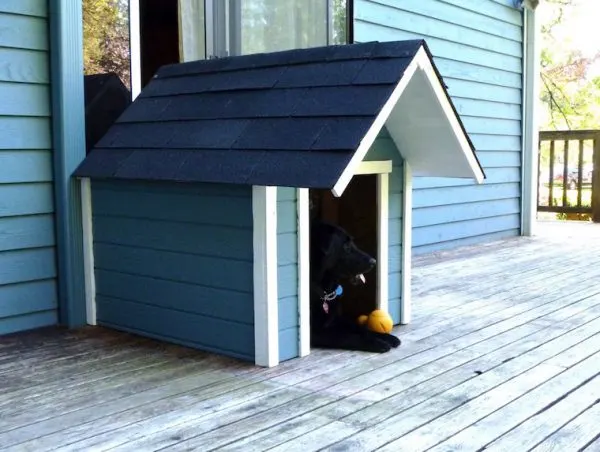 Customized DIY Doghouse
The finishing touch was the addition of a weather vane, complete with a black dog on top of the weather vane.
The finished doghouse looks great, but our dog still sits out in the rain. LOL!
Any dog owner will love this tutorial of how to custom etch dog tags with your pet's name.
Check out my DIY snuffle mat for a no-sew pet project. It is definitely a boredom buster for your dog!
You might also like our DIY denim dog toy, and this easy no-sew dog bed!