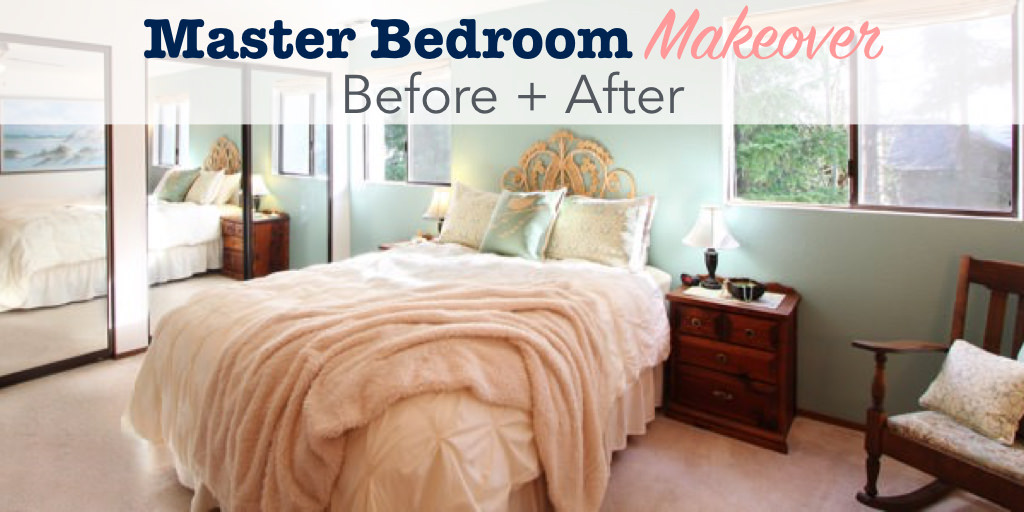 Get ready for some awesome '80s fashion! My master bedroom used to have pink carpet, pink balloon window valences, and pink blinds. Plus, an ugly fireplace.
MASTER BEDROOM BEFORE

Since I was fairly house-poor after I bought my house, all my updates had to be thrifty. Here's how I transformed the master bedroom with budget friendly updates.
MASTER BEDROOM MAKEOVER: BEFORE + AFTER
[disclaim]
MATERIALS FOR A BEDROOM MAKEOVER
Paint – I painted one wall Ralph Lauren Flowering Cactus from Home Depot
Accent fabrics – Check out the selection at Fabric.com or JoAnn Fabrics
DIY Roman shades – How-To post coming soon!
[/disclaim]
Let's look at the transformation!
I picked up a can of paint in the "reject" bin at Home Depot. Apparently someone else didn't like the color, but I love it. This is Ralph Lauren Flowering Cactus, which I painted on one wall.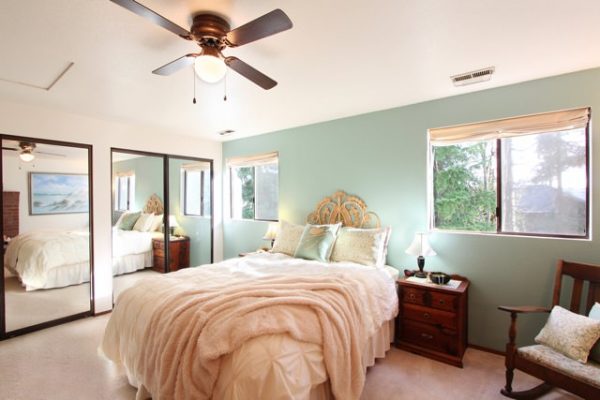 The ugly window treatments were replaced with super budget friendly DIY Roman shades. I made these from a painter's drop cloth. Watch for a How-To post on that project soon!
I had considered replacing the closet doors, but learned to love the mirrors. They make the room feel brighter, and more spacious. They're also very handy for getting dressed, so they'll stay. Be sure to check out my whole closet makeover, too.
The bed and frame was the one piece of furniture that I bought new. The pintuck duvet cover makes the bed feel very luxurious and cloud-like.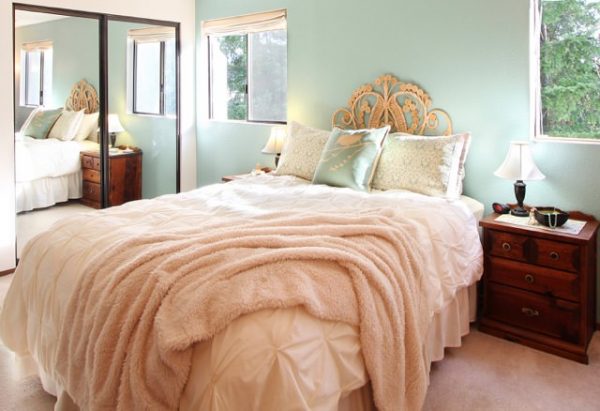 The wicker headboard is actually meant for a twin-sized bed. It was in the family for years, and I always liked it, so my mom gave it to me. I made it work with my queen sized bed by setting it on top of plastic flower pots hidden under the bed. Shhh….
The matching nightstands came from my childhood bedroom. (I also appropriated the one that used to belong to my brother.) I did buy matching lamps for them.
A giant beach painting inherited from my grandparents now fills the wall by the fireplace. And the updated fireplace hearth makes a huge difference in the appearance.
For accent pieces, I bought a couple yards of coordinated upholstery fabrics to sew my own. I made a seat cover and throw pillows for the rocking chair, toppers for the nightstands, and pillow shams for the bed. (Another How-To post coming soon!)

A simple dresser scarf protects the nightstand.
A budget-friendly transformation
Maybe I'm biased, but I think these thrifty updates are pretty dramatic. Just because you can't afford major remodeling projects, it doesn't mean you can't love your home.
If you're feeling inspired to try your own budget-friendly updates, be sure the check out the rest of my Home Tour posts. They're jam packed with thrifty DIY ideas.
MASTER BEDROOM BEFORE

MASTER BEDROOM AFTER

Get More DIY!
Have our free weekly newsletters with the best tips, new home improvement projects and easy crafts sent to you!
Please Share With Others!