Making a snuffle mat for dogs is one of the easiest DIY projects you can do for your pet! It's super easy to make this enrichment toy, and it doesn't involve any sewing or fancy materials!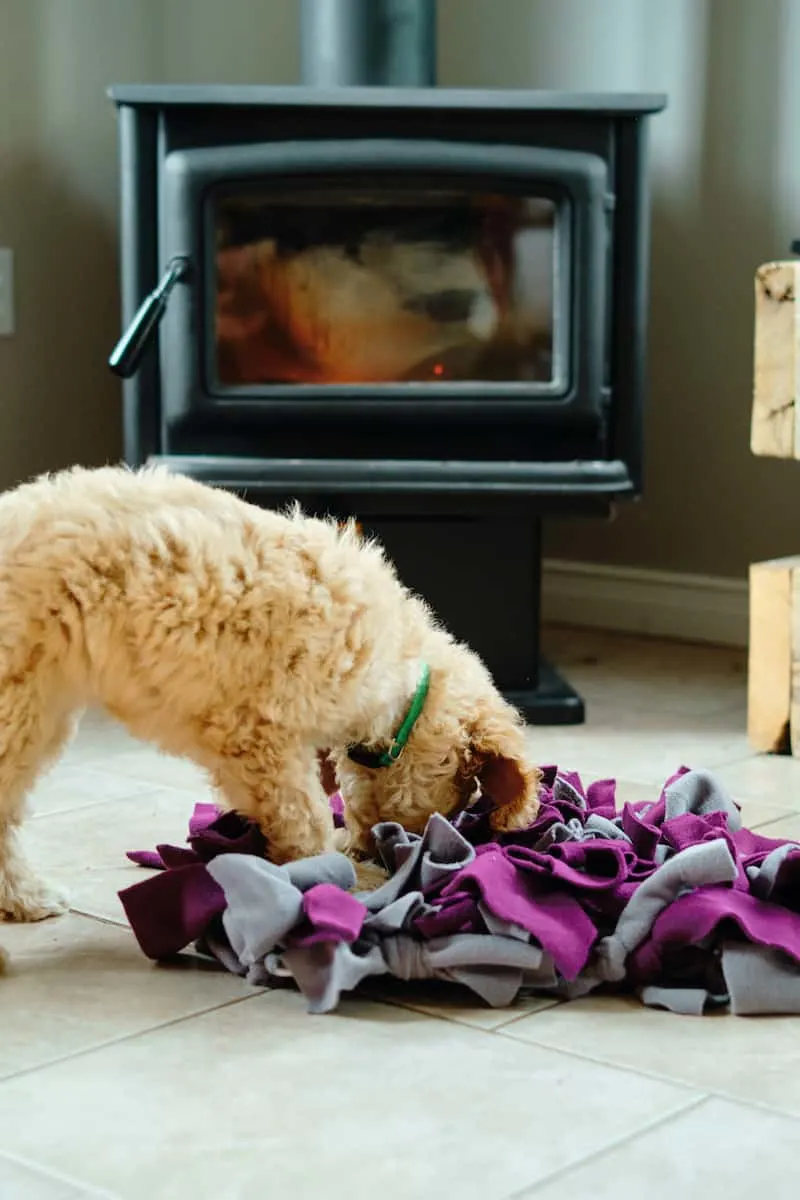 Snuffle mats can be pretty pricey (as you can see here). Which is why I'm thrilled to be able to make one for around $7 and it took less than an hour of time!
What is a Snuffle Mat?
A snuffle mat for dogs benefits them in two ways. First, the mat develops their ability to track a scent. Snuffle mats are often used as a scenting game to sniff and search. Second, the mat helps to slow down a pet's eating.
Because dogs (and cats) often eat their food or treats very rapidly all at once, hiding kibble or snacks in the layers of a snuffle rug slows them down so they feel fuller faster.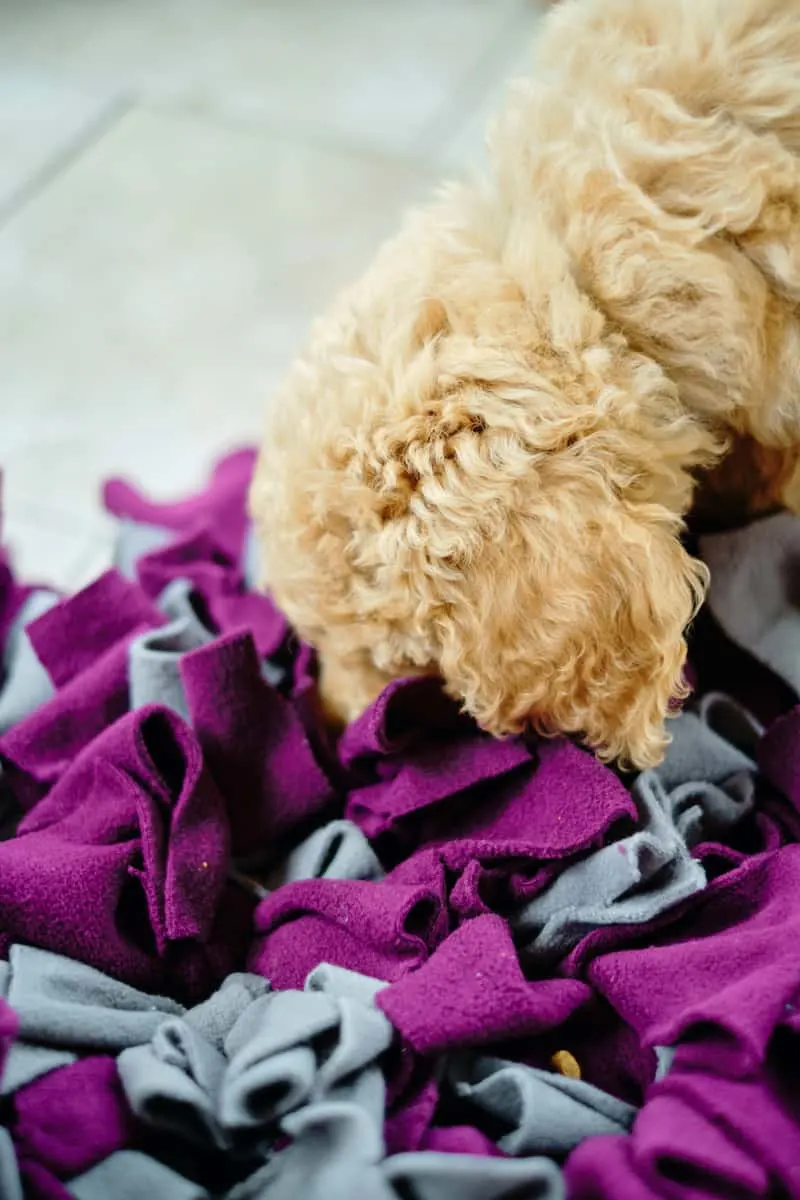 This scenting game also is a distraction for dogs and a source of exercise. It can be mental stimulation for bored dogs or distract them from an unpleasant activity, such as being at a vet.
Searching for the treats and digging in the mat is physical exertion, too, in addition to mental stimulation. I could have used the treats I got in my PupBox with this snuffle mat, and my dog would have been in heaven!
A snuffle mat might also be called an enrichment mat (in case your veterinarian or dog trainer suggests that). It's also known as a sniff mat or a sniffle mat.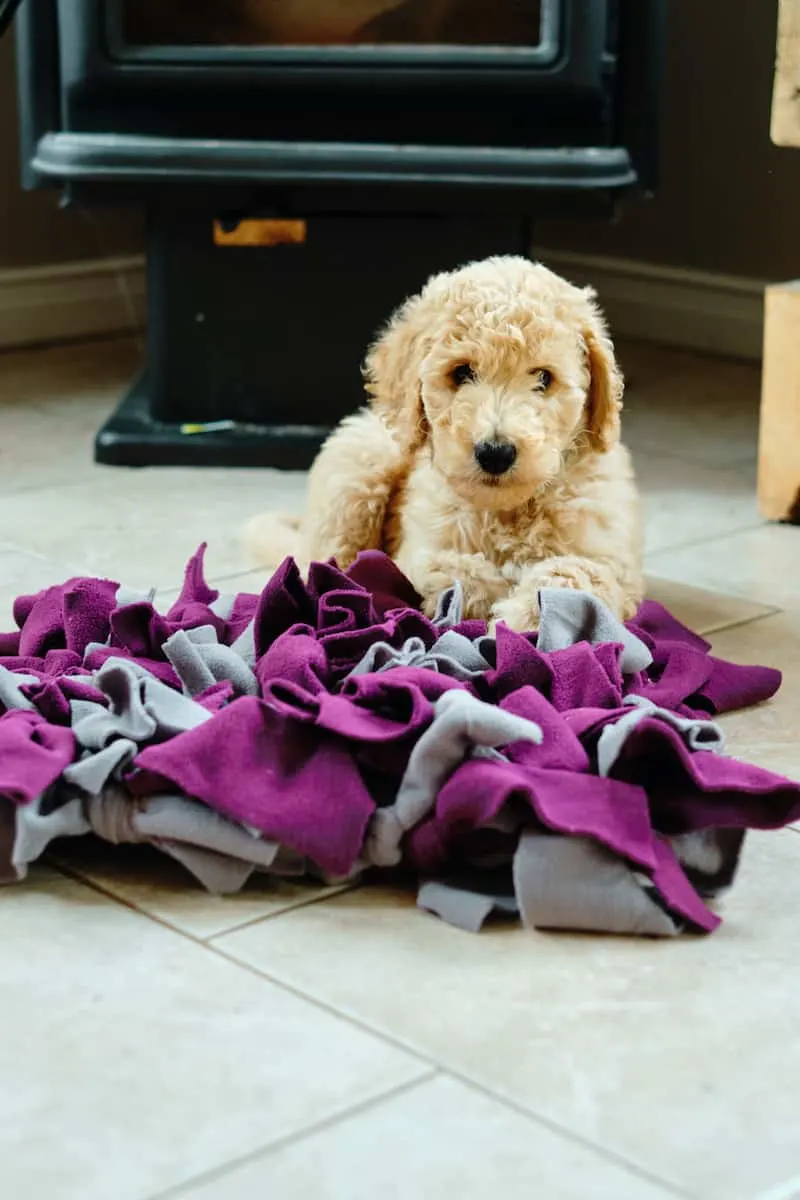 Like this pet-friendly DIY project? You'll definitely want to check out my other pet-friendly crafts:
Best Materials to Use
You can use a variety of different materials to get the same type of snuffle mat for dogs.
Many people like to use a rubber mat designed for use in a kitchen sink as the base for their rug. But a lot of rubber mats don't have an even grid of holes to use to make the mat, surprisingly. This is the best mat that I found to use.
However, I reused a metal grate that I had at home as the base. (It wasn't rusty or rough and was in perfect shape.)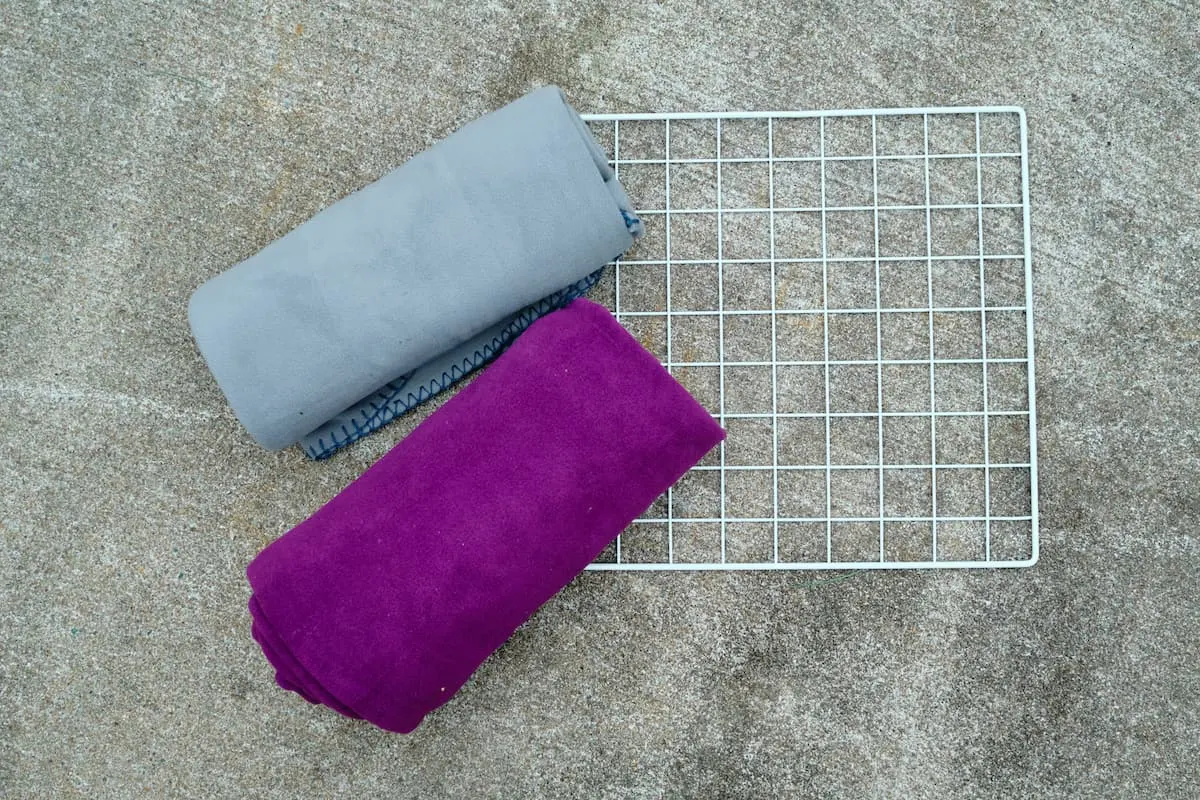 Fleece is the best material for making the mat. However, there are a variety of types of fleece that work. I used two IKEA fleece blankets. Walmart fleece blankets would work, too. They are thin in weight and super cheap. Plus, I didn't need to go to a fabric store.
Getting a fleece blanket from a thrift store also works. I've found fleece blankets that most people wouldn't want to use for themselves, but work great for pets, for around $4 in my town. Obviously, wash the blanket in hot water and sanitize it well before using on your DIY project.
Buying fleece by the yard is a great way to choose the weight and thickness of the material, as well as the prints and colors you like. Buying a thinner fleece means you'll be able to tie the knots easier.
You'll probably need about 1-2 yards, depending on the size of the mat you make. A budget tip is to look at the clearance section to see what fleece is on sale. Usually you can find a lot of options on clearance if you don't mind what colors you use.
How to Make a Snuffle Mat
Materials
Directions
Step 1
Cut long strips of fleece. When I made mine, I had strips 2 feet long and roughly 1 inch wide. However, I could have cut a longer strip of several feet (if I had the yardage) and just continued to weave that one strip. Weave them into the grate with an over then under pattern through the holes. I tied the end of one strip on one hole, then wove the fleece, then finished off the strip by tying a knot in another hole.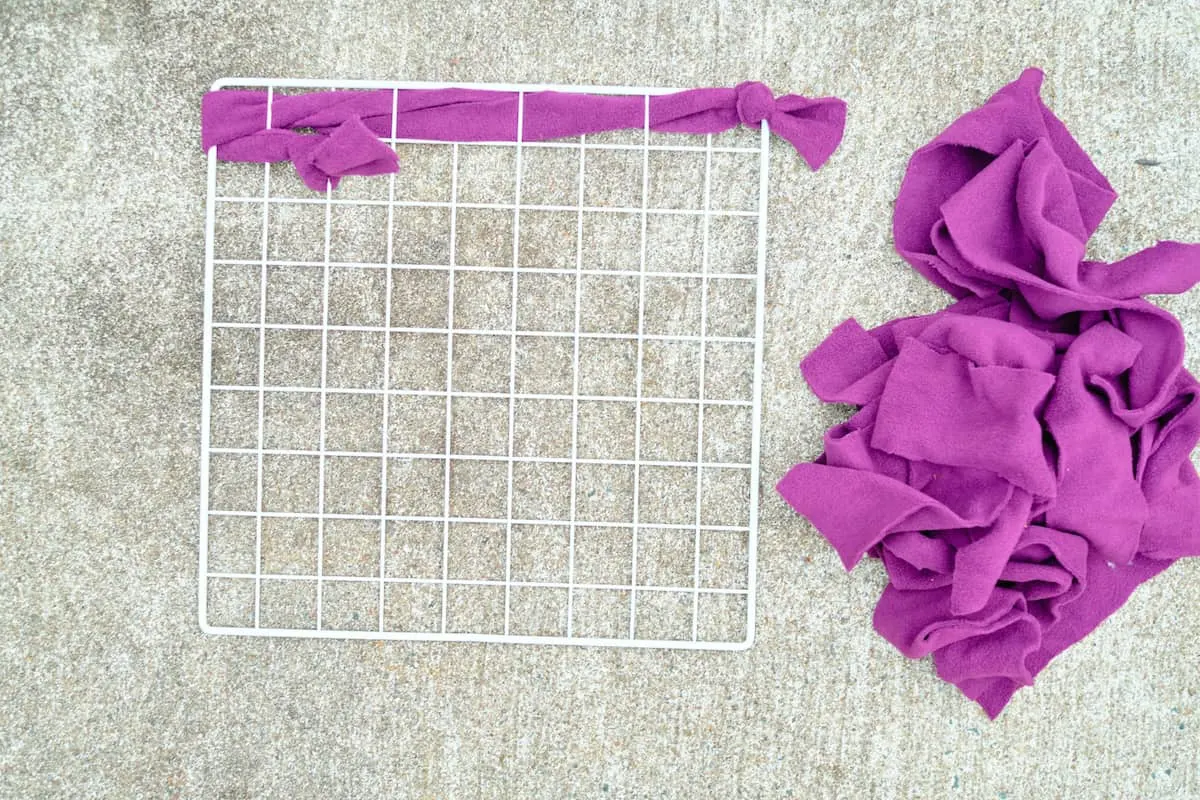 I alternated the colors, with the purple going horizontally and the gray going vertically. You can choose whatever pattern or color variation you like. Cover the entire grate and fill all holes.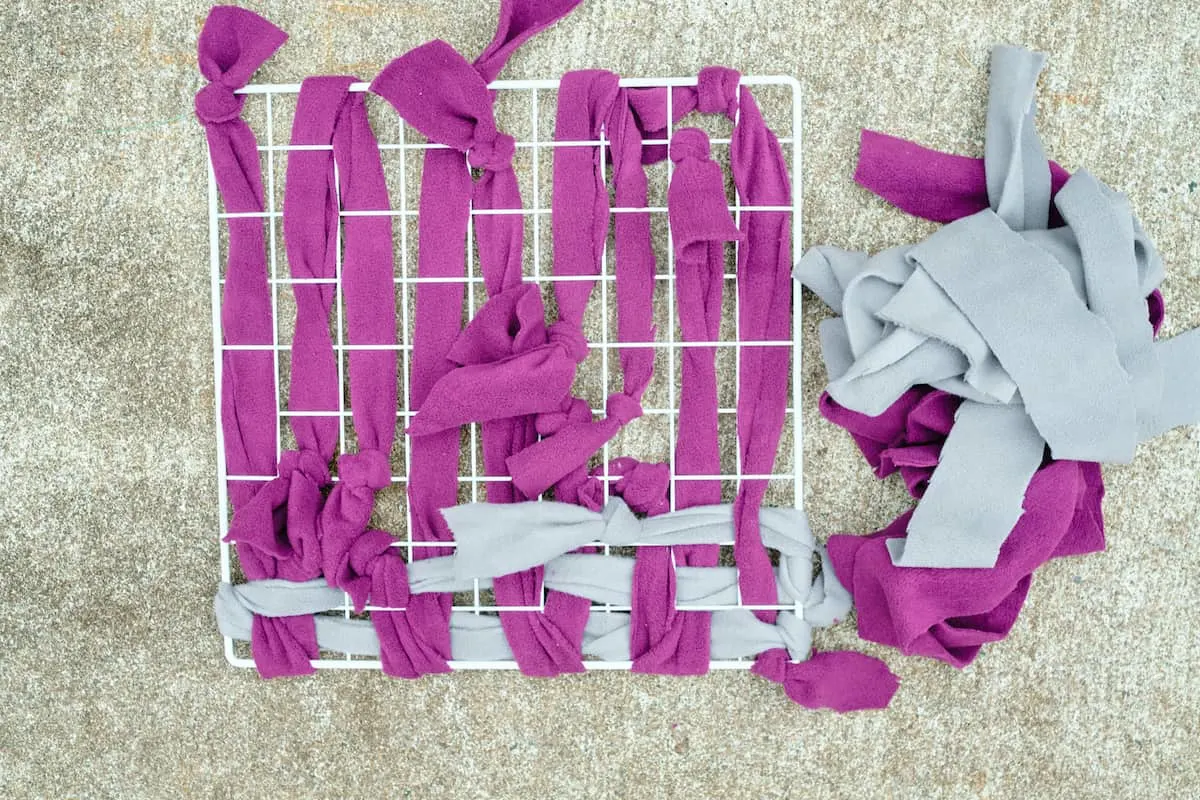 Step 2
Cut smaller strips of fleece (about 6 inches long and 1-2 inches wide), and tie them into the grate until you have the whole square covered. I used at least 60 strips.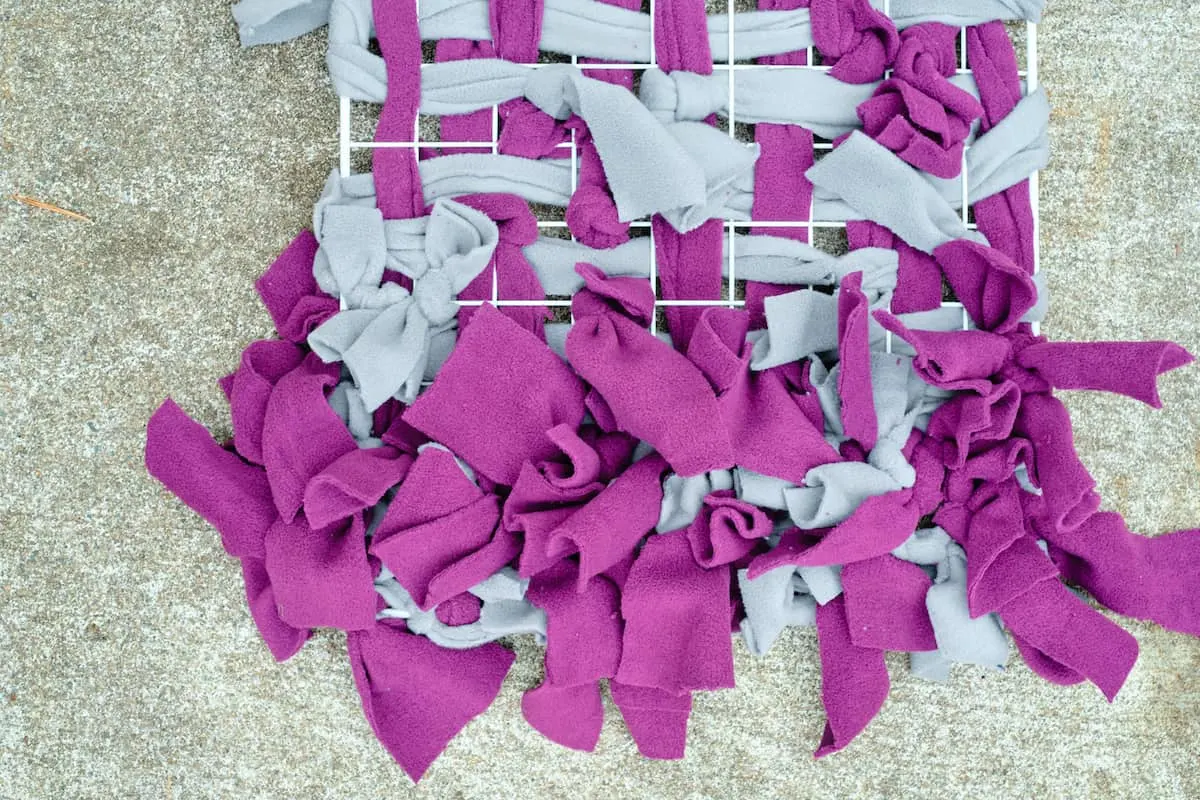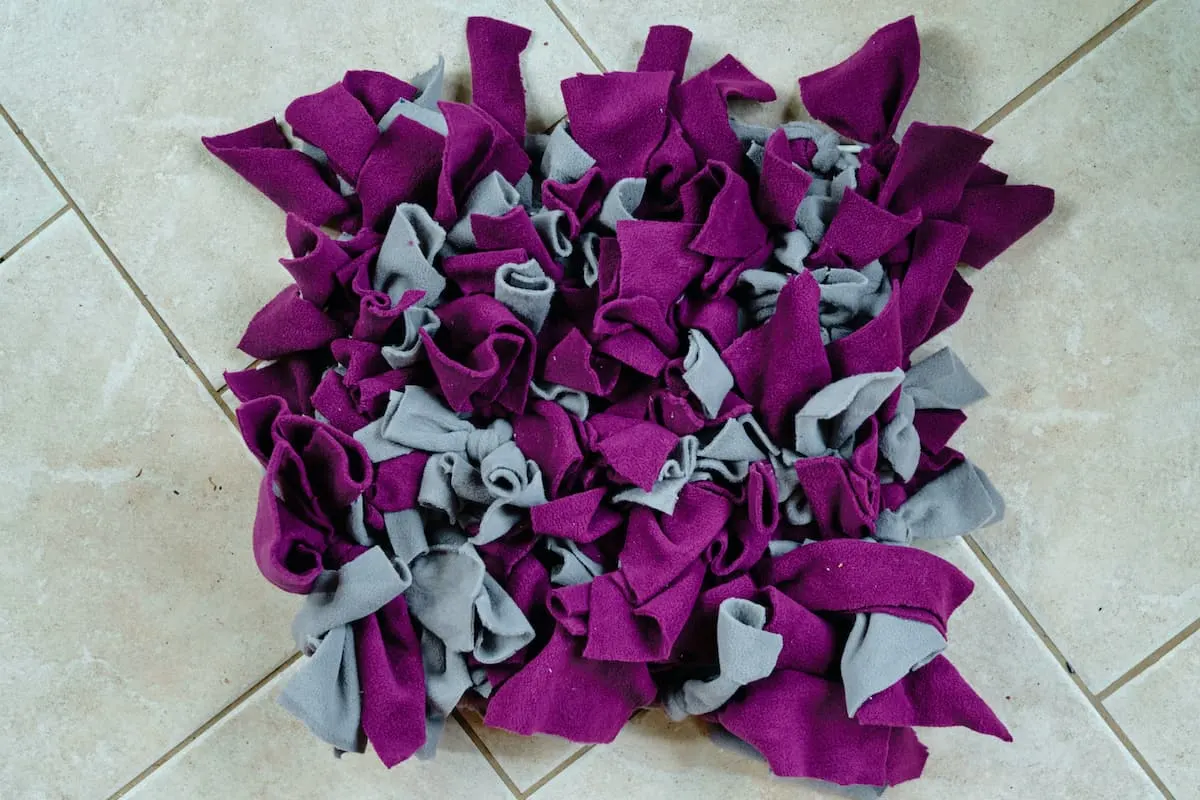 Step 3
Place kibbles in the snuffle mat and allow your dog to find the food.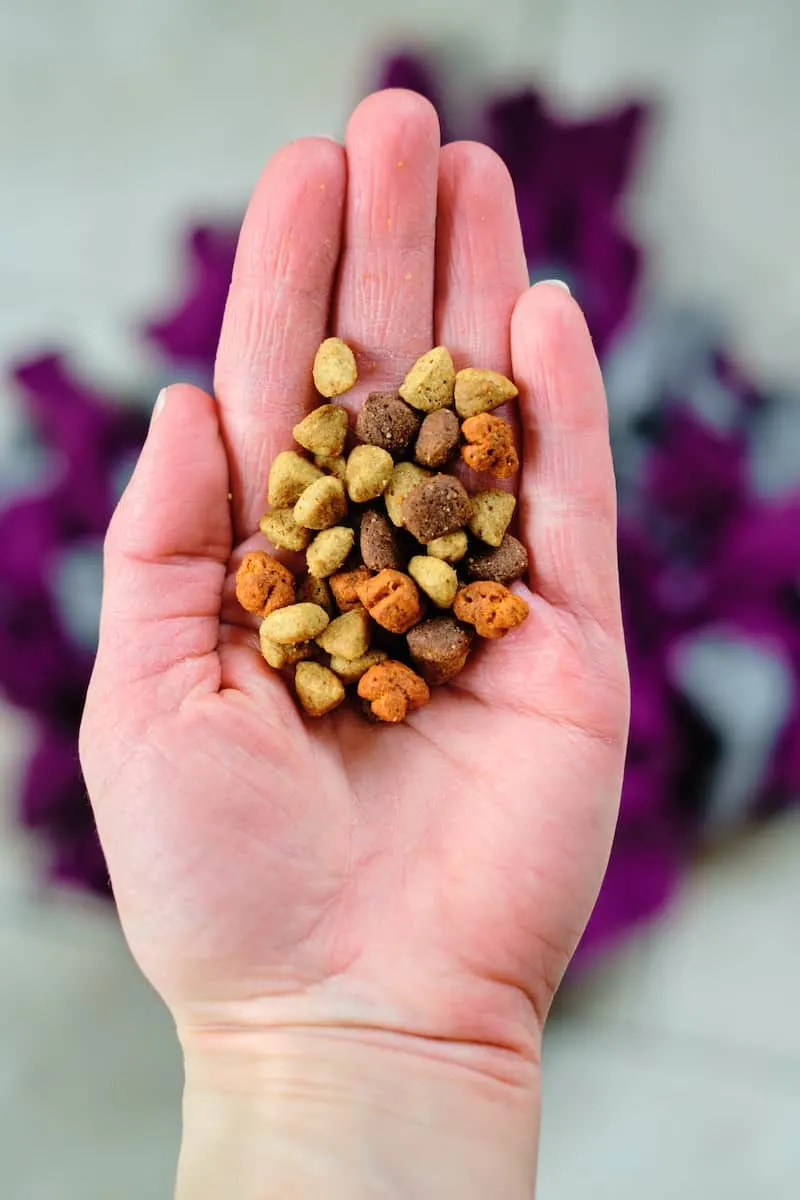 Helpful Tips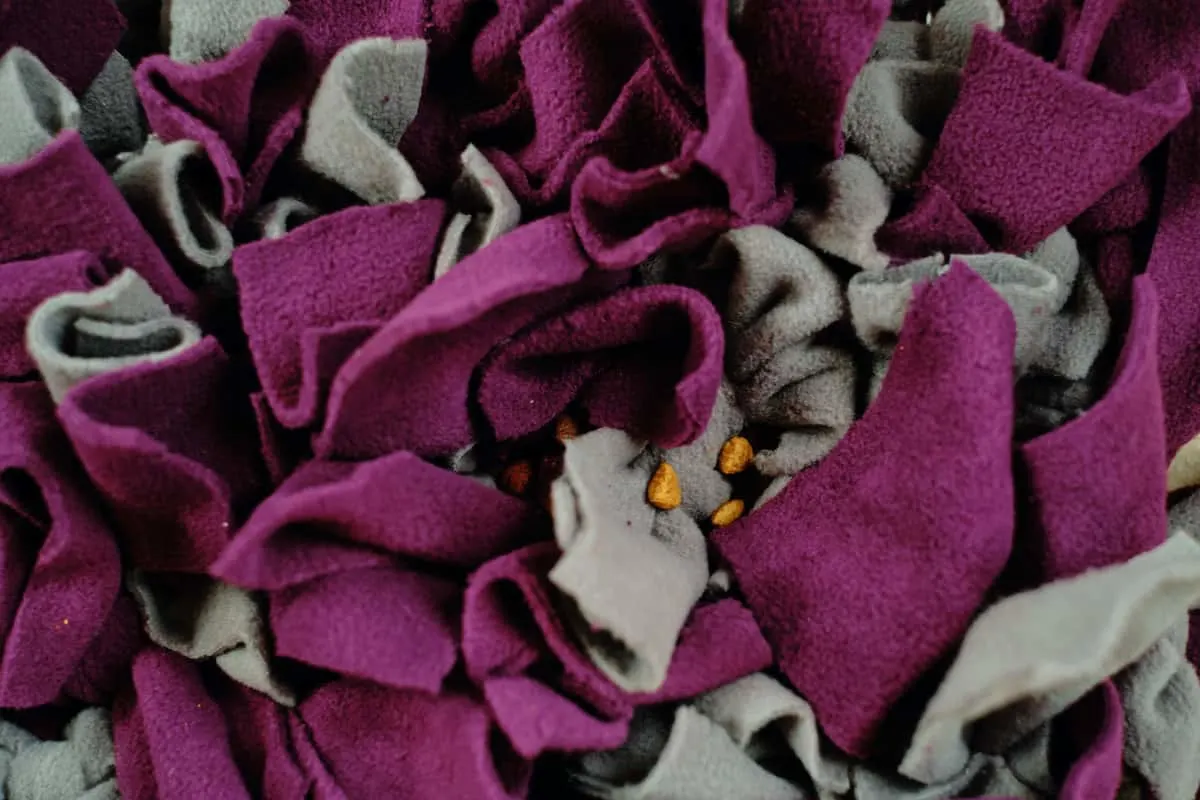 While there are sizes and dimensions for the fleece strips, this project doesn't need to be perfect. Don't worry about cutting the fabric perfectly. Varying lengths and sizes are actually a good thing on this mat. You can measure one piece to get an idea, and then just kind of guesstimate from there for cutting more strips.
To use the snuffle mat, drop small treats or food on top of the mat. Scatter the food across the mat so that it is not all in one location. Then encourage your dog (or cat) to find the morsels and eat them.
For a more challenging game, push the treats inside the fleece strips for pets to search for and find.
Remove the mat when not in use. You don't want your dog to get too used to the game and suddenly get bored with it. Also, it's a smart idea to not let the rug be used without supervision so that your pets don't start unraveling the fleece and eating it.
Can you wash a snuffle mat? If you use a rubber kitchen sink mat, then you can put it into the washing machine to sanitize it. With the metal grate that I used, I'd need to rinse off the fleece with hot water and let air dry.