When I bought my house, it could have been used for the picture in the dictionary to define the term "fixer upper."  It was just over 30 years old when I bought it in 2007, but it hadn't known much love in its life.
Here's what it looked like when I bought it: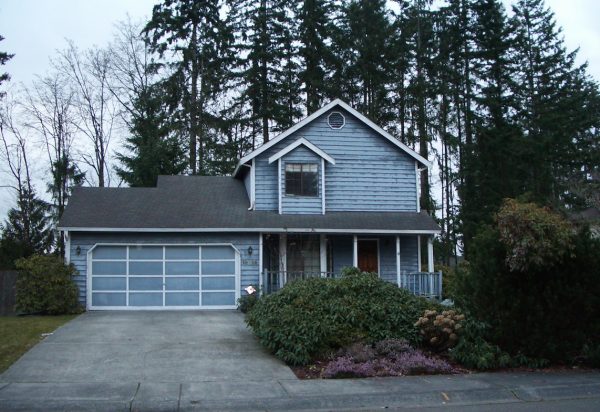 Unfortunately, after spending every penny I had to buy my house, the housing market started to tumble.  My home value was plummeting, even while I was trying to make improvements.
So, I had to be thrifty.  I did as many projects myself as I could.  And I came up with ideas for updates I could do without spending a ton of money.
A few years later, the exterior looked like this: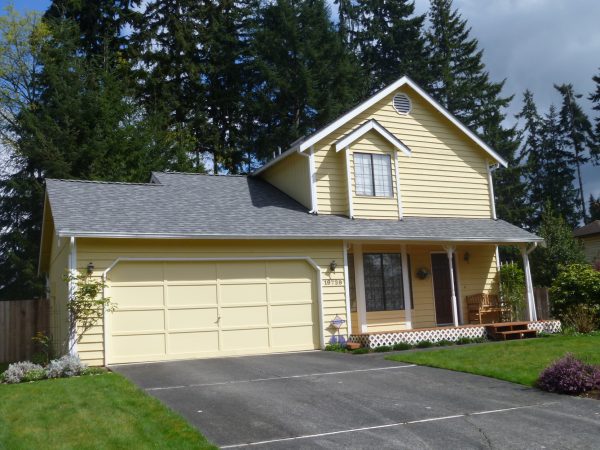 Home Tour
Come along and see how the interior changed as well.  I don't have them all written up yet, but here are the transformations so far.
When I bought my house, it had the original kitchen from 1985.  Kitchen remodels are expensive!  So, I did some clever repurposing and some super thrifty updates to create a whole new look.  See more.
The living room used to have pink carpet, drapes shredded by cats, an ugly fireplace hearth, and an awkward layout.  With some creative re-imagining, it is now a beautiful contemporary space.  See more.
As someone who enjoys wearing pretty clothes, I needed more efficient storage space.  I created a custom closet system with some DIY creativity and a tiny budget.  See more.
From overgrown shrubs and a rotting deck, to a beautiful outdoor living space.  Some serious DIY effort produced a gravel patio with pergolas, a swing, eating areas, and a fire pit.  See more.
Stay tuned for more coming soon!
Home Office
Damaged blinds
Filthy walls
Odd shaped room
Stay tuned to see the updates!
Master Bedroom
More pink carpet!
Pink blinds and puffy window valence
Another ugly fireplace
Stay tuned to see the updates!
Spare Bedroom
Peach walls
Peach blinds
Wallpaper border with geese and bears
Stay tuned to see the updates!
Full Bathroom
Blue faux marble tub surround
Stained vinyl floor
Awkwardly placed medicine cabinet
Stay tuned to see the updates!
SaveSave
SaveSave