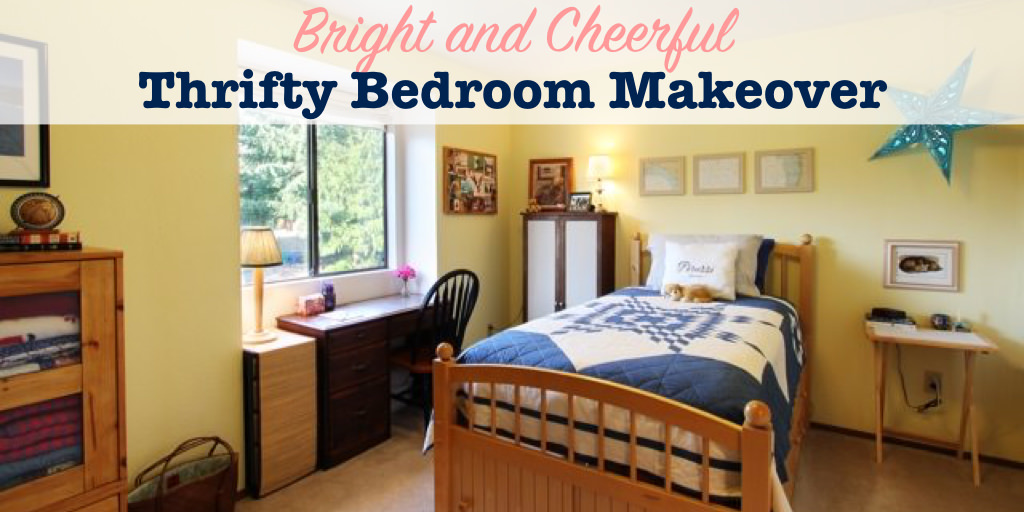 The second bedroom was the most "80's" of all the rooms in my house when I bought it. With pink carpet, peach colored walls and blinds, and a wallpaper border featuring geese and teddy bears, this room desperately needed an update.
Watch the room transform with a little paint, and thrifty furniture choices.
BRIGHT AND CHEERFUL THRIFTY BEDROOM MAKEOVER
[disclaim]
MATERIALS FOR A SPARE BEDROOM UPDATE
Paint – I used Sherwin-Williams "Glad Yellow" in eggshell
Student's desk
Storage cabinets – I found mine at thrift stores
Plastic storage drawers with cover – DIY how-to coming soon!
[/disclaim]
Here's what my home's second bedroom looked like originally, in the height of 1980's fashion.
SPARE BEDROOM BEFORE
BEDROOM BEFORE: Pink carpet and a wallpaper border!
I was fortunate to have all of the flooring replaced, and the interior professionally painted before I moved into the house. The painters removed the wallpaper for me, and painted the whole house a basic white. Then it was ready for some personal touches.
Here's what the bedroom looks like now.
Colors
I chose a cheerful yellow and blue color combo for this room. The walls are Sherwin-Williams "Glad Yellow." I painted the room when I was snowed in during a winter storm. It was a great way to use my time at home!
I painted two walls yellow, and left the other two walls and the window nook white.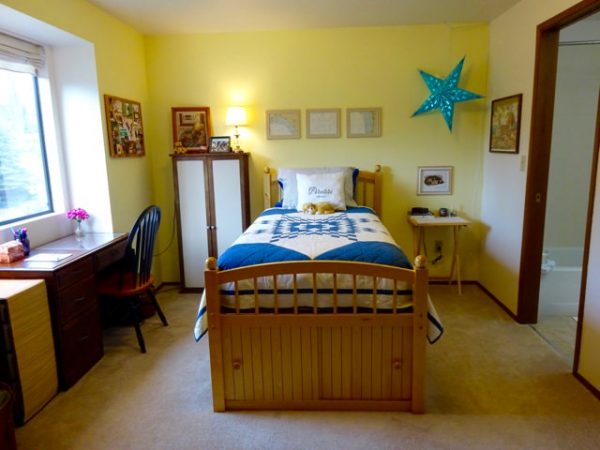 The blue and white star quilt is homemade. (That might have been another winter storm project. I like to keep busy!)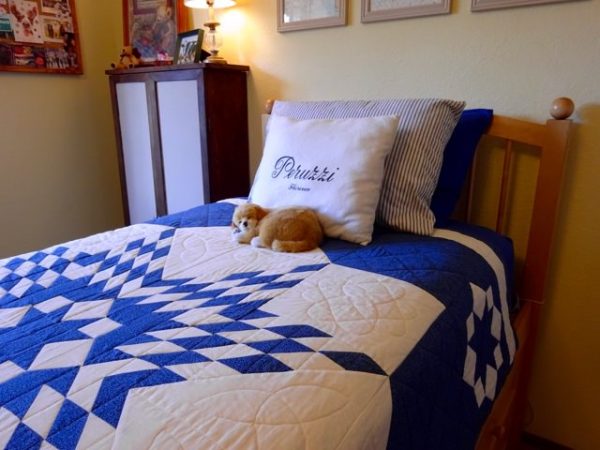 Furniture
The twin size captains bed with storage drawers came from my studio apartment. It's still a great, functional piece of furniture. I use a small TV tray as the night stand.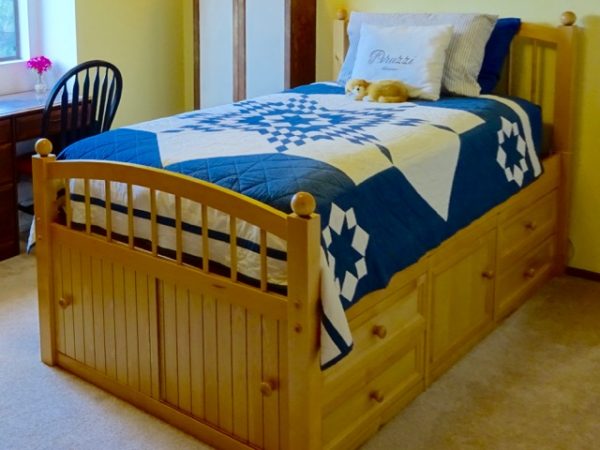 The window nook turned out to be the perfect spot for a small desk. I use this for sewing and crafting. The light is great here for detailed work.
Next to the desk, I keep my craft supplies in a set of plastic storage drawers. But, they're stylishly covered with a grass mat. A How-To post for this easy project is coming soon!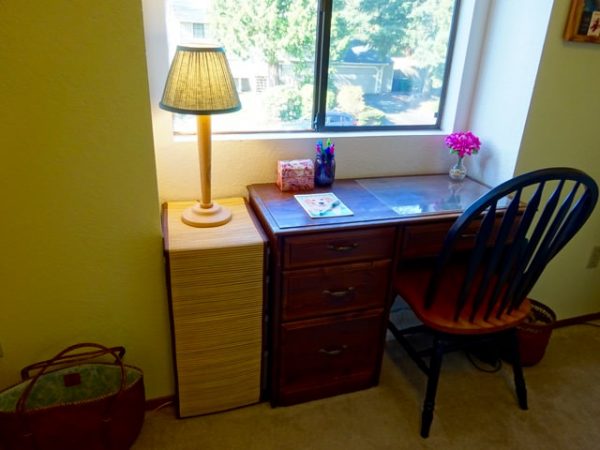 Cabinets rescued from thrift stores provide extra storage space for blankets, and more crafting supplies and fabrics.
A refinished display cabinet holds more homemade quilts and blankets.
This narrow cabinet used to be a gun rack when I found it at a thrift store. I added shelves and now it holds fabric.
Accessories
This bedroom has a slight, but not overwhelming, nautical and travel theme. It's a nod to my past experiences on ships.
In addition to the compass star pattern on the quilt, I have a life preserver on one wall, signed by old friends.
I cut interesting pieces out of an old nautical chart, and put them into frames over the bed. A painting of Florence and an Italian throw pillow are nods to other travel adventures.
And one of my favorite decor pieces in my entire home is in this room – the paper star lantern, which I bought new for about $15. This simple light fixture is so pretty, it makes me smile every time I see it. It's not a very practical light source, but it brings me joy. Now that's good decor.
A Thrifty Transformation
Do you have a space that is part spare bedroom, part craft room, part "place for things I don't want to deal with right now"? I hope some of these ideas will help you transform it into a room you love.
A little paint, and some thrifty furniture and accessories acquired over time create a cheerful style in this bedroom. It's full of good memories, and good storage space!
Get More DIY!
Have our free weekly newsletters with the best tips, new home improvement projects and easy crafts sent to you!
Please Share With Others!