These twine wrapped bottles are easy and inexpensive to make. You can get all of the supplies you need at the dollar store. The bottles are perfect to use as a vase or just display as art.
Decorating bottles with twine is also a great idea for inexpensive wedding decorations or favors. Especially for rustic, farmhouse or coastal themes.
You can use any glass bottle to make these decorations. Wine bottles are nice to use for this art project. I used a small glass cola bottle, which is cute and small, and I think the size makes a really great vase.
For more ideas on how to upcycle a wine bottle, check out my beautiful glass beaded wine bottles, and this easy macrame hanging wine bottle vase.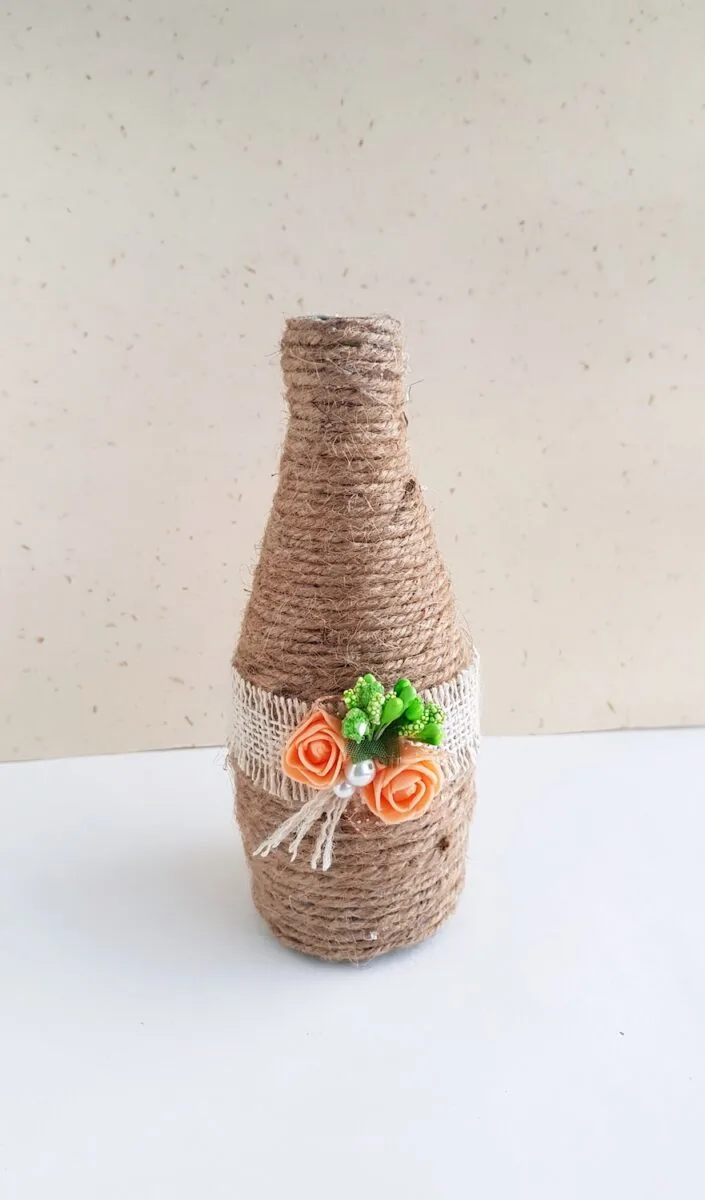 DIY Twine Wrapped Bottle Art
Supplies
Empty glass bottle (clean and dry)
Twine rope
Burlap, lace or ribbon
Small embellishments (shells, beads, flowers – you can make DIY satin flowers, buttons, etc.)
Instructions
Step 1
Apply hot glue to either the top or bottom of the bottle. Place the cut end of your twine in the glue and press firmly until it holds.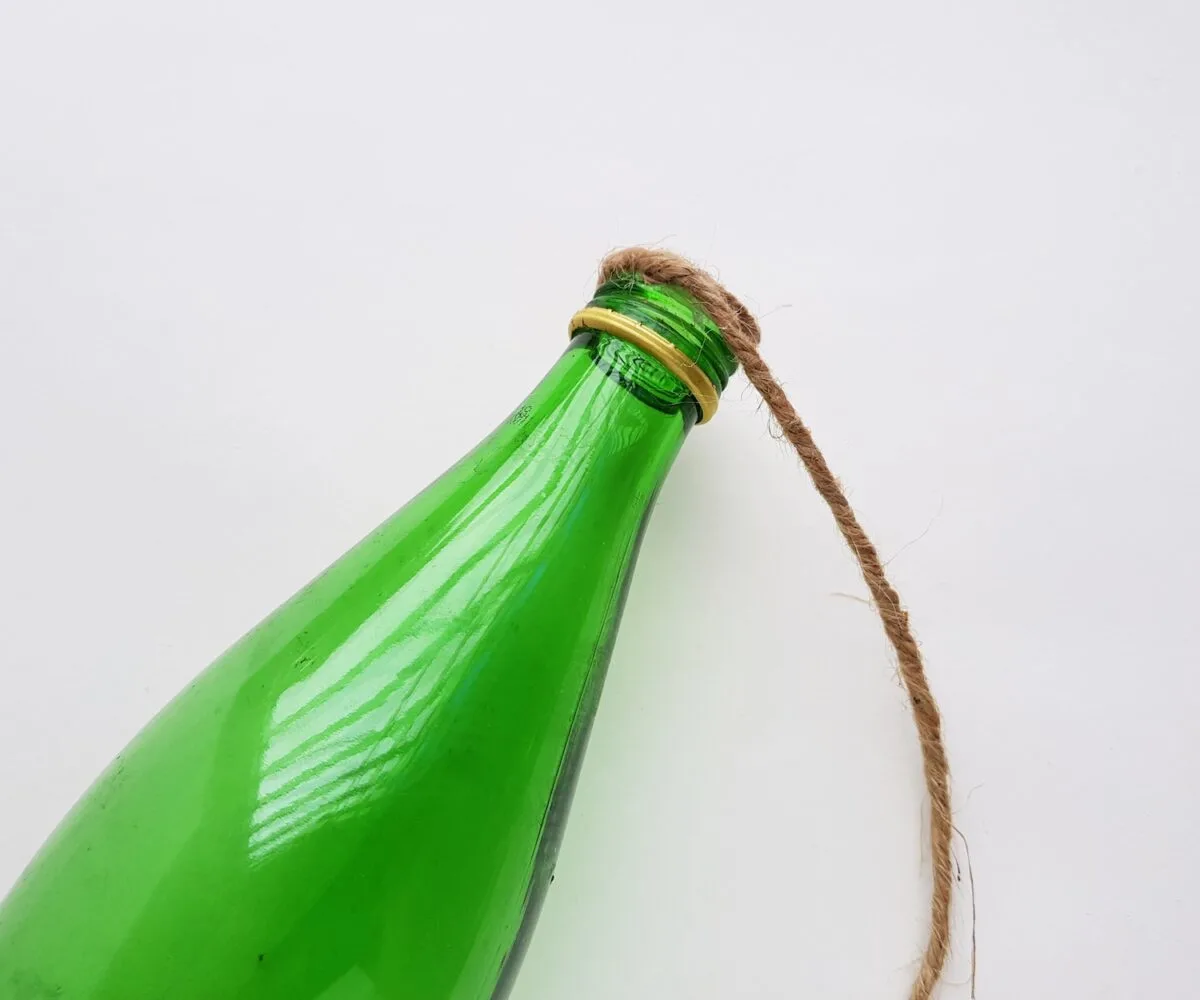 Continue to add a line or two of hot glue above or below the twine you just glued down (depending on what direction you are working in) and then wrap the twine around and press into the glue. Be sure to hold the twine into the glue until it sets.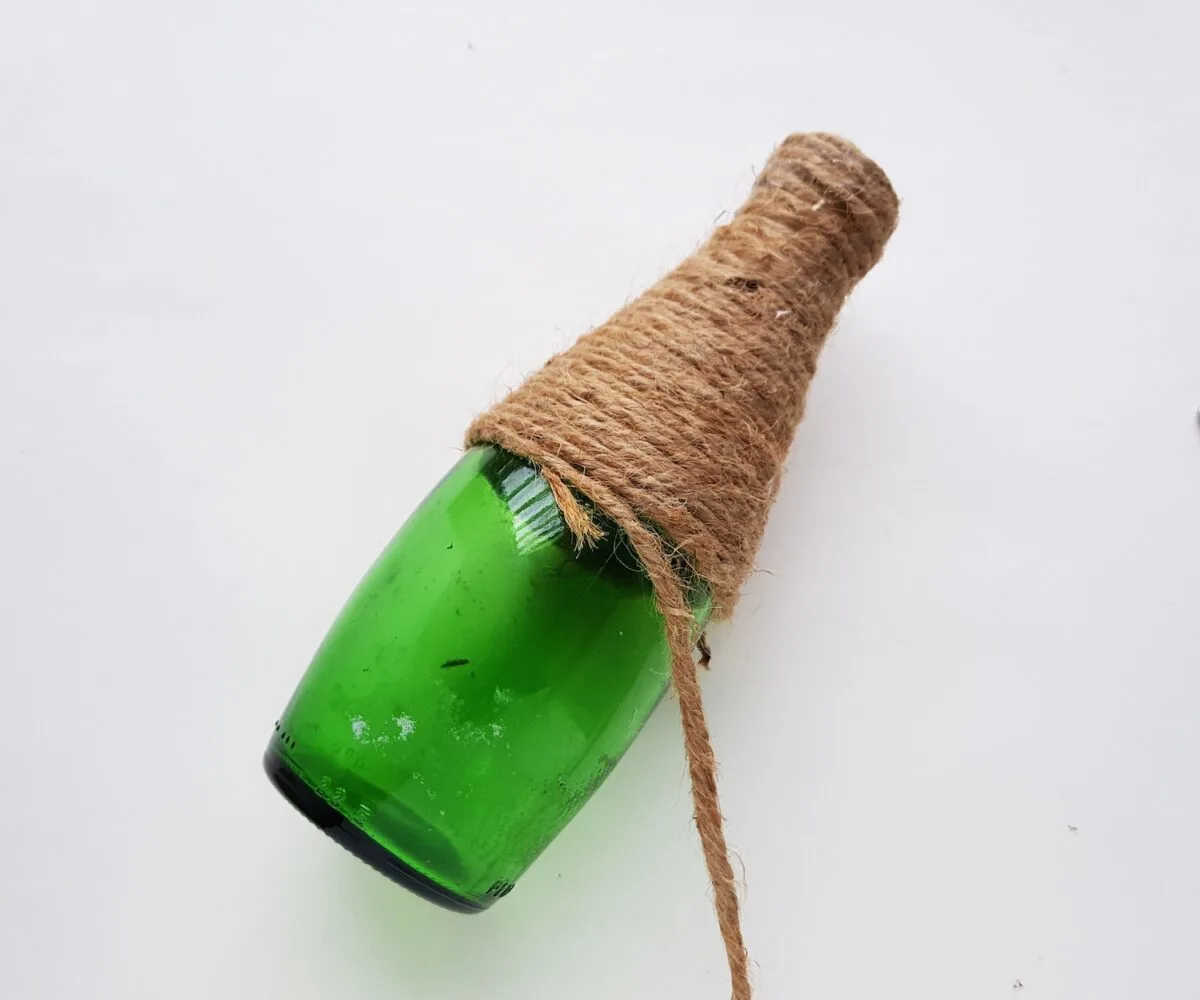 Step 2
Once the entire bottle is wrapped with twine, cut the twine and glue down the edge with hot glue.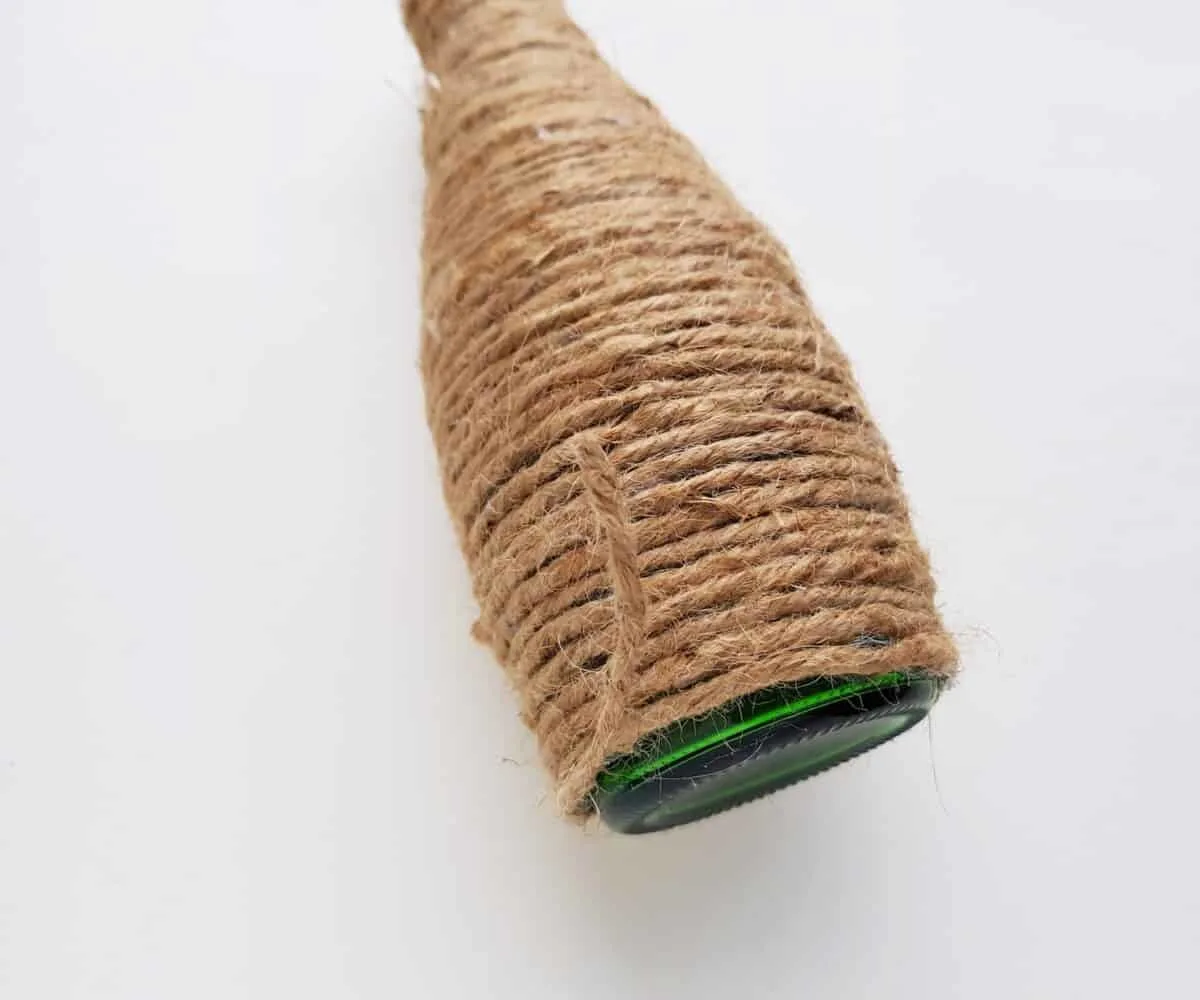 Step 3
Cut a piece of burlap (as I did) or a ribbon or lace to wrap around the bottle. Make sure the piece is large enough to wrap around the widest part of the bottle, with a little overlap to hid the seams.
Attach decorations, such as flowers or buttons or shells to the burlap with hot glue.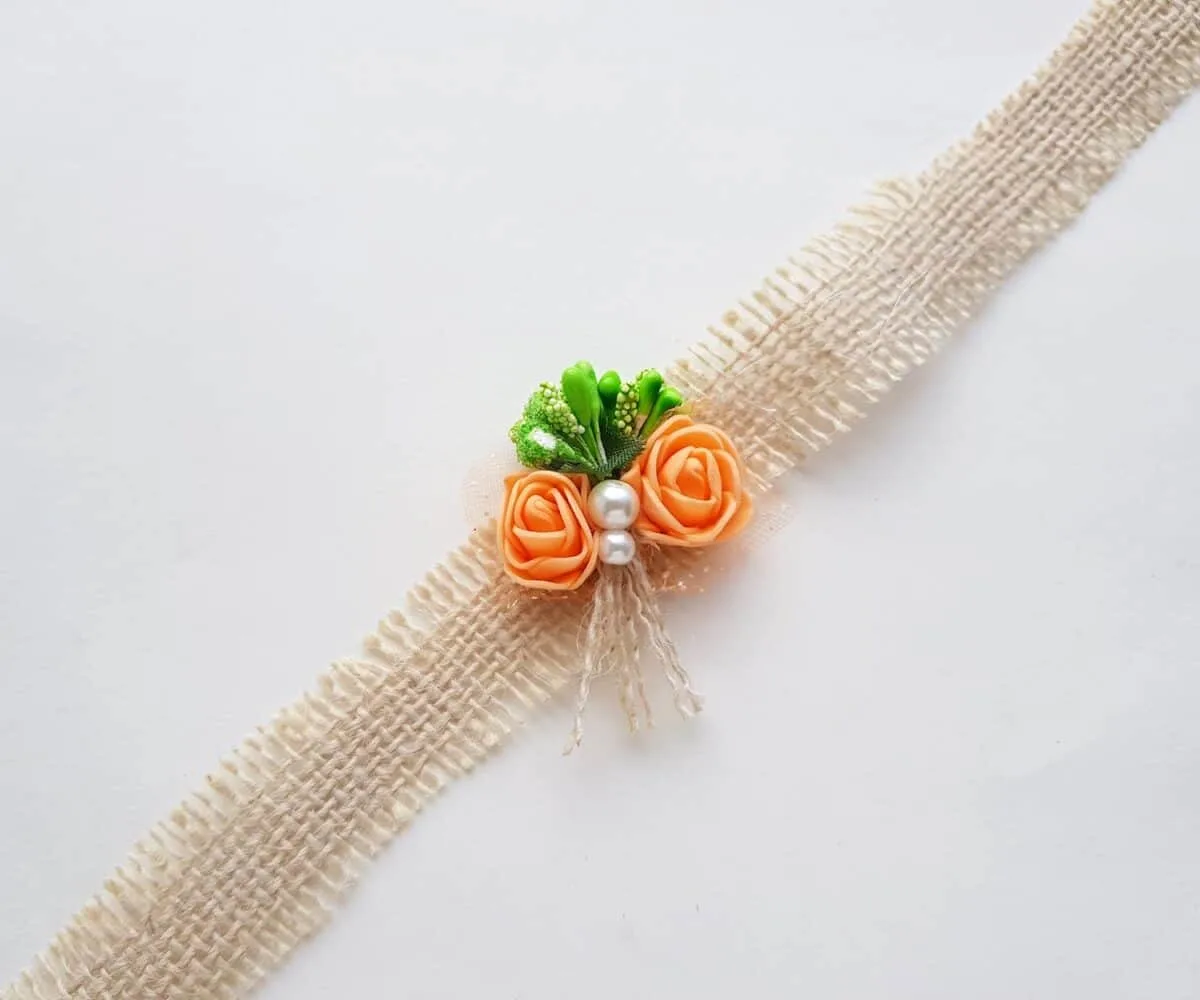 Step 4
Attach the burlap ribbon to the bottle with hot glue, applying the glue over the twine. Overlap the edges to hide the seams.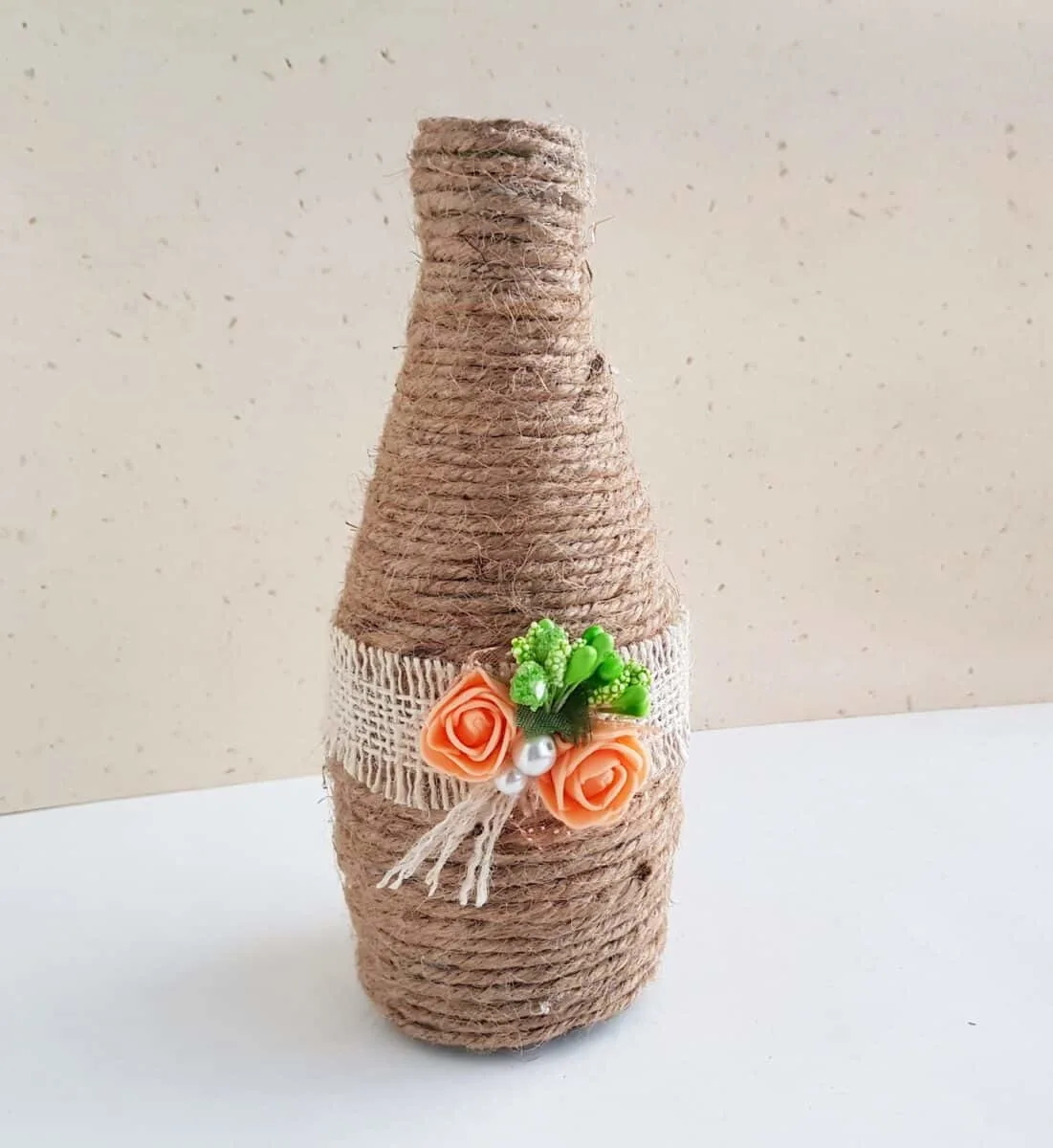 That's it! This craft project couldn't be any easier! If you love super fast DIY projects (who doesn't?), you might also like my DIY clay tray trinket dish.
You'll probably have lots of twine leftover, so check out my farmhouse twine wrapped Easter eggs.