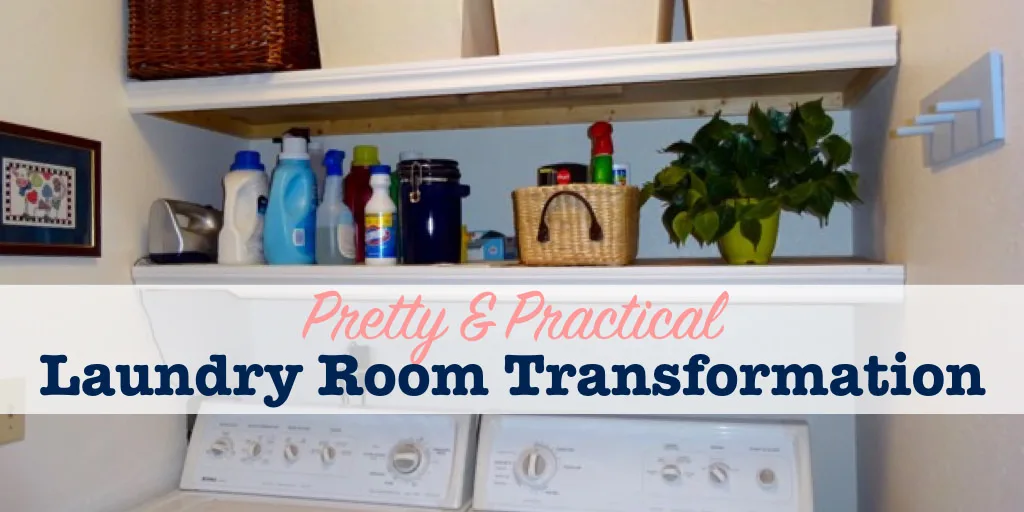 The laundry room was one of the things I was most excited about when I bought my house.
I was moving from a tiny studio apartment, that didn't have a washer or dryer. That meant trips to the laundromat.
You'll probably agree that doing laundry is not a fun task that you look forward to doing. When you have to actually plan an excursion and load up the car and make a trip to do the laundry, it's even worse.
And so, I was very excited about having a laundry room. It wasn't much, but it was mine.
PRETTY & PRACTICAL LAUNDRY ROOM TRANSFORMATION
[disclaim]
MATERIALS FOR LAUNDRY ROOM UPDATE
[/disclaim]
One of the greatest things about having a laundry room in your home is that you can throw in a load of wash and then go do something else. I try to spend as little time in there as possible, but I still want it to be a nice space, packed with function and even a little style.
Here's how I prettied up my space.
Adding Vertical Storage
The washer and dryer came with the house. Above them were some functional, but not very attractive shelves.
One of the first things I did in the laundry room was to replace those shelves. Out came the ugly metal brackets, and they were replaced with two pretty wooden shelves. (See how you can do this yourself here.)
The bottom shelf keeps all the detergents and washing supplies handy. (I use a piece of fabric under the bottles to help protect the wood shelf.)
The top shelf is great for storage bins. Things up there don't get used often. But in a small house, with a shortage of storage space, vertical real estate is valuable. I like bins with covers, and also have a wicker laundry basket on the shelf.
Isn't it amazing what a difference just changing out the shelves makes to the look of the room?
Drying Pegs
Next, I added a repurposed coat rack next to the dryer. The pegs are perfect for hanging delicate items that need to air dry.
Pegs are perfect for drying delicate items.
A drying rack helps prevent wrinkles.
I never feel like I have enough hooks or pegs in the laundry room. Maybe I'll add more one day. Until then, I also use a couple of free standing drying racks for bigger items.
TIP: Taking your clothes out of the dryer while they're still a little damp helps reduce wrinkles. It also may extend the life of your clothes, and saves energy. Give things a good shake when you take them out of the dryer, and then lay them out flat while they dry.
A Touch of Color
A bathmat makes the perfect throw rug for the laundry room. It brings in some fresh colors, and stands up to drips and traffic.
And it may seem silly, but I love the greenery on the shelf. It adds just a touch of life to the room. (Well, fake life, but still, I like it.) Not all decor has to be practical, if it makes you happy.
No More Laundromats
This was already one of my favorite rooms in the house, because it keeps me out of the laundromat.
By changing the shelves and adding a few personal touches, the laundry room became a pretty little space that I try to spend as little time in as possible. 🙂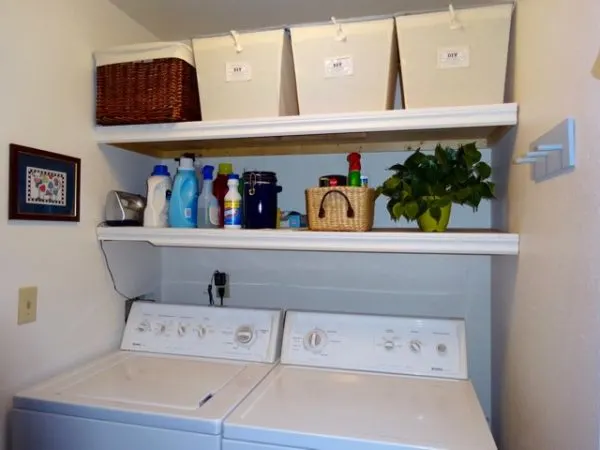 SaveSave
SaveSave