These DIY candy wrapper crafts are the perfect way to recycle candy wrapping after the holidays. You will be really surprised at what you can make from old candy wrappers, such as bags, bracelets, pouches and more!
While getting tons of candy is the goal of many people during the holidays, especially Halloween, Valentines Day, Easter and Christmas – you're usually left with a pile of candy wrappers that you don't know what to do with.
And it seems such a waste to throw the colorful wrappers in the trash!
I love the clever crafters who have taken the time to upcycle and repurpose candy wrappers into these adorable crafts below.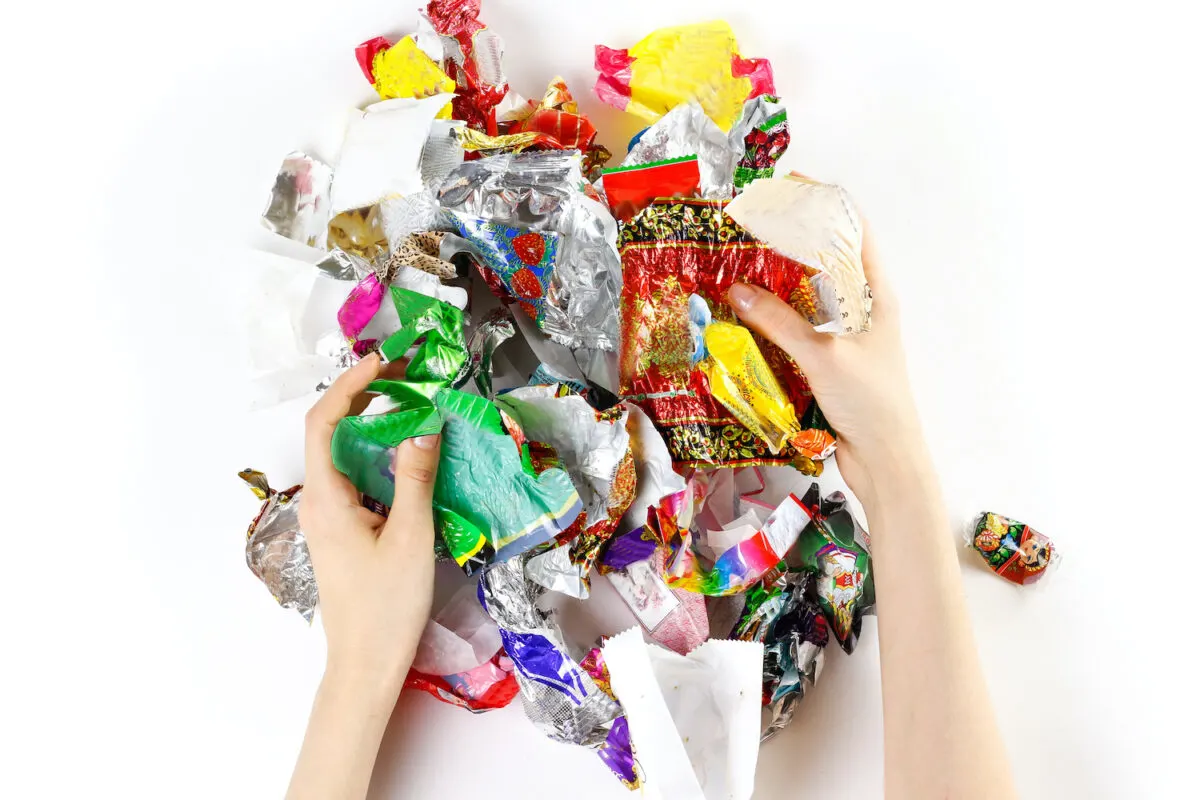 Decide not to DIY? No problem. If you're inspired by these cute designs, check out these unique candy wrapper crafts on Etsy.
If you like these ideas, be sure to see how I upcycle a grocery store bag using paper weaving.
DIY Candy Wrapper Crafts
There are a variety of materials you can use for these art projects, such as:
Small candy wrappers from individual bite sized candies (think Tootsie Rolls, Starburst, Dum Dum wrappers, gum wrappers, etc.)
Large candy bags
Big outer bags that hold individually wrapped candies
And these candy wrapper crafts DIY projects are perfect for upcycling and reusing those discarded wrappers from these holidays:
Halloween
Valentines Day
Christmas
Easter
Birthday Parties
Recycled Candy Wrapper Bags
Some of the most popular things to make out of candy wrappers are purses and bags! No wonder, they are super cute! Here are some great ideas.
1. I love how easy it is to make this DIY Candy Wrapper Coin Purse from a candy bag! A fun way to keep track of pens, spare change, or even extra candy to snack on!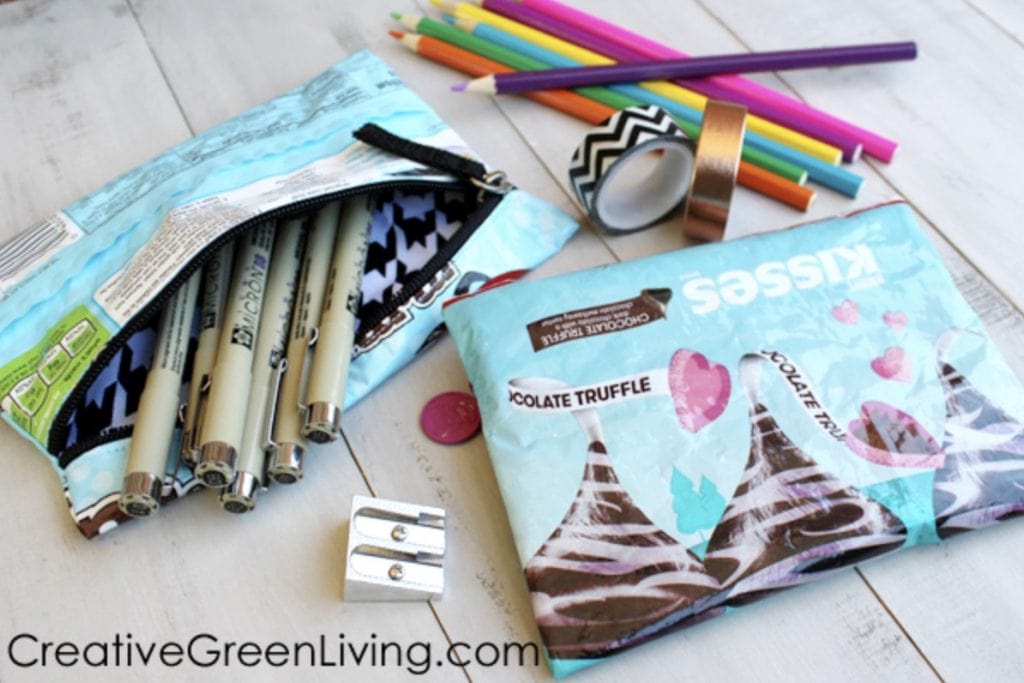 2. Larger candy bags can be turned into bigger pouches with this great tutorial for a Recycled Candy Wrapper Zipper Pouch Tutorial from Creative Green Living. This is ideal for bags that have individual candies in them.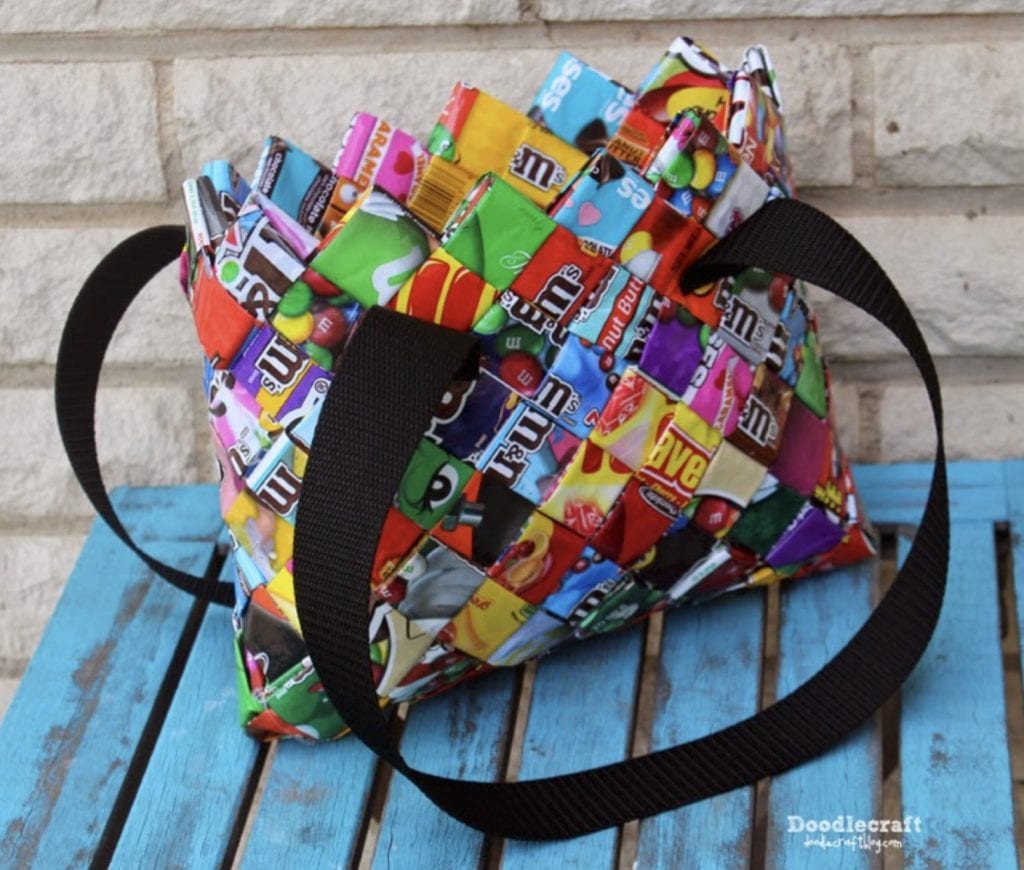 3. And if you've had a REALLY good Halloween stash of candy – or just collect candy wrappers for a really long time – make a DIY Candy Wrapper Purse.
4. Here's another colorful candy wrapper purse that is sewn together and even has a zipper!
5. Another tutorial from Punkin Patterns shows how colorful a Skittles pouch can be!
Candy Wrapper Bracelets
Everyone will know that you have a sweet tooth when you wear one of these cute candy wrapper bracelets!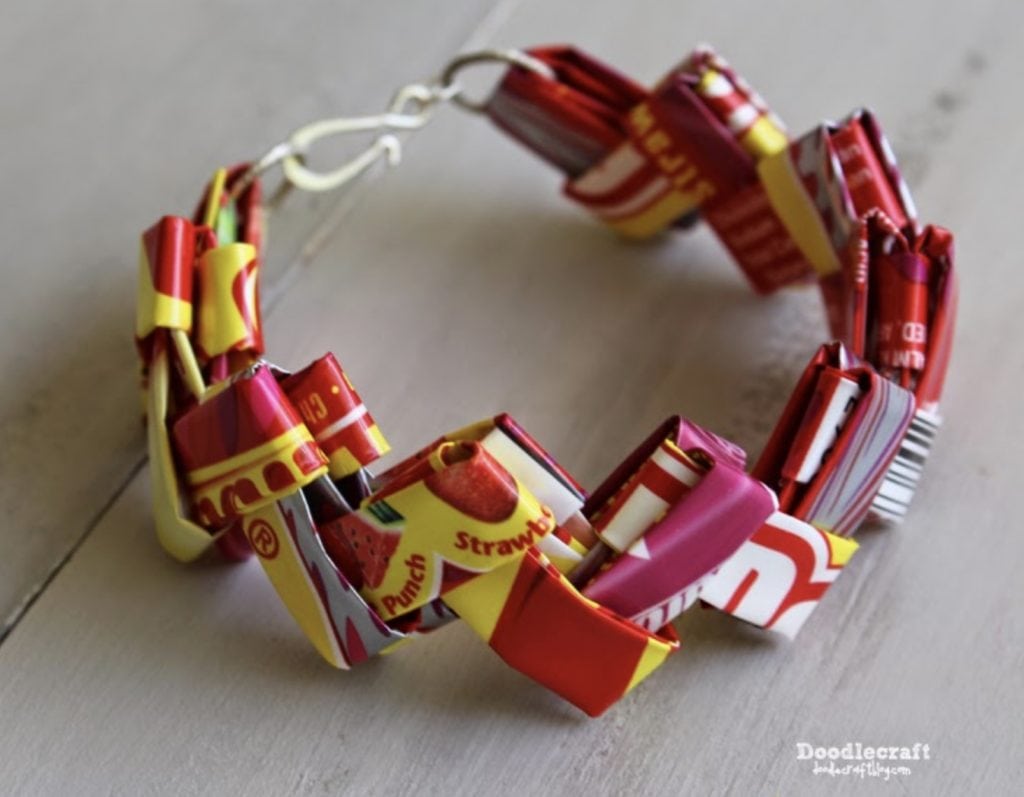 6. Here's a great candy wrapper bracelet from Doodlecraft. This one uses candy wrappers that are folded, rather than covering beads.
7. This colorful Starburst wrapper bracelet is super colorful, too!
P.S. If you love Starbursts, you've got to check out these fruit chews which are so delicious!
Candy Wrapper Upcycled Fashion Accessories
8. How adorable is this candy wrapper belt?! Using Tootsie Roll wrappers, she made a subtle brown belt that is a sweet accessory! This is definitely sustainable fashion!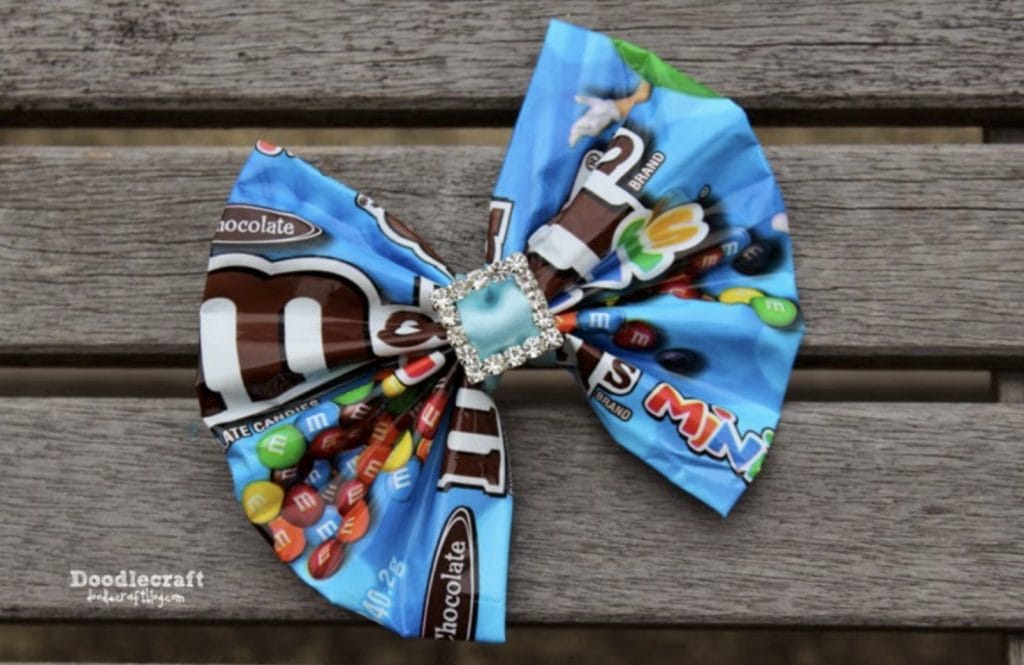 9. I love this candy wrapper hair bow tutorial from Doodlecraft Blog. Not only is the use of a candy bag so cute for kid's hair accessories, but the addition of some glam ribbon and rhinestones really makes this hair accessory fun!
10. These delicious candy wrapper earrings can be crafted out of any type of candy wrapper. I love the earrings made out of Dum Dum wrappers! It's a great DIY idea for small candy wrappers, and works just as well if you want to cut larger candy wrappers down to size, too.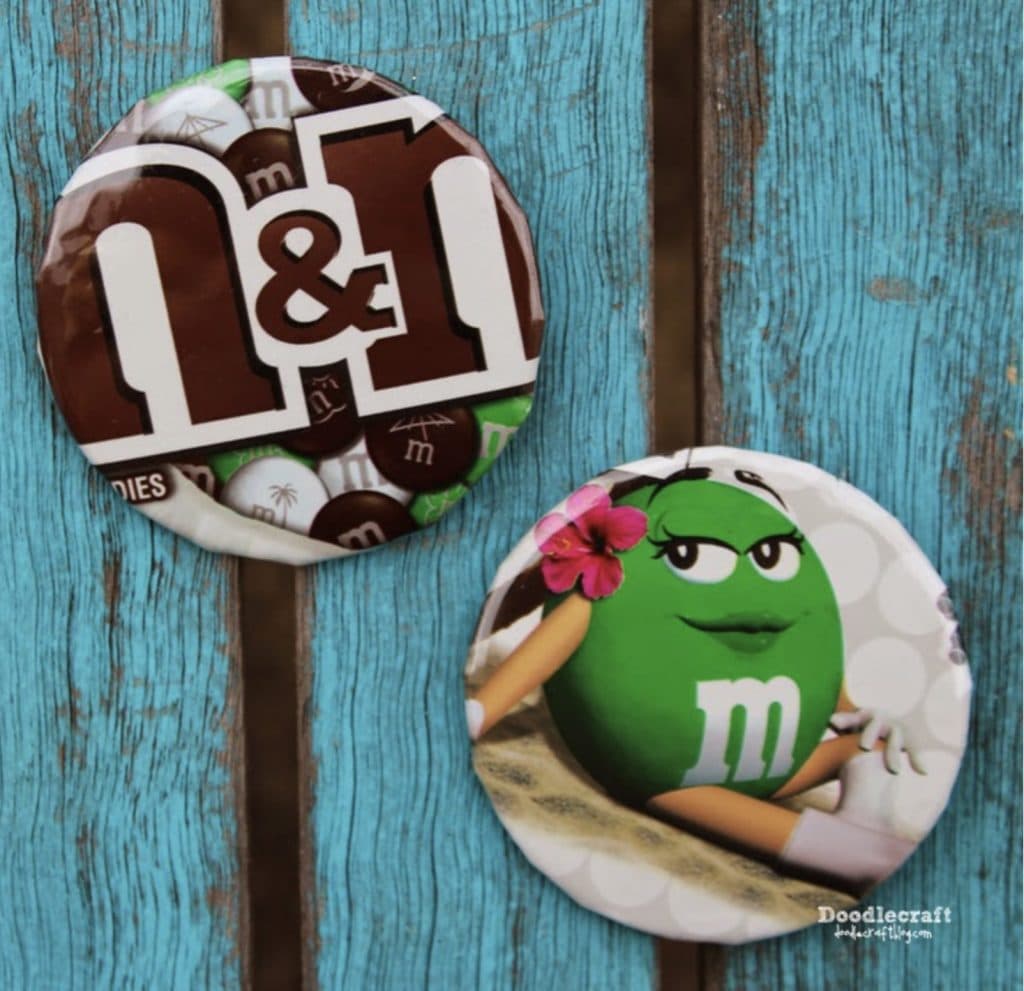 11. These clever candy wrapper buttons will show your love of whatever candy you like! They use the Badge-a-Minit system to make. (I have owned this button-making kit and absolutely loved it!)
You can also convert these buttons into magnets, too, which are great for the refrigerator!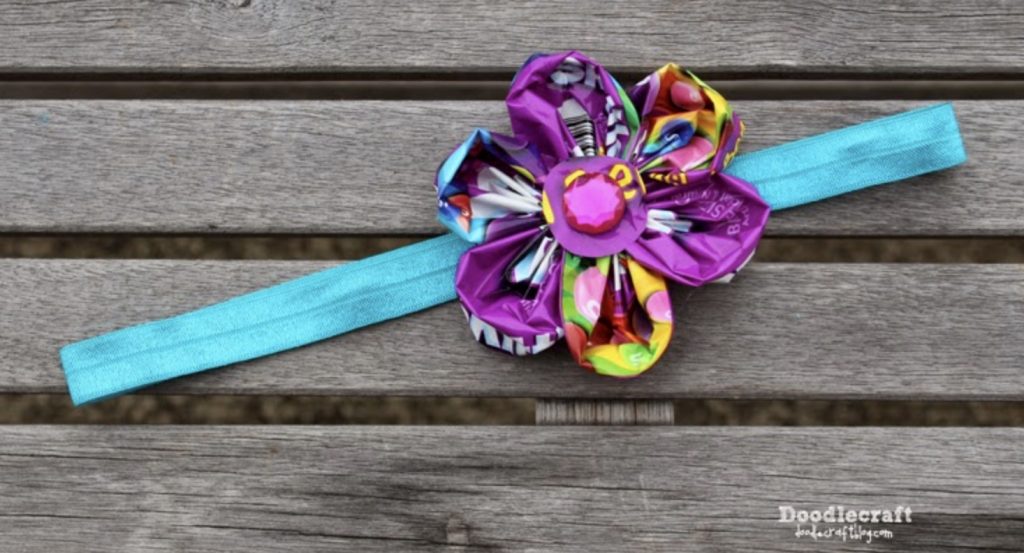 12. This cute and colorful headband has a candy wrapper flower as an accent.
13. While you probably don't want to make an outfit out of candy wrappers, you will be surprised by this candy wrapper dress made for a prom. There's even adorable shoes with Starburst flowers.
14. And this candy wrapper chain necklace is pretty sweet, too!
More Candy Wrapper Crafts Projects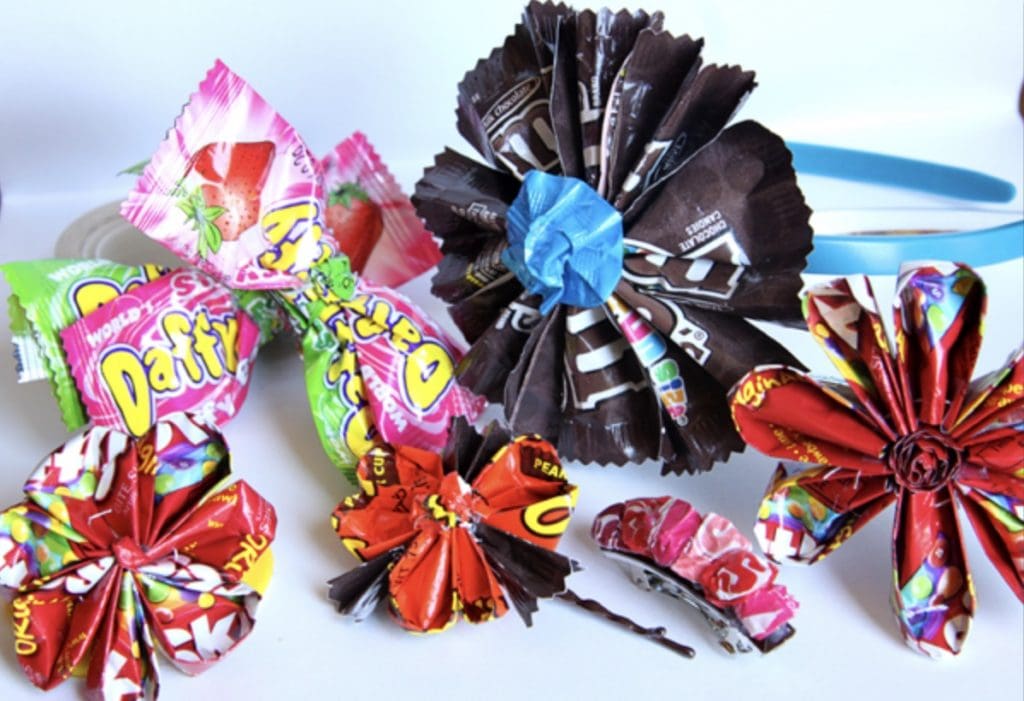 15. I love these candy wrapper flowers from Sugar Bee Crafts! They are perfect for a making flowers that won't die for Valentines Day! Or wear them as hair bows!
16. If you have got a big box of candy (like the Milk Duds boxes at movie theaters or in The Dollar Tree candy aisle), turn a candy wrapper box into a cute bookmark with this tutorial from Organize and Decorate Everything.
17. Learn how to make a gum wrapper chain from the Guiness World Record Holder for the longest chain made out of gum wrappers.
18. Candy wrapper coasters are fun to make out of chocolate wrappers.
19. Here's another gum wrapper chain tutorial that shows how colorful and pretty these chains can be! But, wow, that's a LOT of gum!
20. I can't believe how beautiful this artwork is made from chocolate wrappers! It's so easy to make!
21. This candy wrapper covered vase is a colorful reuse of big candy wraps. This also works for recycled papers of any kind.
22. Candy wrapper origami lets you create animals, flowers and other craft ideas. There are so many beautiful things to make out of Dum Dum wrappers. Lots of different tutorials!
23. This tooth fairy tin doesn't have to be just for kids! Use it to store office supplies, spare change or candy snacks.
24. Perfect for Halloween night, make a candy bowl decorated with candy wrappers.
25. Get ready for Thanksgiving by using old Halloween candy wrappers to make Turkey crafts! It's the ultimate way to recycle from one holiday to another.