We've got a small covered front porch without a lot of space to decorate. But my mission this autumn was to bring some color to the space. After a couple visits to the thrift store, I came up with these fall front porch decorating ideas on a budget.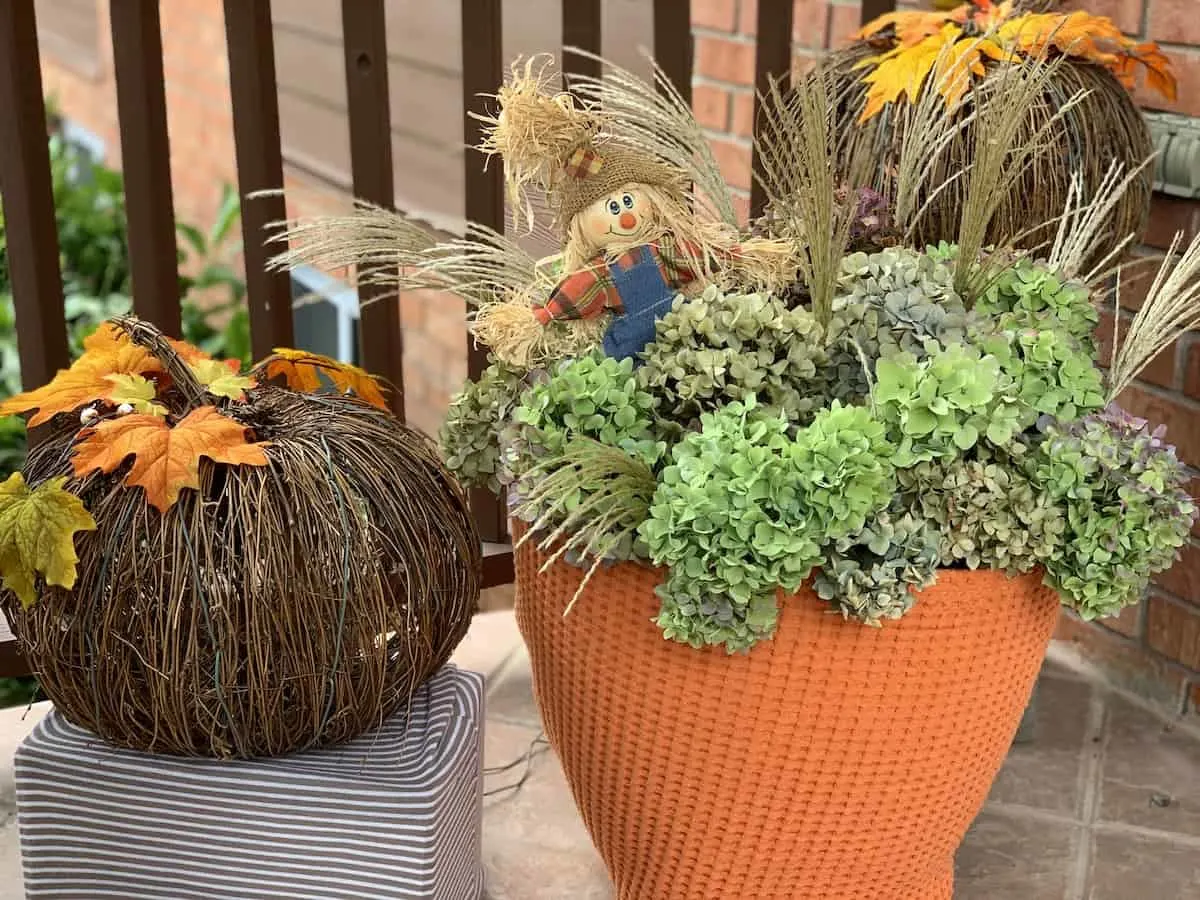 I decided to challenge myself to see how I could decorate our porch using only inexpensive items. First, because I wanted to save money. Second, because no stores had anything I wanted to buy!
You might also love my ideas to make cheap homemade outdoor ghost decorations from items at home! Including these adorable mop ghosts. They're so simple!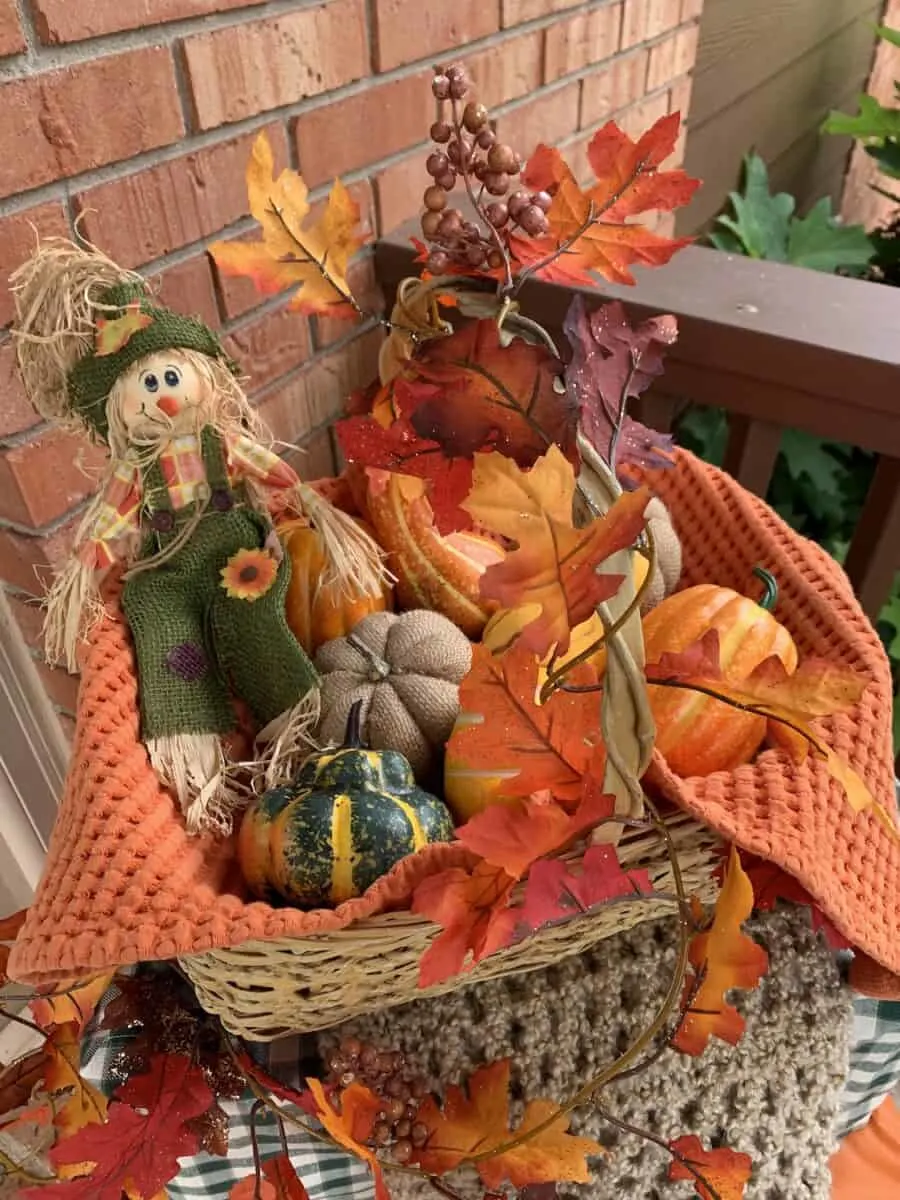 My front porch decor all came from:
Thrift store
Dollar Tree
My Yard
Target and Walmart
So if you're struggling with some small front porch decorating ideas, keep these tips in mind.
If you're wanting budget-friendly seasonal decor, you'll be happy to find out that my entire fall front porch makeover cost $30!
Nearly half of the $30 went towards buying one item, so if you already have that item, you could do this for less!
P.S. I show even more of my thrifty makeover in the YouTube video at the end.
Stacked Fall Boxes
I have a very narrow front porch. So I thought that I'd focus on making tall decorations since I couldn't have anything too wide.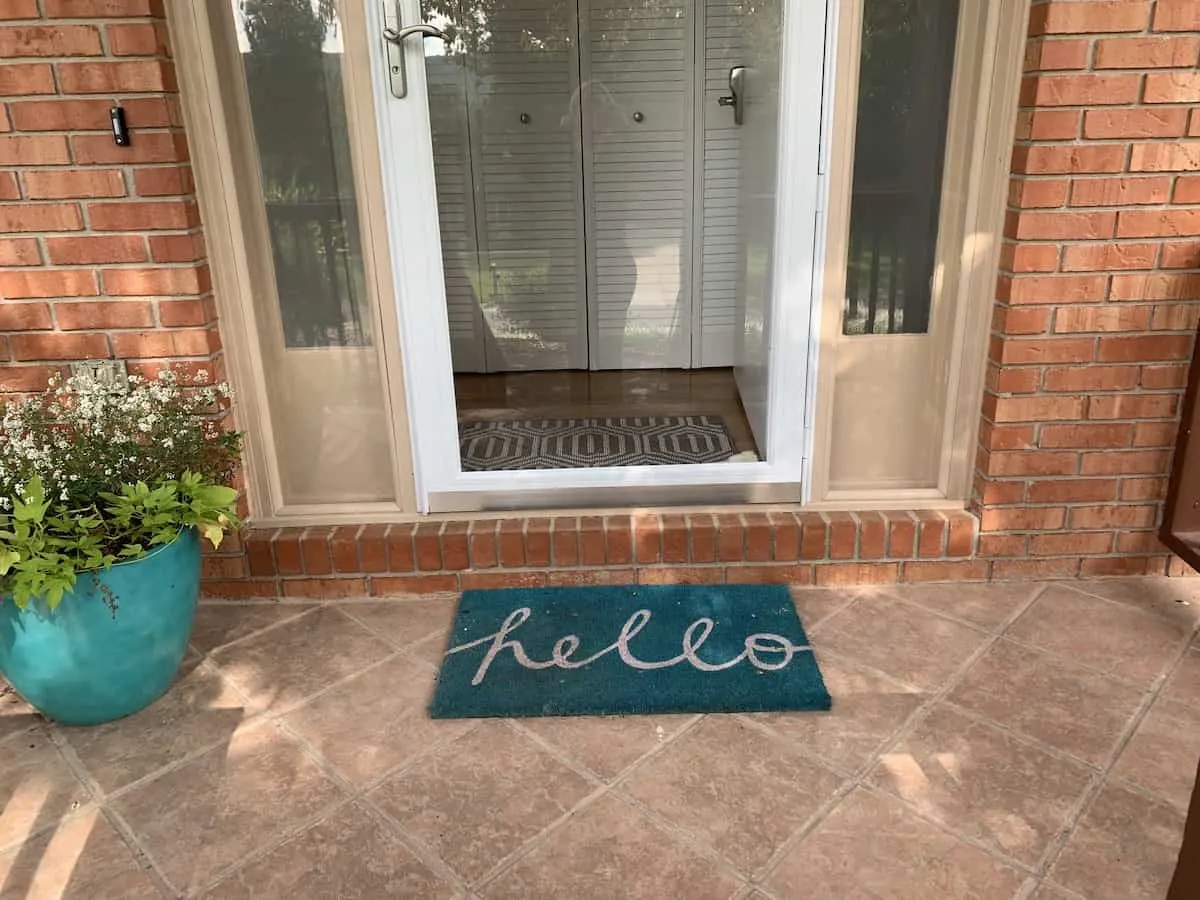 Yet, I have windows on the side of my door. So I didn't want to use any of those tall, narrow signs with festive sayings on them (Even though they are super cute and relatively inexpensive). Because there was no room to prop them up against the house without blocking a doorbell or window.
So I decided to reuse some of the cardboard boxes we had to make inexpensive, big pumpkins stacked on each other.
The idea was good. But I didn't have the right types of boxes to make the look work. I would have needed boxes in varying shapes, going from biggest on the bottom to smallest on top. And while I could easily find them by looking around, I didn't want to pursue the pumpkin idea after I found a great deal on fabric at the thrift store.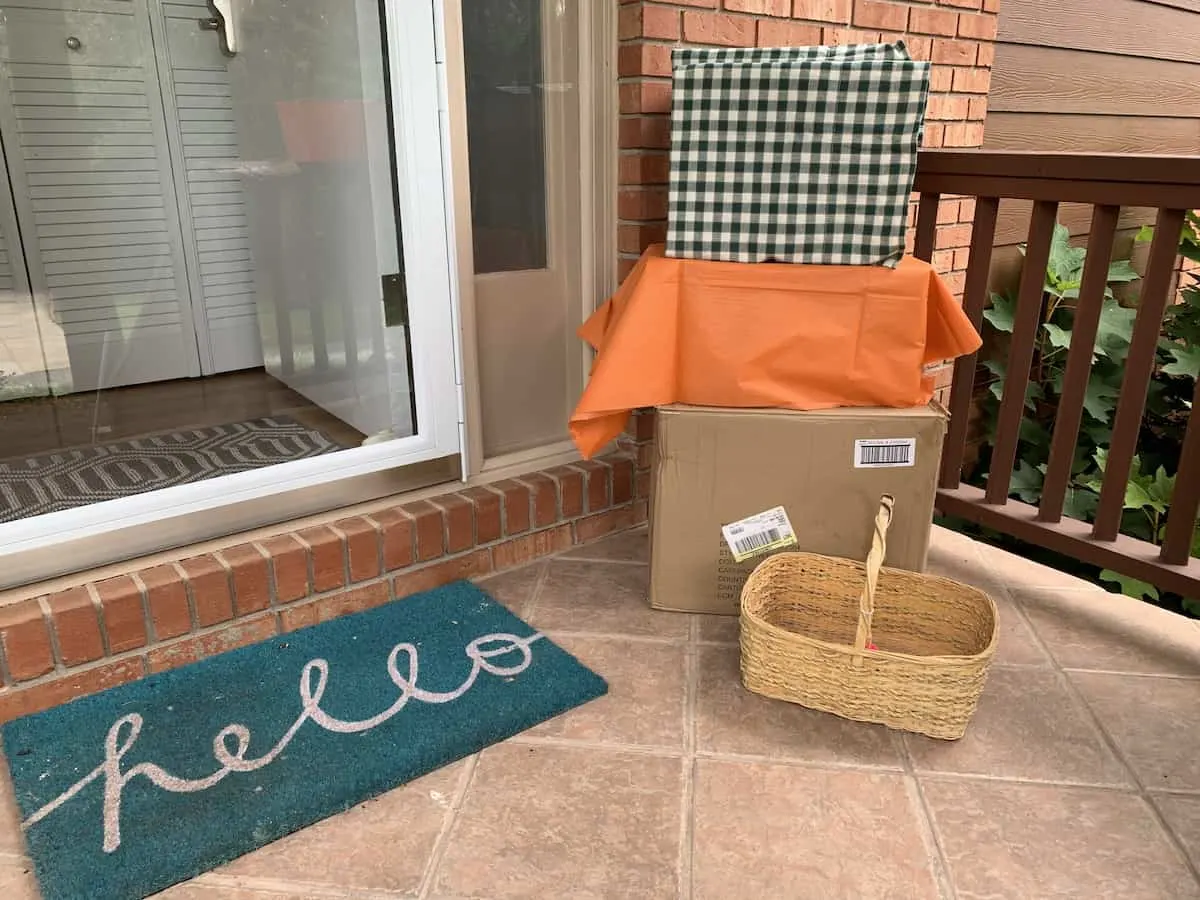 I found a green and white plaid curtain valance for $1.50. When I brought it on the porch, as I was thinking about my decor, I discovered that it fit perfectly around one of the boxes that I wanted to decorate. It looked so good, and fit so right, that I knew I wanted to base my decorating around it.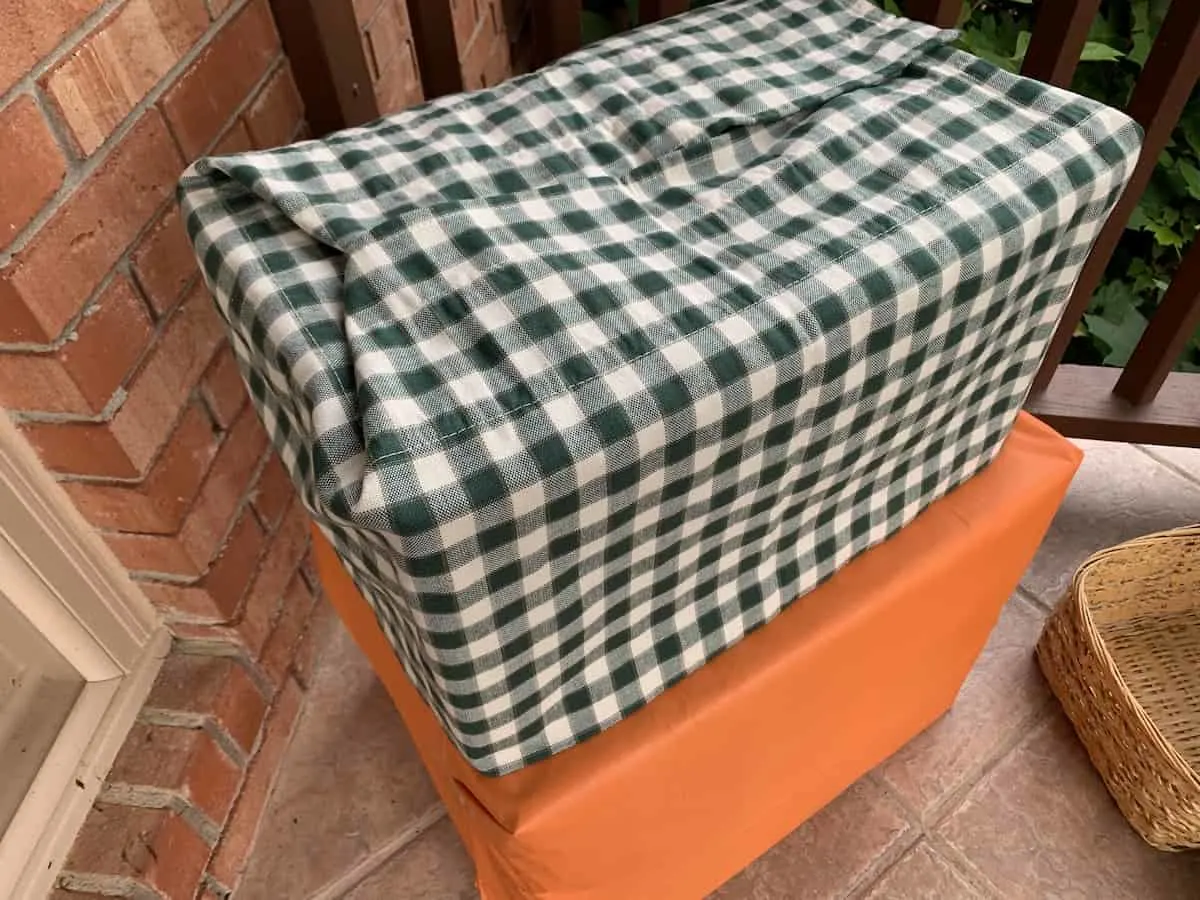 The bottom box I covered with two orange plastic tablecloths from The Dollar Tree. Even though it said flannel backed, these tablecloths were super thin and see-through. It looks good enough, but I wouldn't use these as an option next year. Be sure to use a box without too many labels on it, or else you'll see them right through the tablecloth wrap.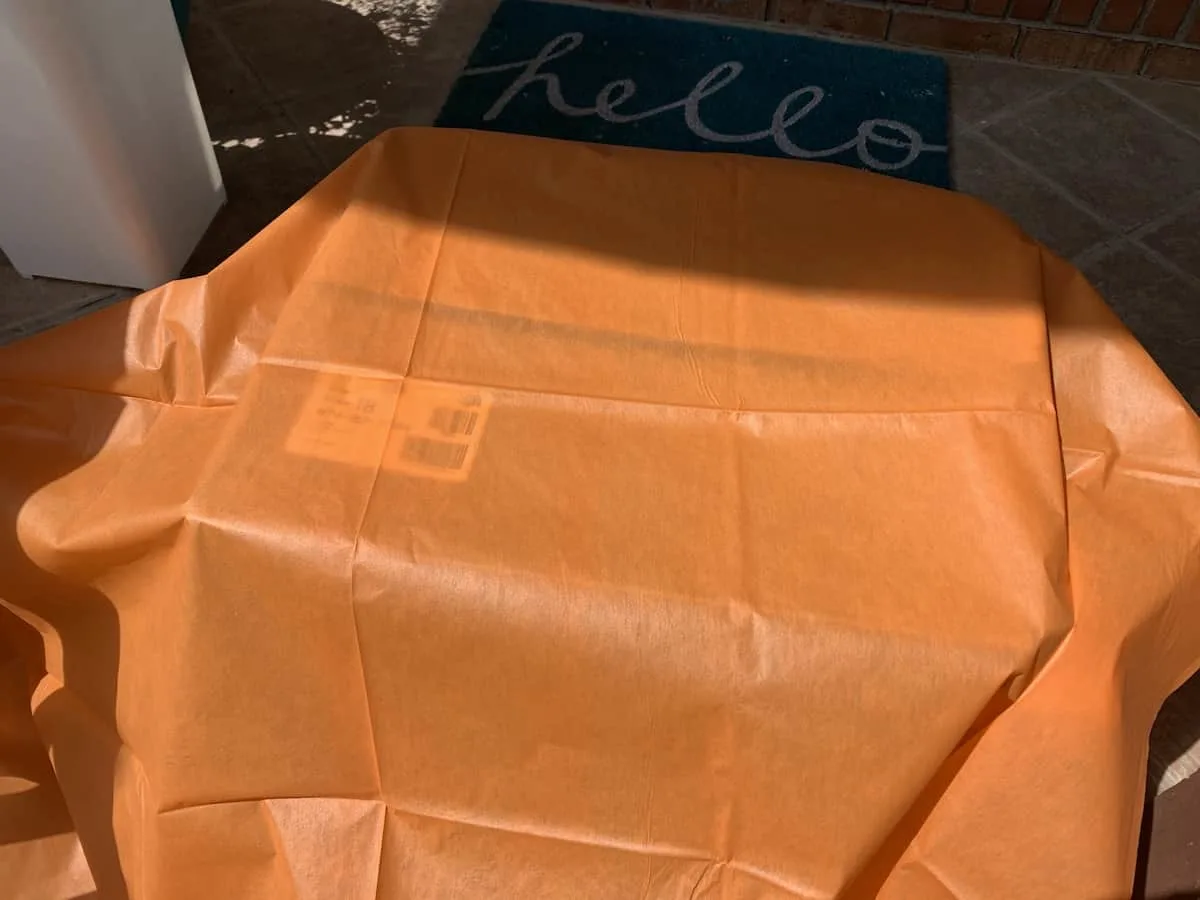 These orange tablecloths cost more, but would work much better!
The plaid wrapped box was put on top of the big orange wrapped box. I had stuffed the box with lots of garbage bags and stuffing to make it sturdy so that the lid didn't fall in when I put weight on top of it.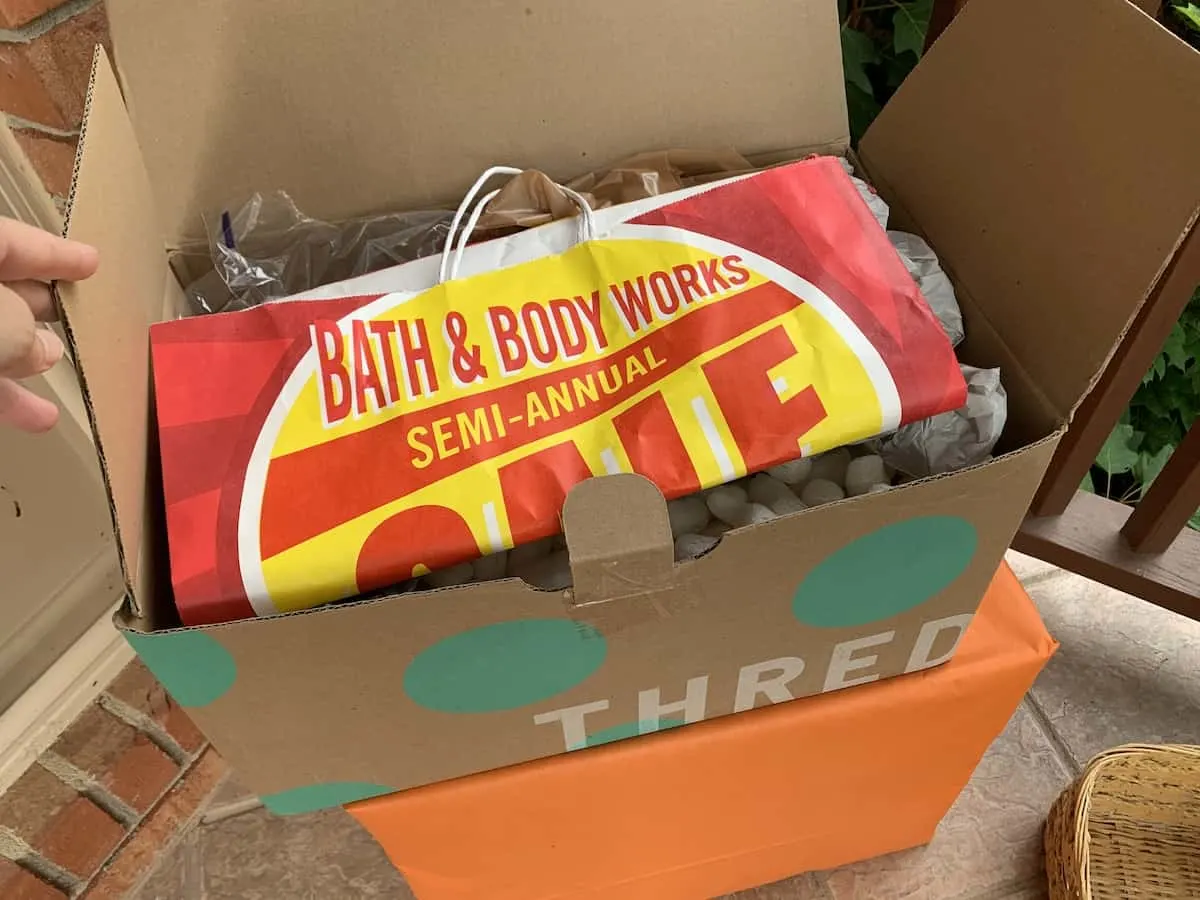 On top of the plaid box, where the seams of the curtain being wrapped around it were showing, I put a hand-knit brown blanket from the thrift store ($2.50) on top. Then I placed a thrift store basket ($3) on top of that.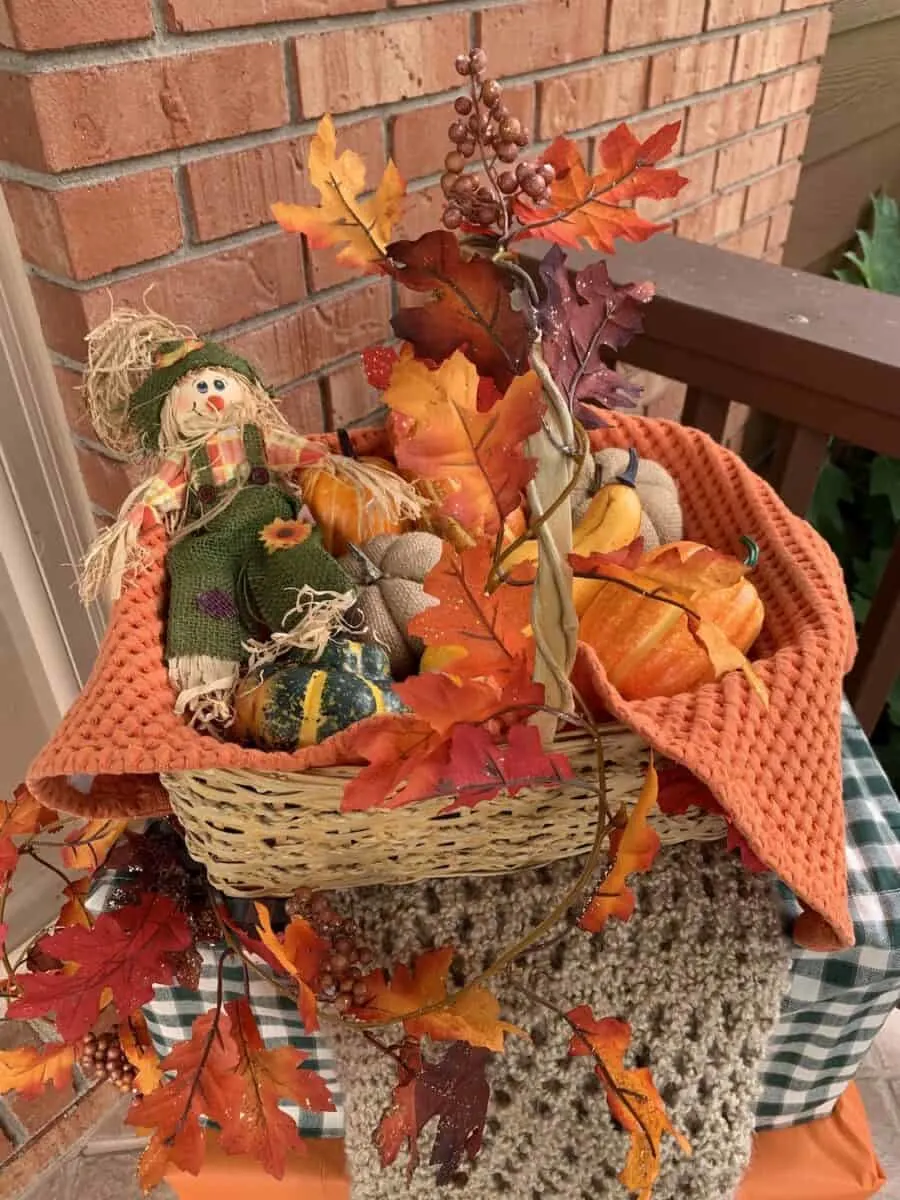 In the basket, I added a layer of plastic bags on the bottom to raise up the height inside. Then I placed an orange towel with a thick waffle weave pattern inside.
On top of the towel, I added fake gourds and pumpkins I had bought for $1 each in previous years from Walmart and The Dollar Tree.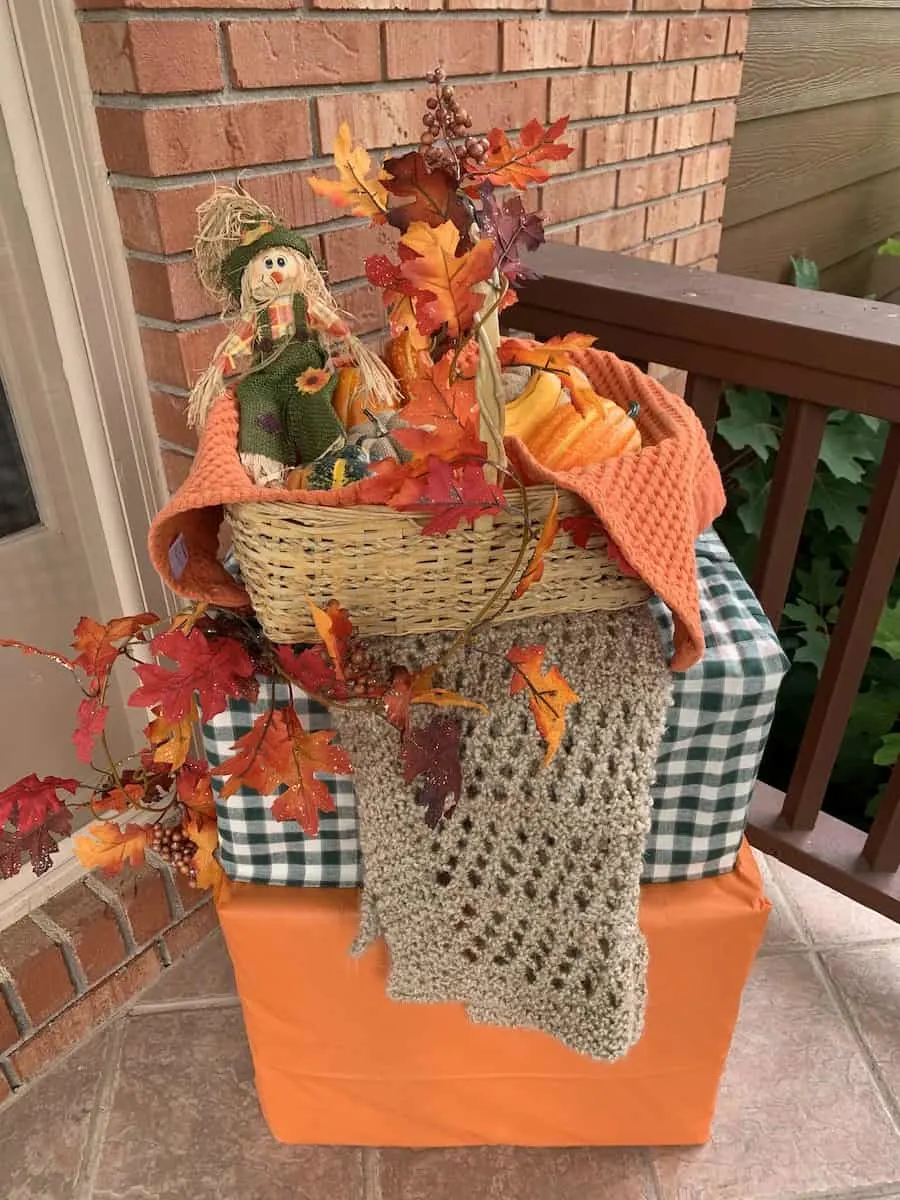 I collected pine cones from my yard and added them in the basket. Along with a scarecrow that my mom gave me.
I wrapped a vine of fake fall leaves around the basket handle to give it more color and interest. I paid $1.50 for the swag at Walmart because I happened to be there on the day it went on clearance for 50% off.
Fabric-Wrapped Pumpkin Stands
I had a bag of clothes that I wasn't going to wear, but probably wouldn't be good to donate to a thrift store. So in a moment of inspiration, I was wondering how I could use the fall-themed color clothing to use as my decor.
When I tried pulling a t-shirt over a box, I was thrilled at how it looked! It was pulled tight and the perfect size to cover boxes I had.
I covered two boxes of different sizes with brown-colored shirts. For the t-shirt, I simply tucked the collar on top of the box neatly and put my decor on top of it.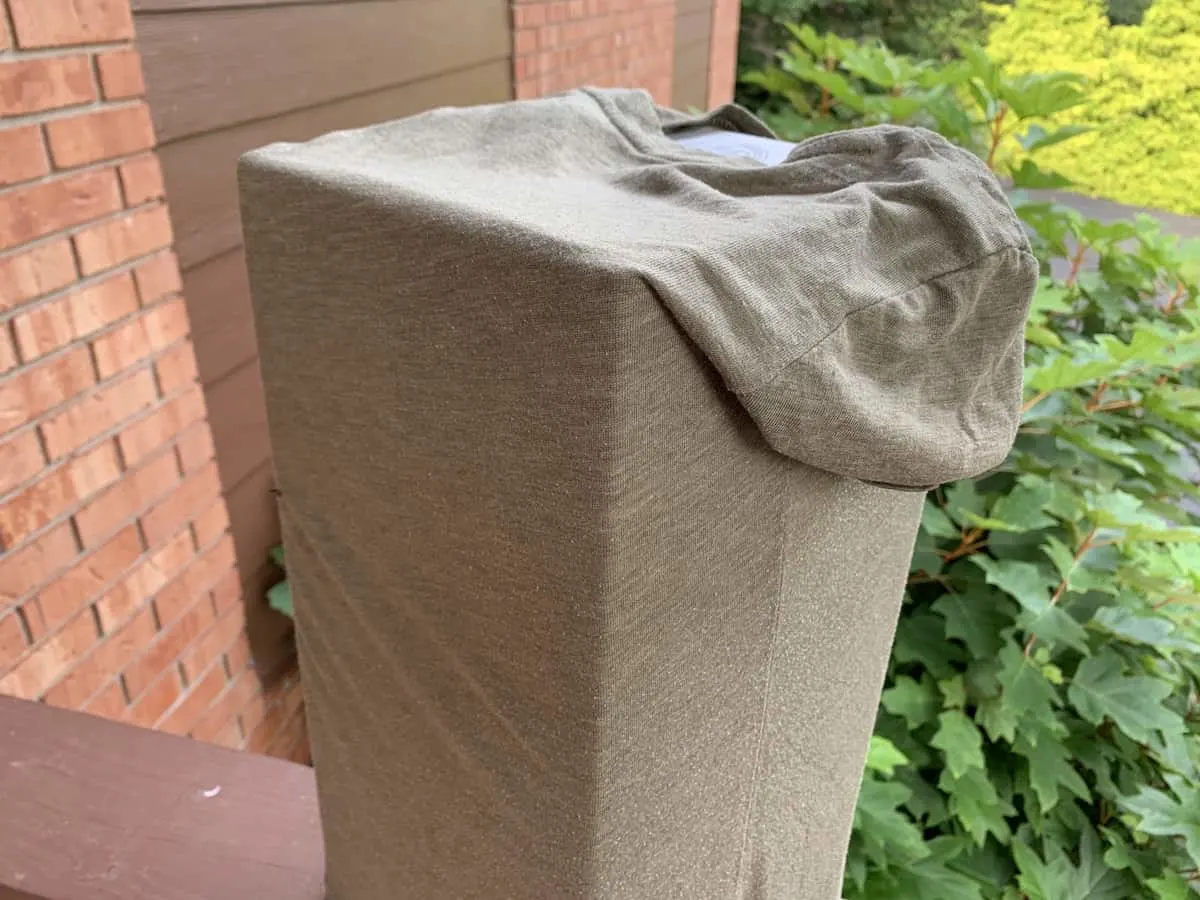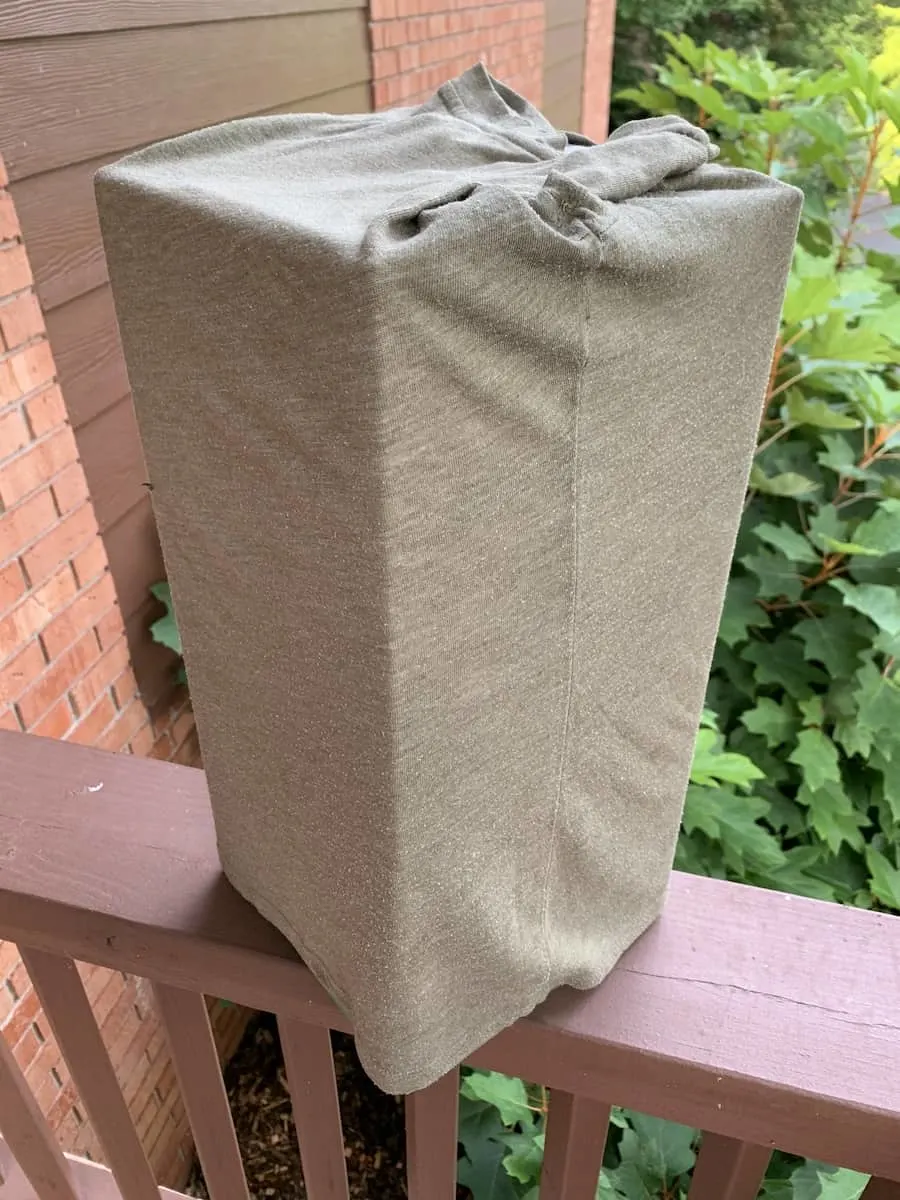 For the long sleeved t-shirt, I pulled the shirt over the box and then pulled the sleeves in the back. I wrapped them in a knot and tucked them into a corner where guests wouldn't see the back of the box.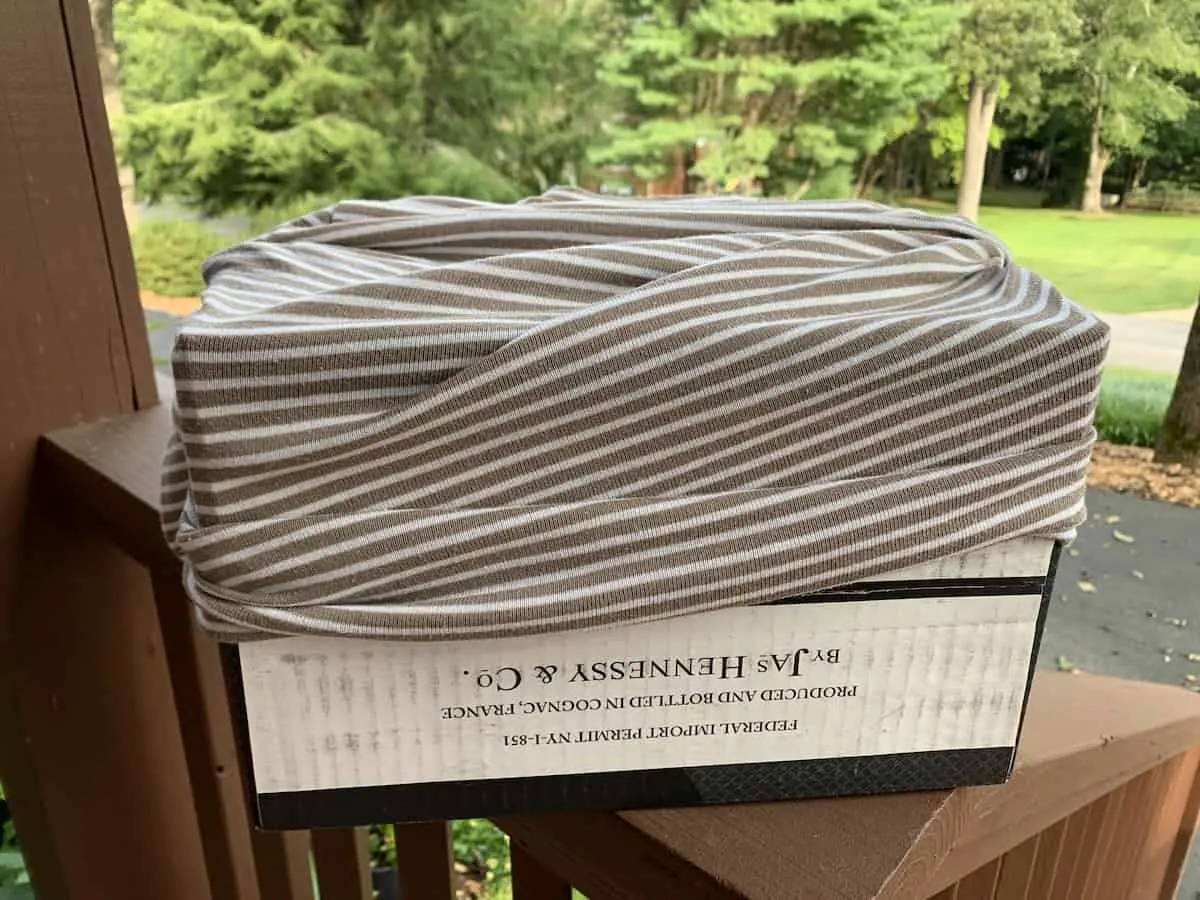 Then I placed a wicker pumpkin on top of each stand. These pumpkins I had bought the year before at the thrift store.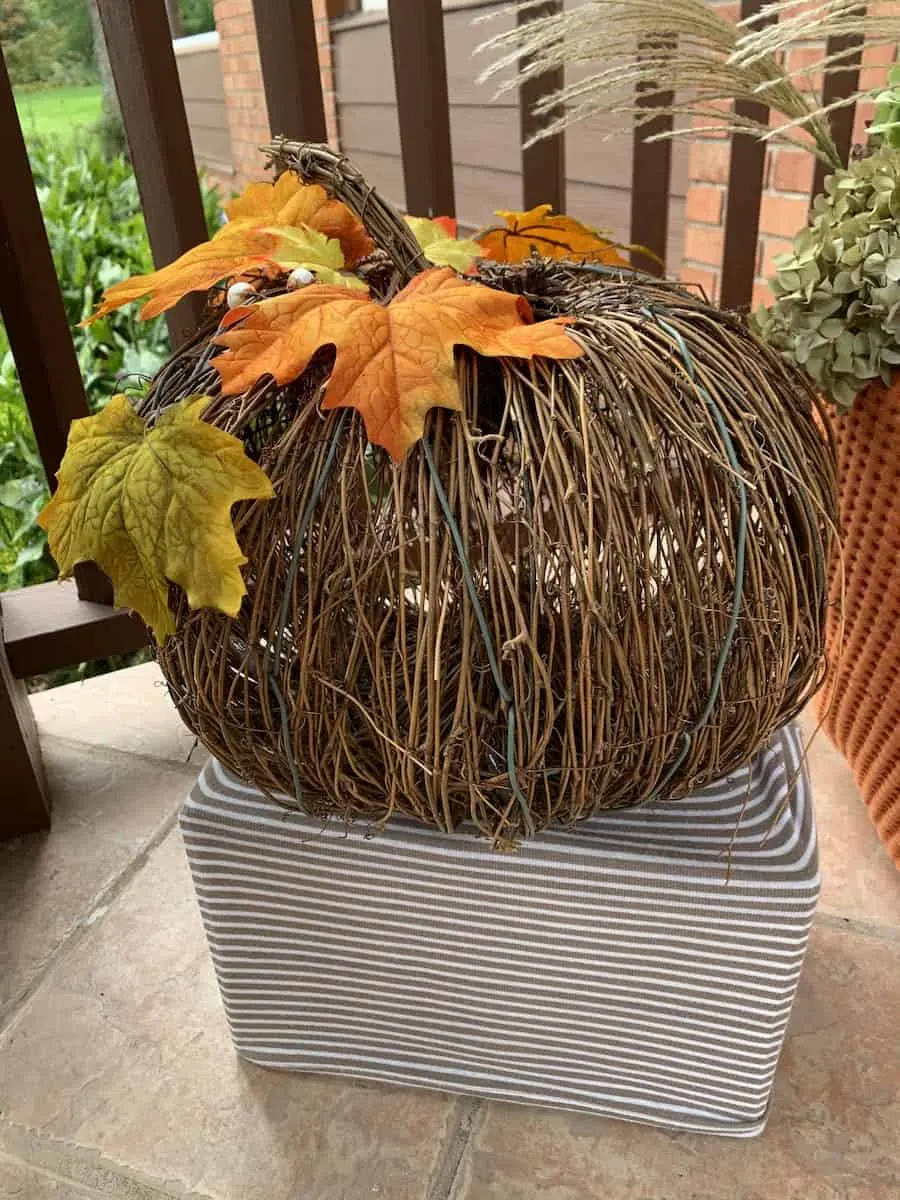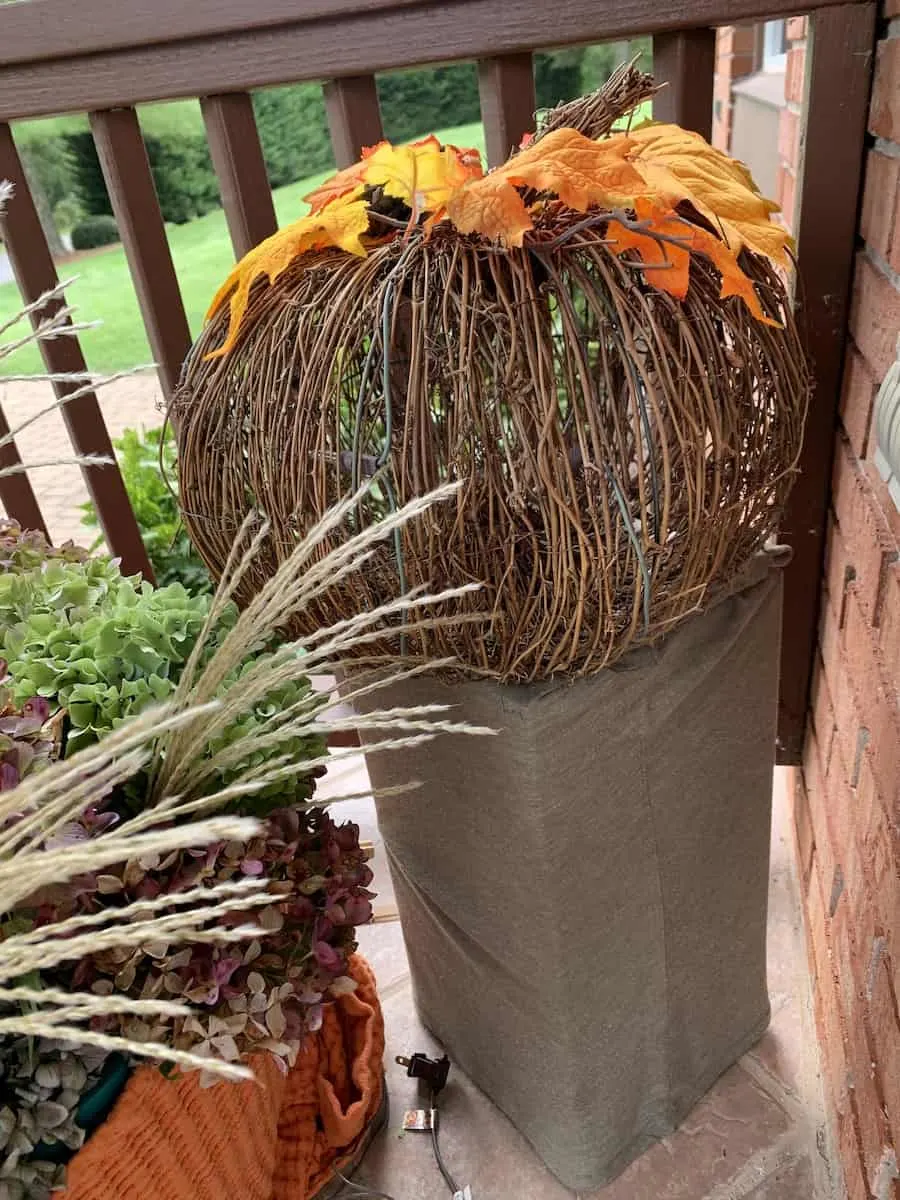 Dried Flower Arrangement on Front Porch
I have a huge turquoise plant pot on my covered porch and I love the color. It's so big that I don't intend on moving it during the fall. I was going to leave it as is when I decorated my porch, but after adding in all the autumn colors, I wanted the pot to look good with the color scheme.
The large orange bath towel that I had was the perfect solution to change the large pot into a perfect plant pot for autumn!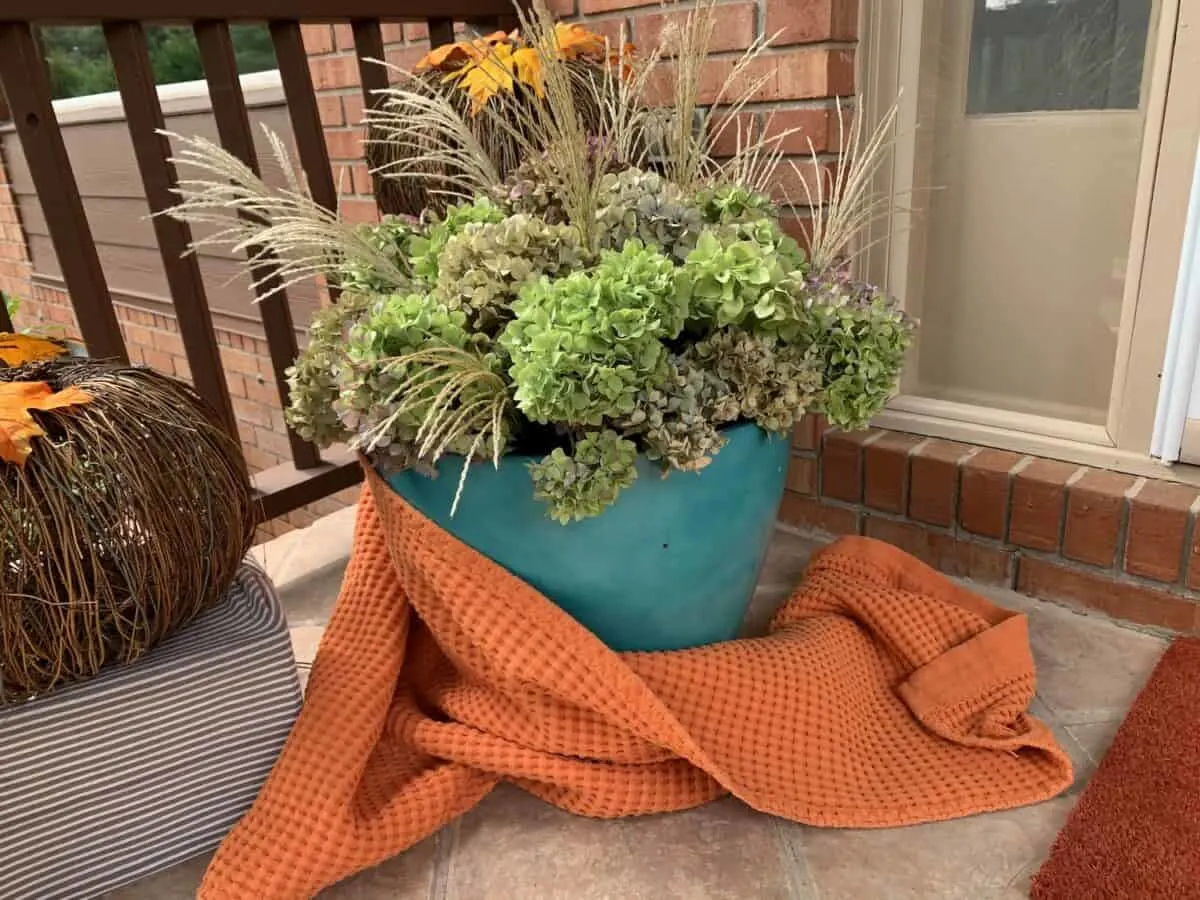 I wrapped it around the pot and secured it tightly with clothespins in the back. It looks great, especially with the thick waffle weave which gives it texture.
The summer plants were removed and I added in some dried hydrangeas from our bushes in the yard. I had some already dried. The others I cut from the bush and they were green when I added them into the pot. However, in a few days they turned brown.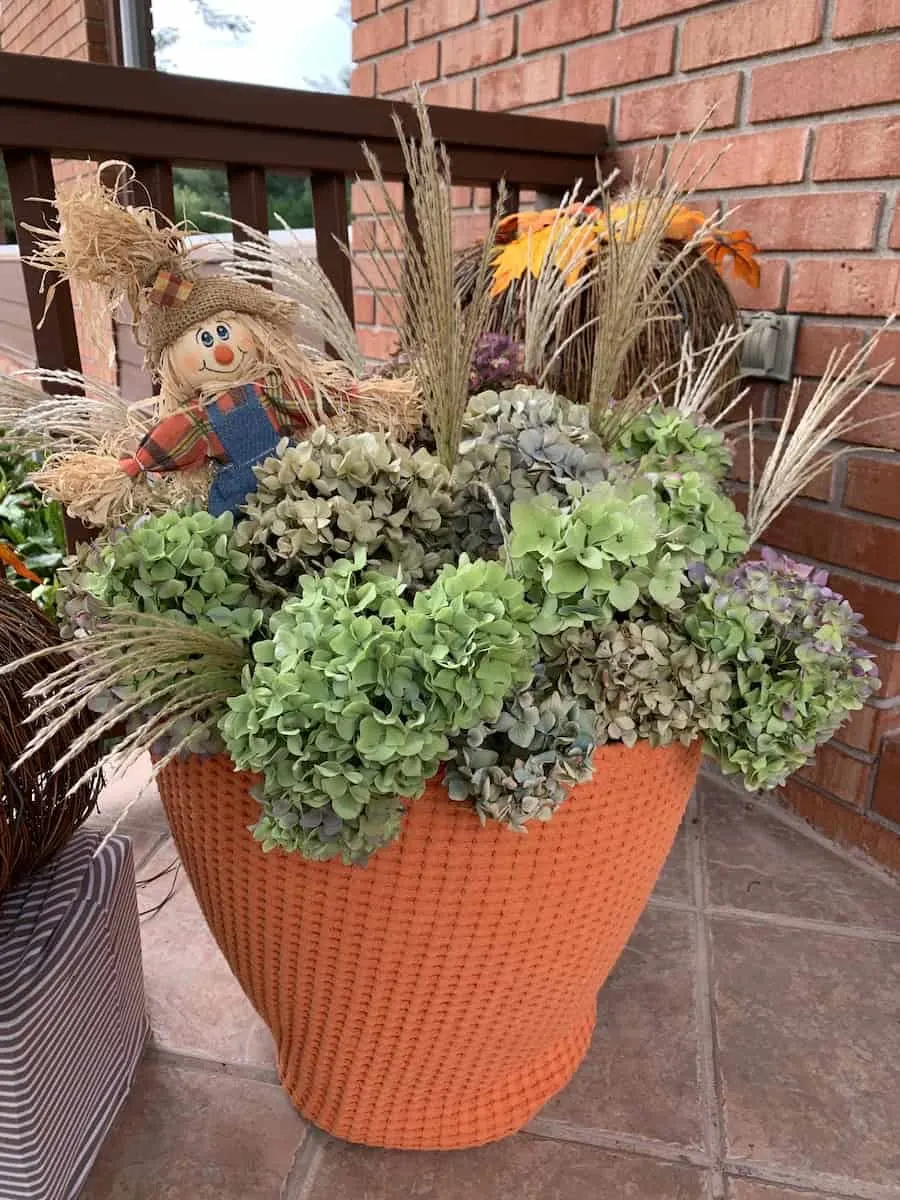 I also cut some grasses from the yard and put them in with the hydrangeas. A scarecrow was added into the floral arrangement.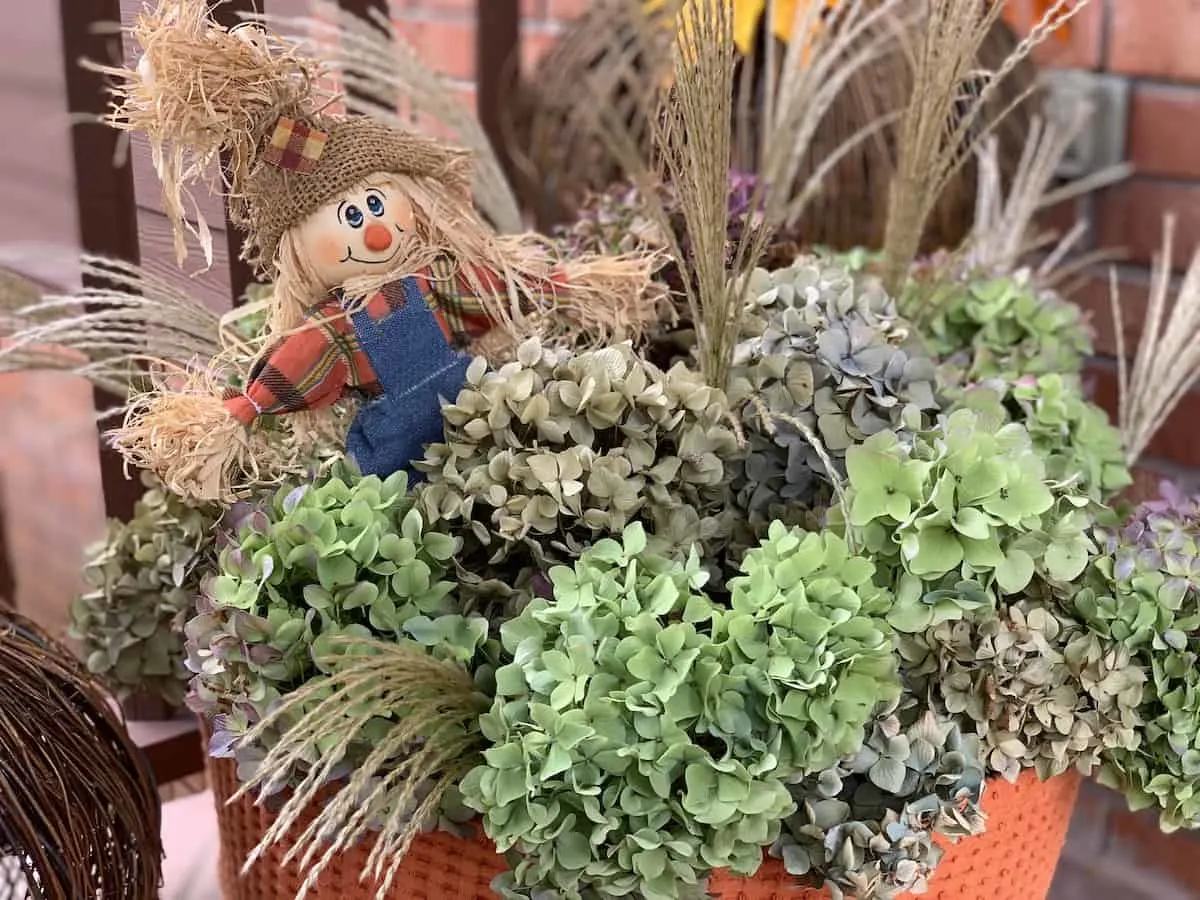 The plant pot looks great with the colors of orange and browns. And when it's time to remove the decorations, the flowers will all be composted.
Fall Hoop Wreath
I tried to buy a wreath for the front door. And I found a great one on clearance for just $10. But the size was too big to fit in between the glass outer door and the front door.
The wreath definitely needed to be thin and narrow. So I used an embroidery hoop that I bought at the thrift store ($2) to make a front door wreath.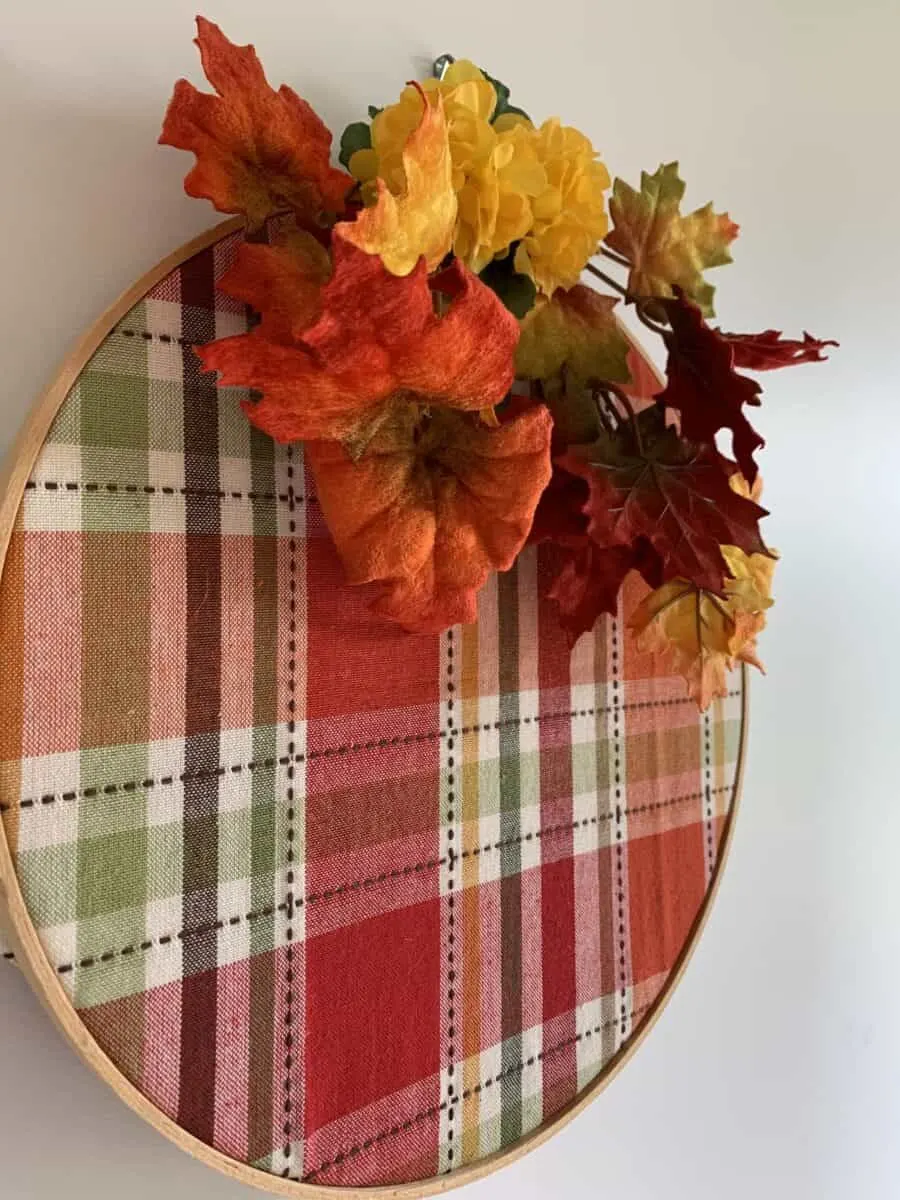 When I found this dish towel for just $1 at the thrift store, I instantly knew I loved it and wanted to use it for fall decorating. So I couldn't cut it up! I really want to keep the dish towel as it is.
I folded it in half and placed the embroidery hoop around it. Then I tucked in the extra fabric hanging out (rather than cutting it) and taped it to the back.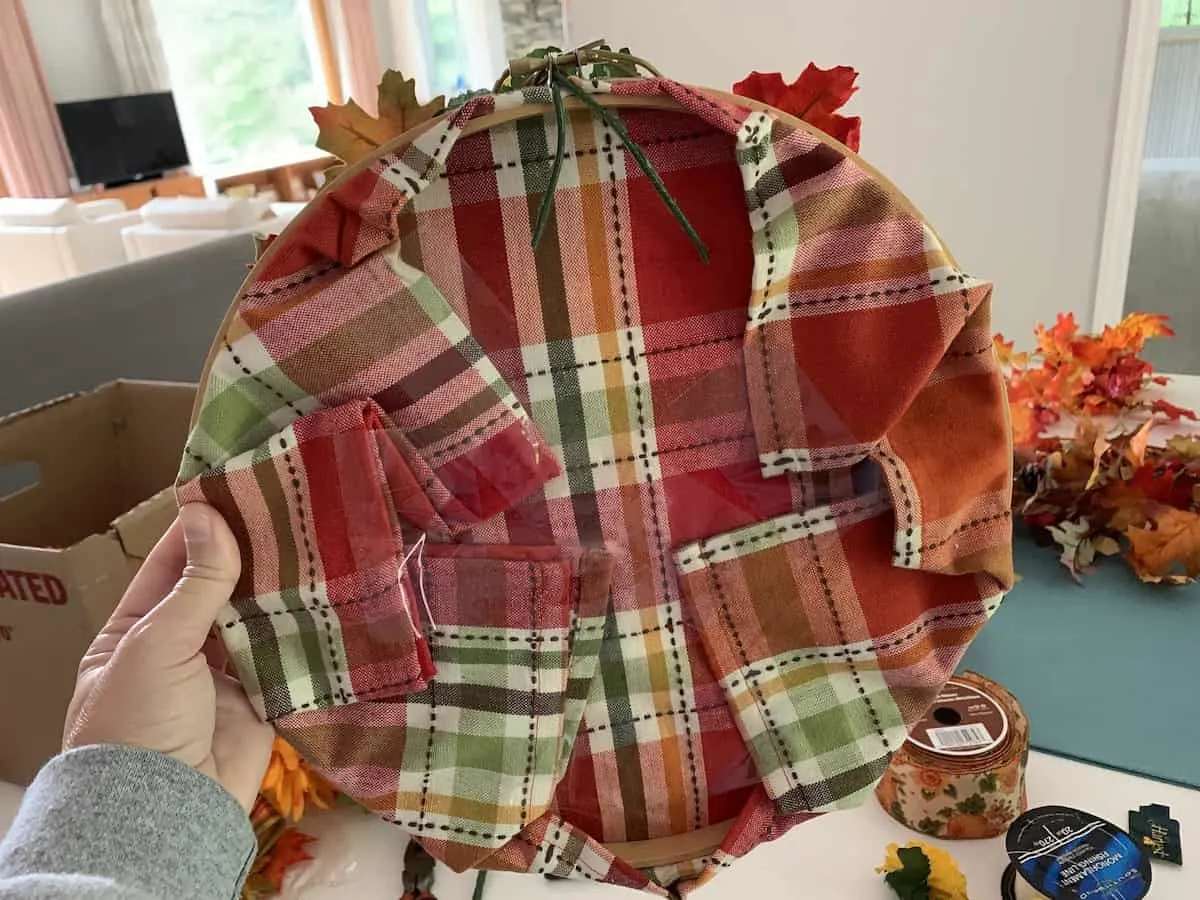 Then I used fake flowers and leaves that I already had and tucked them under the metal clasp on top of the hoop.
I added fishing line as a hanger.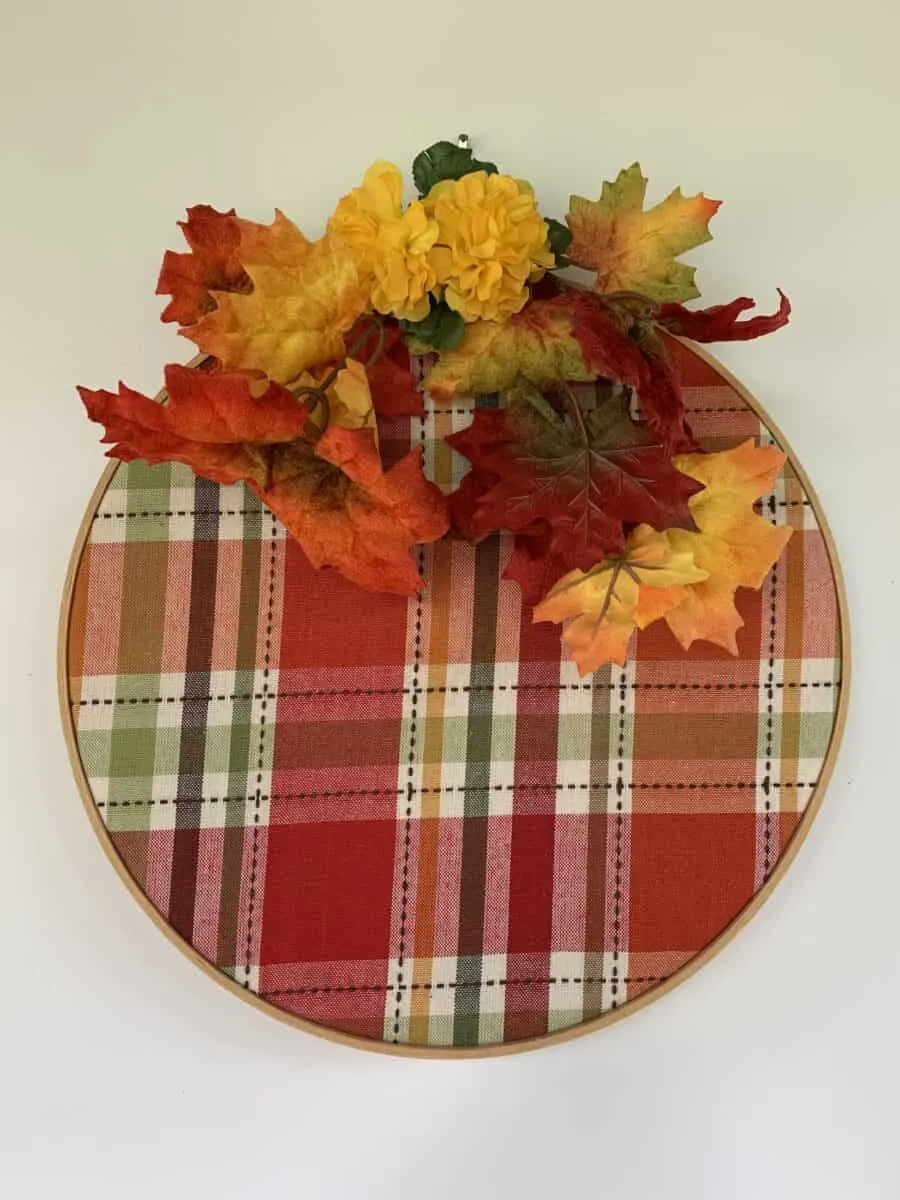 The next year, I made this plastic bag wreath which is very cheap to make, too. It worked great and I've used it for two years now.
My spooky spider Halloween hoop wreath would also have worked, too!
Additional Front Porch Decor Items
I wanted Fall mums on the porch. So I bought a couple small plants ($2 each) and put them in Dollar Tree pots I already had.
I wanted really large mum plants on the porch, but it doesn't get enough sun. So the small mums were able to be put towards the stairs where there is more direct sun to keep them healthy.
My biggest purchase was the Target door mat ($12.95), but it looks great! It really sets the color scheme and I love the saying.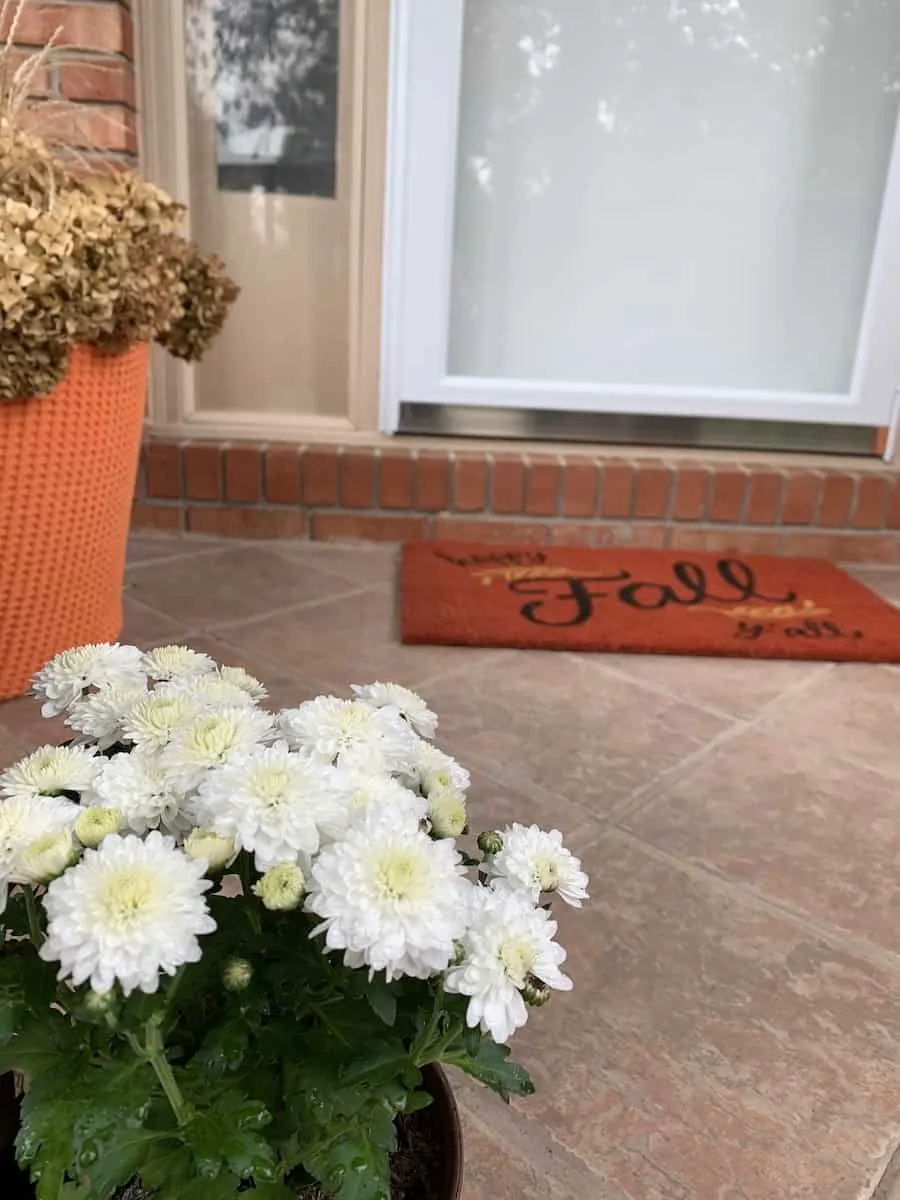 We'll keep using this year after year as long as we are able.
Around the light sconces I wrapped an artificial leaf garland and tied it together into a circle with some fishing line. I had bought these garlands the year before.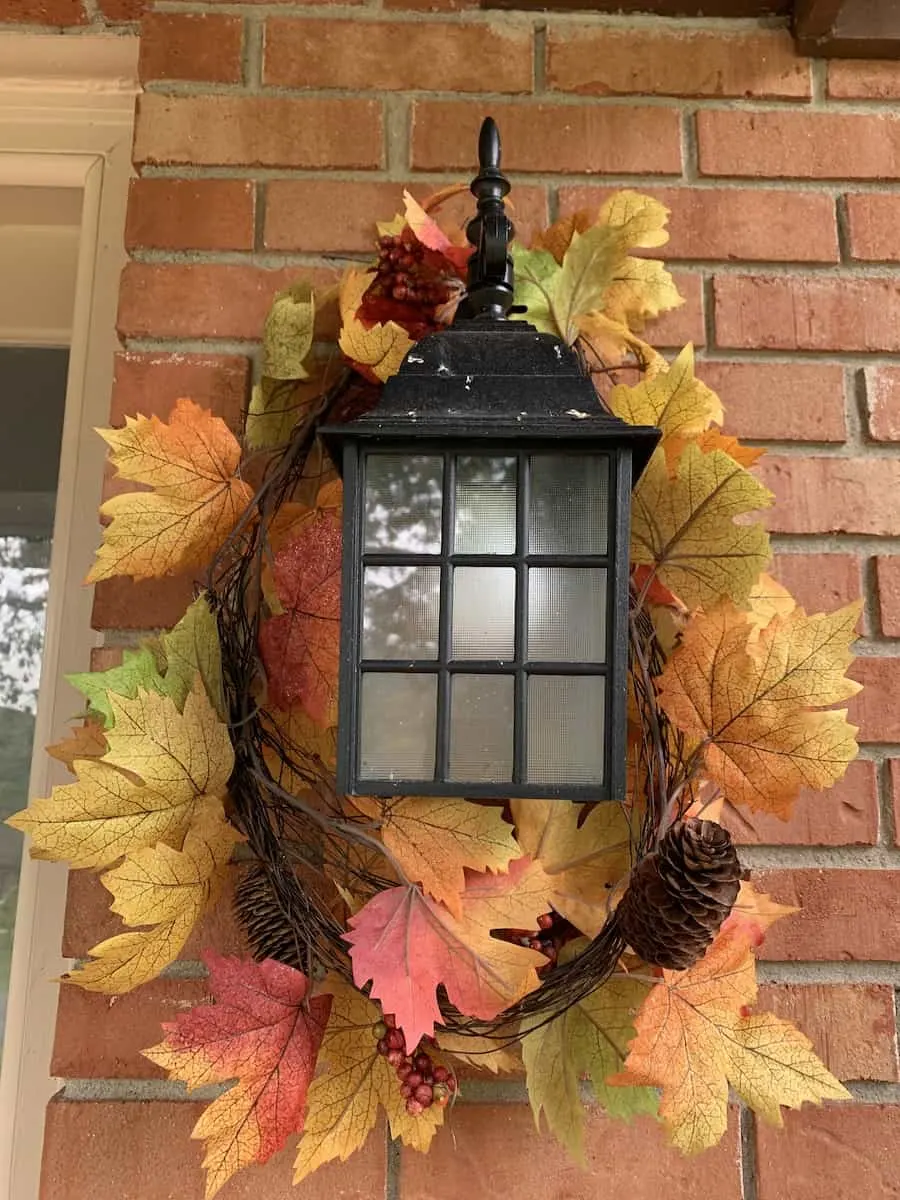 I could have also made bows with wire ribbon, which would have been inexpensive, too.
Video Tour of My Fall Front Porch
If you'd like to see how I put all of these decor elements together, please watch my video below.
And PLEASE subscribe! I just started my YouTube channel and would love to get 1,000 followers!