Welcome guests to your home with this easy 4th of July wreath made with Dollar Tree supplies!
This Fourth of July wreath is perfect for your front door!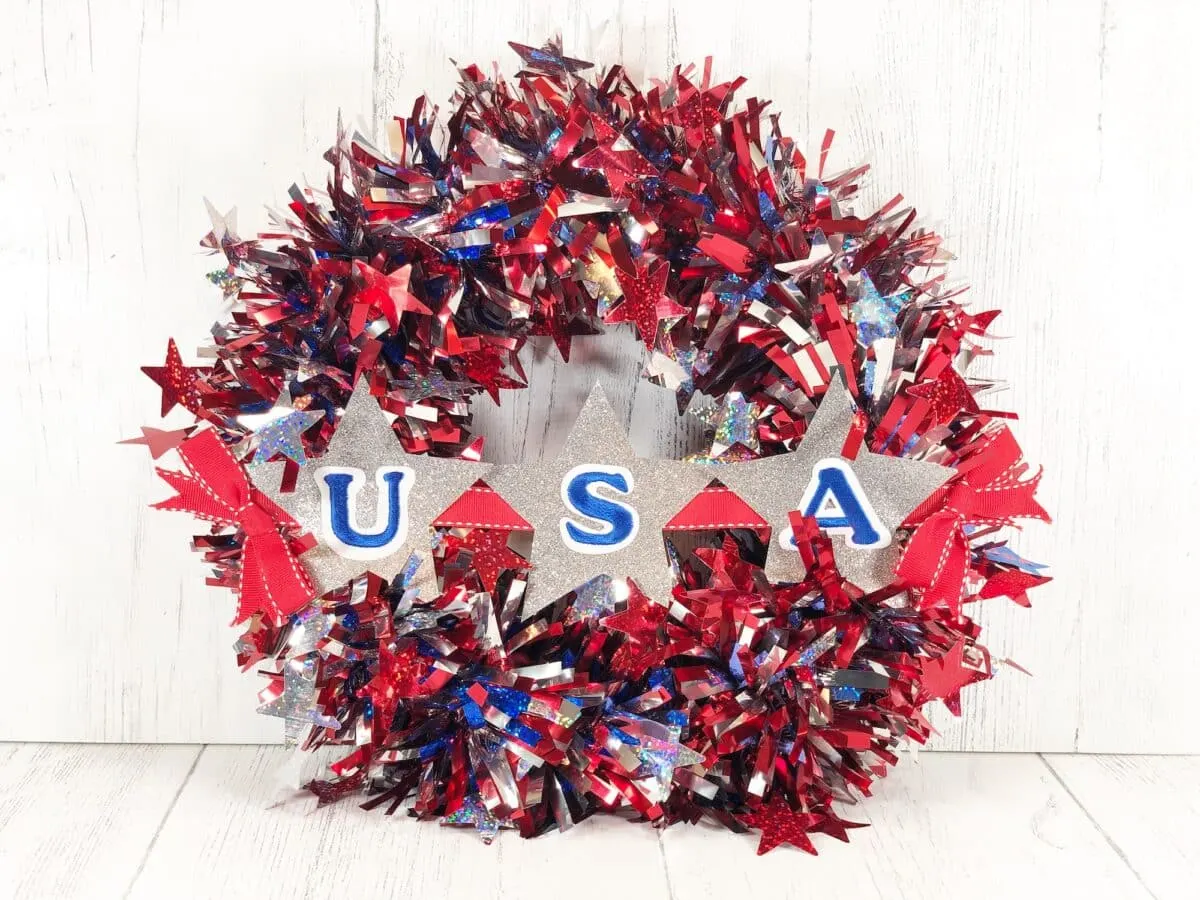 It is also a great decoration for July 4th picnics, BBQs and parties. Be sure to see our DIY Fourth of July Tray for using at parties, too!
While this patriotic wreath is great for the 4th of July, it is also perfect for Memorial Day, Veteran's Day, Flag Day and all patriotic holidays when you want red, white and blue decorations.
You might also like this patriotic wreath, too, made with different materials.
We bought all supplies at the Dollar Tree. You can easily find similar supplies at Dollar General or any dollar store. Or look through your crafting supplies for similar items.
I think this is one of the best ways to make a wreath because it is so easy! All you need to do is glue items together to make a front door wreath that looks like it cost a lot!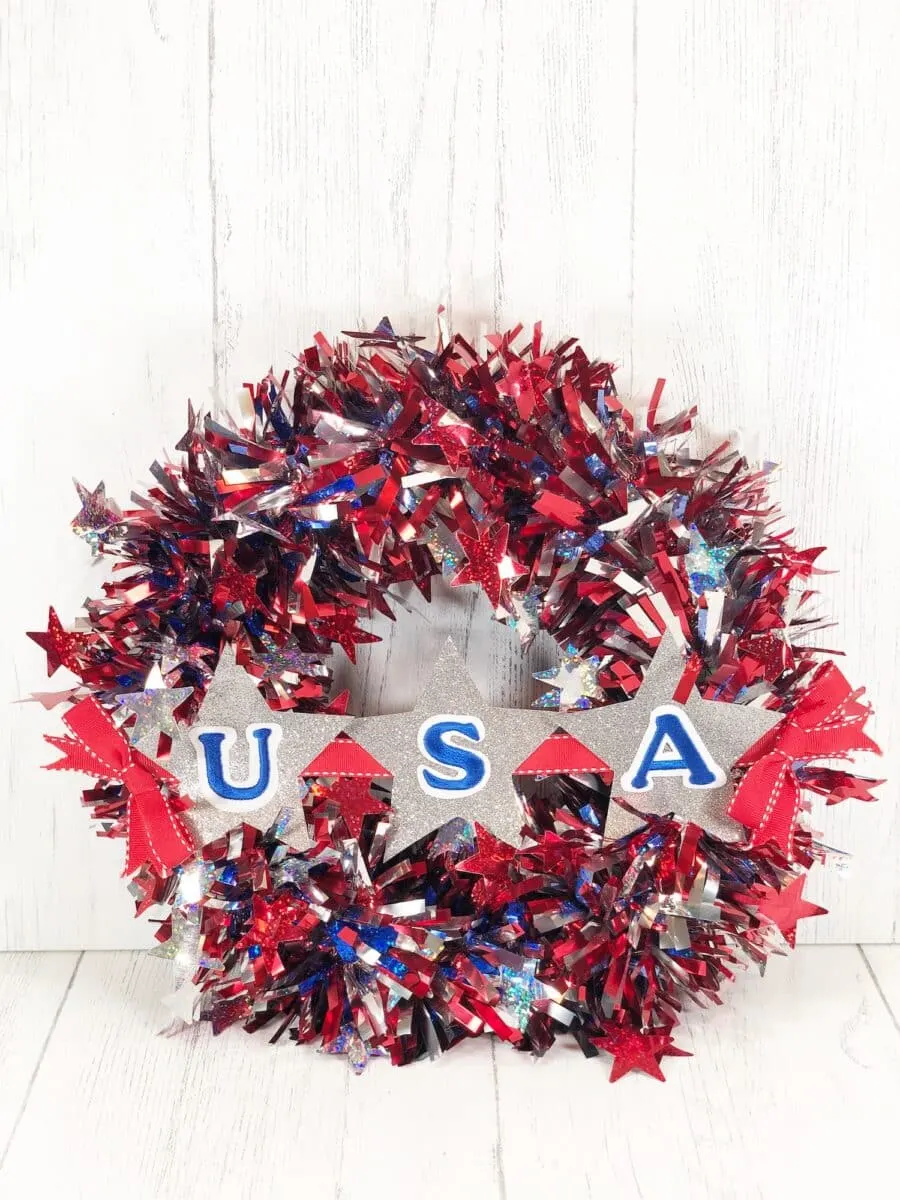 How to Make a 4th of July Wreath
Materials
2 Patriotic Garlands, each 9 feet long
10-inch Wide Foam Wreath Form
Silver Glitter Craft Paper
Red Ribbon (at least 3/4 inch wide)
Blue and White 1 inch Letter Stickers (we bought ours at Dollar Tree)
3-inch Star Shaped Pattern or Star-Shaped Craft Punch
Glue Gun and Glue Sticks
Scissors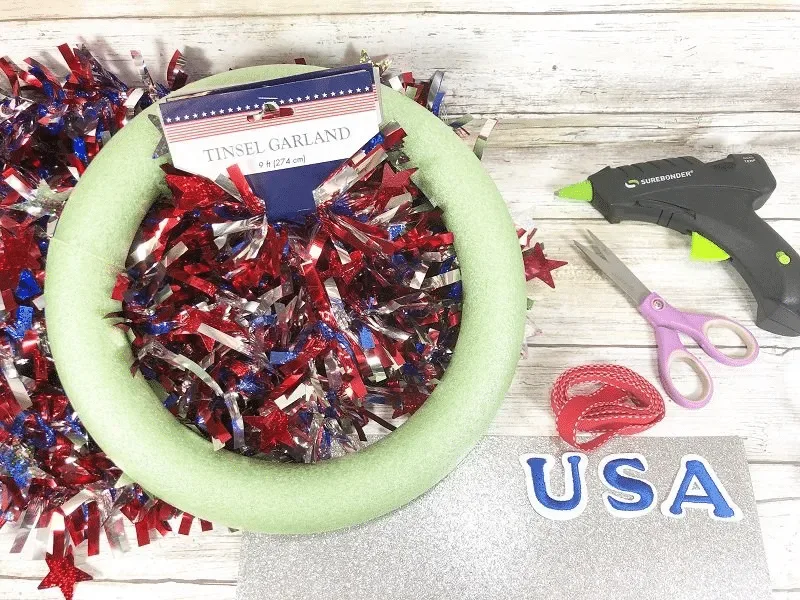 Instructions
Step 1
Using one garland, glue the end of the garland to the wreath base.
Wrap the garland around the wreath form. Once you have reached the end of the garland, glue it down to the wreath base.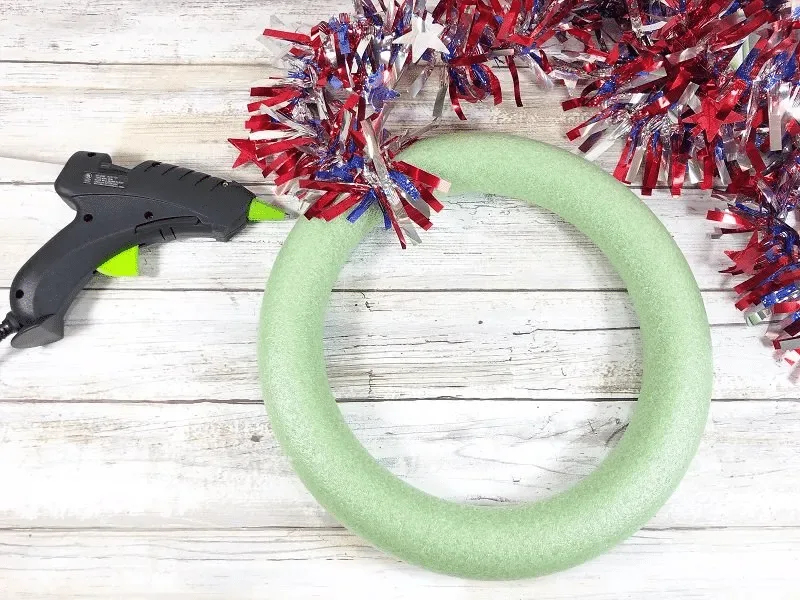 Repeat again with the second garland, wrapping the wreath form entirely. If you have additional garland leftover after completely covering the base, you can continue to wrap it over the first garland.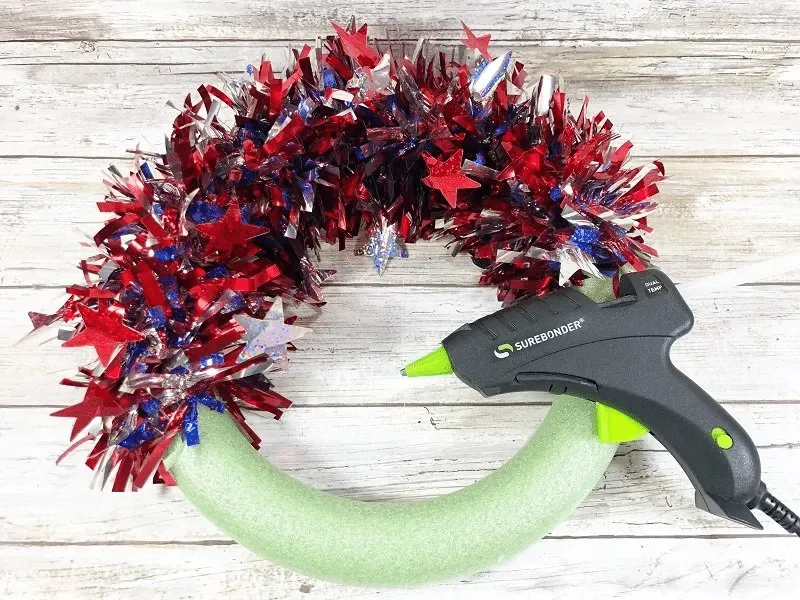 Helpful Tip: Use the tip of a closed pair of scissors or a wooden skewer to hold the garland in place until the hot glue sets.
Step 2
Cut out three stars from silver glitter craft paper or use a star punch. A large star cookie cutter also works!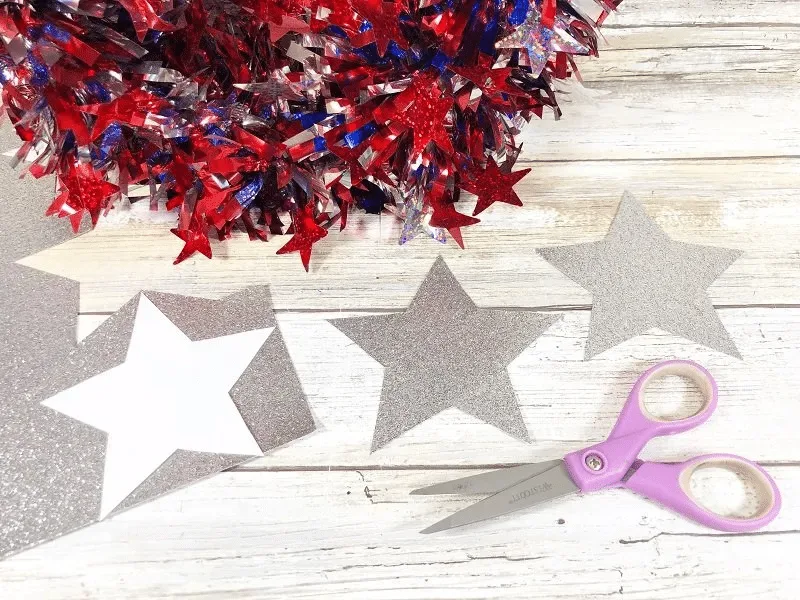 If you do not have a star punch or template, you can draw a star on plain paper, then cut it out and trace it on the silver glitter paper.
Step 3
To make the banner that goes across the Fourth of July wreath, cut a 14" length of red ribbon.
Press the letter stickers to the silver glitter stars, adding one letter to each star.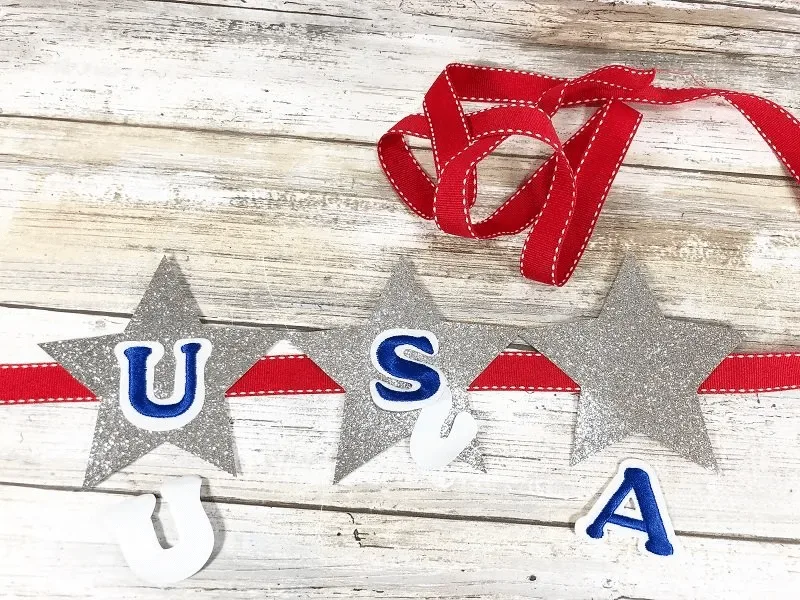 Then glue the stars to the ribbon with the points of each star touching.
Step 4
Glue the ends of the ribbon banner to either side of the wreath across the middle.
Make two bows with the red ribbon. Glue one bow to each side, covering the area where you glued on the star banner.
Be sure to Pin This DIY craft so you remember it for later!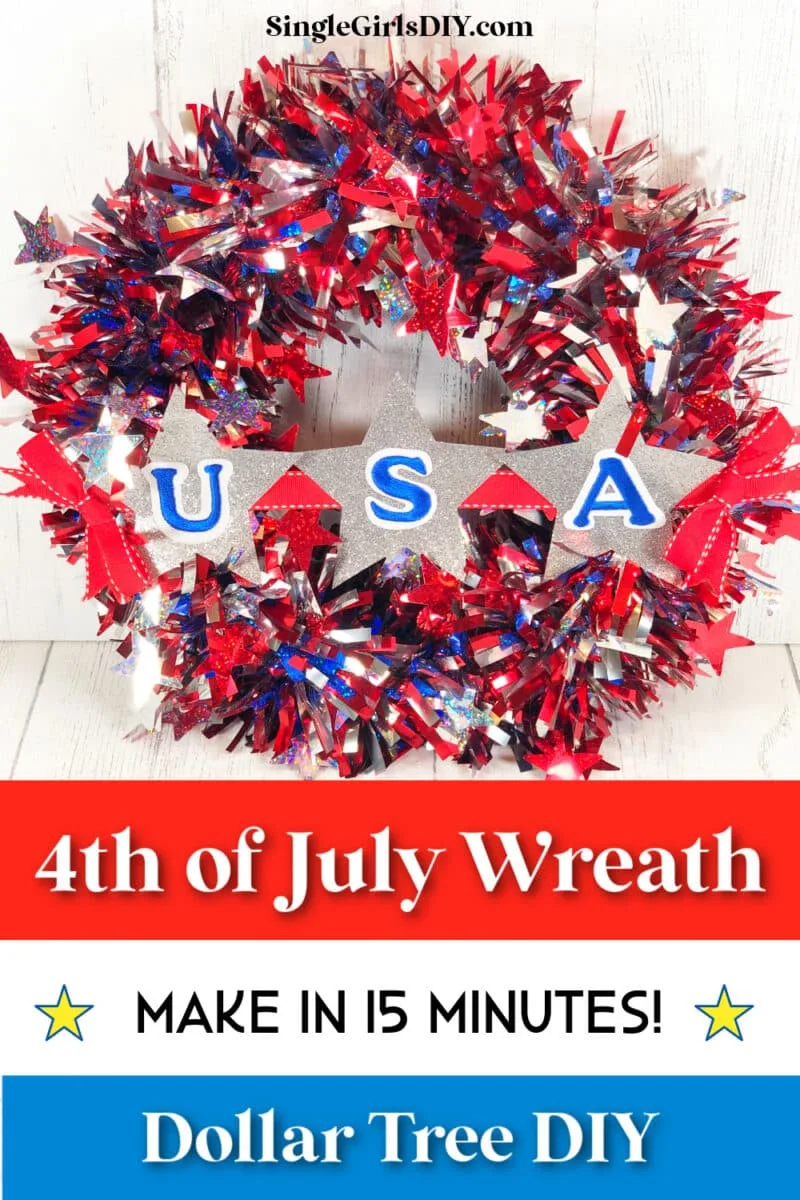 See even more of our Dollar Tree Fourth of July crafts, including: