Looking for the best power tools for women? Here's our list of beginner basics you should add to your home now.
Many women have an unfounded belief that power tools are scary. You might think about accidentally cutting off a finger! Or losing an eye! But there is no need to be scared.
Girls have common sense, right? Which means you can use power tools safely and confidently. Once you learn the basics of how to operate simple power tools, you will have so many opportunities available to you to do simple home maintenance without having to ask someone else for help. And, you'll be able to start enjoying DIY Projects that you might have shied away from before.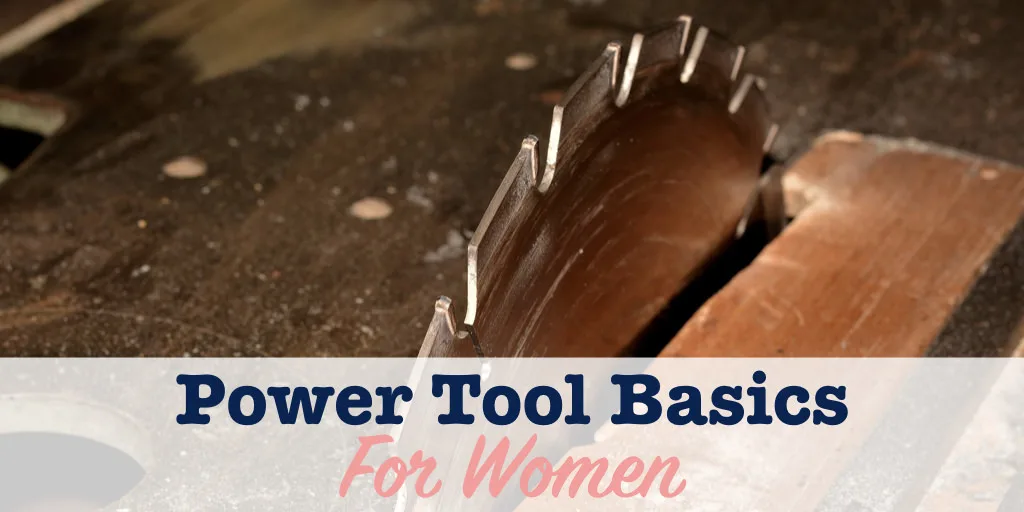 Power tools are not too "powerful" for women to use. Far from it. Use our shopping guide below to find basic tools ideal for women's hands that are easy to use.
POWER TOOL BASICS FOR WOMEN
This article is part of our series on how to Build Your DIY Confidence. Once you are comfortable with using one or a few basic power tools on your own, you can't be stopped from improving your home one DIY project at a time!
Safety Gear for Using Power Tools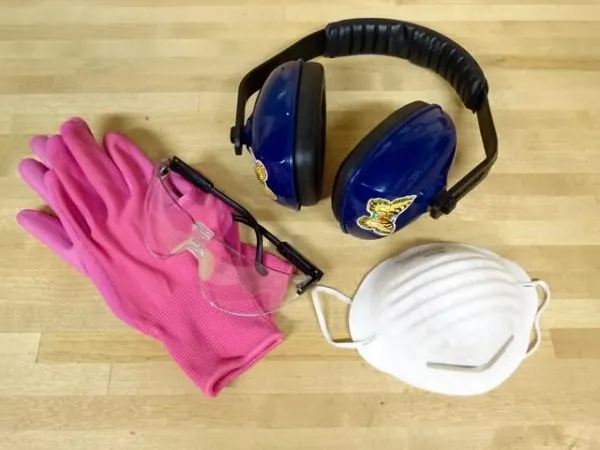 Power tools don't have to be scary and they are not as dangerous as you think. However, everyone should wear some basic protection from noise, debris and dust that occurs when using tools on wood or metal.
These are the items you need to protect your eyes, ears, airways and hands while operating power tools:
Safety glasses will protect your eyes from flying debris. Pieces of wood, metal shavings and even saw dust can get into your eyes without protection. Sunglasses are NOT enough protection. Safety glasses are made with a special plastic that won't shatter when hit.
Hearing protection will reduce damage to your hearing when using loud tools. Reduced noise will also help you focus on your project without anxiety from the loud noises. Which can also help you calm down when using power tools.
A face mask is necessary to prevent breathing in saw dust when using a sander or saw. I always use a face mask when removing paint with a sander because you never know what chemicals were in the paint or stain you are removing.
Gloves protect your hands from splinters and small cuts when handling wood and materials.
Understanding Different Sizes of Tools
There are basic tools that everyone needs. But they don't always come in the same size or with the same strength. For instance, you could buy a cordless drill for installing curtain rods. Or you can buy a drill that will go through a brick wall. They do the same action, but the strength with each varies a lot.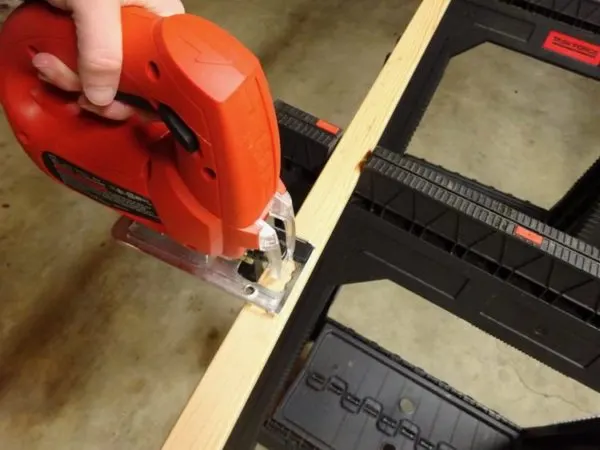 When considering which tools to buy, you need to have an idea of the job that you will be doing. It's okay not to buy the biggest, most expensive tool if you won't ever use it in the way it's intended to be used.
For example, consider these power tool differences:
Best Small Power Tools for Women
There are so many power tools that you can buy. But the good news is you only need a few for most simple home improvement projects and DIY craft projects.
Start with small, easy-to-use power tools first. As you become more comfortable using them, then you can graduate to the larger, bigger and more expensive tools! These are the basic tools that I recommend women use first, in order of ease of use:
The good news is that most of these small power tools are affordable ($60 or less for most of them). They are a smart investment that you want to have in your home.
I also recommend a basic women's tool kit with non-motorized tools you'll need. This 44-piece women's tool kit is fantastic and has a lot of the basics in one package so you won't have to buy everything individually!
Pink Power Tools
Having fun-colored power tools, especially pink tools, can be fun in a women's garage. If you'd like to have something that stands out from men's tools, then you will want to check out these:
Beginner Power Tools for Girls and Children
It's never too early to start learning about power tool basics. Young kids can pretend they are DIYing like their parents with these introductory kits.
Inspire Other Girls
Someone recently told me that she was inspired by, "Women making or doing typically man-stuff." That inspires me, too.
You can learn to use power tools, and take on your own DIY projects (such as these awesome wood projects using basic tools). You can show younger girls that women can use power tools, and educate them how to use tools, too. Because you don't need someone else to do it for you!
If you want tips on how to do some basic DIY tasks, be sure to pick up your free copy of our DIY guide, You Can Do This: Five DIY Tasks Every Single Girl Should Know How to Do.
Learning How to Use Power Tools
It's easier to understand how to use power tools when you see someone using them. If you don't have a friend or family member who can show you how to safely use tools, you will probably feel afraid to try.
You might be able to ask an employee at a home improvement store, but chances are they'll be too busy. That's why some stores offer classes for power tools for girls. So be sure to check your local hardware store to see what classes they have.
The equipment manual is another great resource, and manufacturer's may provide how-to videos on their websites that you can check out.
I don't have any videos up on my Youtube channel on how to use basic tools (yet!). So I'll share some of the best online classes from fellow Youtubers explaining how to use the most common tools.
Pin This Article to Share with Others so that they can find the help, too!