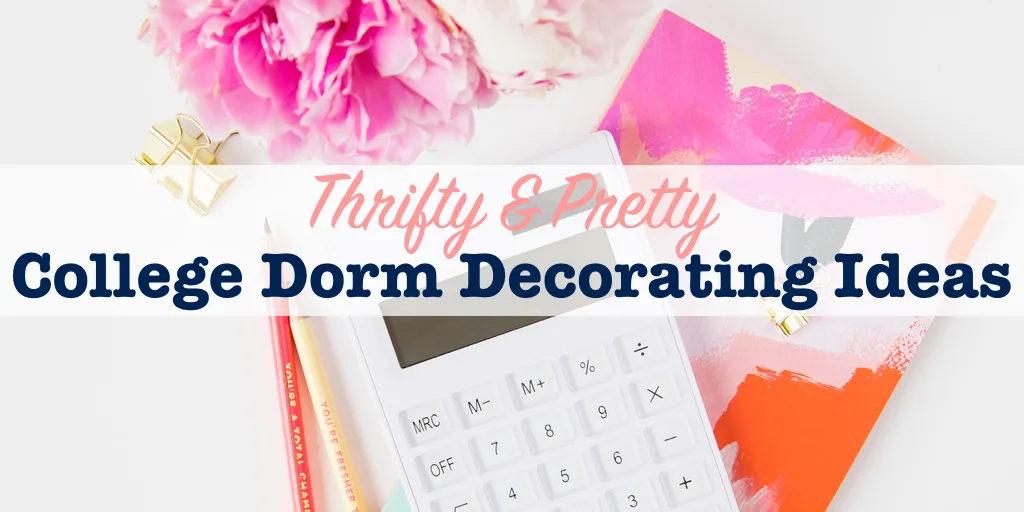 I started subscribing to Better Homes and Gardens when I was in high school (ages ago!). So, when it came time to head off to college, my mind was full of thrifty college dorm decorating ideas.
That same "thrifty and pretty" style is what I still live by, even all these years later. So, whether you or someone you know is going off to college, or you're just looking for a few inexpensive but stylish tips to spruce up your home, I've got you covered.
Check out these super budget-friendly decorating tips!
THRIFTY & PRETTY COLLEGE DORM DECORATING IDEAS
[disclaim]
DORM ROOM SHOPPING TIPS
Check in with your roommate: Before you buy a bunch of common items for the room, see what your roommate is planning to bring. You may be able to share with each other.
Buy items that can grow with you: Try to buy things that will be useful for years to come. For example, I still have a throw rug that I first got for my dorm room.
Shop at thrift stores: You can get so much great stuff at thrift stores. Go on the hunt for bookshelves, kitchen wares, rugs, and more.
[/disclaim]
When you get to the dorm, you'll probably find a bed, a desk, and some sort of closet space. To add a little more style and functionality to the space, plus give it a little of your own personality, you might want to try some of these ideas.
You and your roommate will likely want to leave messages for each other. Like, "Your boyfriend called," or "Early lab in the morning. I'll try not to wake you!"
Instead of using a boring old white board, or plain old scraps of paper, why not make your own dry erase board? Show off a little of your personality, with a memo board you can make from any old picture frame.
There is never enough closet space in a dorm room. Add a ton of extra hanging storage, without taking up much space, by repurposing a cup rack. The pegs on the cup rack are perfect for storing accessories like scarves, belts, bags, and hats.
I admit that they're extremely practical, but plastic storage bins are ugly. Keep the practical storage, while giving it a whole new look with an easy-to-make cover.
This simple DIY project can change the whole feel of your plastic bins, from cheap but functional, to beachy chic. These came out looking so good, I still have them in my spare room.
Of course, you're going to have tons of friends in college. They're going to want to hang out in your dorm room sometimes.
Add extra seating that's easy to move around with a floor pouf. You can make your own from a painter's drop cloth. Cute, durable, movable, and comfy. Maybe you should make two.
While the independence of college life is great, there may be some things you miss about home. Like the family pets.
Decorate your walls with silhouettes of your pets (or family members, if you want). They're easy to make yourself from any photograph.
College Dorm Decorating Ideas + Independence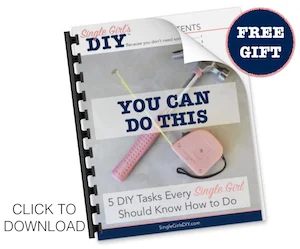 With these college dorm decorating ideas, you'll have the most stylish room on campus.
But don't just be stylish. Be self-sufficient. I believe every girl can take on DIY projects if she wants to. Don't be afraid to tackle whatever comes your way.
To help build your confidence, get a free copy of our guide, You Can Do This: Five DIY Tasks Every Single Girls Should Know How to Do.
[button url="https://singlegirlsdiy.com/you-can-do-this-guide/"]GET YOUR FREE GUIDE[/button]