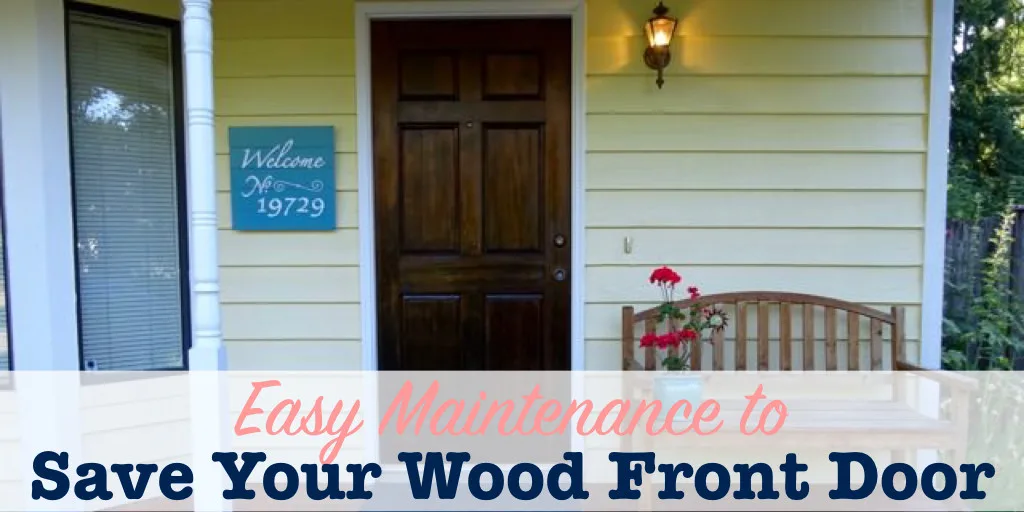 Why bother to learn about easy wood front door maintenance? Because doors are expensive!
If you've ever looked into buying a new front door, you know they aren't cheap. So, anything you can do to extend the life and good looks of your door is worth the effort, in my opinion.
My front door gets beat on by the sun, making it weathered and worn looking over time. That's why I take a little time, every few years, to give it a little love.
If you keep up with your maintenance, it doesn't take much effort to keep your wood door looking good.
EASY WOOD FRONT DOOR MAINTENANCE
MATERIALS TO REFINISH A SOLID WOOD DOOR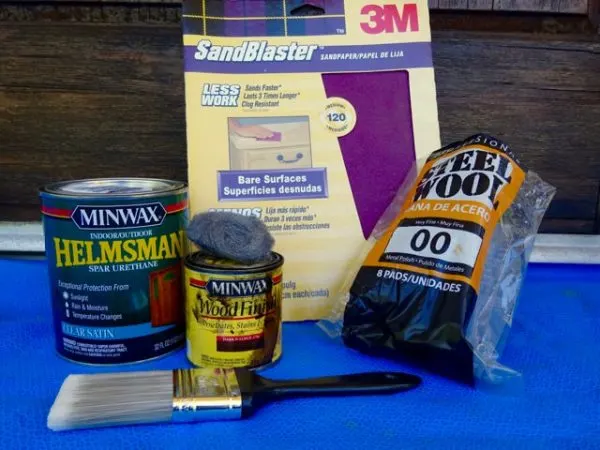 Sand paper or orbital sander
Wood stain
Exterior wood varnish – I like Helmsman Spar Urethane
Steel wool
Paint brush
Drop cloth
Rags
Howard Feed-N-Wax Wood Preserver
The previous owners of my house did very little maintenance. So, my first summer in the home, I took the door off its hinges and completely refinished it. Ever since then, I've just done simple maintenance to keep it looking good.
How to take a door off the hinges
If you have to (or just want to) completely redo your wood front door, wait for nice weather. Then you'll be able to take it off the hinges, and work on it for a few hours.
Taking any door off the hinges is super easy. Here's how:
Use a hammer to tap a slender screw driver up into the bottom of the hinge. This will start to push the pin out the top.
When it's loose enough, you can pull the pin out the rest of the way by hand.
When all three pins are out, turn the knob to release the latch. Then just pull the door out of the frame. Be careful, because it might be heavy.
You may want to remove all of the hardware from the door while you refinish the wood surface.
When you're ready to put the door back up, simply set the door back in place, and tap the pins back in with your hammer.
You never know when you might need this trick. I've removed doors to gain a few extra inches for moving large pieces of furniture. Or, you might want to take a door off to paint the trim. You'll be glad to know how to do it!
Now, on with the project…
Sand the surface of the door
If your door needs a lot of work, or a new color, you'll probably want to use an orbital sander to make the work easier. Lay the door on a flat surface, and sand off all of the old finish. (TIP: This is easier if the dog doesn't help.)
As I mentioned, I only did this once. Now, instead of taking the door off the hinges, I work on it in place.
If you're door doesn't need a lot of work, you can lightly sand the surface by hand. Work with the grain, and gently remove any loose finish.
Once the door is sanded, use a clean dry paint brush to brush away the dust. Then go over it lightly with a damp sponge or tack cloth to make sure the surface is clean.
Apply stain to the wood door
Use a piece of steel wool to rub stain into the wood door. You can either do this with the door lying flat, or with it hanging in place if you've stained it before.
If you're staining in place, use a drop cloth to protect your porch. And be careful not to get stain on the trim. You can use masking tape to protect the trim, if you like.
IMPORTANT: Be sure to document your stain color. Take a picture of the can, or write down the brand and color somewhere. That way you'll always be able to match the color when you touch it up in future years.
Wipe off excess stain with a rag, according to the instructions on the packaging.
Apply a wood varnish to the door
To give your door a glossy look, and add extra protection for the wood, apply an exterior varnish. You may want to apply several coats to give more protection. I like Helmsman Spar Urethane in satin finish.
The varnish can be applied with a paint brush. Be sure to use thin coats if you're working on an upright door, to prevent drips.
And that's how I keep my front door looking pretty! (If you like the Welcome sign, check out this full tutorial to make your own!)
Treat the inside of your wood front door, too
Oh, and don't forget the interior! Your wood front door maintenance should include a little love for the inside of the door, too.
I like to apply Howard Feed-N-Wax Wood Preserver to the inside of my door. It conditions the wood, and gives it a pretty glow.
A properly maintained front door is beautiful! Check out my front door decor ideas to make the entrance to your home even more welcoming!