A carrot Easter basket is the perfect farmhouse style basket for Easter eggs or candy. Peter Cottontail would definitely approve of this adorable basket!
If your holiday decorating is more rustic and farmhouse decor, rather than cutesy bunnies, you will love this easy carrot basket.
Not only is this DIY Easter basket great for kids, it makes a perfect adult Easter basket, too.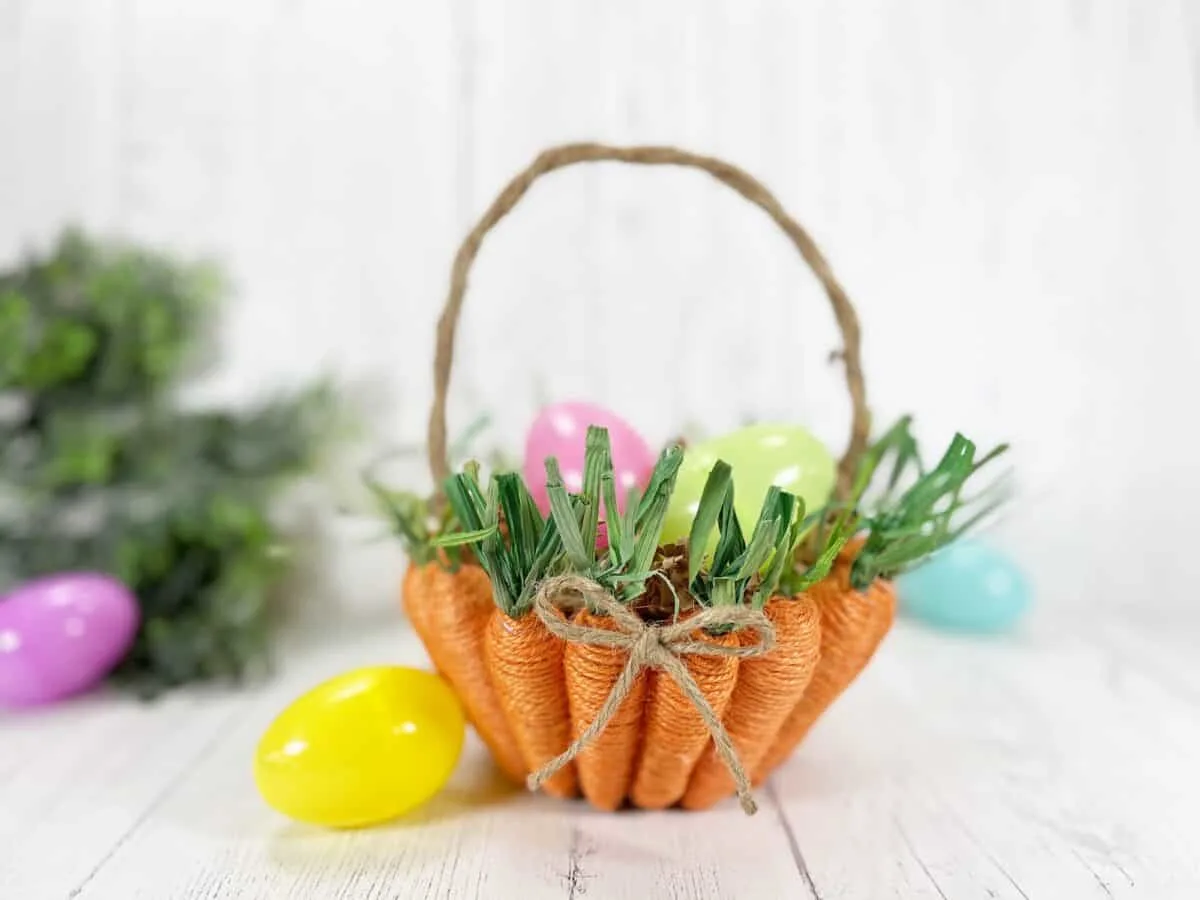 With the small size, this is the perfect Easter basket when you want to give a little treat, but don't want to fill up a huge basket. Just two to three eggs will fit inside, so you can manage expectations!
As a tiny basket, this would be perfect as a place setting for an Easter table. Make one for each person and tuck a personalized Easter egg in the basket for a name holder.
If you love Easter crafts, check out these carrot crafts: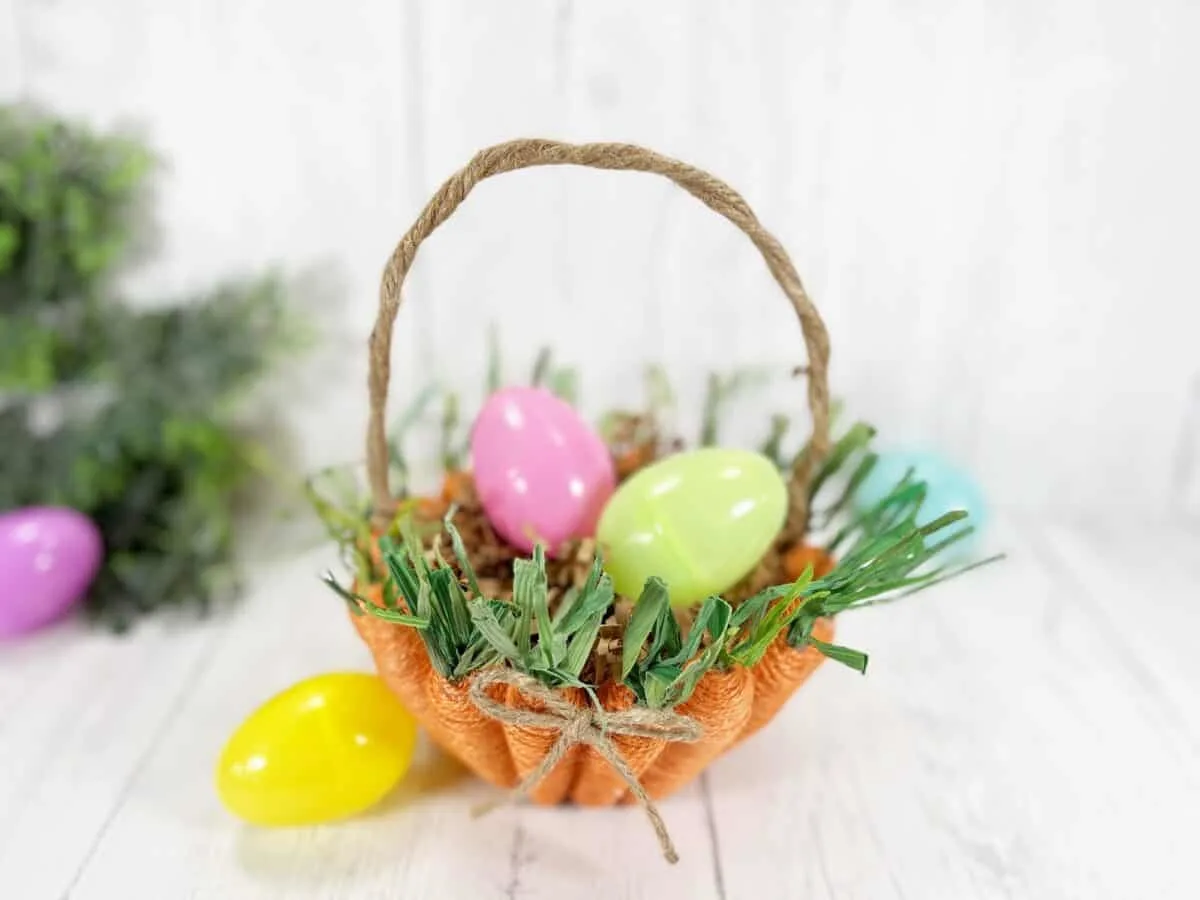 DIY Carrot Easter Basket
We bought all of the supplies at the Dollar Tree.
Supplies
Twine-Wrapped Carrots (I used 3 packs of six carrots each)
Metal Paper Clip Cup
Wired Jute Cord
Twine
Orange Acrylic Craft Paint
Glue Gun
Paintbrush
Ruler
Scissors
Wire Cutters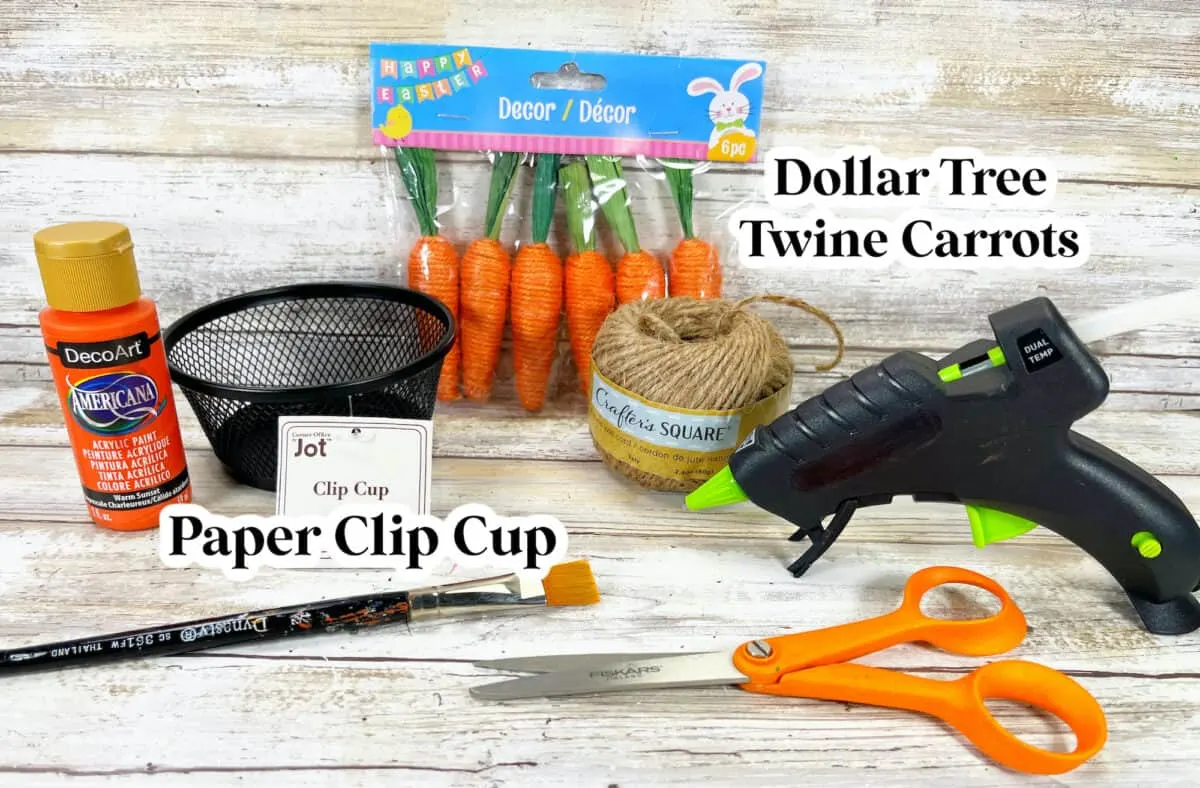 Directions
Paint the inside and outside of the metal paper clip cup with orange acrylic craft paint, including the base of the cup. Let dry and apply a second coat, if necessary.
Keep in mind that most of the cup will be covered by the carrots so the painting doesn't have to be perfect.
Glue the carrots to the outside of the metal paper clip cup with the tips pointed down and the carrot fronds on top. Make sure to glue the carrots as close together as possible, filling in all of the empty spaces.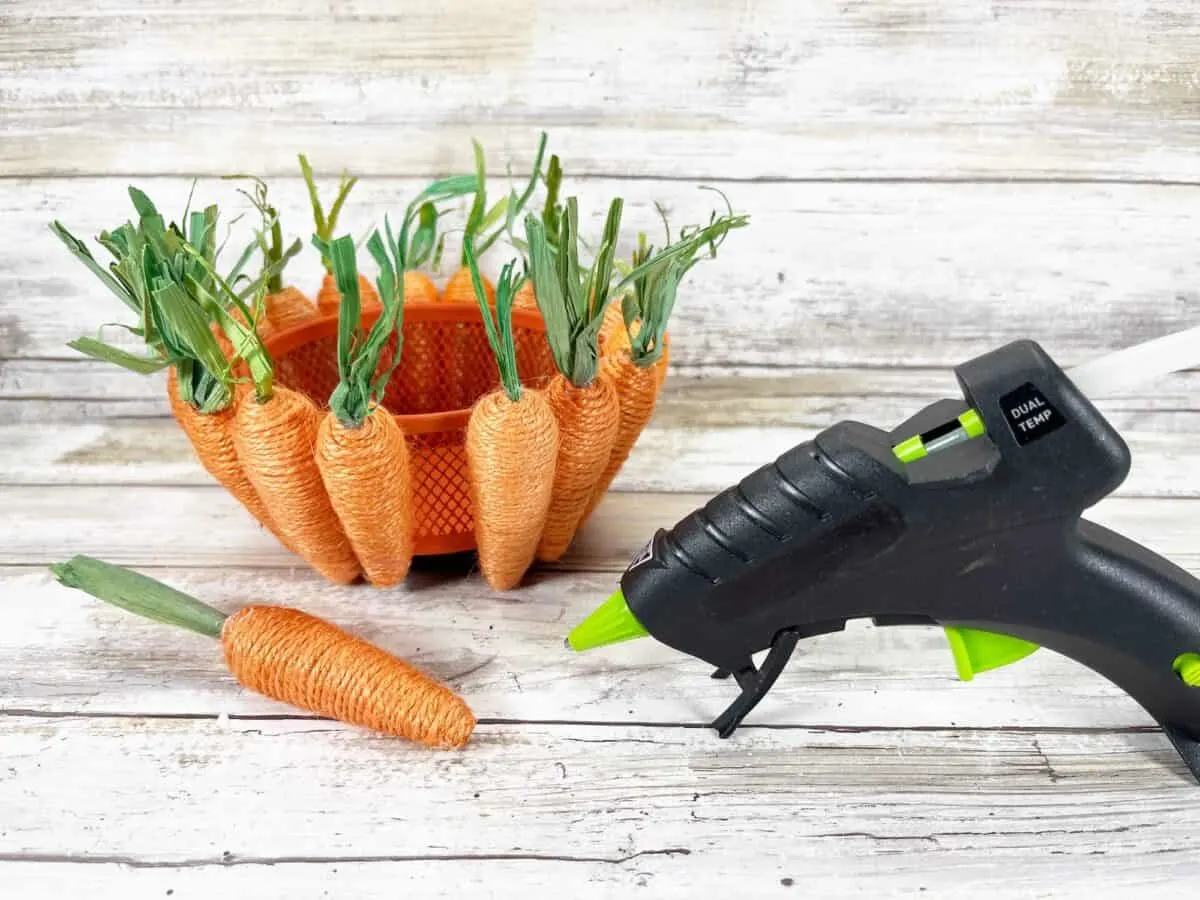 You might find that the last carrot is a tight squeeze! If it seems like you don't have enough room, just gently squeeze the foam carrot between your fingers and thumb and flatten it a bit, and then insert it in the space left and glue down.
For the handle, measure two 12" lengths of the wired jute cord. Cut them with wire cutters.
Twist the two lengths of wired jute cord together to create a handle.
Gently bend the handle to create an arch. Attach the ends of the handle to the right and left side of the carrot basket into the empty spaces between the carrots by gluing them down.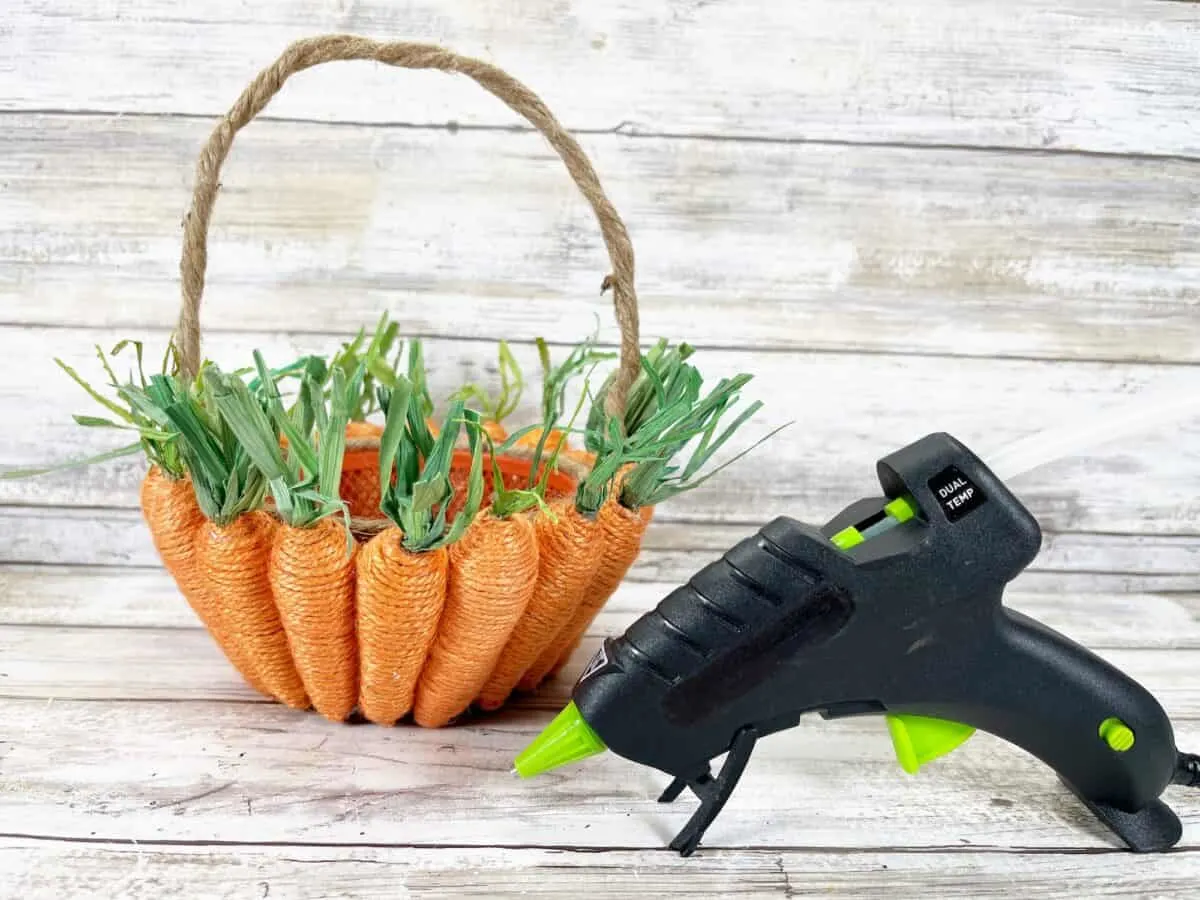 Tie a bow out of the twine. Glue it to the top edge of the basket and trim any long ends with scissors.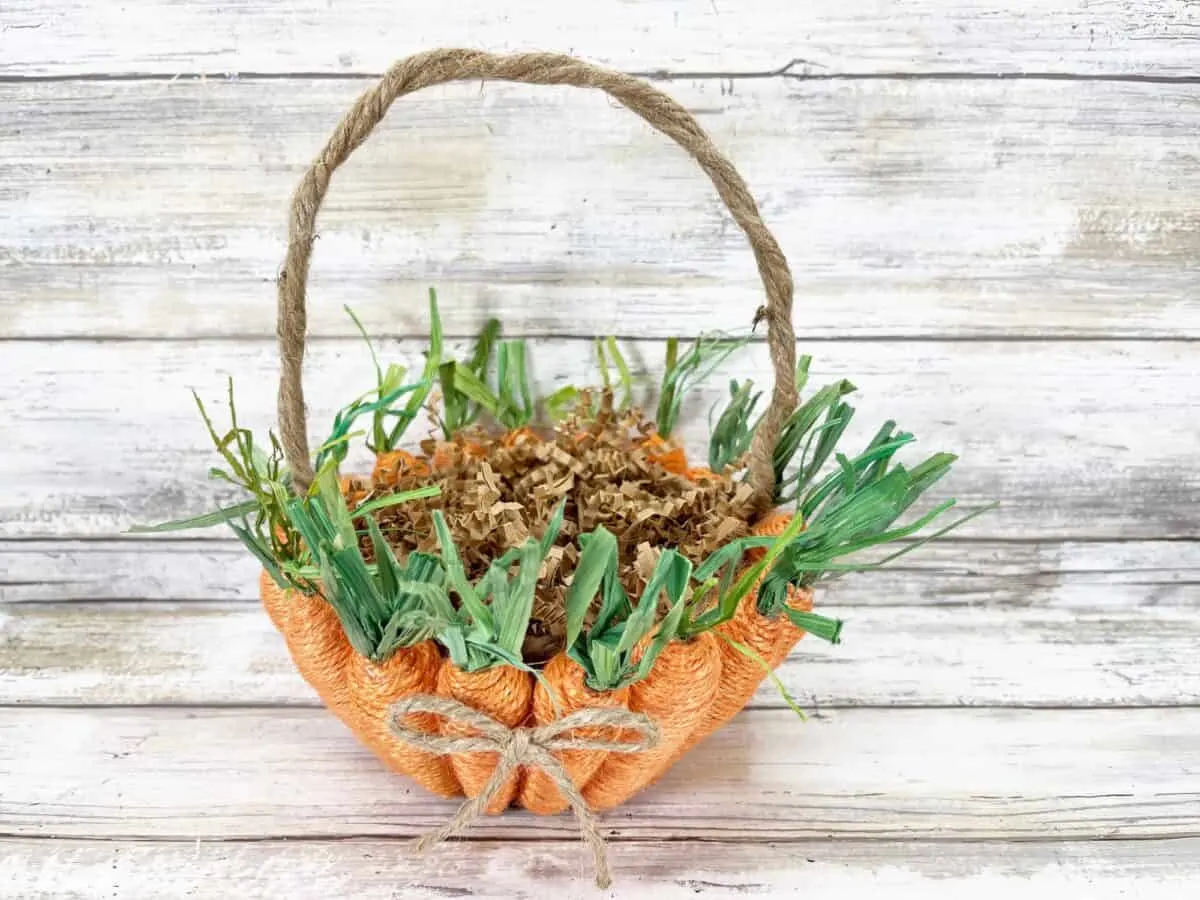 Fill with brown or dark green shredded paper for a natural and rustic farmhouse look.
Our fabric decoupaged Easter eggs would look so cute in this carrot basket!
If you like a farmhouse aesthetic, you will love these easy twine wrapped Easter eggs.