Upcycle canning jar lids into cute farmhouse-style pumpkins. These easy homemade metal pumpkins are great for tucking on a shelf or a tiered tray because they have a stand in the back!
We bought all of the supplies new at the Dollar Tree, but you can repurpose canning lids that you already have for a nearly no-cost Fall decoration!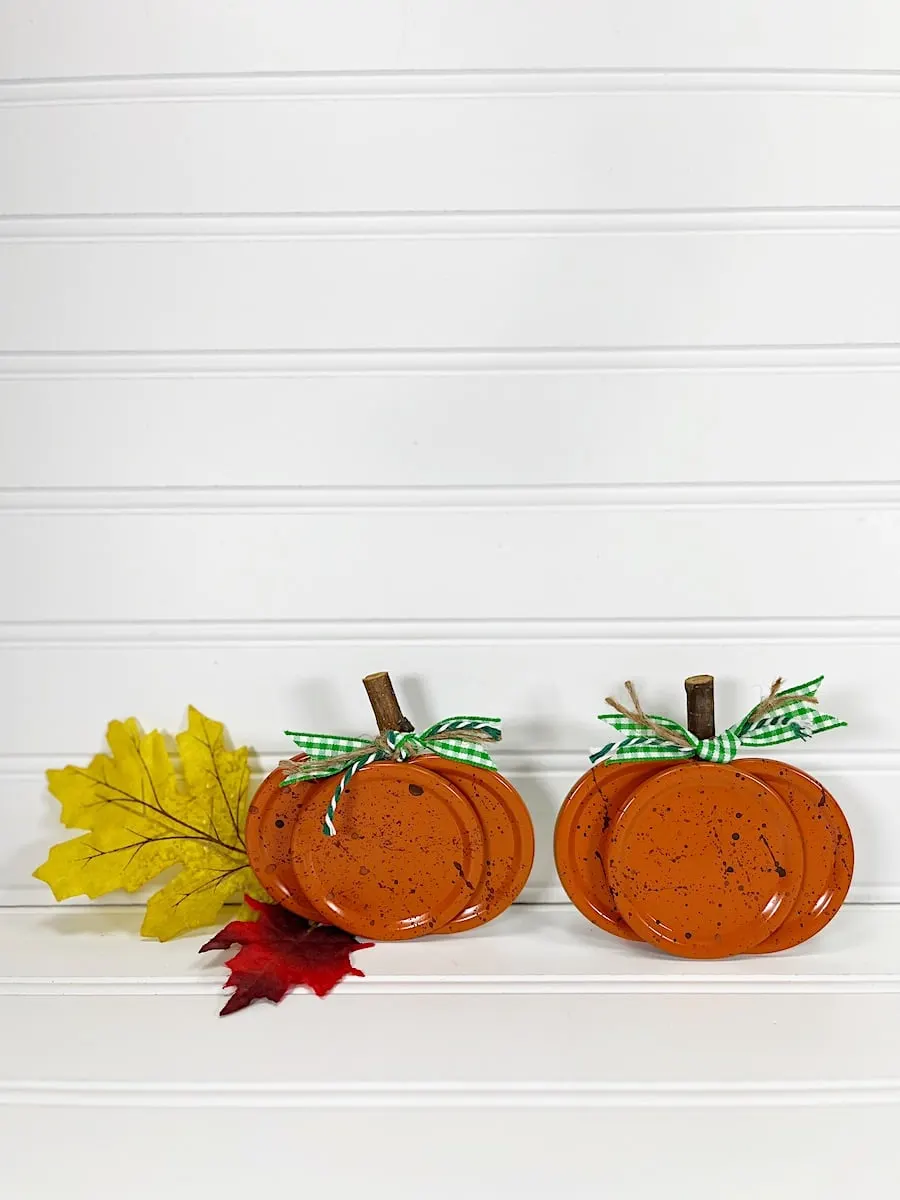 We made canning ring pumpkins with the other pieces, so be sure to see that craft, as well! It uses many of the same supplies, so you can make both with little effort!
These canning jar pumpkin crafts are perfect to make and sell! The cost is low but the farmhouse-style is much sough after!
In fact, when you purchase bulk canning lids, you can make these metal pumpkins for less than $1 each but you could definitely sell them for $3-$4 minimum. And use the lids to make canning lid turkeys, too!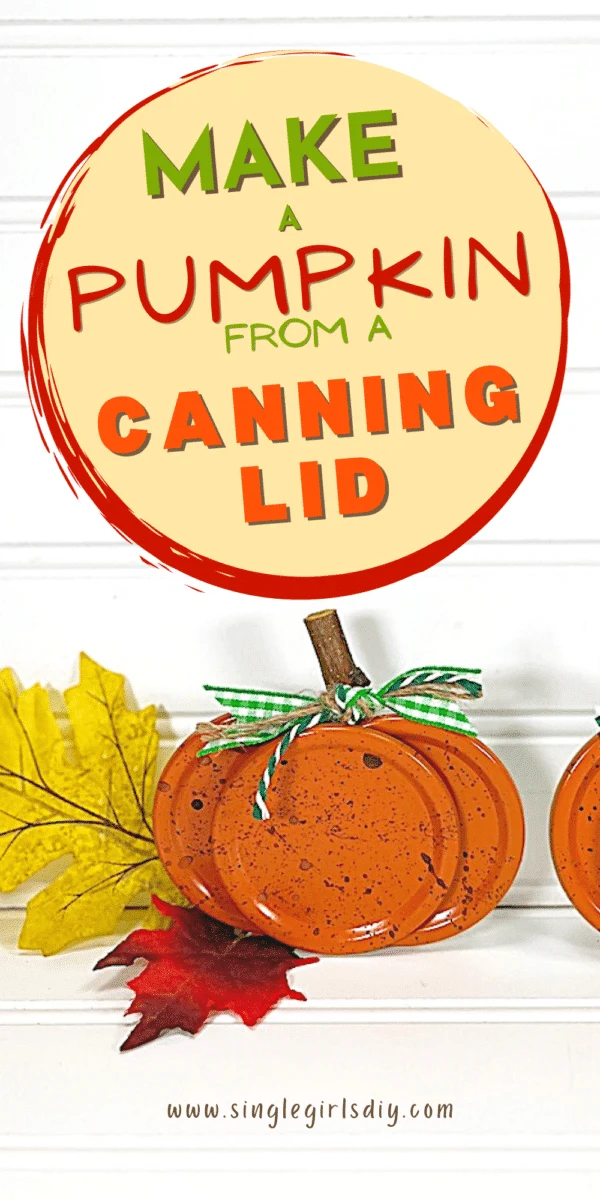 Helpful Tips
I bought canning jar lids at the Dollar Tree. They come in packs of 10, so you can make three pumpkins.
You can buy canning lids anywhere, including online at Amazon and Walmart. These often come with the rings, as well. You can use the rings for our Canning Jar Ring Pumpkin craft, too.
If you are using old canning lids, make sure they are clean and dry. If there is rust on the ring, you can sand it off or paint over it.
I bought the wooden stems at Dollar Tree (and also used them in our tin tile pumpkin wreath). They are also available on Amazon. However, you can use small stems from your yard or park instead.
Corks would also look cute as a stem.
With your bottle of orange spray paint, you could also make our fun tin mold pumpkins, bundt pan pumpkin wreath or Halloween tin can lanterns.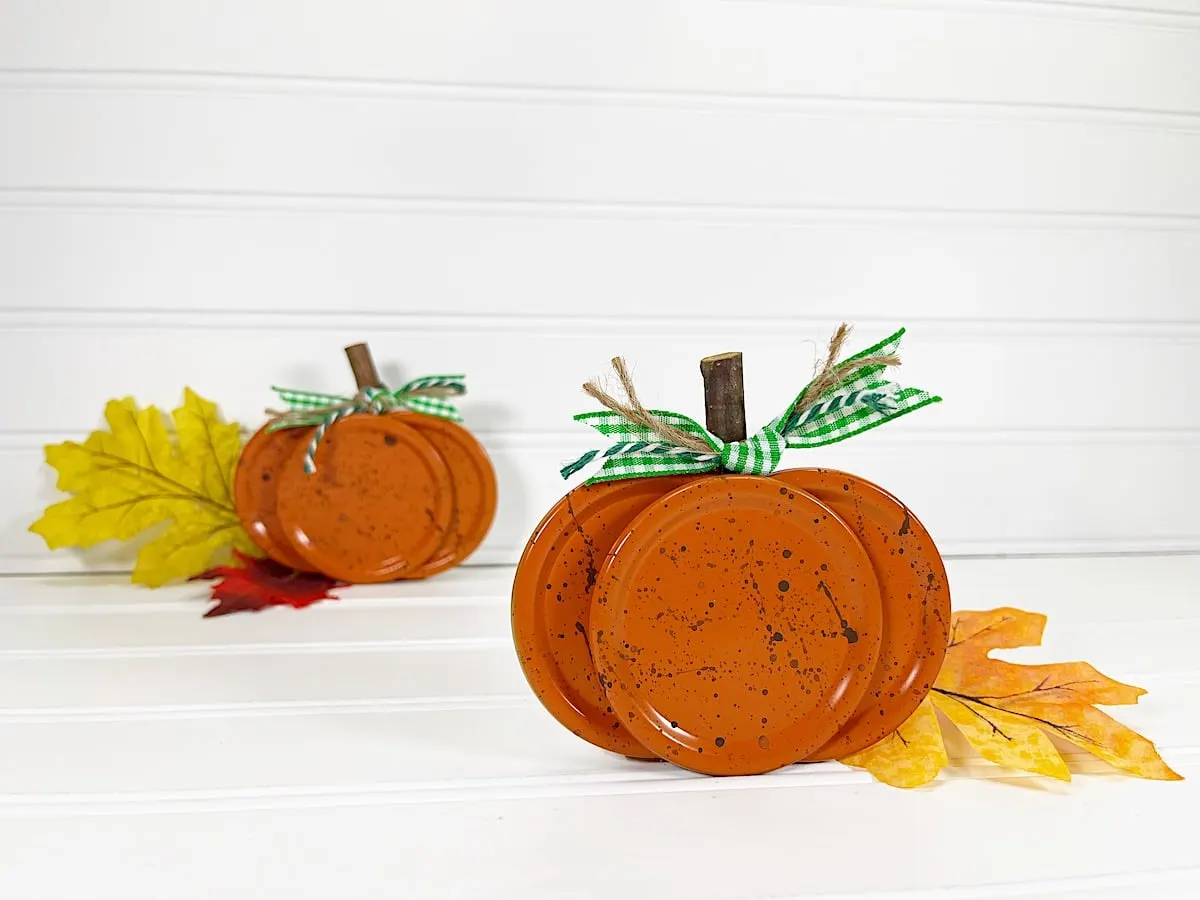 DIY Canning Lid Pumpkins
Materials
Metal Canning Jar Lids (3 for each pumpkin)
Orange Spray Paint
Small Pieces of Green Ribbon, Twine and Trim Scraps
Hot Glue Gun
Wood Stems
Tumbling Tower Game Pieces (2 for each pumpkin)
Brown Acrylic Craft Paint
Paintbrush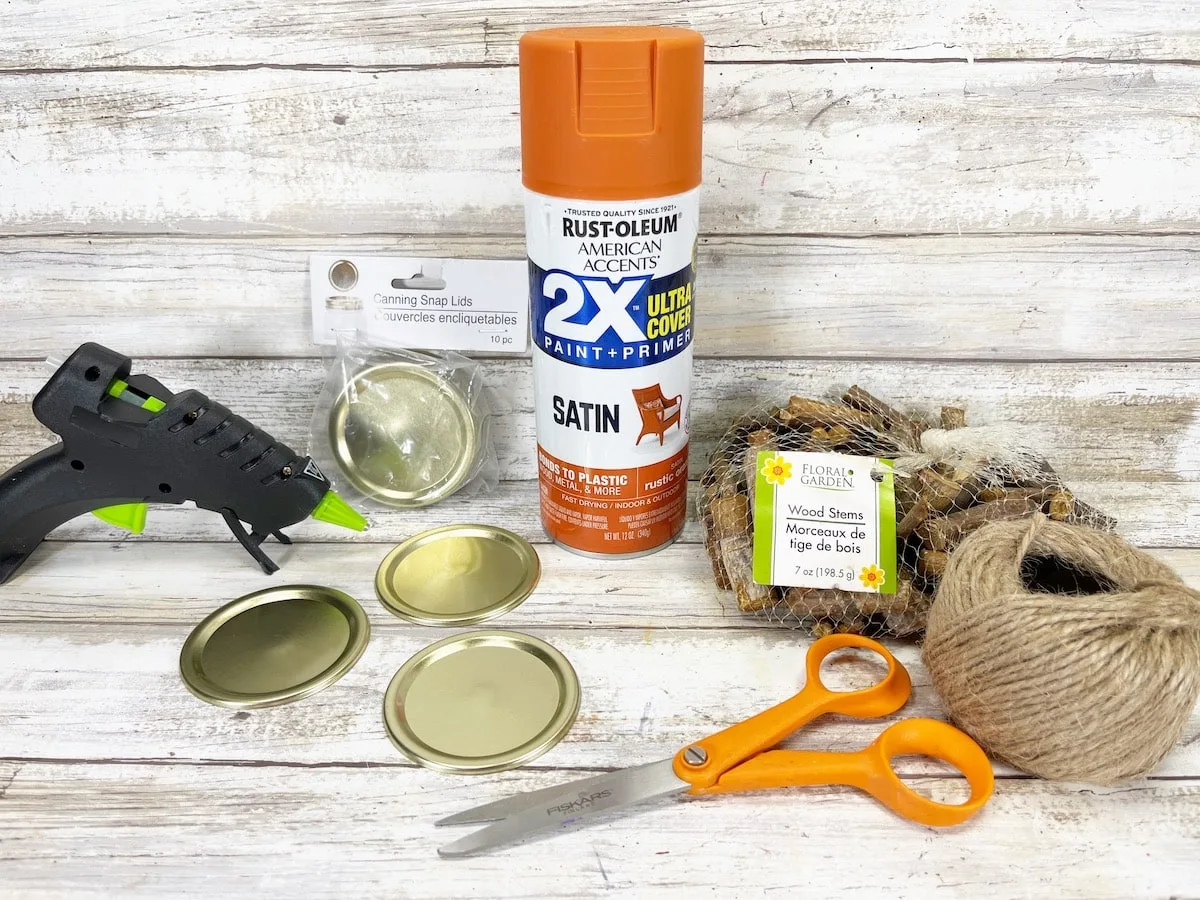 Instructions
Step 1
In a well ventilated are (or outside) paint the metal canning jar lids with orange spray paint.
It is best to use several light layers of paint instead of one heavy layer of paint. Allow to dry.
You will need three lids for each pumpkin.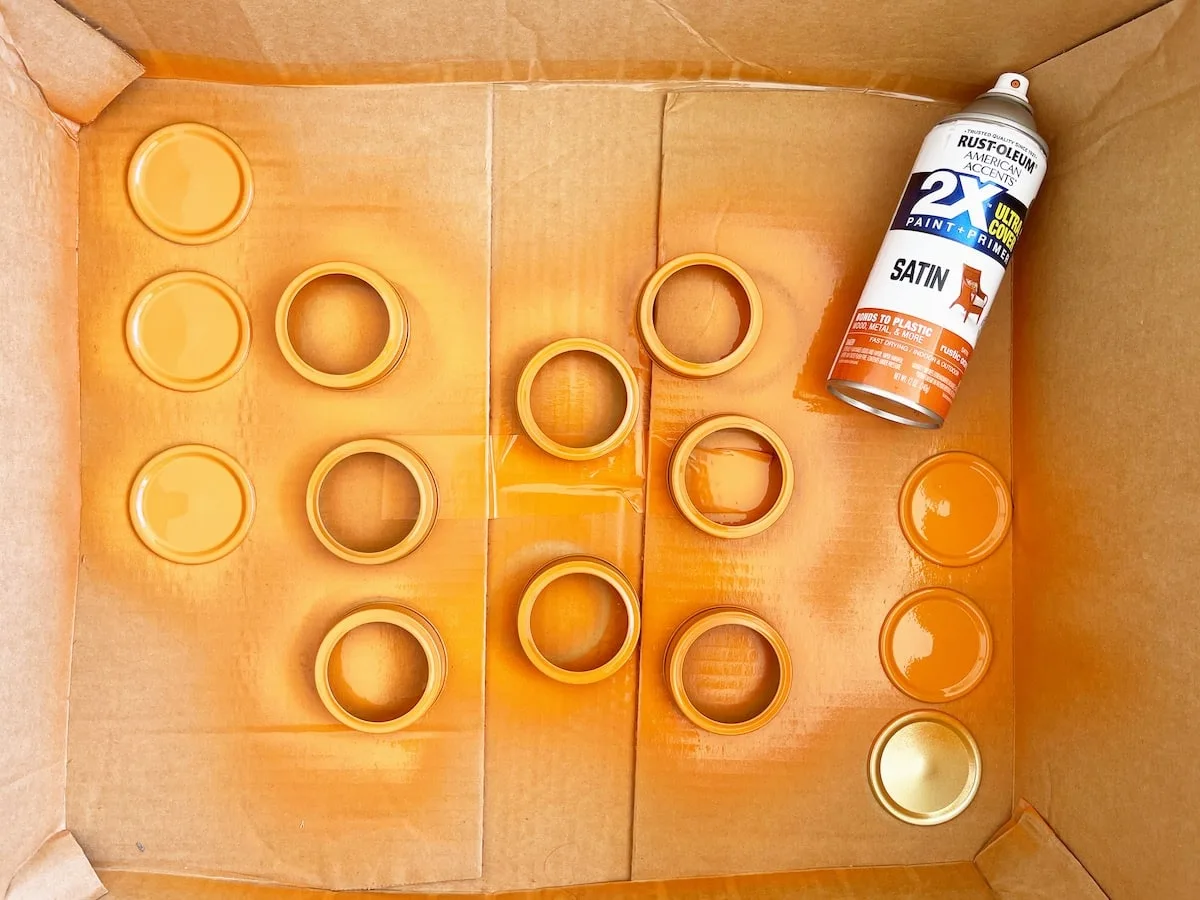 As you can see, I spray painted both the canning jar rings and the canning lids together. The rings are used for my canning ring pumpkin craft.
Step 2
Place three canning jar lids together to create a pumpkin shape. You will want one lid on the top, and the other two lids on the bottom side by side.
Now remove the top lid so that you can glue them all together.
Glue the edges of the bottom two lids together where they meet in the middle. Allow to dry.
Then glue the top lid on top of the base.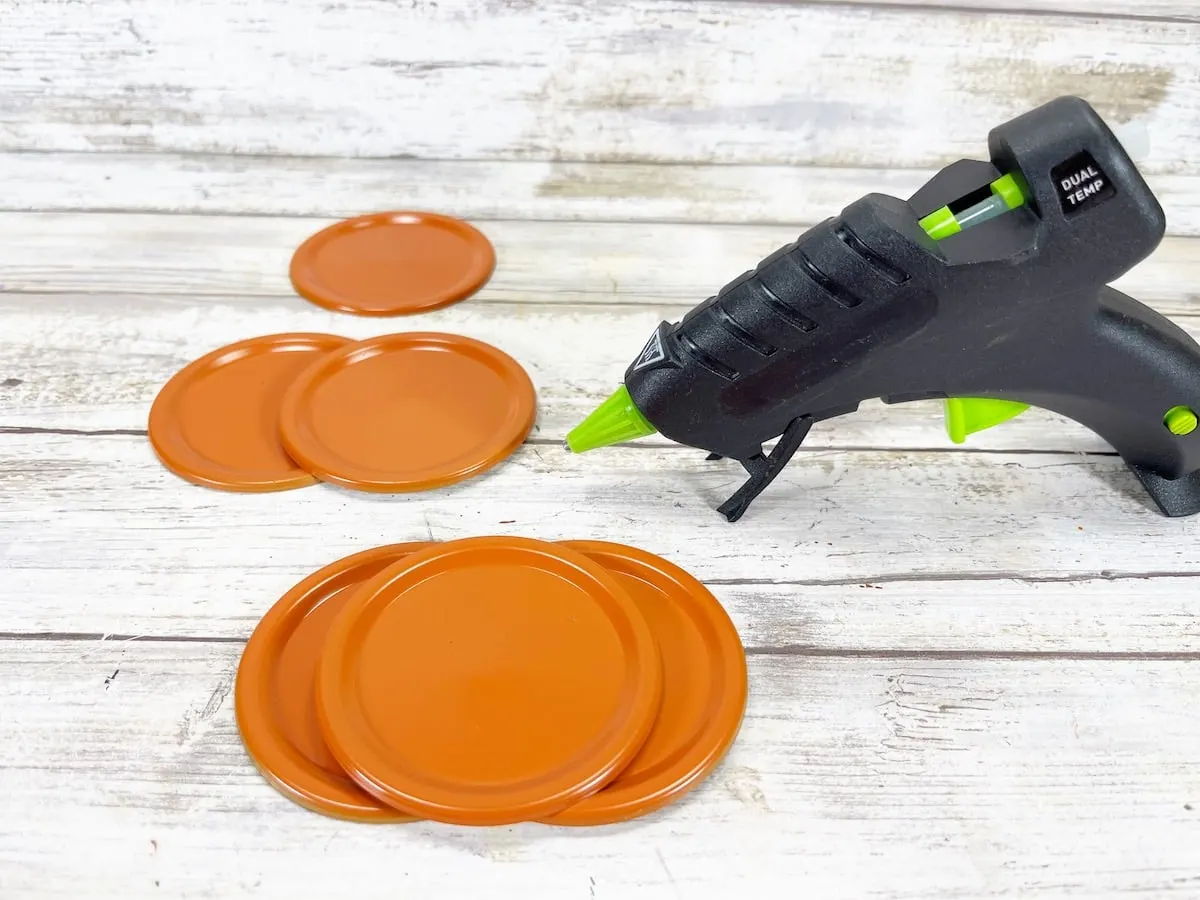 A hot glue gun is best for this rather than craft glue.
Step 3
Mix a small amount of brown acrylic craft paint together with a tiny bit of water to dilute it. Dip a paint brush in the mixture, then flick the brush onto the surface of the pumpkin to create a splatter effect.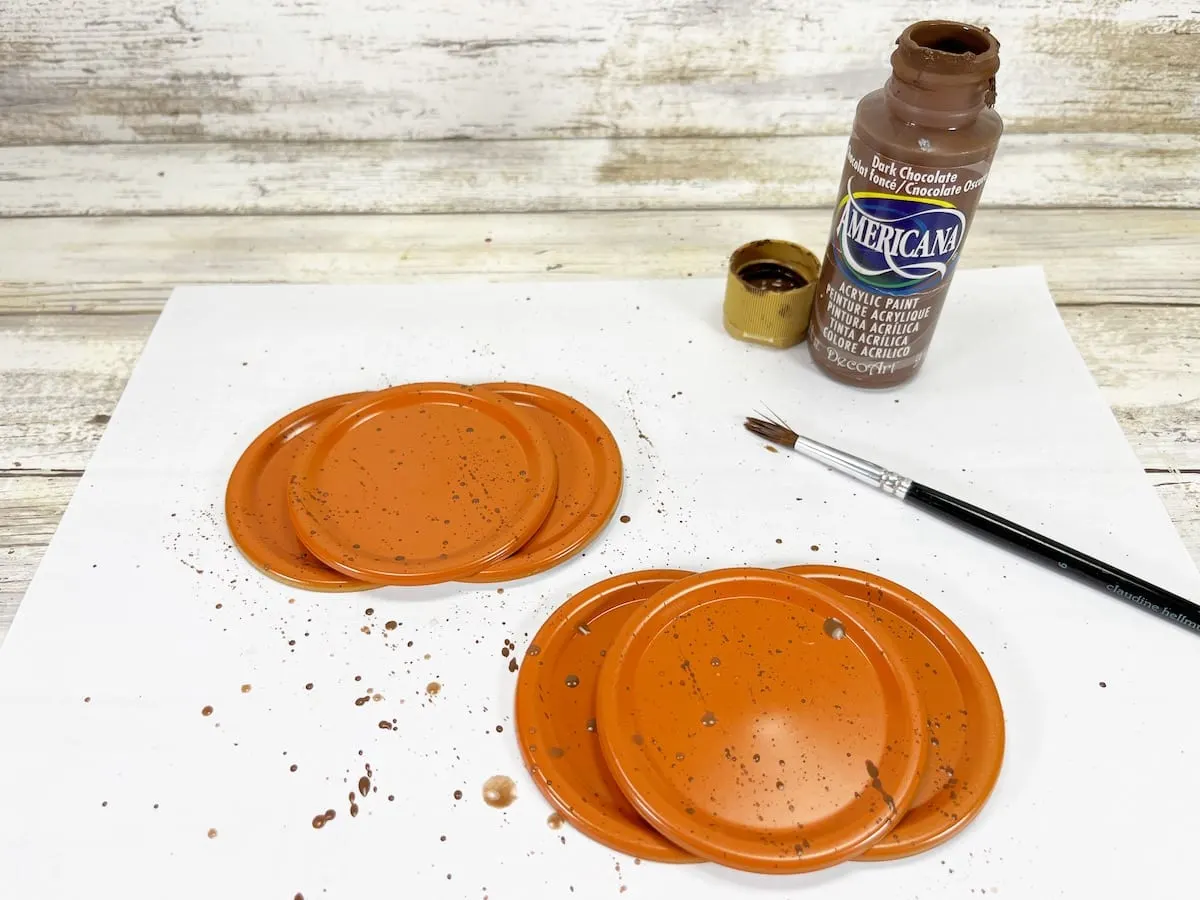 Allow to dry.
Step 4
After it has dried, turn the pumpkin over and glue a wooden stem to the top center of the back of the metal lid pumpkin.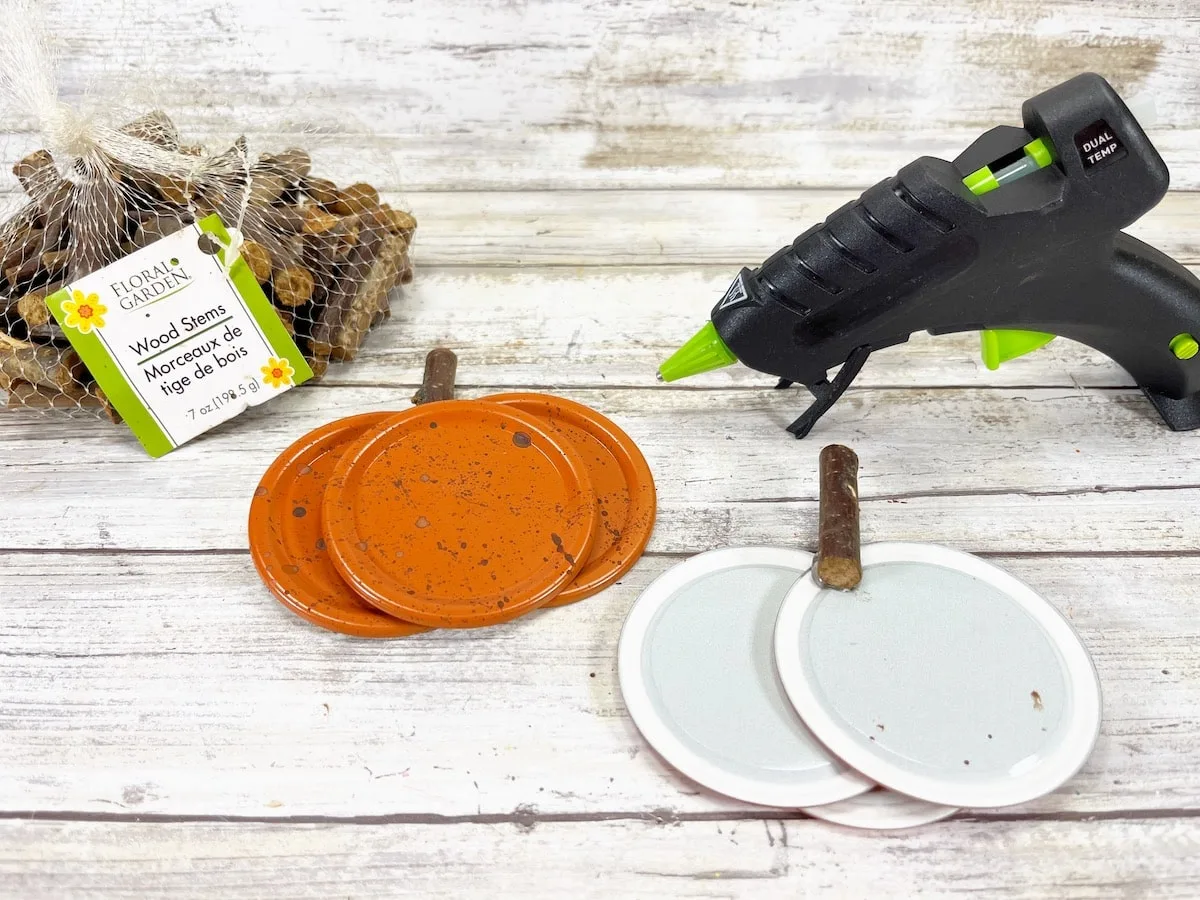 Step 5
If you want to display this pumpkin on a shelf, tiered tray or other surface, you will want to create a stand.
Glue together two tumbling tower wooden game pieces for each pumpkin to create a stand.
Glue the stand to the back bottom center of the pumpkin. Hold in place until the glue cools completely.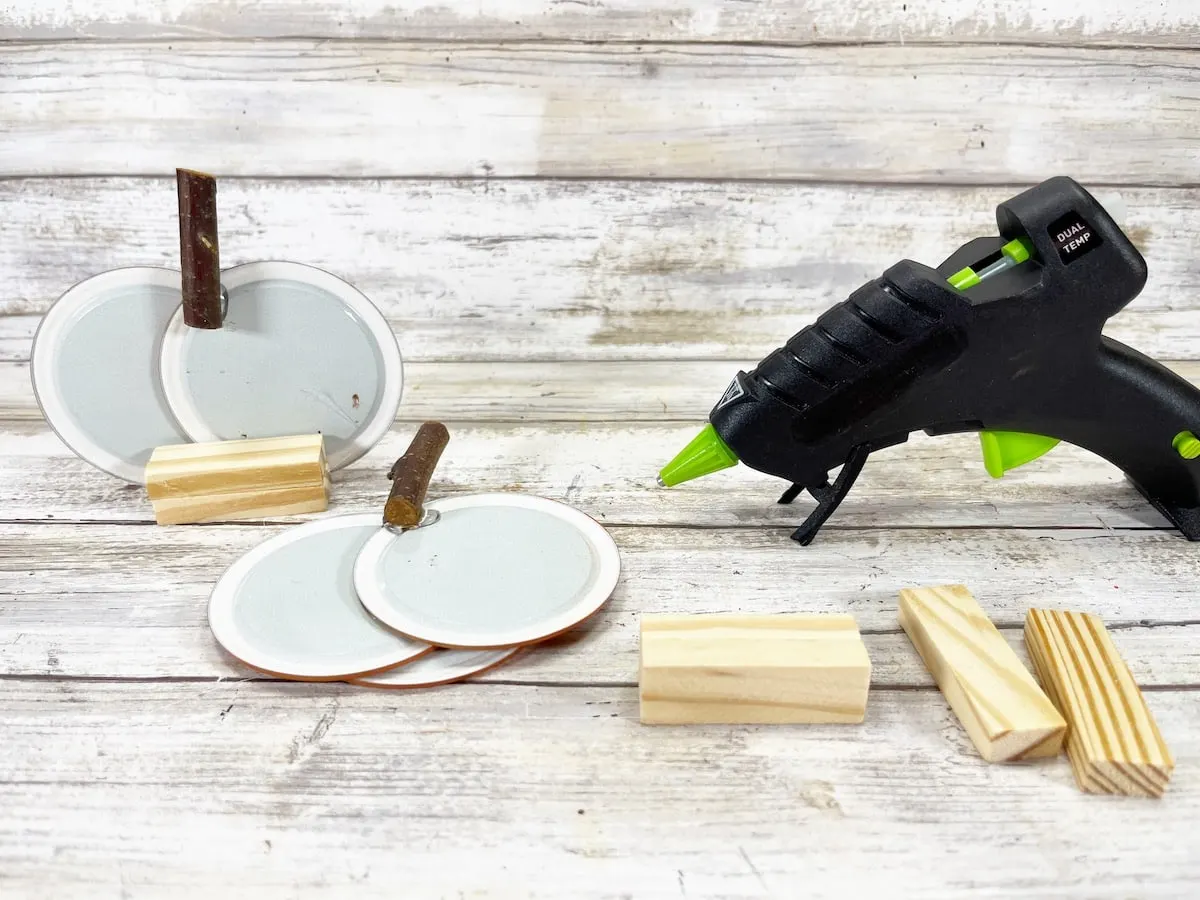 Step 6
Cut a variety of small pieces of ribbon, twine and jute into six-inch sections.
Tie the pieces together in a knot to create a leaf for your pumpkins.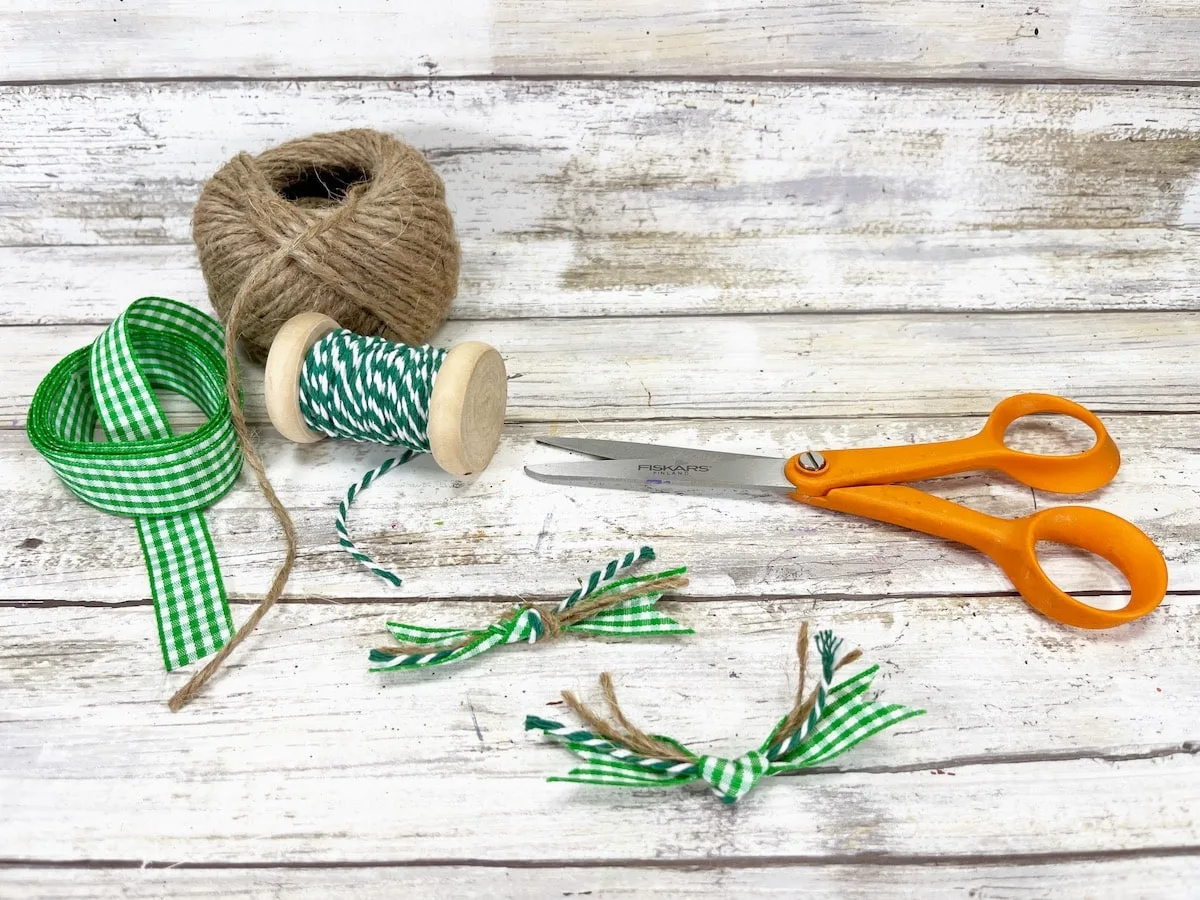 Glue the knot to the front center of the wooden stem.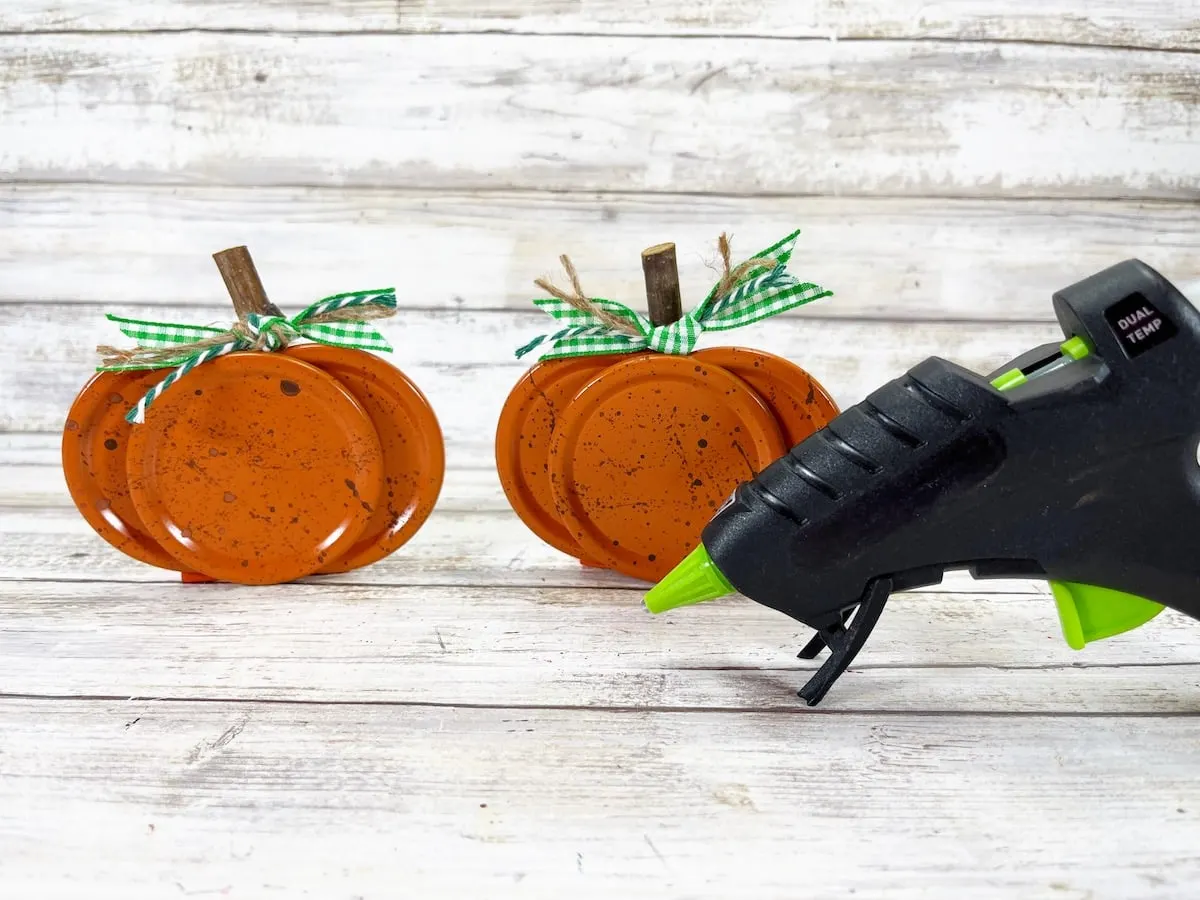 No time to make this craft right now? No worries! Just Pin This DIY to your favorite Fall craft board on Pinterest.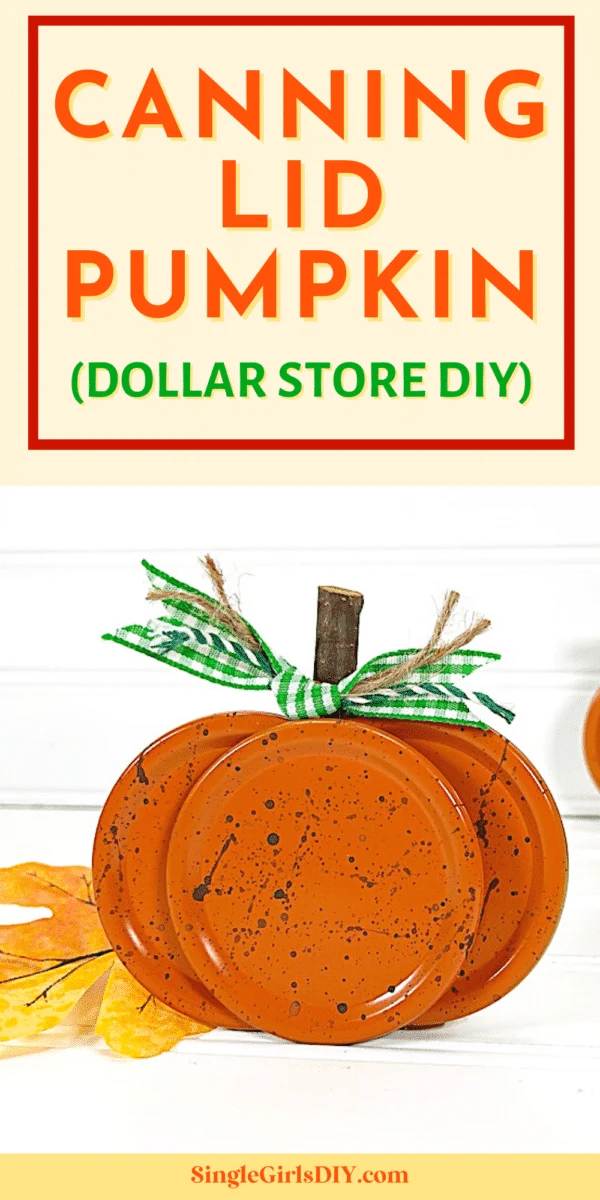 If you like this canning lid pumpkin, be sure to see our DIY Jelly Jar Pumpkins, too!
This is just one of our many fun Dollar Tree Crafts you will want to see! And be sure to check out more of our festive Fall Crafts!