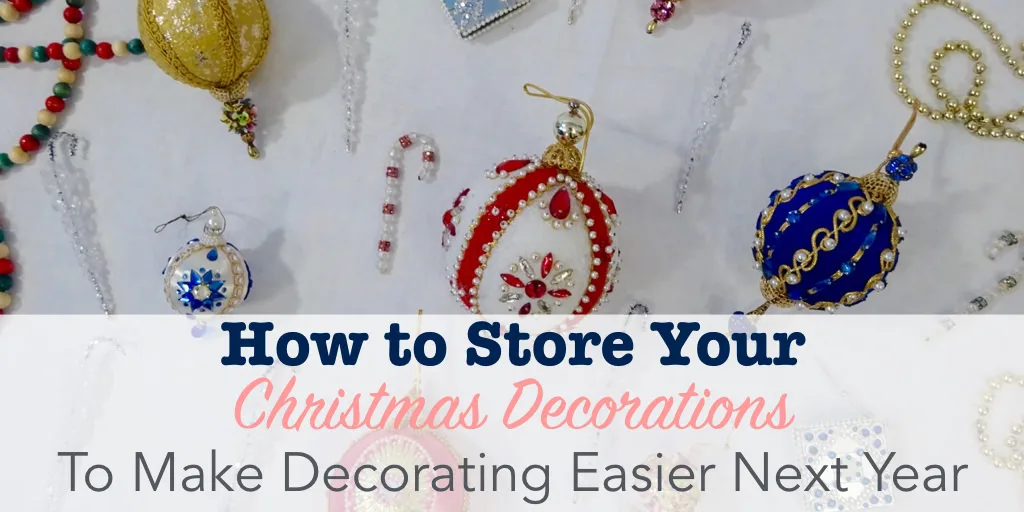 Christmas is over. Now it's time to take down and put away all the decorations.
This is my least favorite part of the holidays. Putting everything away again is tedious! You have to wrap things up carefully, and figure out how to make everything fit back into your storage boxes. (It never seems to go back in right, does it?)
To make this task more bearable, I've developed a few little tricks. Not only do they make packing things away a little less tedious, these tips also make it easier to decorate again the following year.
HOW TO STORE YOUR CHRISTMAS DECORATIONS
1. Reuse Original Packaging
It's not always easy to get something back into its original box. But when you can, it's worth doing. The item takes up less space, and has a neat package that is designed to be compact.
For example, I do this with the garland I use on my mantle. You have to squish it a bit to get it all back in the box, but it fluffs up again easily.
I also leave the strings of lights in place, as well as the beaded garland I use with it. The whole things is ready to go as soon as I pull it out of the box and fluff it up the next year.
BONUS TIP: Store extension cords with the items you always need them for.
With my garland, the cord for the lights never reaches to the outlet. So, I bought an extension cord specifically for this purpose, and store the extension cord in the box with the garland. I always have it on hand when I decorate the following year.
2. Get Rid of Original Packaging
Even if you can get something back in its original box, you should consider if that's the most efficient way to store it.
I have this adorable collection of woodland creatures, and I used to keep them all in separate boxes. As the collection grew, I was running out of storage space for them.
Finally, I got rid of all the boxes. Now, I wrap each one in tissue paper for a little protection, and place them all gently into a single box.
This makes them easier to store, and takes up much less space than the individual boxes. And when I get them out next year, it's easy to take the whole box of critters to the room where I want to use them.
3. Keep "Zones" Together
Some people probably like to mix up their decor each year, and do things a little differently from the year before. Me, I generally put things in the same place every year.
Every year, I decorate the mantle in my bedroom with a collection of ornaments that my great grandmother made. I also put up some beaded garlands, and bows.
When I take these things down to put them away, I pack them all into the same box. This keeps them safely together. When I'm ready to use them again, I just carry the whole box into the bedroom and I have everything I need to completely decorate that mantle.
4. Use Big Storage Bins
Every year, right after Christmas, big plastic storage tubs go on sale. Pick up a few. These are great for keeping your decorations clean, dry, and protected.
You can neatly pack quite a lot into these bins. They're easy to carry, and they stack nicely. I keep mine in the garage.
You could even create an "Upstairs" bin, and a "Downstairs" bin. Or one for "Tree Stuff," and one for "Living Room." Or whatever works best for your decorations. You can pack your bins to make it easier to bring things where you're going to want them the next year.
5. Make a List
Santa's not the only one who needs a list at Christmas. As I'm packing things into my plastic storage bins, I make a list of what goes in each one. Then I place the list in the bin.
This has become a super useful habit for me for two reasons:
If I don't want to get out every single decoration I own the following Christmas, I can glance at my lists to find the items I want.
When it's time to pack the boxes again, I have a cheat sheet. I know what fit in each box the previous year, and can just repack them the same way. Saves time and frustration!
Happy packing (and decorating)!
Keep your original packaging, or don't. Pack items together that always get used together. And keep a list of what goes where.
Hopefully these tips will help make packing away your holiday decorations a little easier. And hopefully also make decorating easier next year.