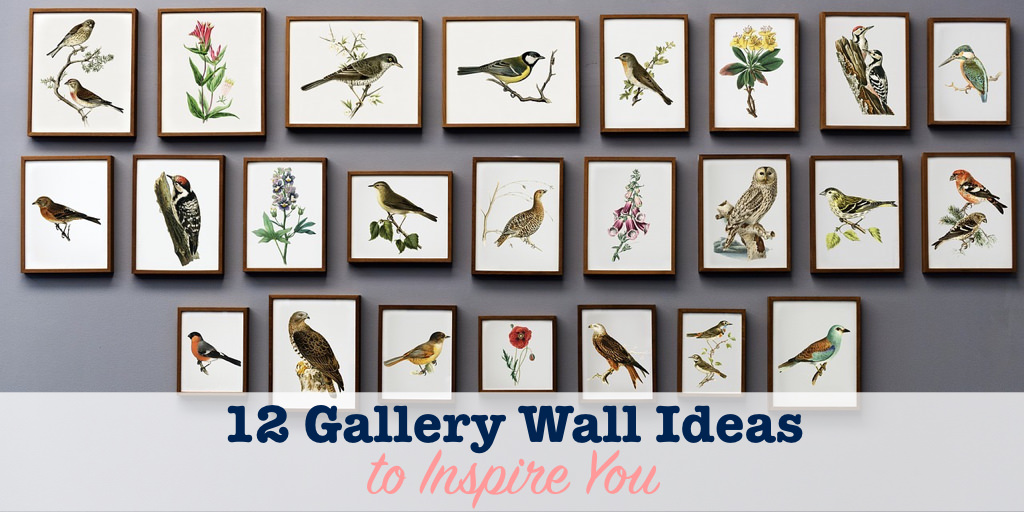 I love a good gallery wall. It's such a fun way to display your photos and mementos, and bring unique artwork into your home.
I created a gallery wall in my stairwell. Most of the time, I pass right by without really noticing. But everyone once in a while, something catches my eye. Then I stop for a moment and enjoy the memories of the people and places in the photos.
Since there are already so many guides out there about how to create I gallery wall, I thought it would be more fun to gather up some inspiration for you.
Here are some of my favorite gallery wall ideas from other bloggers around the web.
12 GALLERY WALL IDEAS TO INSPIRE YOU
[disclaim]
MATERIALS TO MAKE A GALLERY WALL
Photos – Printed in color, or try black and white, or sepia toned for a more uniform look
Frames – Matching or all different, depending on the look you want (Shop thrift stores!)
Mementos – Hang stuff on your walls too, not just pictures
Signs, letters, and word art
Paintings
Dishes and vases
Shelves – Group photos and other items on shelves for a layered look
Hammer & nails
[/disclaim]
Stairway Gallery Wall
Here's the gallery wall I created in my stairway. As you can see, the pictures are all different sizes, and in mismatched frames.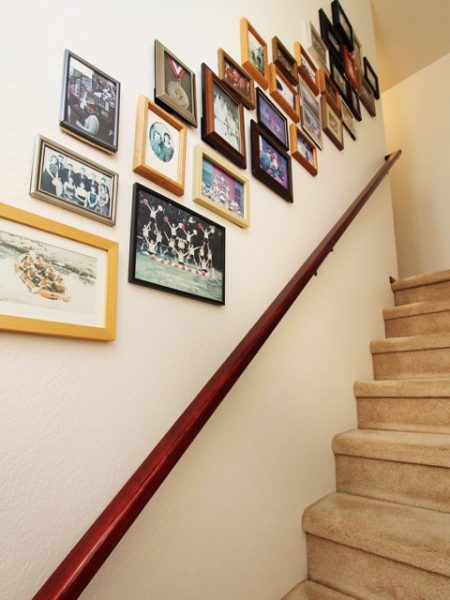 I gathered the photos and frames over time, picking up many of the frames from thrift stores.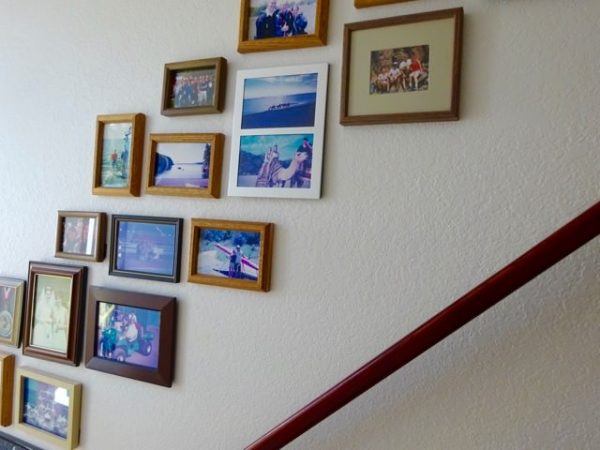 You can also fill more of your wall space, like this gallery.
Bless'er House

Gallery of Calendar Art
Calendar pages make great artwork. Pick out a few favorite months, and put them into matching frames. My mom and I did this in my brother's old bedroom after he moved out.


Matching Grid Photo Gallery
These bloggers each have their own approach to creating a grid of photos for a wall gallery.
Or Not a Grid
Different sizes of photos can also look great when laid out appealingly. Like these.
Photos and More
Gallery walls aren't just for photos. Add signs, mementos, and other artwork to make your wall even more interesting.
Use Letters
You don't have to use photos at all. You can create an interesting gallery wall with different styles of letters.
Use Shelves
You can also create a gallery wall with shelves. This is a great way to add more mementos and three dimensional artwork to your display.
Make it Functional
A gallery wall doesn't have to just be for display. You can add functional items, too. A memo board, clock, mirror, or storage hooks can also have their place.
Feeling inspired?
So, if you've been dreaming of doing a gallery wall in your own home, but not quite sure what to do, I hope these ideas have helped to give you a little inspiration.
Remember, you don't have to run out and buy all matching frames, and get new prints made. Look around at items you already have and love. Think creatively about how you could display them in a new way.
Get More DIY!
Have our free weekly newsletters with the best tips, new home improvement projects and easy crafts sent to you!