DIY photo walls are such an easy way to make a big impact in your living space without a lot of money. Just by grouping together things that are alike, you can create a stunning piece of art that is often sentimental, too.
These photo wall ideas can work in any room of your house, from the living room to the bedroom to the office. Don't forget to add photos to your stairway to add art to an often-overlooked space.
I've collected a range of gallery wall ideas to inspire you. You are sure to find something that you like and can easily copy on your own.
What to Put on a Gallery Wall
You don't have to limit yourself to just photos on a display wall. And you don't have to spend a fortune making this large artwork.
Here are some ideas of what you can gather around your house to put in a collection on the walls. If you don't have the items, thrift stores, craft stores and home decor stores are great places to look.
Photos – Printed in color, or try black and white, or sepia toned for a more uniform look
Frames – Matching or all different, depending on the look you want (Shop thrift stores!)
Mementos
Signs, letters, and word art
Baskets
Paintings
Mirrors
Dishes and vases
Shelves – Group photos and other items on shelves for a layered look
How to Hang a Gallery Wall
It is easy to create a gallery wall. The key is to measure first, and create some sort of templates so that you can get an idea of whether or not you like the style before you add nail holes to your wall.
The DIY Nuts have a great tutorial on how to easily install a photo gallery wall.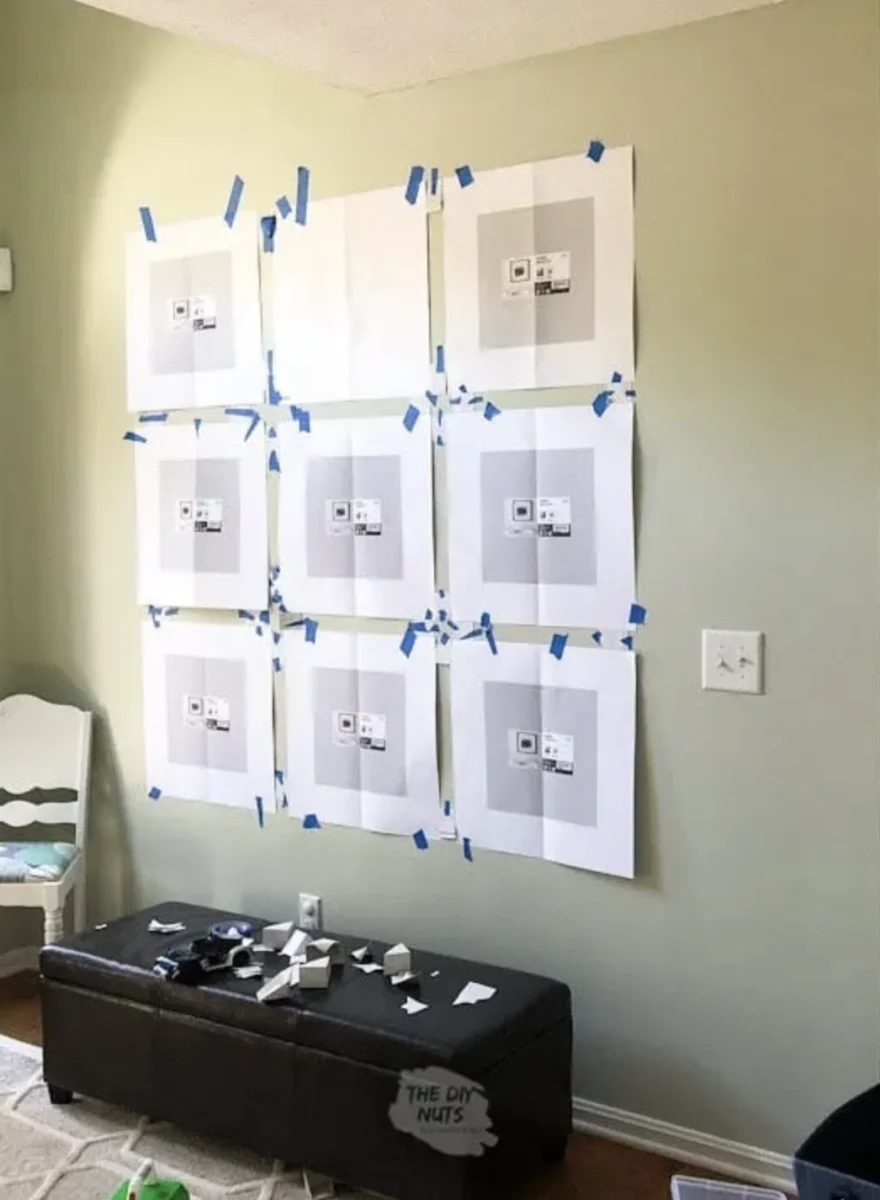 And here's another easy tutorial for a grid style gallery wall from Making Manzanita.
Stairway Photo Gallery Ideas
I created a gallery wall in my stairwell. Every once in a while, something really catches my eye. Then I stop for a moment and enjoy the memories of the people and places in the photos.
Here's the gallery wall I created in my stairway. As you can see, the pictures are all different sizes, and in mismatched frames.
I gathered the photos and frames over time, picking up many of the frames from thrift stores. Here's more details on my stairway update.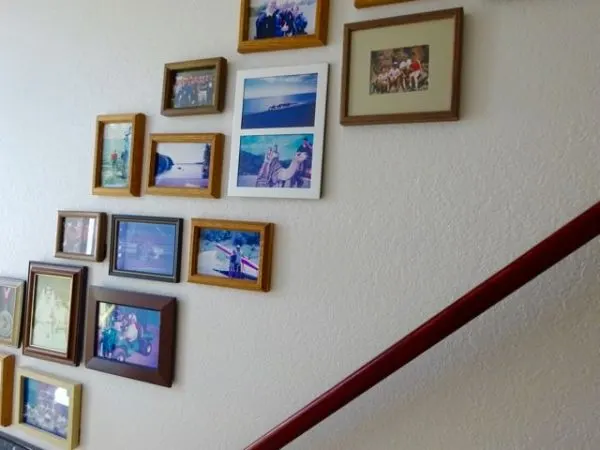 While I left a lot of white space around my photos, you could add tons of photos to really fill the large wall, like Bless'er House did.
DIY Photo Wall Ideas
Here are some really great and unique ways to display photos in a gallery wall. Everyone does it differently, so it's nice to be inspired by their ideas.
For a simple, matched grid look, Designing Vibes used 9 photo frames of all the same size and color to make a striking and inexpensive display.
Calendar pages make great artwork displayed in a grid. My mom and I did this in my spare bedroom makeover.
Instead of frames, Drugstore Divas used canvas wrapped photos for her gallery wall. I think it makes a great display. I'd love to do this, too.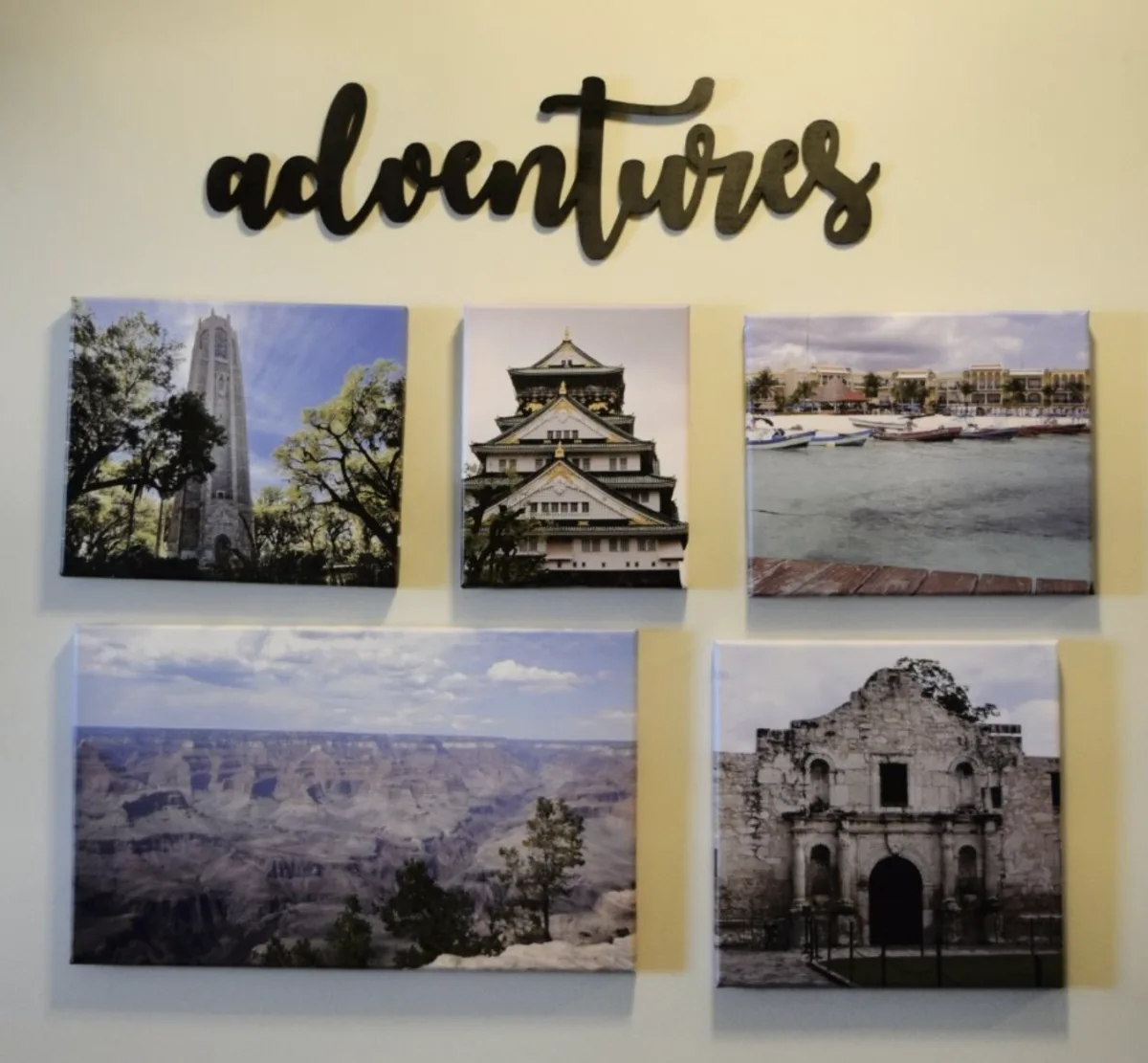 Other DIY photo wall ideas I like are found on Little Bits of Home, A Blissful Nest, and Little House of Four.
Gallery Wall with Shelves
You can also create a gallery wall with shelves. This is a great way to add more mementos and three dimensional artwork to your display.
Simply arrange the shelving in a group and add photos or knick knacks on the shelves.
Gallery Wall Themes
It's fun to create a collection of items that fit a theme. Not only does it give the area a more uniform and cohesive look, it's also easier to narrow down what items you want to add.
For instance, Green with Decor decided to use only beach photos for her gallery wall above her grandmother's piano. It made it easy to choose photos for the space.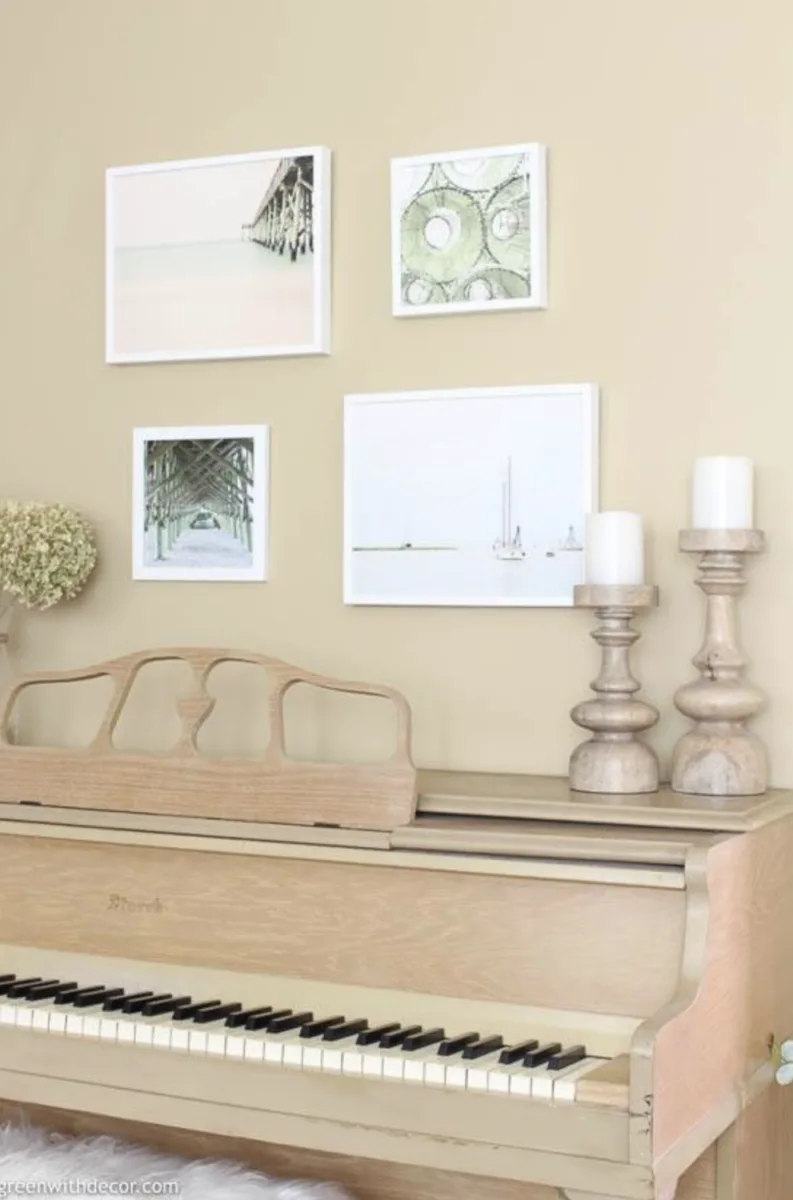 Teach Me Mommy decided to use only baby photos in her gallery wall. You can see how awesome it is to be reminded of how young the kids were!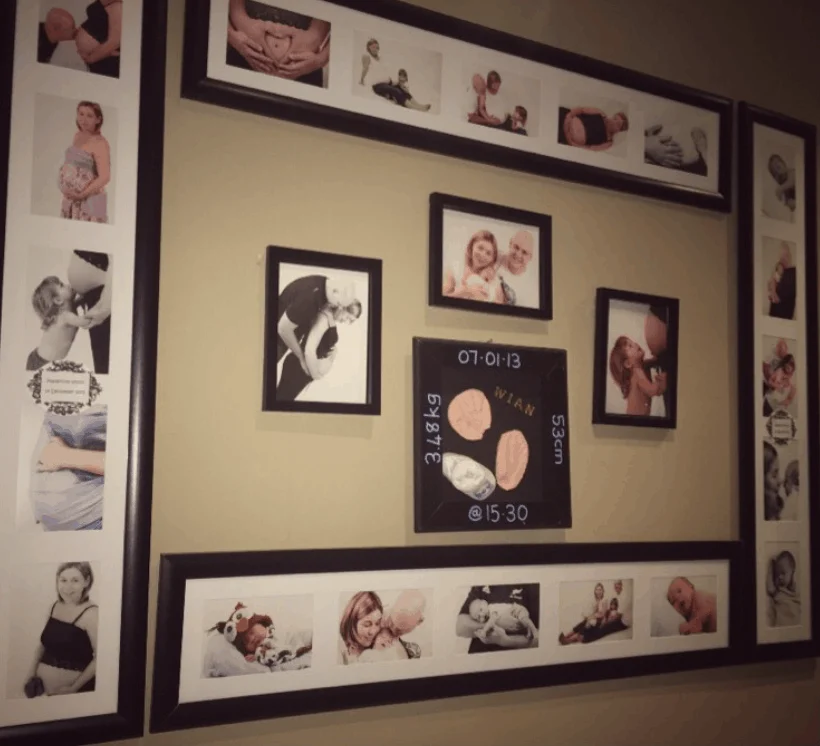 I absolutely love this holiday theme gallery wall by Homemade Heather! What a great idea! And you could do it for every holiday.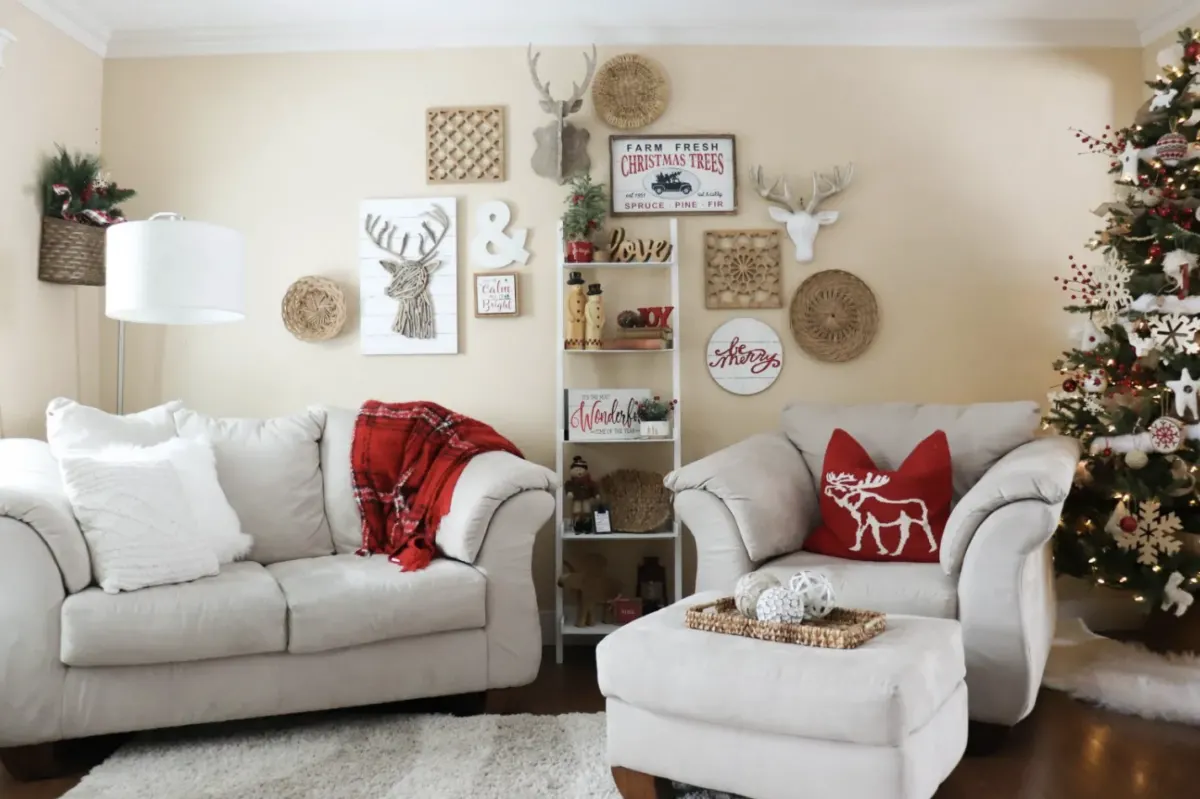 This Fourth of July gallery wall is pretty cute, too. I might have to do it!
Unusual Gallery Wall Ideas
Photos aren't the only thing that you can use to create a feature wall.
This basket gallery wall is cheap, easy and very boho-chic!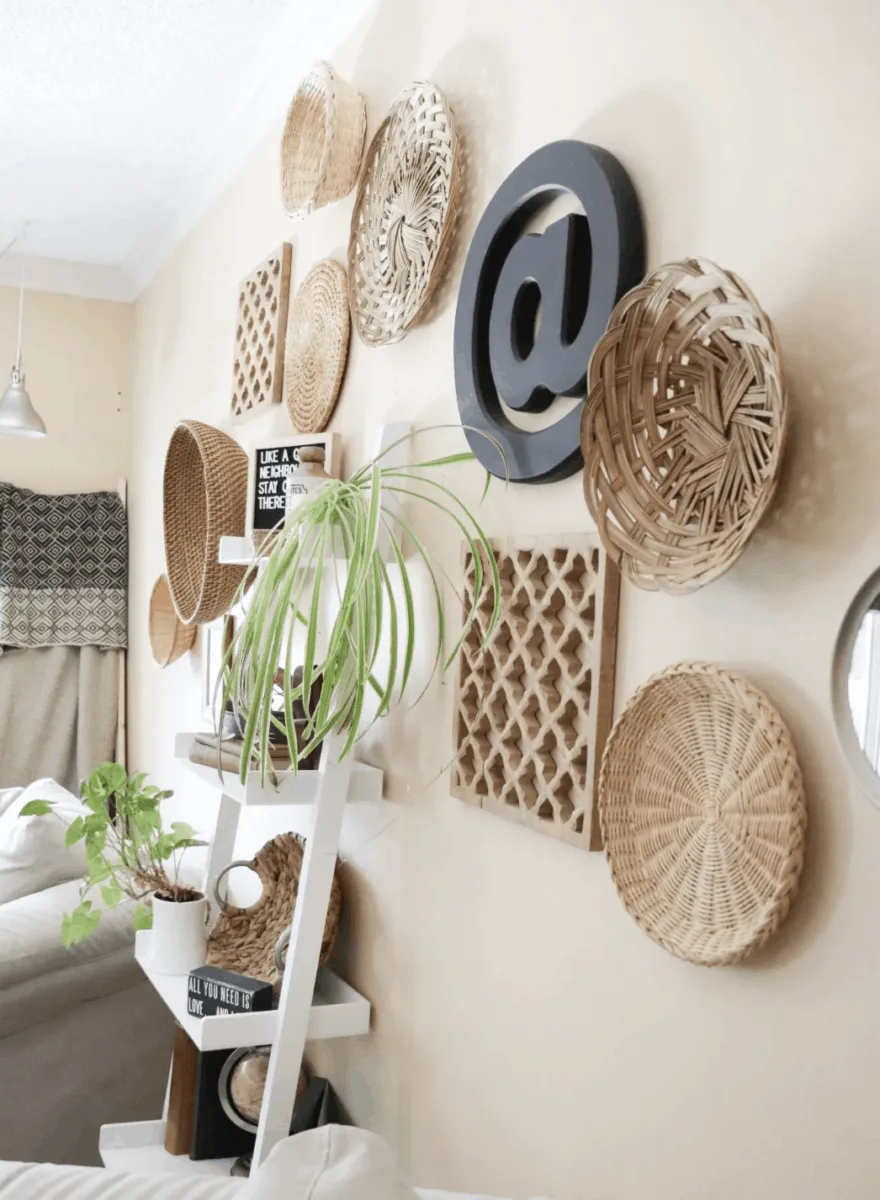 At Lane and High used her television as part of her gallery wall collage. It's a brilliant idea, and it lets you see your favorite photos while watching TV.
Add a collage of letters to your wall to celebrate the first or last name of your family or your kids. This is easy to do by buying letters at a craft store, or scouring salvage yards to find vintage letter signs.
Have you thought about a gallery wall in a craft room? This bright and colorful display wall from Where The Smiles Have Been is an cheerful way to decorate a room where you work and need inspiration.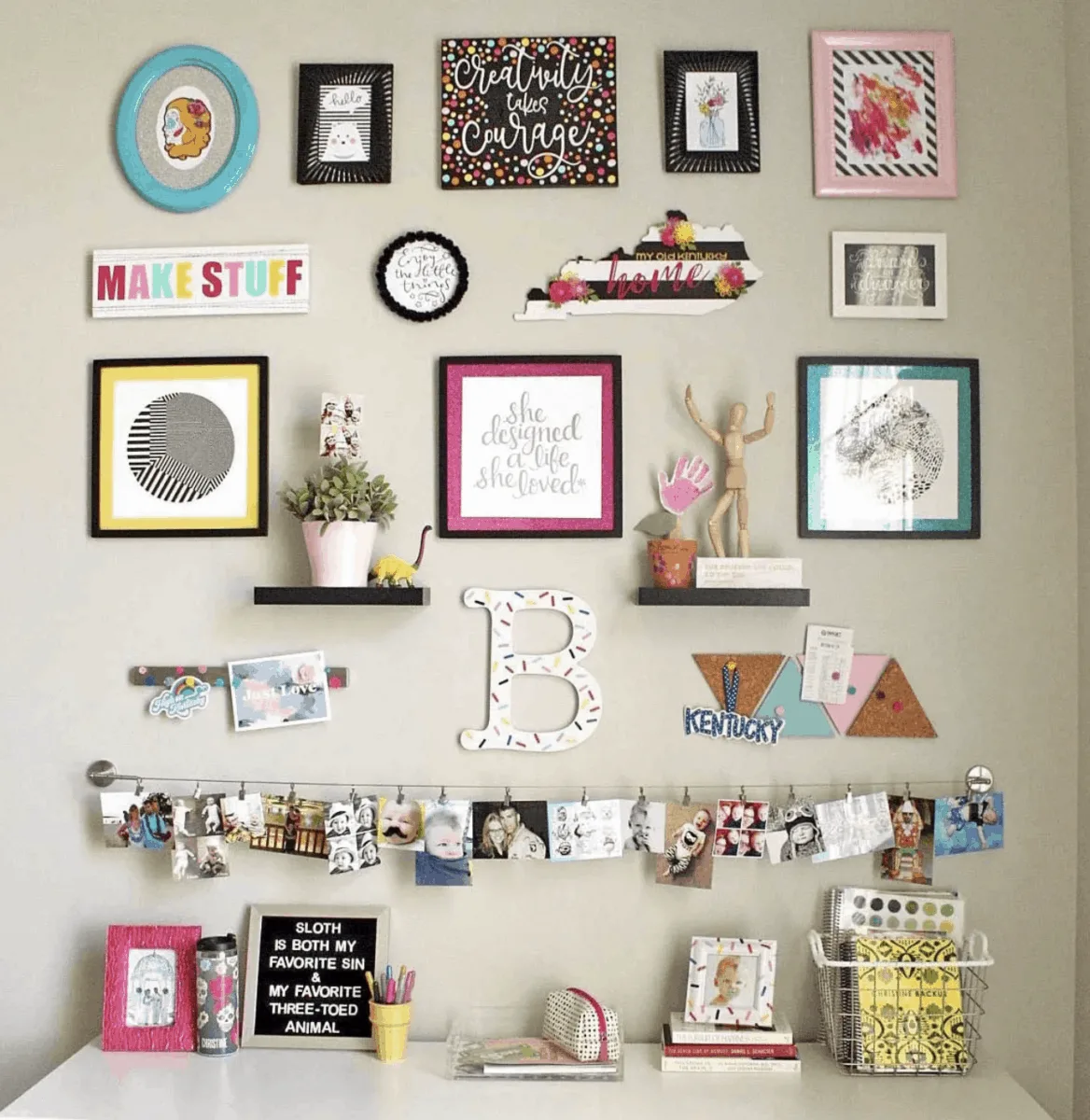 This alphabet letter wall by Designer Trapped is a good inspiration for how cute this can look.
This playroom gallery wall by Kenarry uses functional items displayed in an artistic way. It's a blend of art and practicality.
Finally, you don't need to use photos or artwork for a gallery wall. I love these mirrors grouped together for a display wall that makes a statement piece, and makes the room feel bigger!