Here's how to make a studio apartment feel like home, with smart furniture arranging and organization.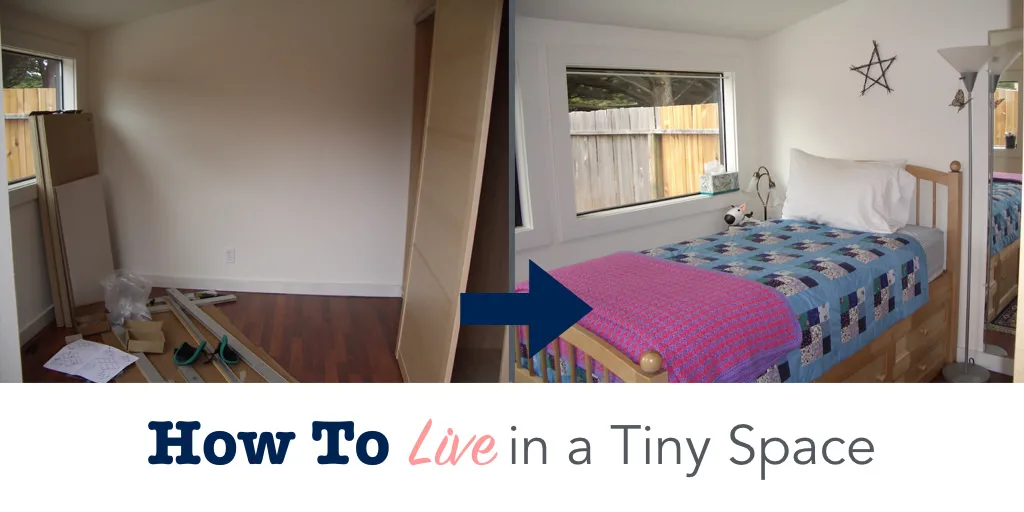 When I had to move to California for a job, I went on a short house hunting trip before moving. I stopped into a real estate office to see if they could give me any leads.
After I explained what I was looking for, and my price range, the agent told me, "You're not gonna find anything, honey."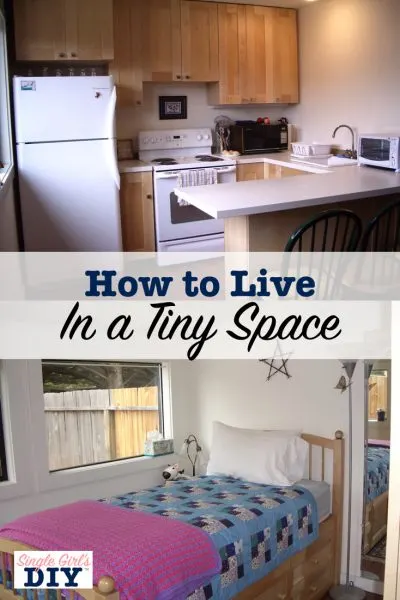 The very next day, I found a landlord who was in the process of fixing up a studio apartment, just steps from the beach. It was small, but I could afford the rent. Perfect.
Here's how I turned the tiny space of a studio apartment into a cozy home. The key was to arrange the furniture in functional living spaces.
Furniture Layout In a Studio Apartment
This is what my little studio apartment at the beach looked like when I first saw it: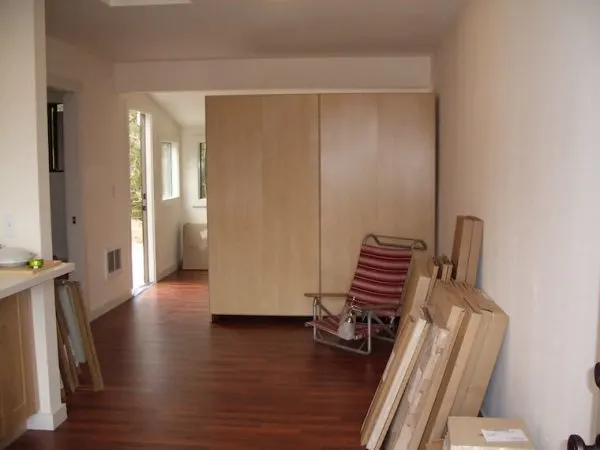 Standing in the front entrance, this is the eating area / living area. Behind the room divider is the sleeping area. To the left is the kitchen, which wasn't quite finished when I first saw it.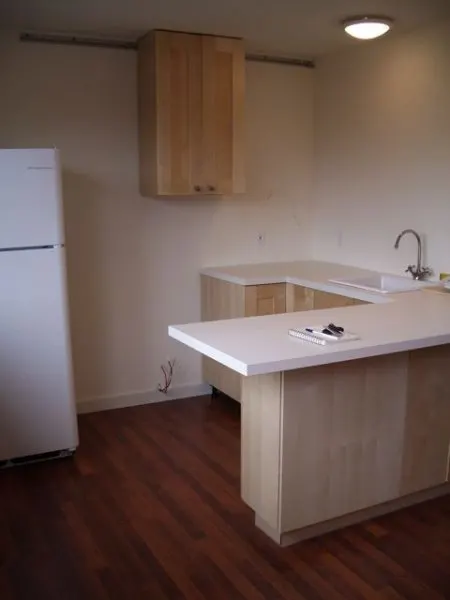 Someone who loves to cook might be turned off by this space. But since I don't love to cook, this was the perfect size for me!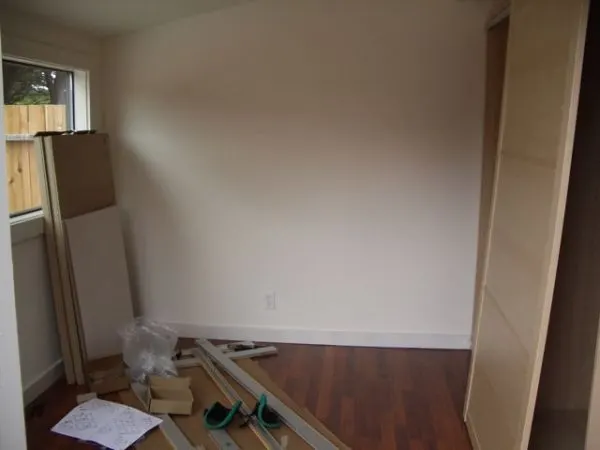 And this is the whole bedroom. Very tiny.
To plan for my move, I took pictures of the whole apartment after I had signed the rental agreement. (If you're looking at apartments or tiny homes, this is very important! You might think that you'll remember everything, but there will be details you wish you knew before moving in that the photos will remind you of.)
The landlord let me borrow his measuring tape to take a few measurements, too.
I wanted to use furniture pieces I already owned as much as possible, so planning out how it would all fit in the space was an important step.
Furniture Ideas for Living in a Tiny Space
And here's what the furniture in the studio apartment looked like after I moved in: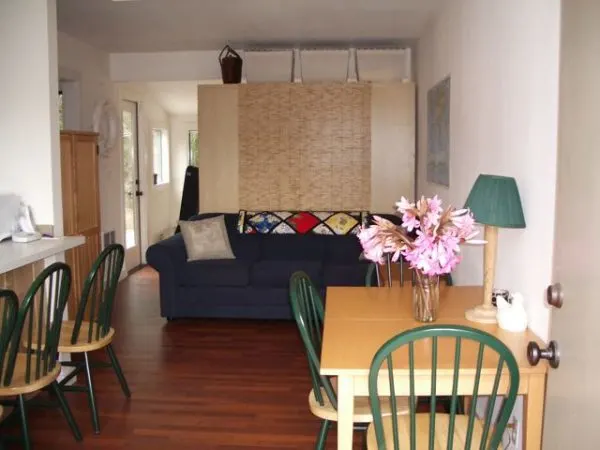 I placed the living room couch up against the room divider, keeping as much open floor space as possible.
Plastic bins on top of the room divider / wardrobe were great for extra storage, and let in some light.
The tall wood cabinet on the left was one of the two special pieces of furniture I bought for the space. This computer armoire became my tiny office and entertainment center. There's a computer and a TV hiding in there!
The dining table I brought with me was fairly slim, so it fit nicely against the wall. It had a hidden leaf, and could be pulled out from the wall for dinner parties. Extra chairs seemed to be everywhere, but they were out of the way tucked under the breakfast bar.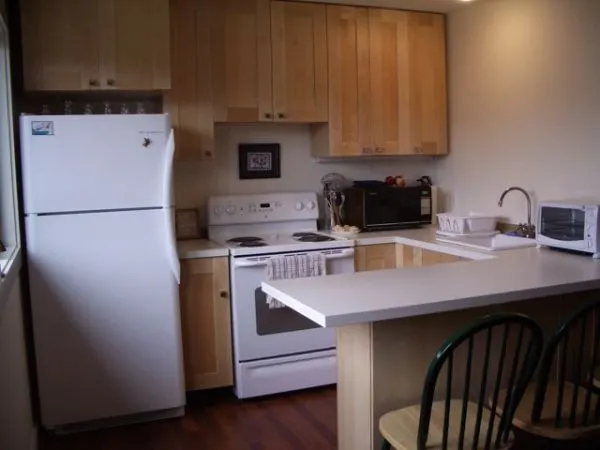 With room for a microwave and toaster oven, what more do you need in a kitchen?
There wasn't a lot of drawer space, so some of my larger utensils lived in a jar on the counter.
In the bedroom, this twin size captain's bed was the other piece of furniture that I bought for this apartment. It was really all that would fit back in that little cubby.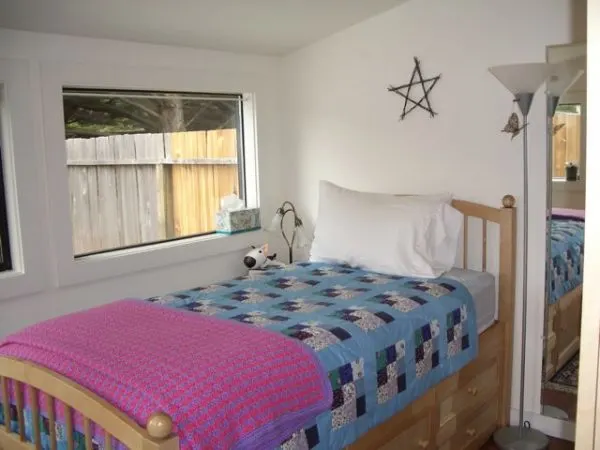 P.S. When moving, it's easier to buy a bed in a box and have it shipped to your new address rather than moving your mattress!
The drawers under the bed were perfect for storing clothes.
Since the landlord used a wardrobe as the room divider, there was a little more space for hanging clothes, and storing shoes. This was a brilliant way to create functional space, if you ever need an idea.
Check out some of my closet organizing tips to make the most of your small spaces.
And, just because I love making places homey, I even added a touch of personality to the front and back patios, too. This gave me a little extra living space, when the weather was nice.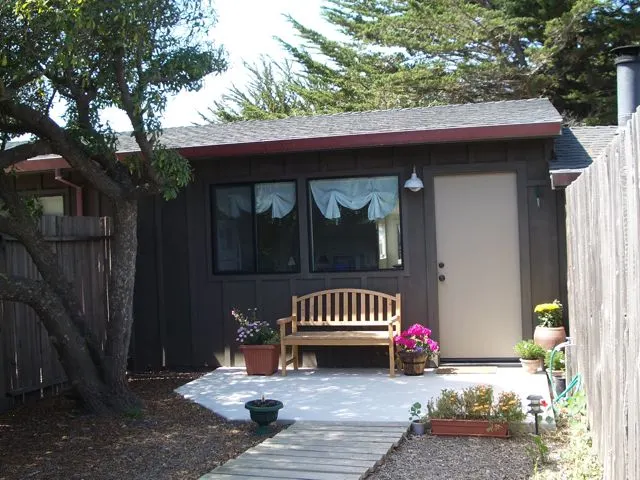 I only lived in this apartment for about a year before moving for a different job, but it was a lovely little space. I always wanted to go back and find that real estate agent, and tell her, "Well, I actually found the perfect place, honey."