A very easy DIY craft to make a snowglobe pedestal candle holder.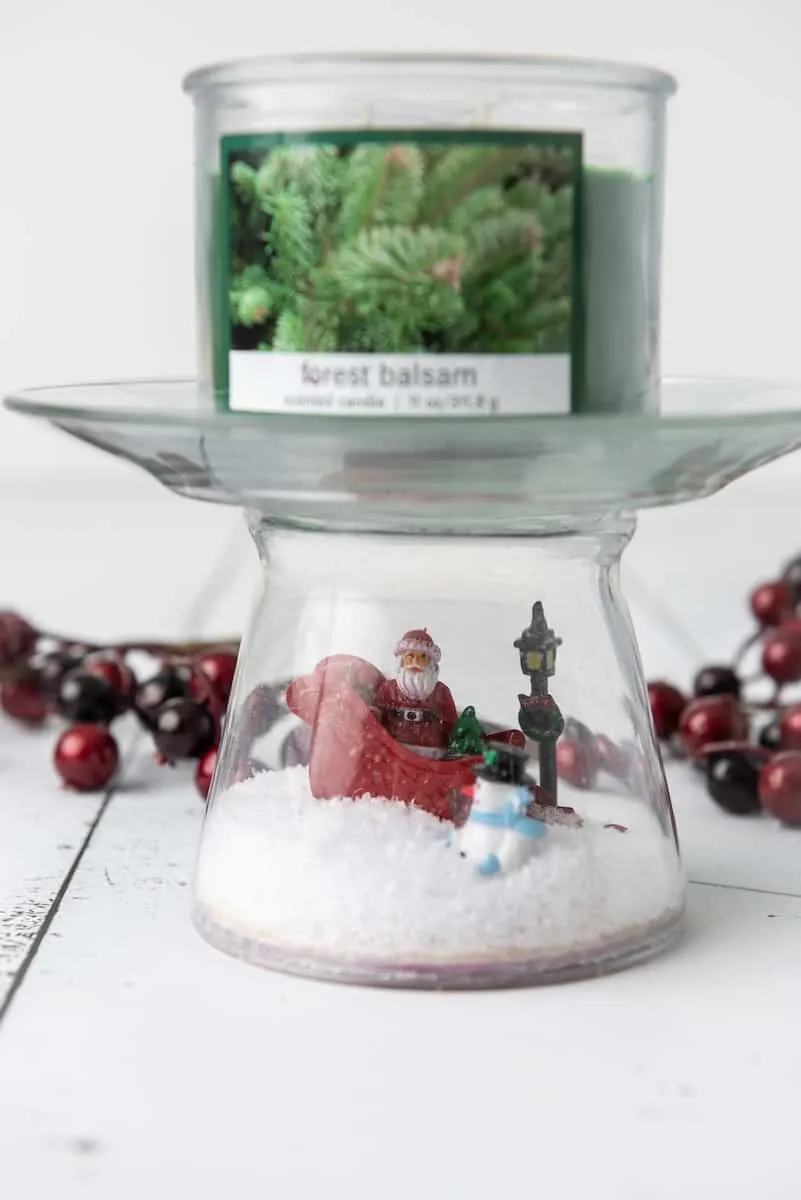 I am so happy to bring you a super easy Christmas craft that looks so expensive! Seriously, I'm so delighted by how this turned out!
All you need to do is glue some materials together and you have a snowglobe pedestal candle holder that is great for your table or to give as a gift.
Be sure to check out my waterless snowglobe DIY, as well! And this dollar store hurricane lamp is made in a very similar way to this project. You could do them both at the same time.
This farmhouse candle holder I made with dollar store tumbling towers game pieces for just $2!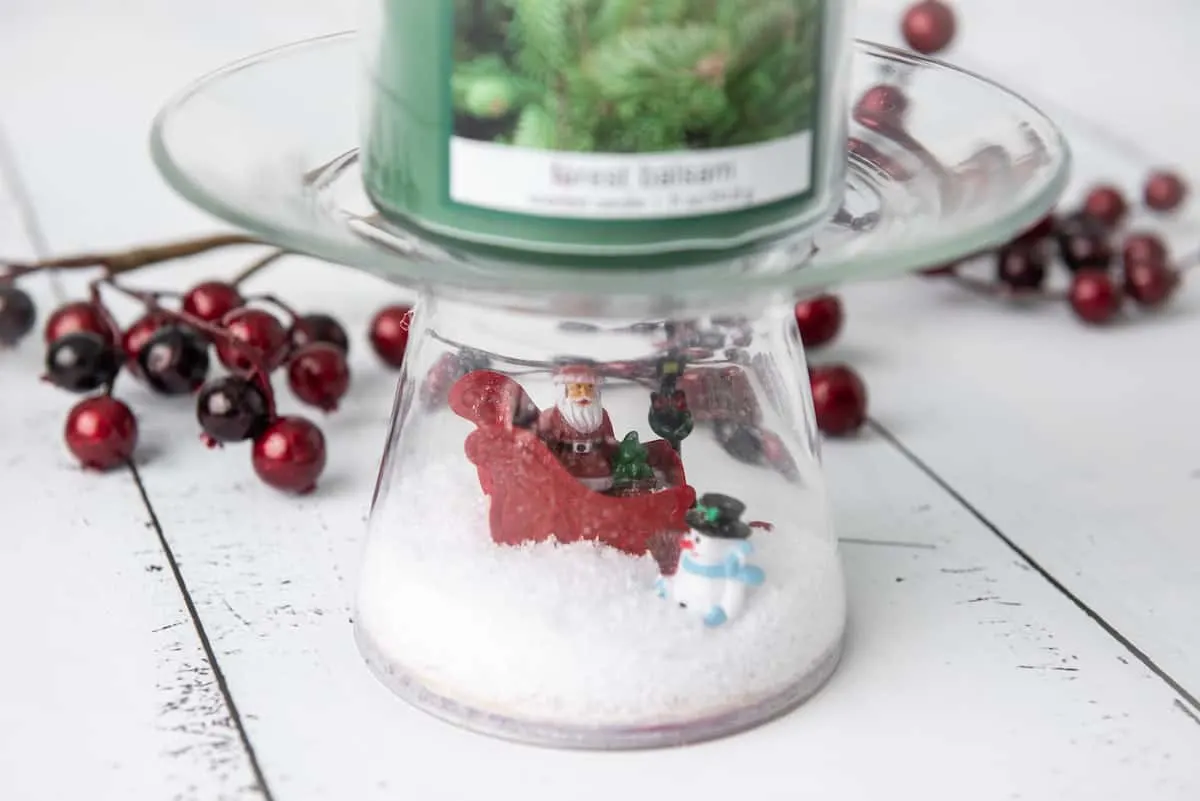 Helpful Tips
This DIY can be made with dollar store or thrift store finds. I've seen miniature figurines at my dollar store, along with fake snow and lots of glass vases and plates.
Otherwise, Michaels has a great selection of Christmas figurines. And Christmas fairy garden miniatures are perfect for putting in the snowglobe pedestal.
I wouldn't shake this candle holder all of the time! While it does look like a snowglobe, it probably isn't meant to take constant shaking by kids or adults once it is put together.
If you didn't want to use faux snow, you could also use glittering sparkle crystals.
DIY Pedestal Candle Holder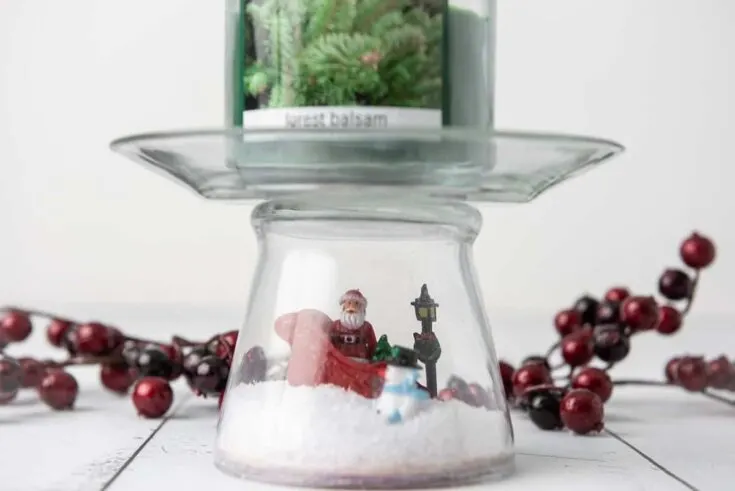 This expensive looking pedestal candle holder could easily be made with dollar store materials. Just glue together!
Materials
Small glass plate (about 7-8")
Small glass vase
Faux Snow
Hot glue gun
Super glue
Christmas figurines
Scrap craft wood, cardboard or foam board
Utility knife
Instructions
Trace the top of the glass vase on a piece of scrap craft wood or cardboard. You will glue the figurines to this base and it will be the base for the upside down vase.
Use a utility knife to cut on the inside of the circle pattern. If you cut on the outside of the line that you drew, the circle could be just a little too big to fit inside the opening.
Glue the figures that you chose to the base. Cover the base and dried glue bits with a bit of the fake snow on top.
Fill the glass vase with as much of the faux snow as you'd like. Then, insert the base with the figurines glued on. Make sure to put the figurine side in the vase and push in just a little bit to form a tight seal.
Now, secure the seal by adding hot glue around the base where it is next to the glass.
Add a large dot of super glue to the underneath of the plate in the middle. Attach the base (the bottom of the glass which is now the top of the pedestal) to the bottom of the plate. Gently push together to allow to create a bond. Let dry for 24 hours or whatever time is recommended by the manufacturer.
This DIY tutorial will not print out with the photos, in order to save you ink on your computer at home. If you'd like photos, be sure to print out the pages of the blog post. Or Pin This project to a Christmas or DIY board.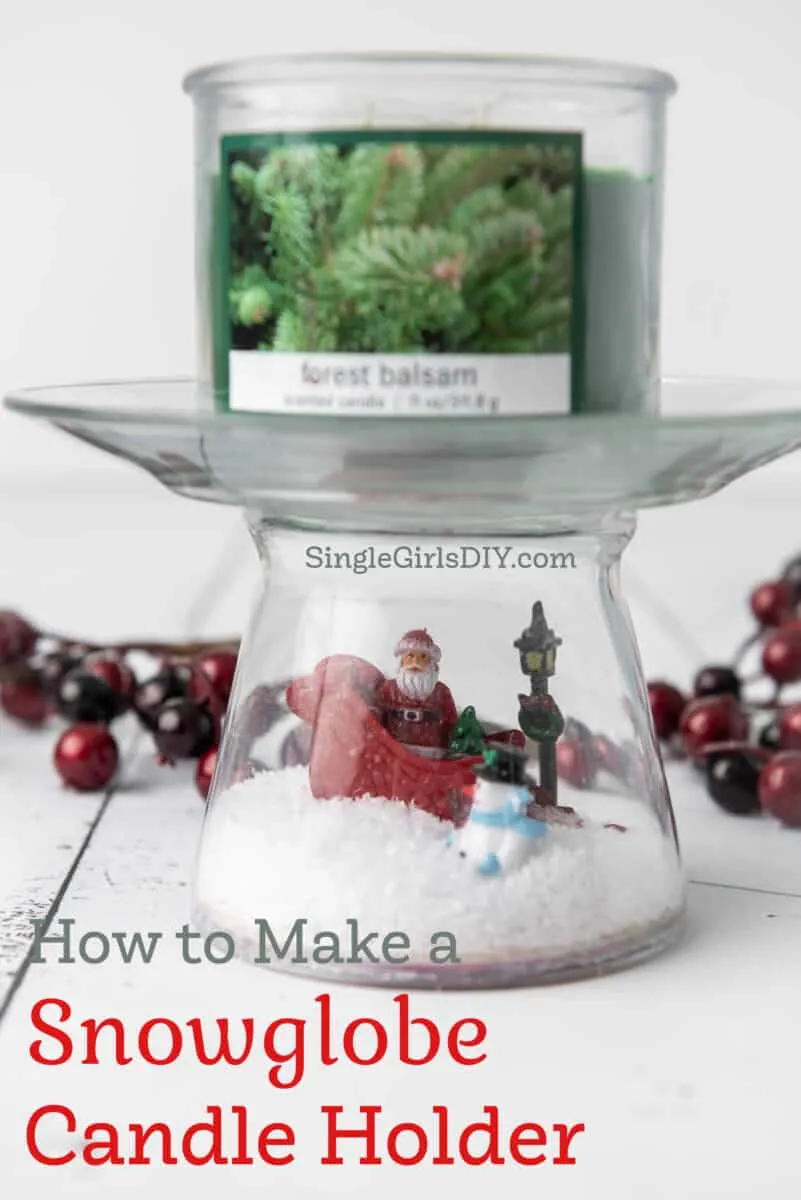 Want to know how to make candles? Try our easy homemade hand poured candle. I think you'll be surprised at how simple it is to make!