These cute penguin ornaments are made from felt scraps. They are nearly free to make, and you don't have to sew them!
Get our free downloadable penguin templates to make your own felt penguin family to hang on the Christmas tree.
These handmade ornaments are also great Christmas gift toppers!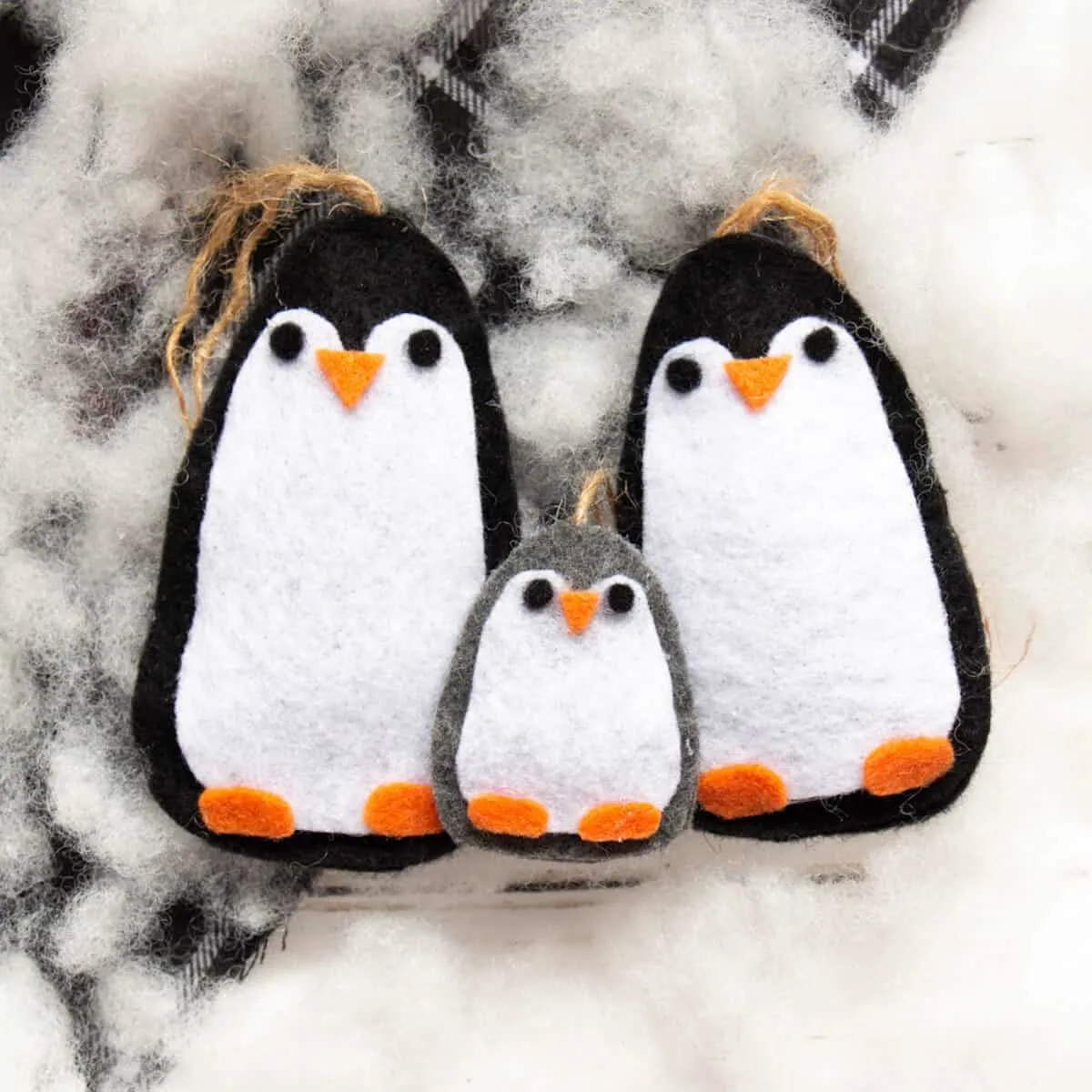 Our cute penguin ornaments are just one of this big list of no-sew Christmas ornaments.
If you love ornaments that are unique and easy to make, check out these cinnamon applesauce ornaments, too!
Be sure to see all of our Christmas crafts! There's something for everyone to make!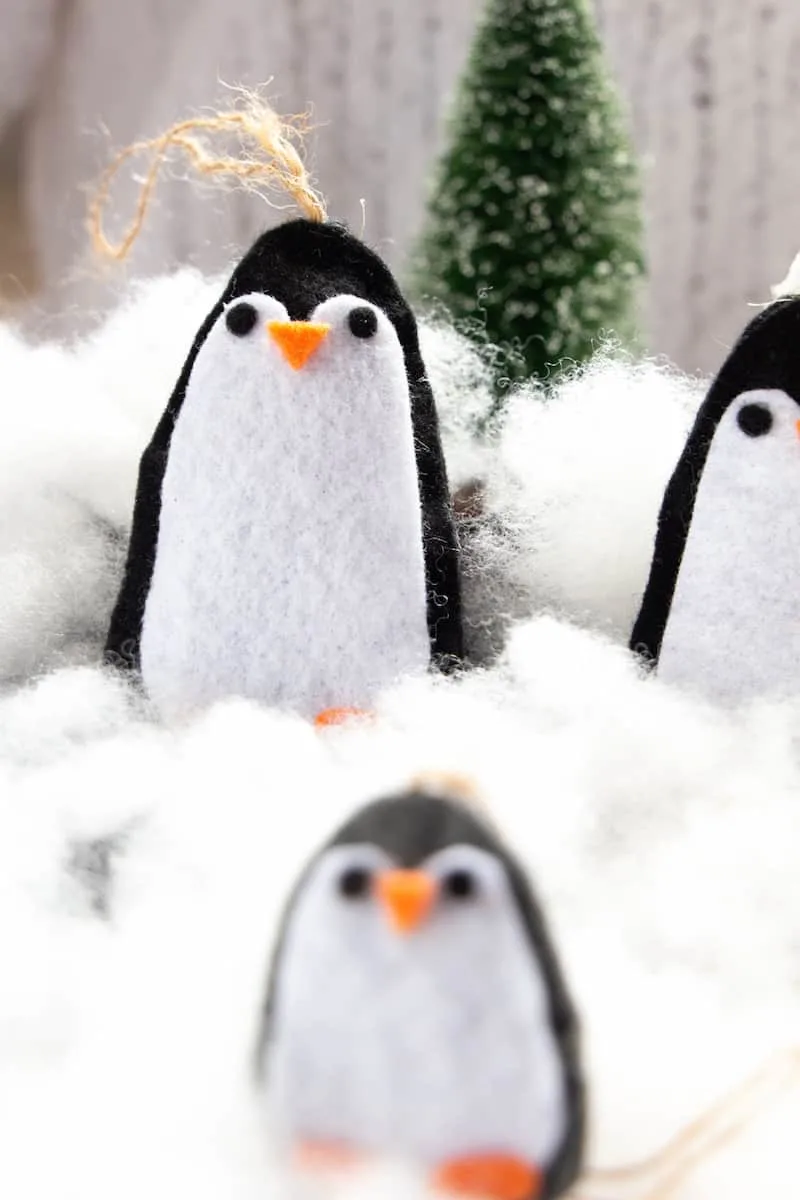 Yield: 3 Penguins
Cute No-Sew Felt Penguin Ornament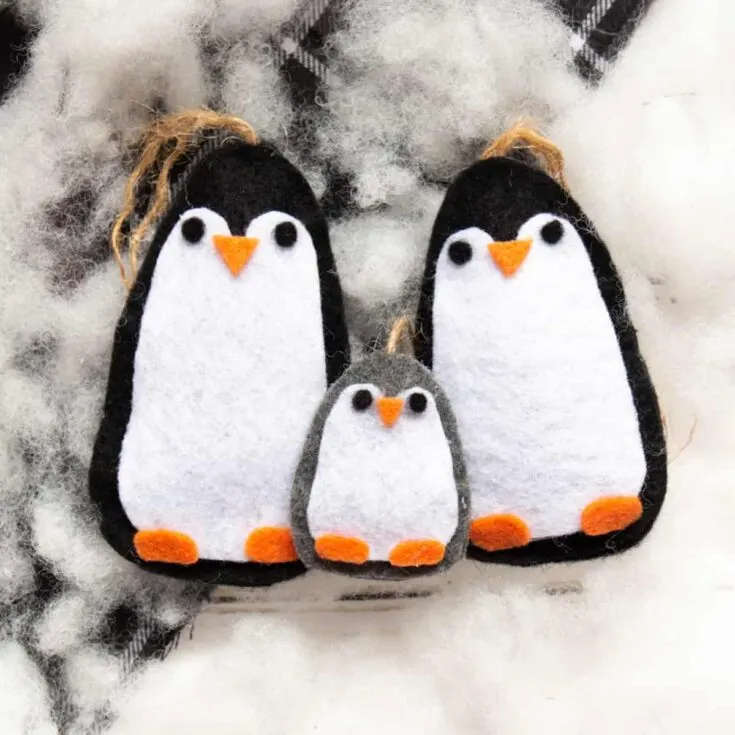 Get a free template to make this cute penguin family with a baby penguin. Easy, no-sew felt ornaments are inexpensive to make.
Materials
Felt sheet or scraps (black, white, orange, charcoal)
Fabric scissors
Glue gun with clear hot glue sticks
Batting
Twine
Tweezer (optional)
Instructions
Print off pattern template onto an 8 1/2 X 11 sheet of paper (typing paper). We're going to make the Baby Penguin first. Using fabric scissors, cut 2 of the large body pieces in a charcoal felt color; 1 of the smaller body pieces in a white felt color; 2 smaller circular eye pieces in a black felt color and 1 triangular beak piece in orange felt color.
Using a hot glue gun, on one side of the large charcoal piece, apply a bead of glue along the edge of the lower half.
Place the other charcoal piece on top of the glued area and press in place until the glue sets.
Add glue to the back side of the white piece and press into place onto the black penguin. Using tweezers is recommended for the small pieces to avoid burning your fingers.
Add a small dab of hot glue to the white piece in the penguin face/eye area and press a black eye in place. Repeat with the second eye.
Add a drop of glue between the eyes and then press the orange beak in place.
Add glue to the back side of the orange feet pieces and press in place.
Trim any excess felt edges that are misaligned, if any.
Insert bits of batting into the penguin ornament.
Cut a piece of twine 8" long. Fold in half to form loop. Stuff the loop ends inside the penguin at the top.
Glue the remaining open edges of the penguin closed.
For Mama and Papa Penguins, follow the same instructions as the baby penguins, except use black felt instead of charcoal for the large body pieces.
Pin This craft to save for later! Or print out the instructions right now.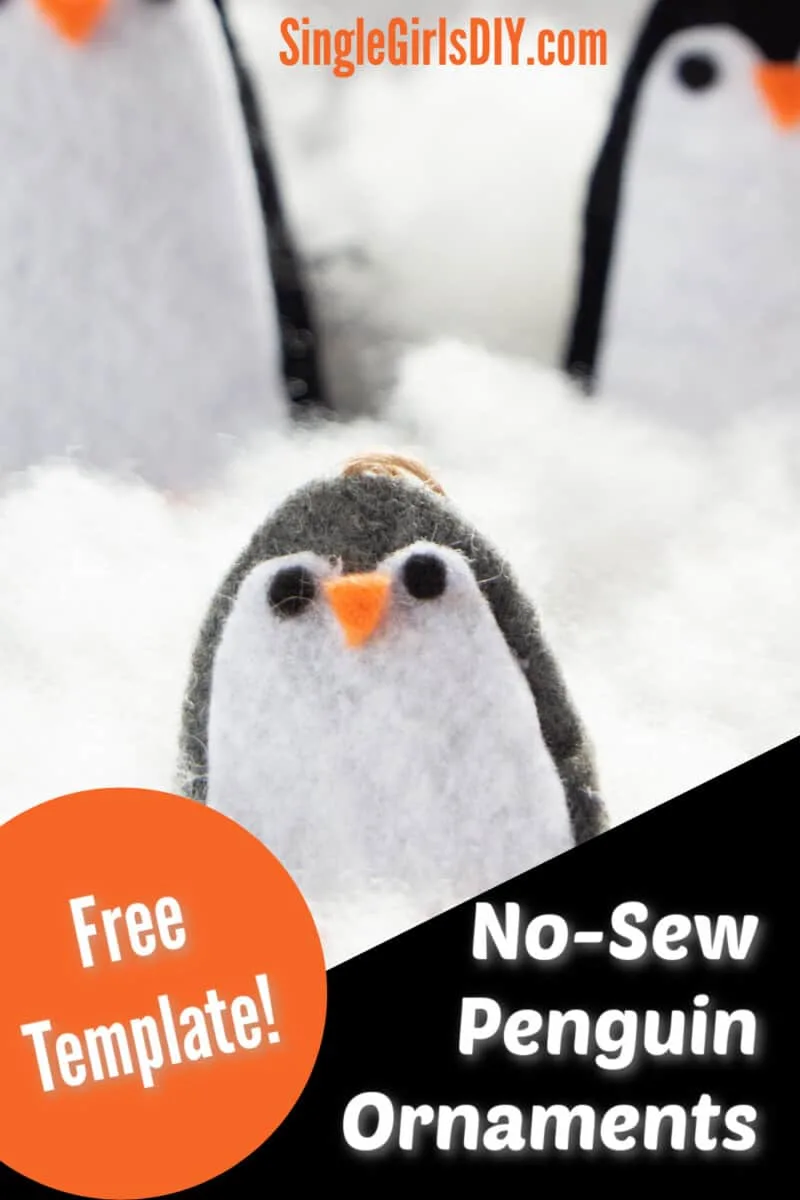 If you love these cute felt penguin ornaments, you might also like our easy felt Christmas candle ornament.