I added two big blue turquoise flower pots on my front porch this Spring. I love the way they look and how they are tall next to my front door. But large containers also tend to have larger expenses.
Here are smart money saving ideas for filling a large flower container on your porch, patio or in your garden. These are tips to help you save on the cost of soil, the cost of the pot, and the expense of the plants.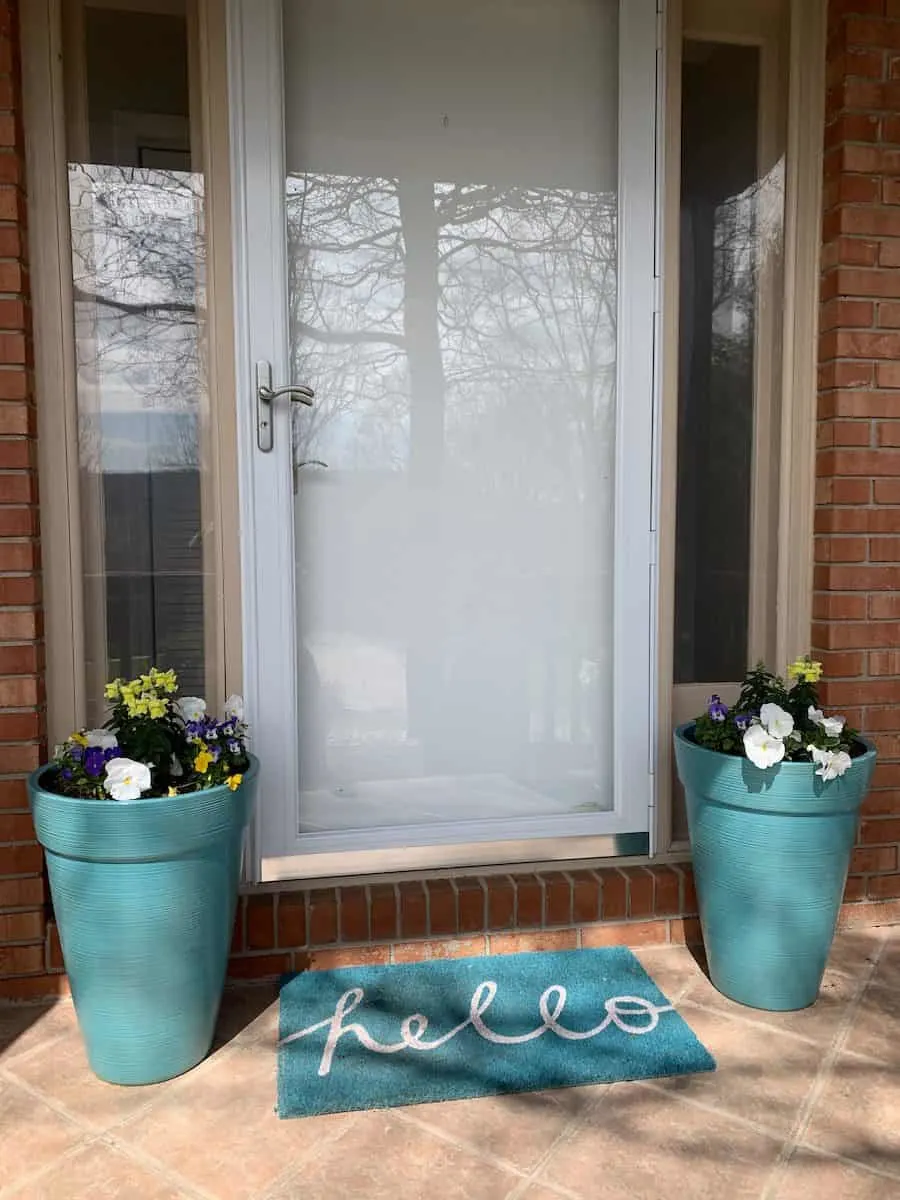 Choosing a Large Flower Pot
There are a variety of types of plant containers. Some are much more expensive than others.
It is easy to find inexpensive fiberglass pots that resemble concrete, stone or porcelain. Such as this large planter that looks like a whiskey barrel, but is actually plastic. The cost will be a lot less than buying the real thing. Plus, they are probably more durable over time, too.
Plastic pots come in a variety of colors, shapes and sizes. These are fun to buy because you can customize with your color scheme.
I have found inexpensive large planters in home goods stores such as Marshalls, TJ Maxx and Ross. That's where I've found the most surprising savings.
Thrift stores often have planters. I got two huge brown flower pots for just $10 at my thrift store.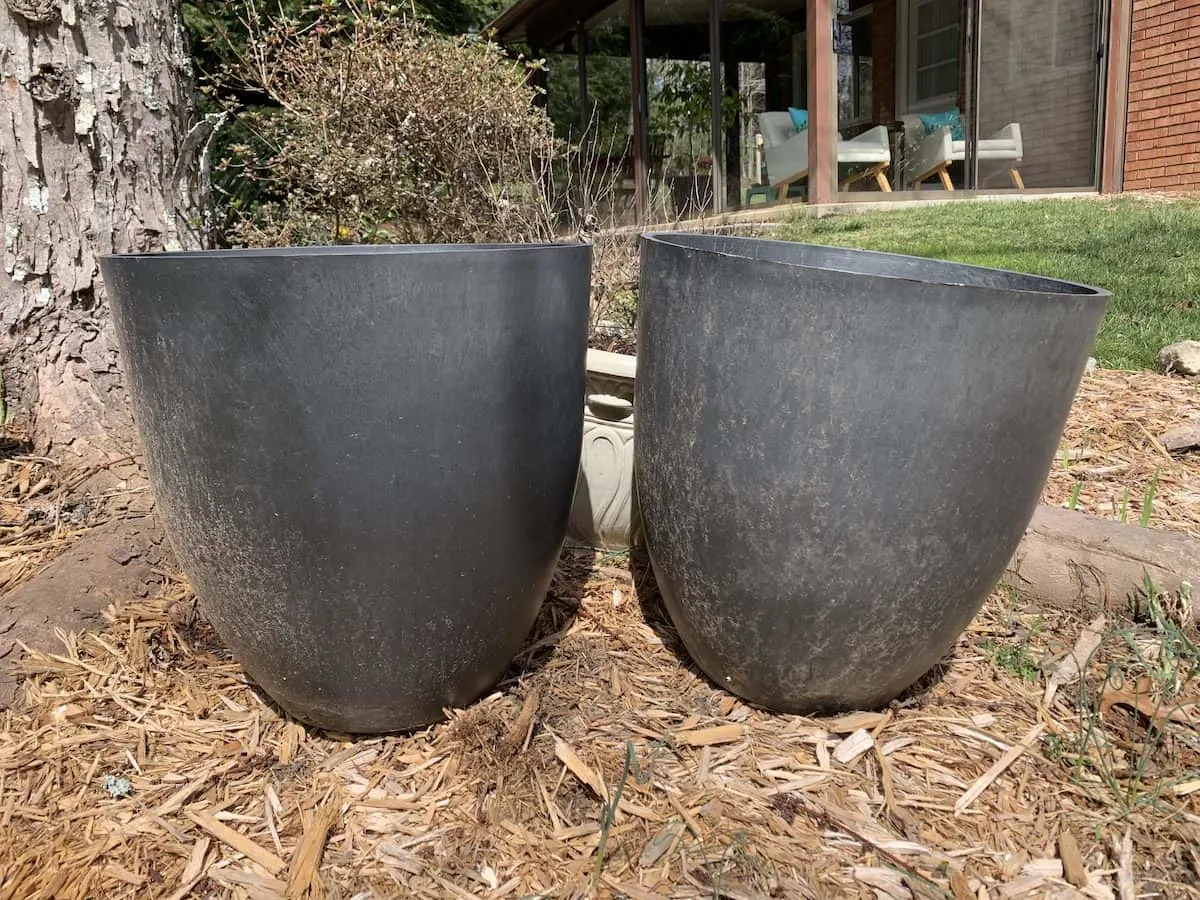 I've also had great success in buying larger planters on sale at garden centers. I scored concrete-looking plastic containers for less than $10 each at Wal-Mart.
And these large brown pots were just $5 each on clearance at Lowe's!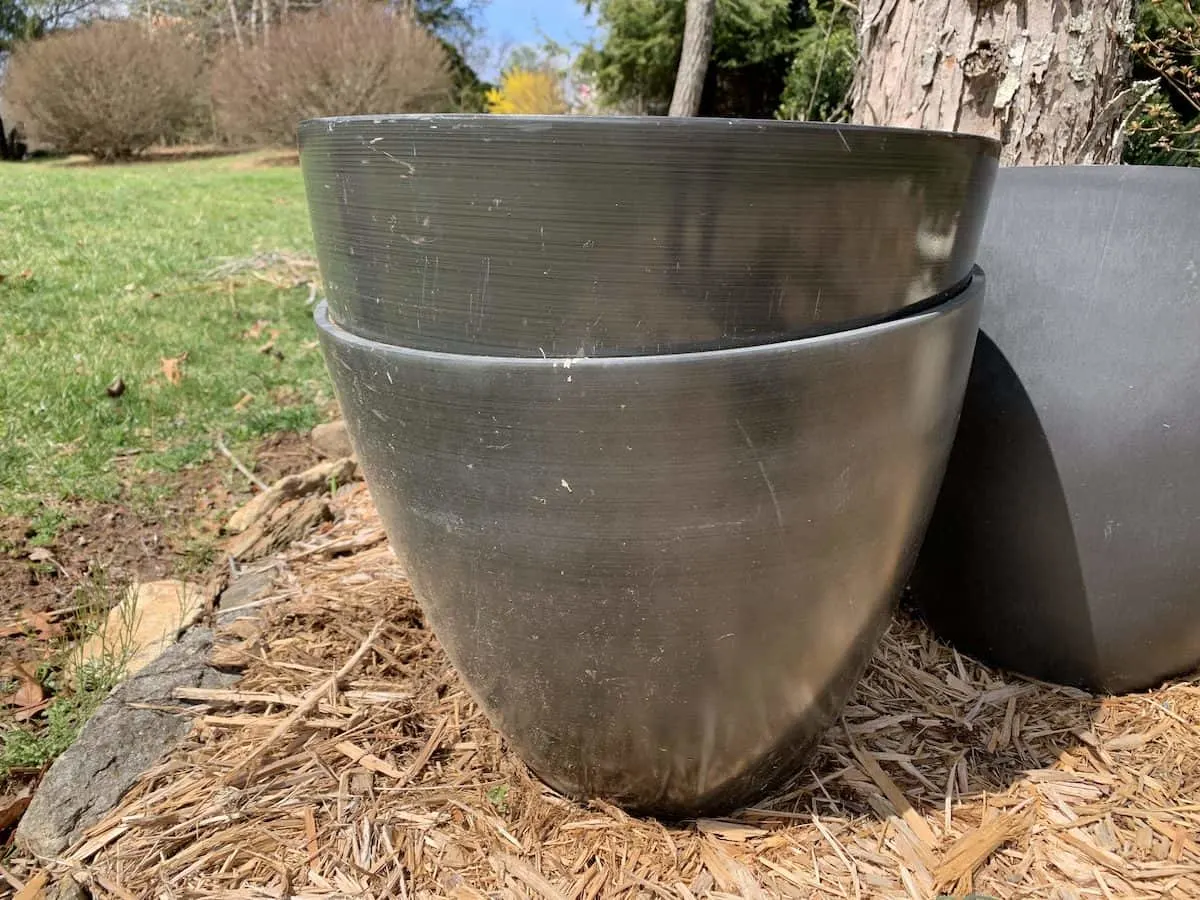 A large planter would look great on either side of my DIY simple pergola, especially if you filled it with a climbing plant such as jasmine.
Saving Money on Soil
Potting soil is expensive. Bags of potting soil can range from $8 – $15. And I would have needed one entire bag to fill just one of my large pots.
I added pot fillers to my container to take up space and reduce how much soil I would need. Many of these pot fillers can be found in your recycling bin, which saves you a lot of money.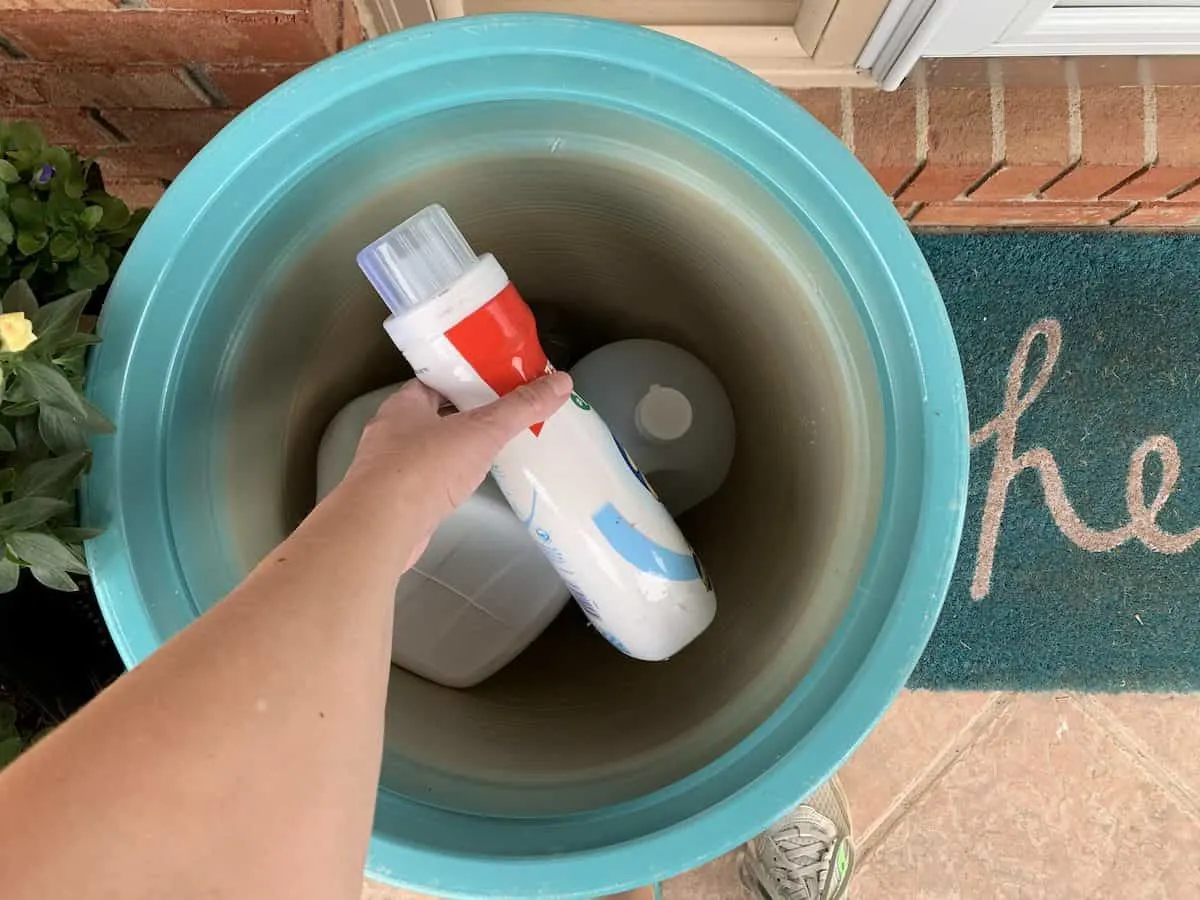 Reusing old potting soil is an option on the bottom of a large flower pot. Because the plant's roots likely won't get down to the bottom, you can use the potting mix that doesn't have much nutrients left in it down there.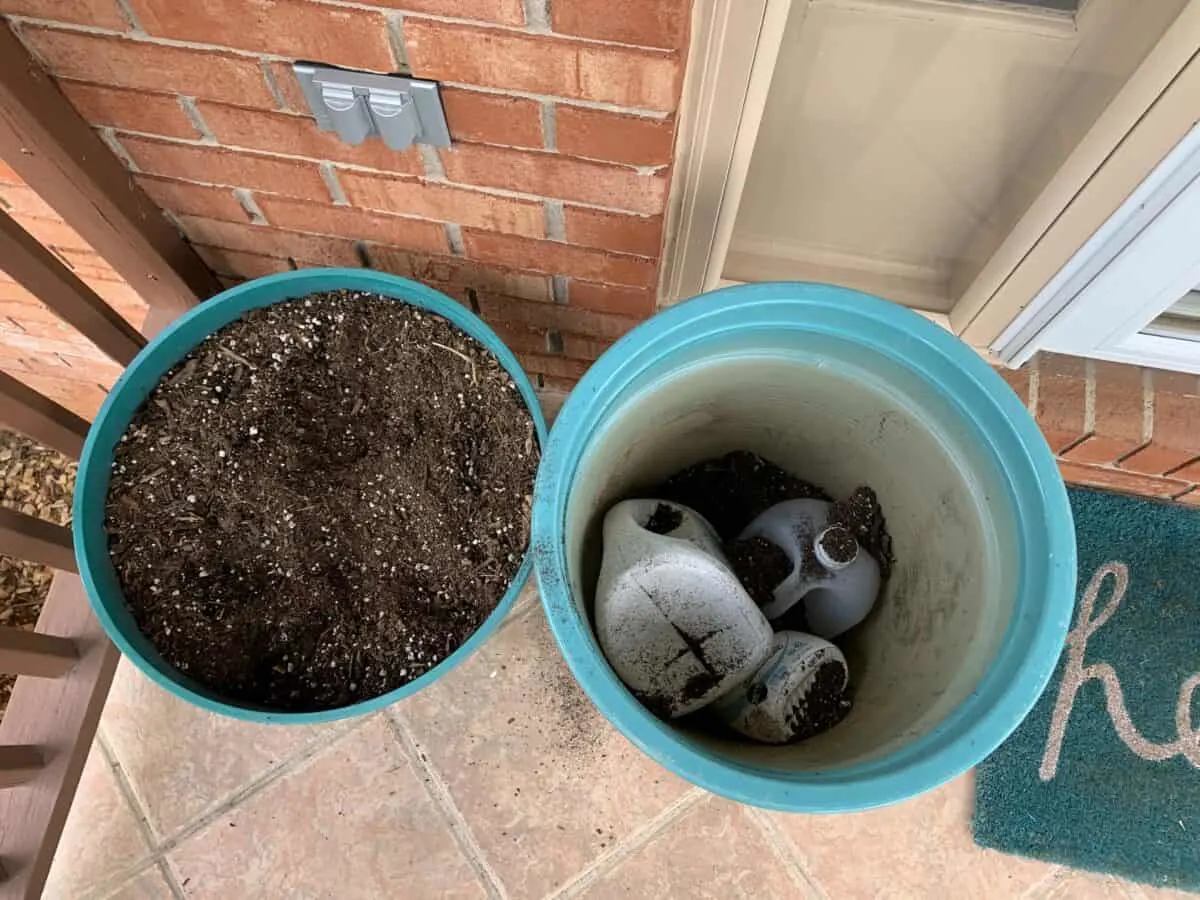 Do not use soil from the ground or buy inexpensive garden soil to fill your pots. These soils can have weed seeds in them which cause problems. They are also not meant to use in a pot because the soil isn't as rich with nutrients. In a garden, there will be natural decomposing materials that increase the richness of the soil. In a pot, there is not naturally-occurring garden miracles happening. So you need to add in a blend meant for the environment of a pot.
See what I used to fill my pots, and more money saving tips in my video below (and I'd love is you subscribed to my channel!):
Saving Money on Plants
With a large pot comes the need for a lot of flowers to fill it. Or a large variety of another type of plant.
I wanted to use flowers. And I want to add vibrant annuals that have color for the season and will thrive in the current climate.
Large pots of annuals can be expensive. So look for smaller multi-packs of flowers that you can spread through the pot. These plants are smaller individually, but when combined en masse they look like a bigger pot of flowers.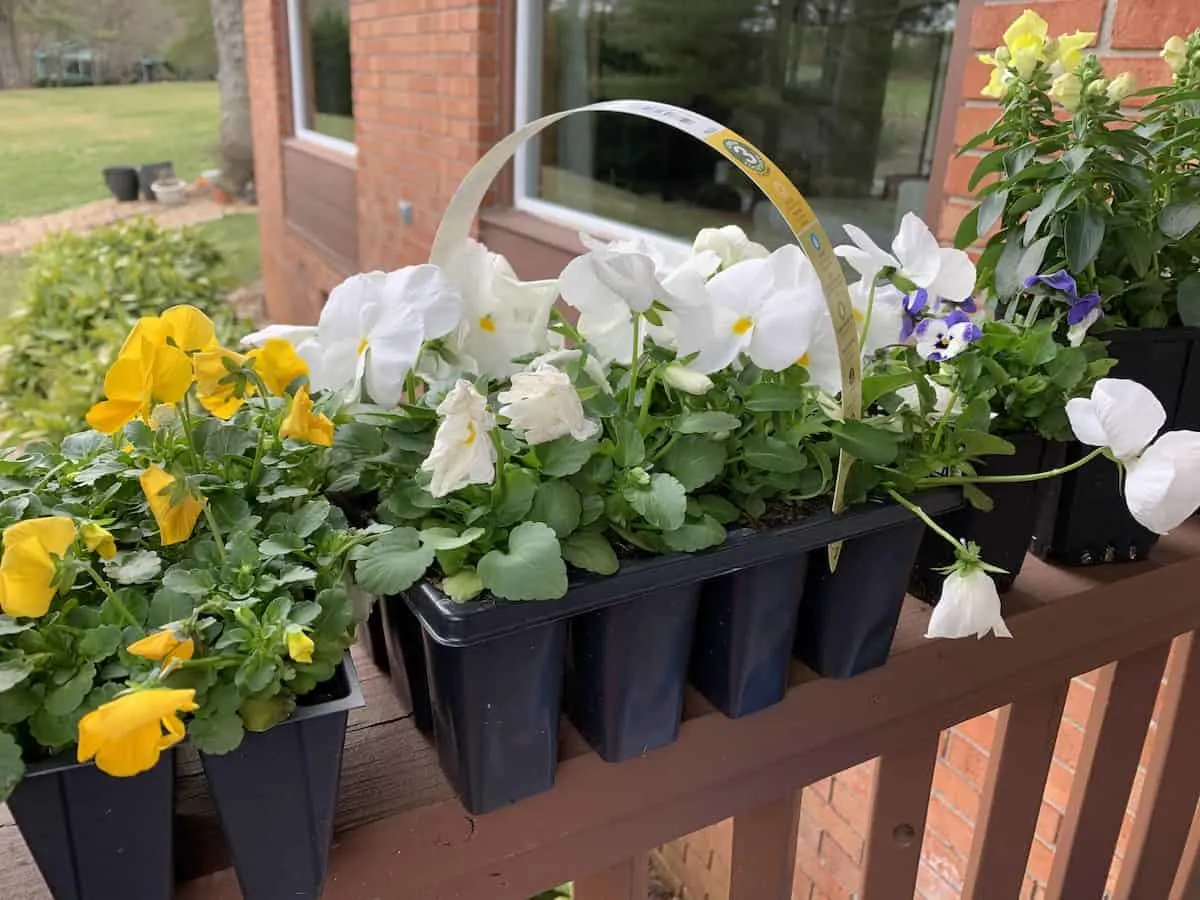 Annual flowers often grow quickly, too. So buying smaller plants doesn't mean that you have to settle for a thin-looking planter. They will probably fill out quickly in a matter of a few weeks.
Another pro tip is to look for inexpensive hanging baskets. In my garden centers, hanging baskets are often on sale, while plants in pots are not. You can remove the plant from a hanging basket and put it in the large container.
For large containers that you don't want to fill for every season, choose a perennial plant or tree that will come back year after year. (See some great options below.)
Buying one large plant, even thought it might be a little expensive, can also be a smart money-saving idea. For instance, a large fern could cost $12-15, but just one plant will fill up the container. While buying lots of individual plants could cost the same amount of money or more, depending on what you buy.
Did you know that you don't have to repot your plants from the garden center pot? Here are 14 unique ways to decorate black plastic pots to save money.
What to Plant in Large Flower Pots
Some plants are just not suited for a container. Choose flowers and plants that thrive in a container.
Trailing plants are especially nice in a large, tall flower pot. The branches and stems fall over the edge of the pot and grow downwards, creating a beautiful artistic display against the color of the pot.
Most people will tell you that when creating a flower pot, you want three things:
A filler is something that will fill up the space quickly and easily. This is what you definitely want when looking for money-saving options. A thriller is a statement piece, and it is often an upright plant. In my video, the snapdragon plants would be the "thriller." And a spiller is something that hangs over the edge of the pot.
Only one of these three is really essential in a large flower pot, and that's the filler!
Some great ideas for plants in large containers are:
Petunias
Lavender
Pothos
Sweet Potato Vine
Geraniums
Viburnum
Dwarf hydrangea plants
Ferns
Lemongrass
Small topiaries
Rosemary topiaries
Dwarf citrus trees
Large flower containers are especially nice in outdoor living areas where you spend a lot of time. See my backyard makeover on a budget.
Be sure to get a free copy of my Outdoor Living Area Inspiration Guide!