Terrazzo never goes out of style. In fact, I think it's making a comeback with the interest in mid century modern design. Which is why I really wanted to figure out how to make DIY Terrazzo Coasters!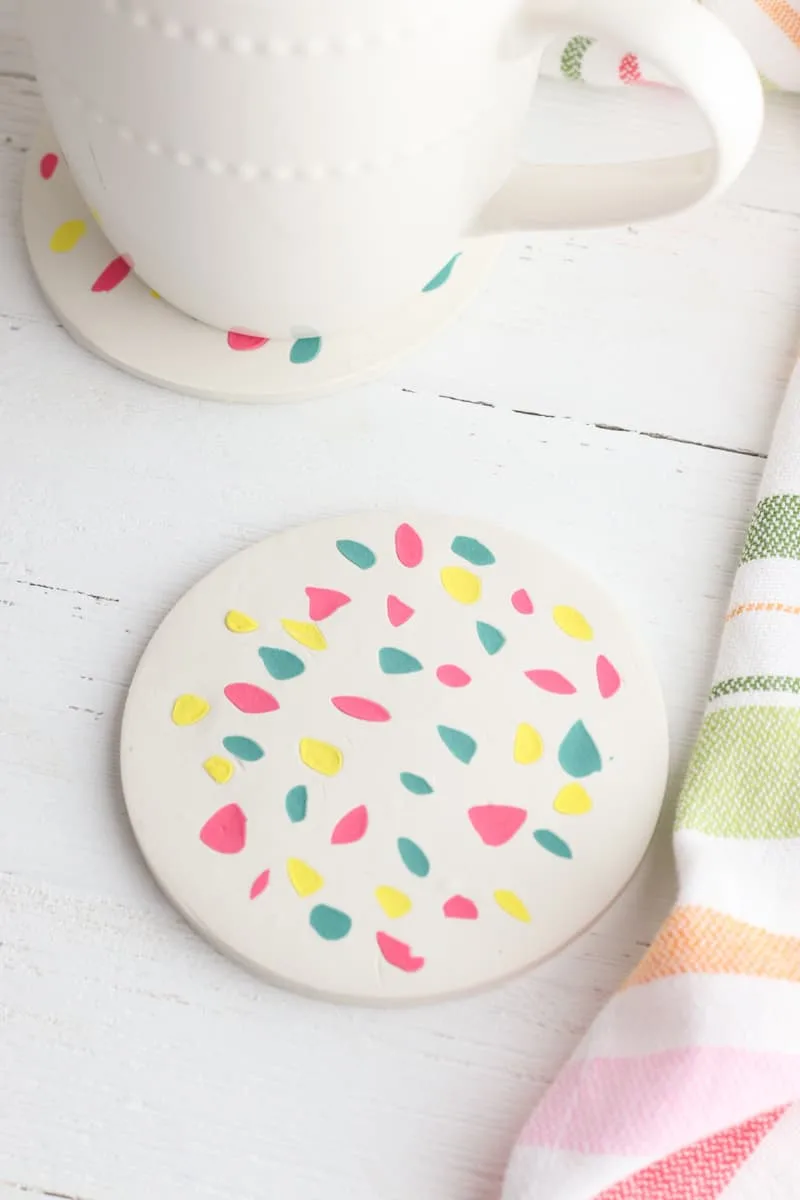 Perhaps you've seen my list of 20 Terrazzo Crafts to make. There are so many fun ways to recreate this abstract inlaid stone pattern yourself!
My love affair with Terrazzo started when I found some cheap terrazzo coasters at Target on clearance (They have some really fun terrazzo items for home now, too!). I had no idea what I was going to do with them, but the price was so nice I knew I had to get them.
I also found terrazzo plant dishes and got those, too. Who knew that a few years later I'd be moving into a mid-century modern style house and those coasters and plant dishes look perfect now!
So, I'm all about doing more terrazzo designs. I even have some of this terrazzo fabric that I'd like to make throw pillows with.
Helpful Tips to Make Clay Coasters
You can use any color you want for the terrazzo stones. Or, you can use a more muted color palette of grey, cream colors, etc.
These coasters are a traditional round shape. But you can use cookie cutters in any shape to make the coasters. Just make sure that they are large enough to hold a mug or glass.
Make a batch of these to give as a gift. Just stack them on top of each other and tie with a ribbon.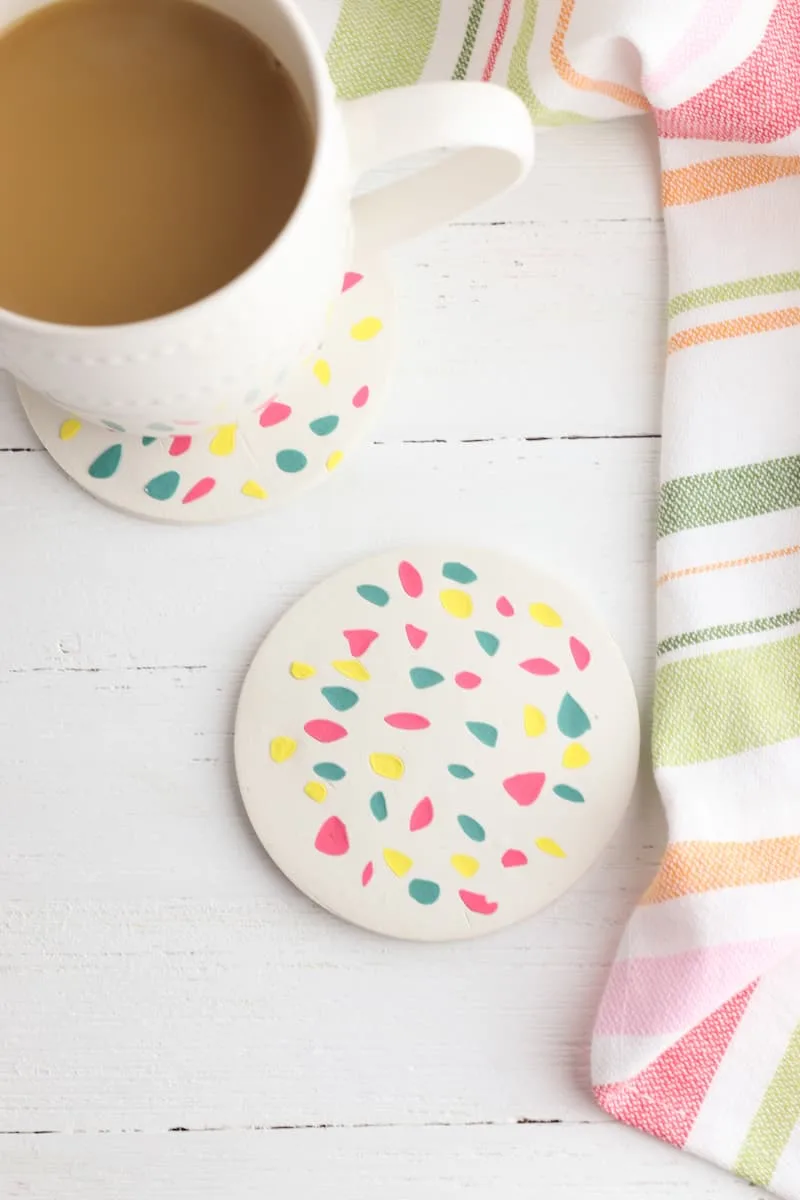 Interested in other DIY coasters? Check out these, too:
Print out this how-to card to save this project. Keep in mind the pictures won't be large on the card, so be sure to Pin This project if you want to reference the photos.
DIY Terrazzo Coasters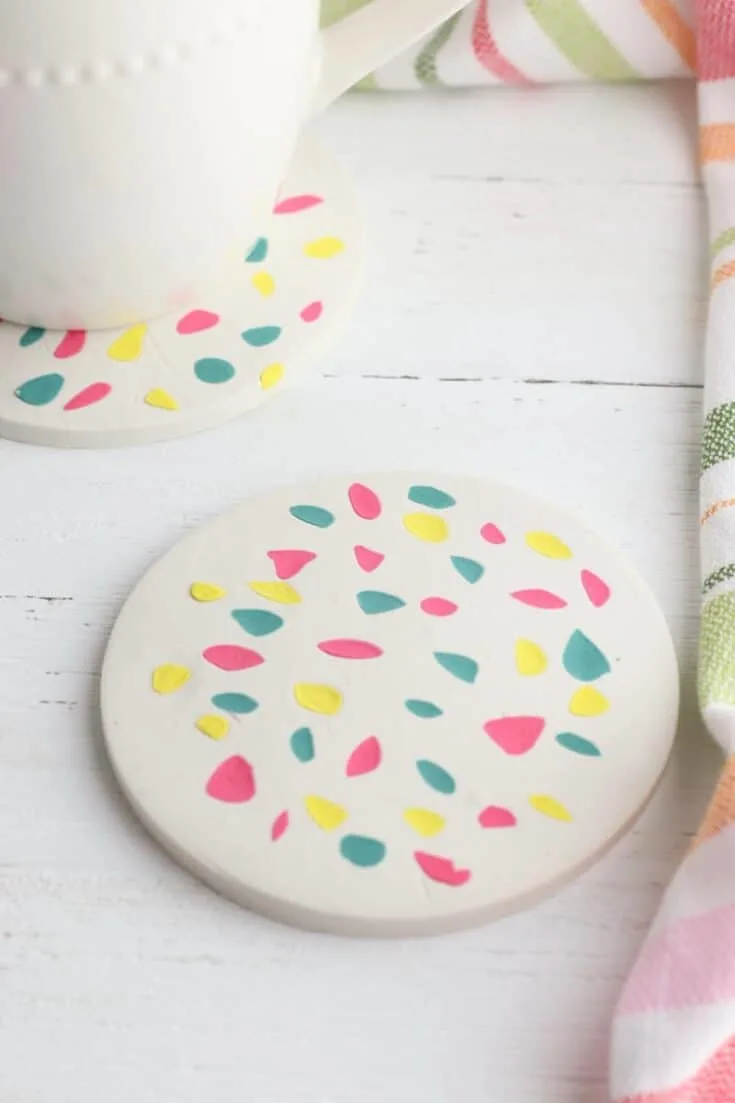 Make these easy terrazzo coasters with clay! Customize the colors and pattern to your liking. Great gift idea!
Instructions
Preheat your oven to 275 degrees and line a baking sheet with parchment paper.
Separate your clay into equal parts, around two ounces of clay per coaster. Flatten the clay into a disk, then place the disk on a piece of waxed or parchment paper. Place a second sheet of paper over the top of the disk and roll until around ¼ inch thick.
Roll each piece of pink, green and yellow clay into a small tube. Use the knife to cut off tiny pieces of each color in various shapes to create a terrazzo effect on the coaster. Scatter the pieces on top of the white clay, lightly pressing each piece into the clay.
When you are finished decorating the coaster, place the parchment paper back on top of the clay and roll the colored pieces of clay into the white clay until flat.
Use a round cookie cutter to cut an even circle out of the white clay, then transfer the coaster to a lined baking sheet.
Continue rolling and decorating each piece of clay until you have made your desired number of coasters.
Bake the coasters in the oven for 15 to 20 minutes, until the clay has hardened. Allow to cool completely before using.