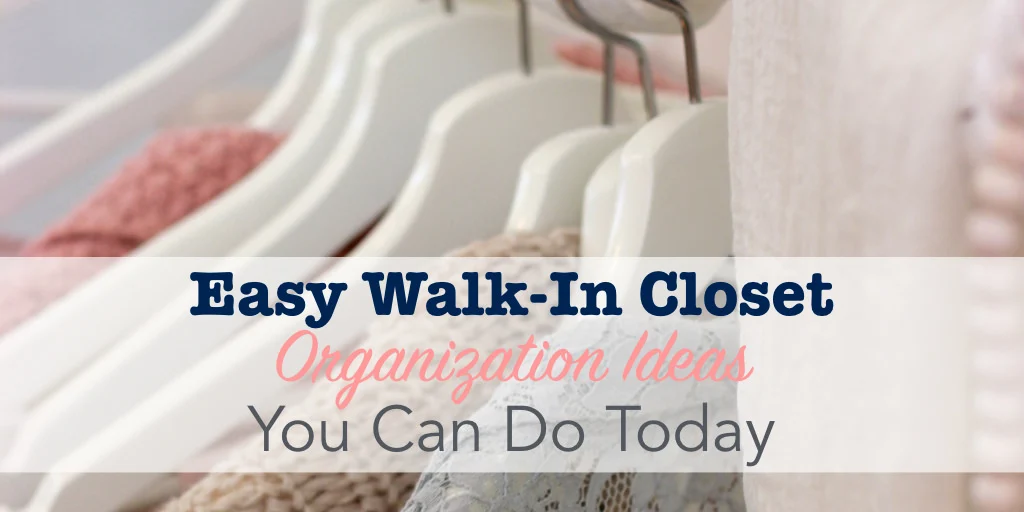 I once heard Carrie Fisher say in an interview that when she was a child, she was always amazed as her mother went into the closet, but then it was the movie star Debbie Reynolds who came out a short time later.
When you think about it, you go into your closet to be transformed. Sure, you're getting dressed, but you're also putting on your style. And that's so much easier to do when you have an organized closet.
Though I can't promise you'll come out looking like Debbie Reynolds, we can at least transform your closet. If your walk-in closet needs an update, here are some ideas to try. Be sure to check out this closet transformation as well.
EASY WALK-IN CLOSET ORGANIZATION IDEAS YOU CAN DO TODAY
MATERIALS TO ORGANIZE A WALK-IN CLOSET
Back in my days as a professional organizer, I helped create this walk-in closet makeover. The space went from cluttered and uninspiring, to organized, efficient, and pretty.
Steal these organization ideas to create a design and layout that works for your closet. And you can do it all on a budget.

Move a dresser into the closet
If you're not short on hanging space, you may find it useful to have a set of drawers in your walk-in closet. This way you can have a handy place to store socks, undies, t-shirts, and other folded clothes. A dresser in the closet keeps all your clothes within easy reach, and makes getting dressed more efficient.
You can use a dresser you already own, and move it into your closet. Or, you can buy a set a drawers specifically for the purpose. You may find that a tall and narrow dresser
is a more efficient use of space.
Use shoe storage racks
Even if you don't think of yourself as a "shoe person," I bet you have more pairs of shoes than you realize. And they tend to end up tumbled all over the floor.
Find yourself some sort of shoe storage
. There are all types of options; boxes, shelves, hanging systems. Once you contain your shoes, you'll find the space already feels much more organized. And you'll be able to find the perfect shoes to complete your outfit.
Make use of trays
You may already know that I love trays for accessories. They come in all shapes and sizes. They're also great for storing your lotions, deodorant, shoe polish, and more. Keep things pretty and contained with a few stylish trays.
Coordinate storage boxes
You can buy matching boxes for all your storage, but I like to add a little variety. I look for storage that suits my needs, and also adds some color and personality to the closet. (I found all of these pieces at a thrift store, but there are lots of options for pretty storage boxes
.)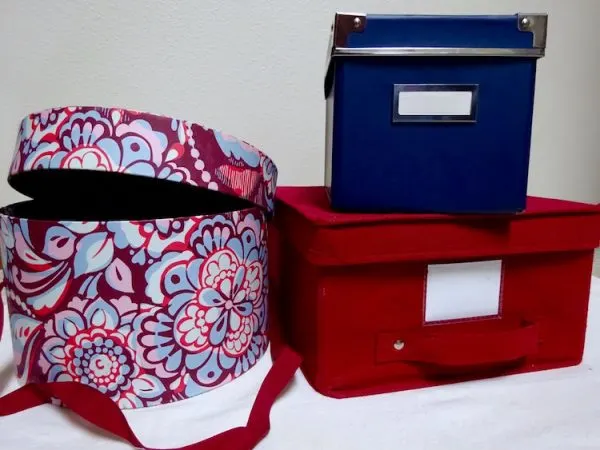 In this closet, a colorful hatbox is used to store belts. Rectangular blue boxes are right-sized for shoes or accessories. The red fabric box holds keepsakes, and stores nicely on a shelf.
BONUS: By not having everything perfectly matched, it's easy to add more storage pieces later. You won't have to worry about finding something exactly like what you already have. Just get something that coordinates, and you can create a beautiful, cohesive, and organized space. And, you can use what works best for your needs.
Your closet transformation
Transform your closet into an organized space that works for you. Add your personal touches, and also make efficient use of the space. Pretty closet, pretty you.
So try these easy closet organizing ideas today to makeover your walk-in closet. And then keep it organized by downloading your free copy of our Clutter Control Checklist.