In this post: Tips to organize office paperwork, with filing and storage systems you can adapt to meet your needs.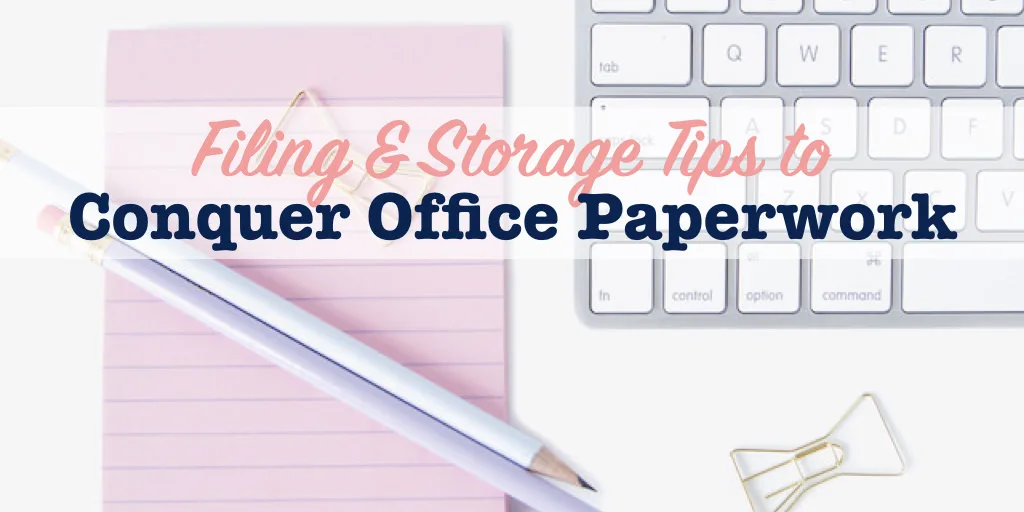 When most people talk about needing to organize their office, whether at home or at work, they mean they need to deal with piles of paper.
Paper always seems to mysteriously gather into messy stacks. If you're not careful, you could end up buried under one of those stacks one day, and disappear forever.
The obvious answer for dealing with paperwork is to go digital, but you don't need me to tell you that step. The real question is what to do with everything else.
These are the methods I use to organize office paperwork.
Filing & Storage Tips to Organize Office Paperwork
Recycle at the door
When you pick up your mail, don't even bring most of it into the house. Keep a recycle bin near the door, and drop all those fliers, credit card offers, and other junk mail directly into the bin.
Next, open the rest of the mail immediately. Recycle the envelopes and any extra inserts that you don't need to keep.
You will be left with a much smaller stack of papers (or maybe nothing at all) to deal with. Now you can sort it into papers to be filed, and papers that require action.
Choose a filing system
I have found that different filing methods work better, depending on the purpose. Also, filing is kind of unique. What works for me may not totally make sense to you.
Take these ideas, and make them your own. These are some of my preferred methods for sorting and storing paperwork.
1. Files and folders
I like to group my paperwork together, within a common file. For example, I created a file called, "Utilities." Within that, I have separate folders for Electricity, Garbage, Internet, Phone, and Water. (My gas bills are all digital.)
Keep bills, contracts, and other agreements or records in the file.
Create folders for each Utility, and store them within a "Utilities" file.

This system works for any topic.
I also have an "Insurance" file, which includes folders for Car, Home, and Umbrella insurance policies.
You might start a "Medical" file, with all of your medical records for each family member. Or an "Auto" file, with folders of registration and service records for each vehicle.
In my filing cabinet, I alphabetize the file groups within the drawer. I also alphabetize the folders within each file, but that's not really necessary. I just do it because I can.
2. Binders
Similar to my Files and Folders method, I sometimes use binders to store all the paperwork on a single topic. Dividers within the binder separate the papers into subtopics.
For example, I have a binder to contain every piece of paper having to do with my Home. The dividers are:
"Purchase" records and info
"Assessment" details and taxes
"Invoices" for all home related purchases and repairs
"Measurements" with drawings and details I've made of various spaces as I've planned projects and purchases
I also have a binder for all of the paperwork associated with Taxes. Instead of using dividers, I just paperclip together the bundle of papers for each year of tax returns. I keep this binder in my fire safe.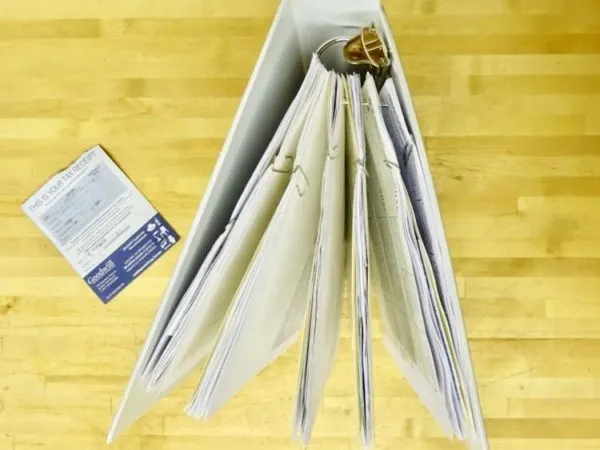 3. Accordion file
I like an accordion file for storing instruction manuals and warranty cards for various purchases.
An accordion file is a great way to store all those awkward sized documents that you'll hardly ever need to refer to, but will be glad to know exactly where they are when you need them.
Again, it's a variation on the files and folders method. I label the tabs by category, such as Appliances, Furniture, Sports Gear, Electronics, etc.
Whenever I unpack something that has a manual or warranty card, I write the date of purchase on the manual. I also clip the receipt, and all other paperwork, together with the manual before I put it away.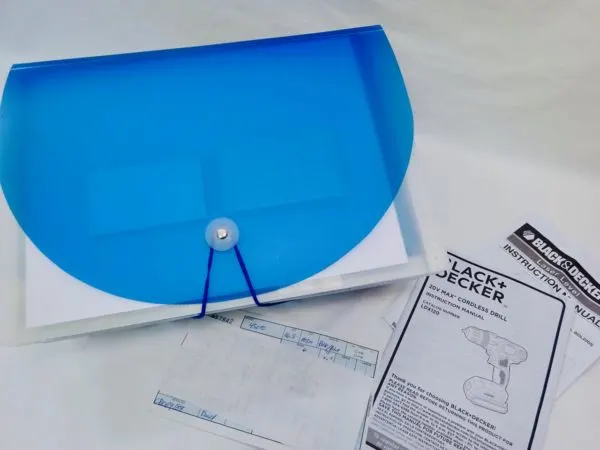 Have a place to keep the "System"
Filed and folders, binders, and accordion files do not automatically get you completely organized. You need to have a place to keep everything.
Shelves, drawers, boxes, or a filing cabinet are kind of a must for organizing your office.
Check out some of my favorite tips for Small Home Office Organization Ideas to see how I found a place for everything in my tiny studio apartment.
Take action, mark it done, put it away
Any paperwork that makes its way into your home or office should be dealt with immediately. This will be easier to do once you have your systems in place.
If action is required, get it done, and then write the date it was completed on the paperwork. For example, write the date when you paid a bill, and any confirmation code, directly on the bill.
Then file the paper away in the appropriate place.
Clean out your files
Once a year or so, or whenever your filing system is getting over-stuffed, clean out the old papers you don't need anymore.
Bills over a year old can be tossed.
Tax returns, records, and all associated receipts and worksheets, should be kept for seven years.
You should probably hang on to all of your medical records for as long as possible.
Be sure to check for personal information on your paperwork before tossing it in the recycle bin. It may be better to shred some things before getting rid of them, to reduce risk of identity theft.
ADDITIONAL RESOURCES:
Want even more guidance for organizing your office? Check out these other great tips from a few of my friends:
Tools to Organize Office Paperwork