There is something magical about writing a letter to Santa. No matter what your age, seeing your hopes and wishes and dreams written down gives you hope that they will come true. Delight kids and adults of all ages with this easy to make ornament that captures what you want from Santa Claus this year.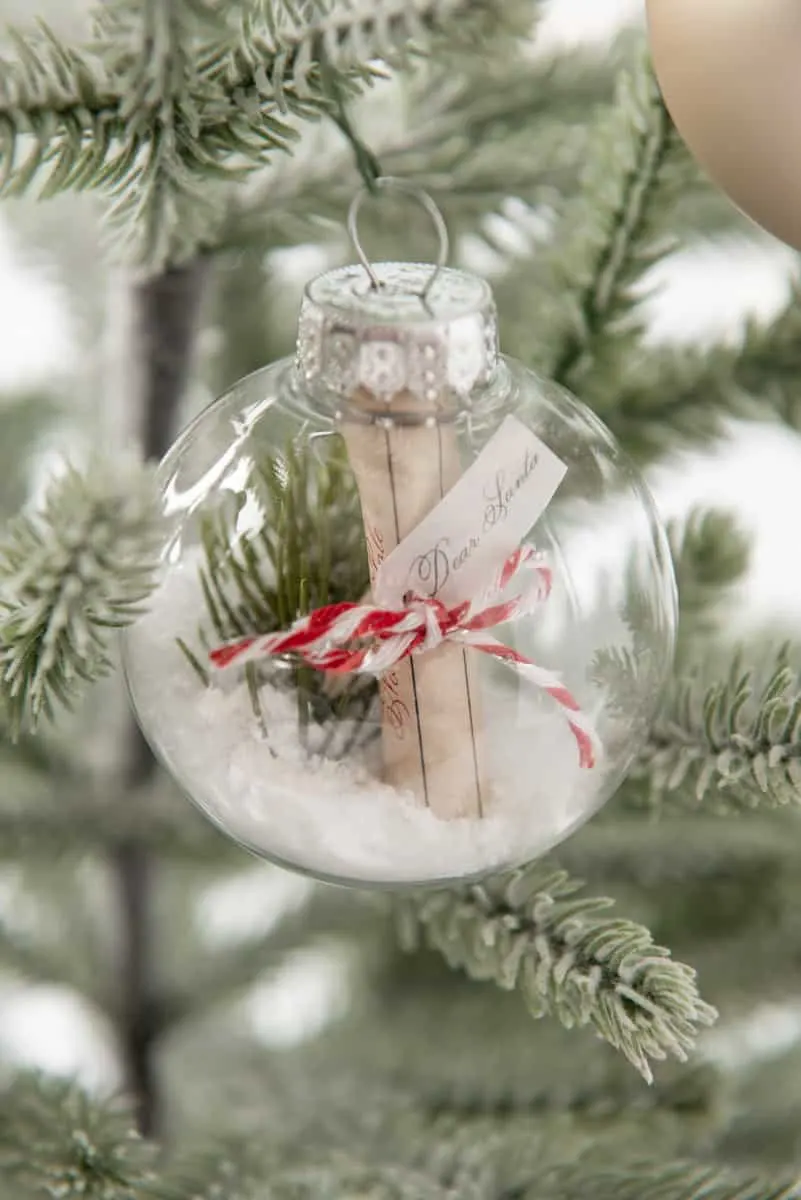 What I love about this simple DIY ornament is that anyone can make it. All you need is our free printable download for the miniature letter to Santa and the tag.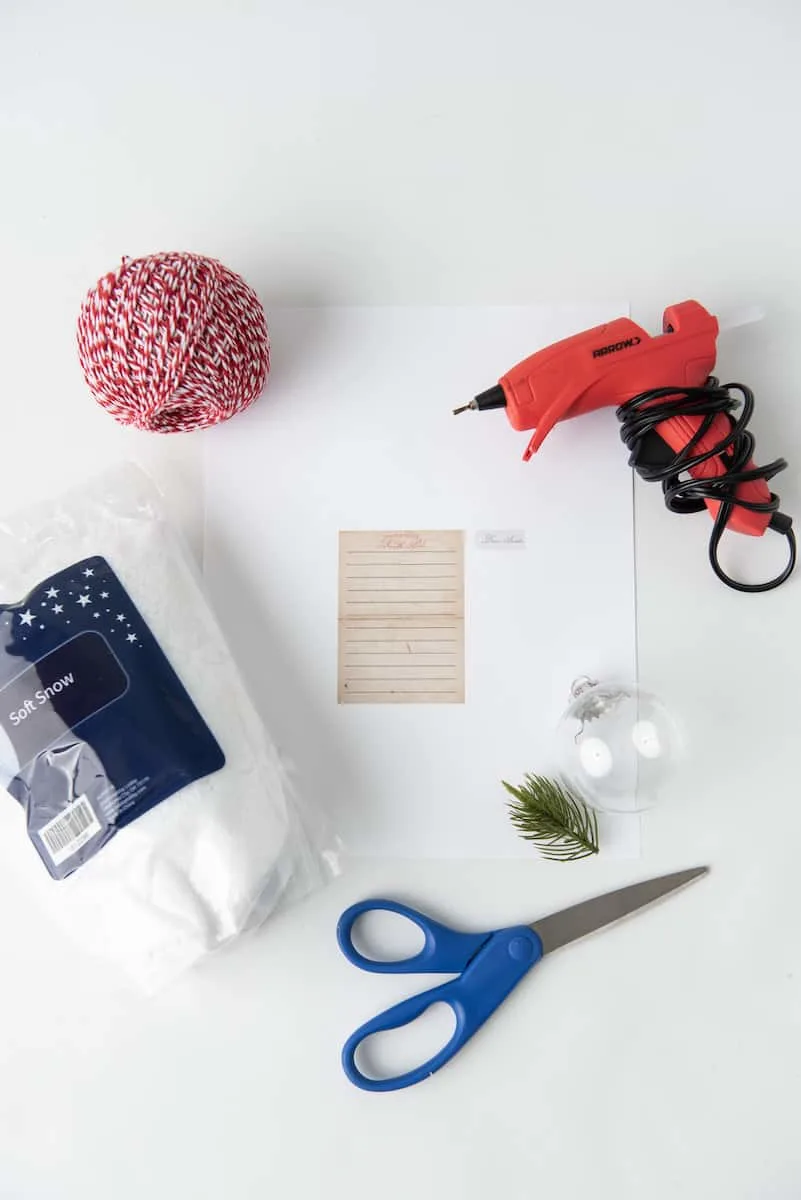 Then, just add the items to a empty glass ornament, which is easy to find at the dollar store, craft stores or on Amazon.
It's an easy craft that can be made at the last minute. Even on Christmas Eve when you want to make sure that you've magically sent your letter to Santa Claus.
You might also like making this quick and easy Santa hat ornament using a toilet paper tube or my easy felt Santa cookie ornament.
P.S. Be sure to Pin This craft to a Christmas or DIY board so that you'll remember it later!
Yield: 1 ornament
Letter to Santa Ornament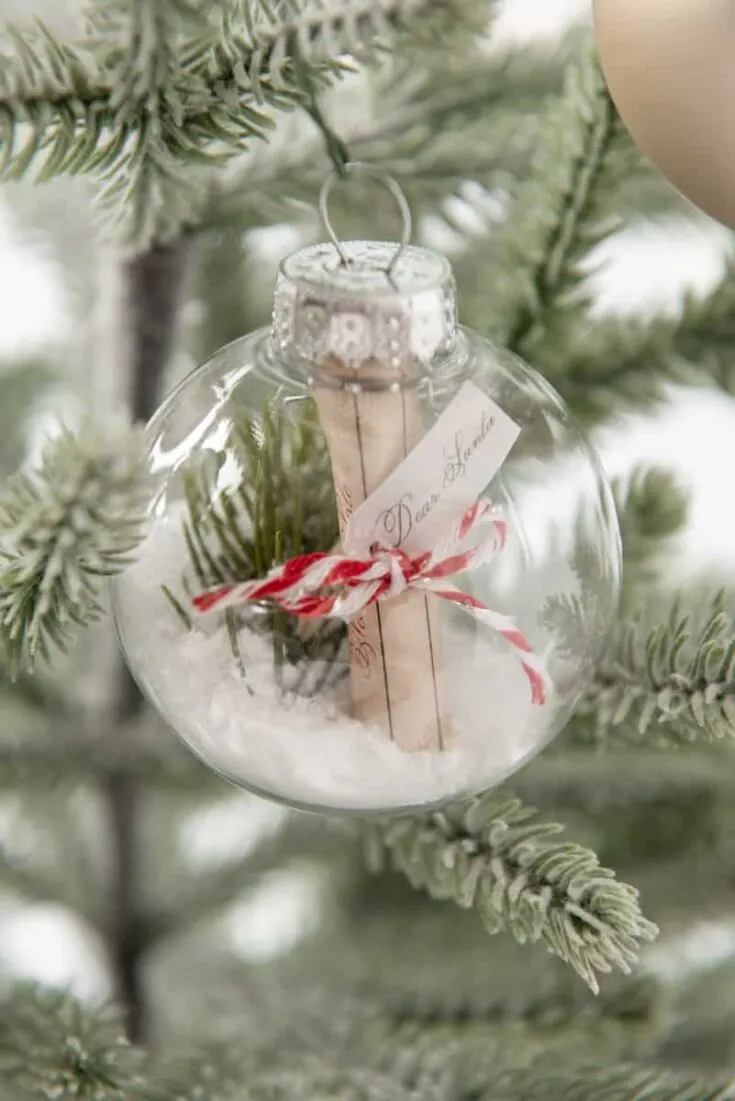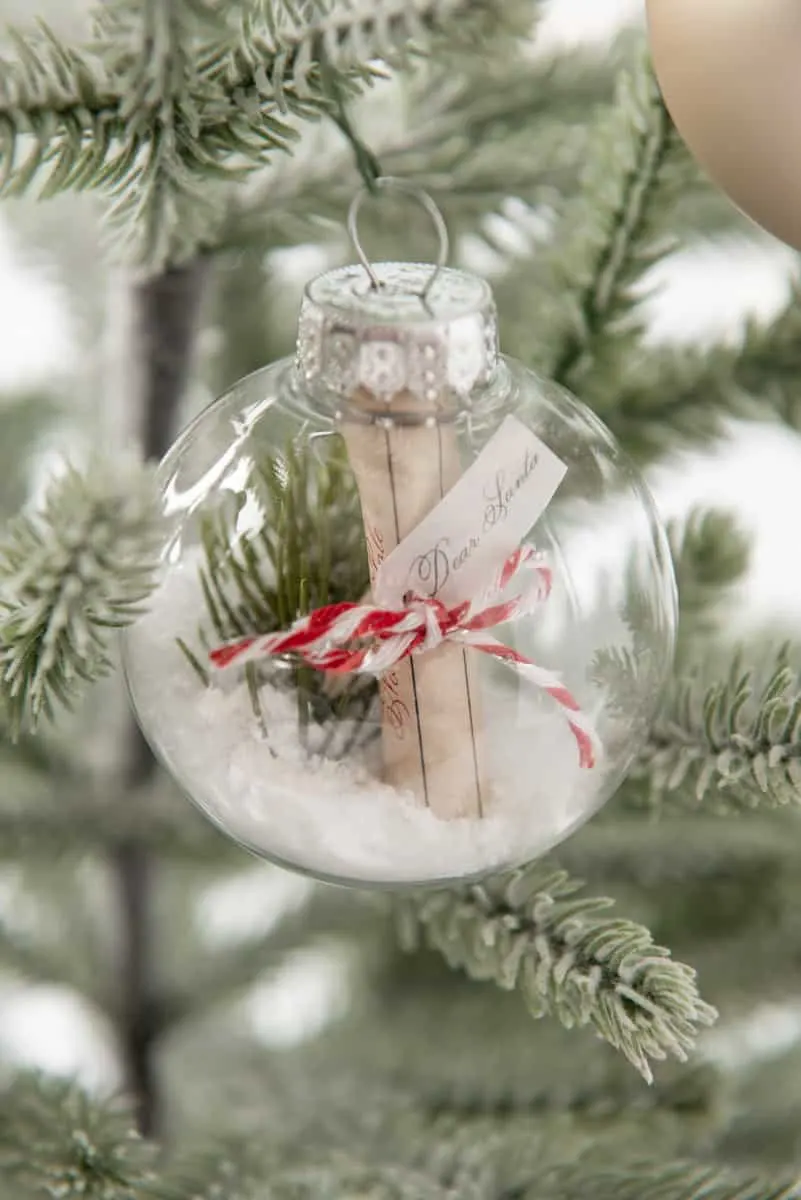 Write a letter to Santa and have your wishes transported magically to the North Pole with this DIY ornament. Just get our free printable, and add materials to a clear glass ornament for a delightful addition to the Christmas tree.
Materials
Empty glass or plastic round ornament
Santa letter and tag printable
Scissors
Faux snow
Faux Christmas pine
Red and white Christmas twine or other thin ribbon
Hot glue gun
Instructions
Print and cut the letter to Santa and the tag.
If you'd like, write in your wish list on the Santa letter.
Poke a small hole in the "Dear Santa" tag (try using a needle or tiny scissors to make the hole) to later string through the twine and around the letter.
Roll up the Santa letter. Wrap the twine around the roll, and tie off. Add the tag to a twine end, and finish off with a bow. Cut the ends as needed.
Create a make-shift funnel using the scraps of the printable paper to now add faux snow inside the ornament.
Add a small clipping of a fake pine branch.
Gently insert the letter to Santa. Nestle into the faux snow to keep from sliding around.
Once it looks good, add some hot glue inside the metal cap of the ornament to seal it closed.
Notes
Instead of a pine branch, you could use holly and berry, or fake candies. Anything small with a Christmas feel.
Free printable download available at https://singlegirlsdiy.podia.com/letter-to-santa-ornament
Want more easy Christmas ornaments to make? Check out these rustic farmhouse no-sew mitten ornaments or our felt Christmas candle ornament.
I think you'll also really love these oversized gnome ornaments made by gluing felt and yarn.