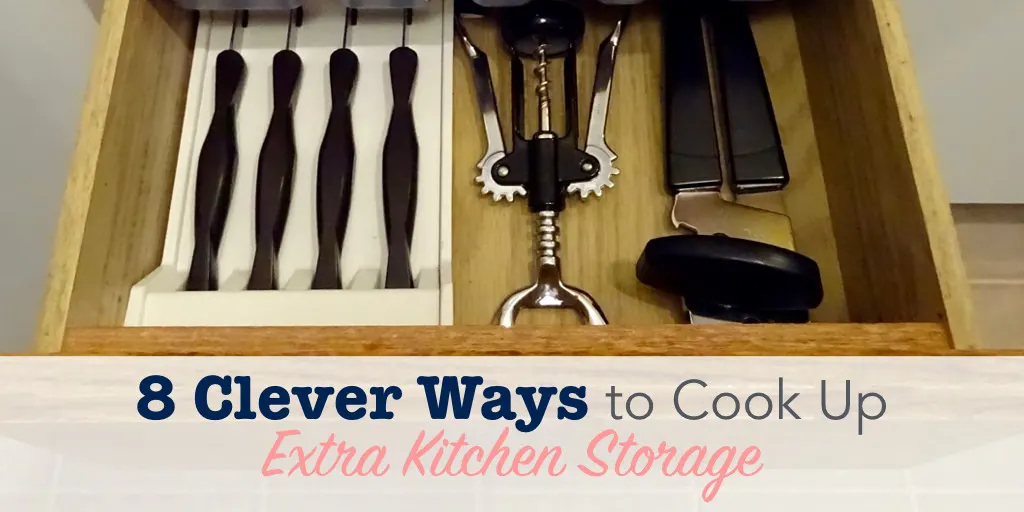 Is your kitchen short on space? You have no place to put anything, or you can't get to what you want when you need to use it?
I'm no stranger to small kitchens. If you need a few tricks to squeeze some extra storage into your kitchen, you're in the right place.
You might also want to see my shopping guide for the best space saving dish racks if you don't have a dishwasher!
8 CLEVER WAYS TO COOK UP EXTRA KITCHEN STORAGE
MATERIALS FOR ORGANIZING A KITCHEN
Rev-A-Shelf products
Lazy Susan's
Plastic storage bins & containers
Even if you have a very small kitchen, there are a few things you can do to make a little more room. With more efficient storage, you can fit more things into the space you have.
1. Install Rev-A-Shelf Products
There is an entire product line from Rev-A-Shelf, devoted to helping you make the most of your limited kitchen space. They're all pretty clever.
I've used the Tip Out Sink Front Trays in my own kitchen. Now I have the perfect place to store sponges, scrubbers, and the drain plug.
Not only do I have them in my kitchen, but I also installed them in both of my bathrooms, as well as my mom's kitchen. They're handy, and easy to install.
2. Use Lazy Susan's
You don't need to go out and buy fancy spice racks, or have an entire drawer dedicated to spices. Instead, head to your local thrift store and pick up a couple Lazy Susan's.
These are great for spices, making really compact storage, while still keeping items easy to find. I have two in the cabinet next to the stove, to keep things within easy reach.
Lazy Susan's come in a variety of sizes. You could use them for canned goods or condiments as well.
3. Double Drawer Space with Utensil Trays
You can double the amount of storage space in a drawer with this clever trick.
Get a utensil tray with a lip on it, so that it fits just on top of the drawer. The lip of the tray sits on the edges of the drawer, and can slide back to reveal extra space below it.
Not only can you fill the tray, but you also have storage space underneath. This practically doubles the the amount of storage you can squeeze into your drawers.
4. Put a Shelf Under the Sink
Space under the sink can be hard to use. All that plumbing gets in the way.
Get a narrow shelf that fits in front of the pipes, or one that fits on one side. I have an inexpensive wire mesh shelf under my sink. This adds vertical storage, making that big cabinet space more usable.
Now you can store things like your compost container, or house plant supplies out of the way, but within easy reach.
5. Group Items in Bins in Deep Cabinets
Corner cabinets often have a big dead space. It's hard to store anything back there, and even harder to get things out again to use them.
Try using plastic bins, so you can pull things out as a unit. This makes everything easier to access and put away again. You don't have to pull items out one at a time, and put them all back when you find the one you want.
6. Contain Frozen Items
I also use bins in my freezer. It's a similar concept to the cabinets. I can stack similar items in a bin, and pull the whole thing out of the freezer to get to what I want.
Rather than just making a big pile of items in the freezer, I can make little piles. The bins keep everything from falling all over the place when I'm searching for something.
I like to use clear plastic bins, so I can see what's in them.
7. Repurpose Containers for Dry Goods
Do you have an open bags and boxes in your cupboards? Rice, a box of pasta, maybe some pancake mix?
Start saving up containers that you can repurpose. For example, I saved up a series of nice plastic containers with screw top lids. I think these were from a Costco-sized salsa my family used to eat.
You can clean these up and use them to store dry goods. They will store more neatly, and keep things fresh longer. Also, if you have pest problems, you eliminate packaging that is prone to leaking or spilling, and use something that is harder for pests to get into.
If you don't want to wait, there is an overwhelming number of products you can buy for this purpose.
Be sure to use containers big enough to fit the entire contents of the original packaging. There's no point to doing this if there's still a little bit left in the box that you have to store separately.
8. Store Non-Perishable Supplies in Another Room
My kitchen is fairly small, and doesn't have a pantry. Luckily, I live alone and don't store a lot of food.
Still, I run out of storage space in the kitchen. So, I make use of other spaces. Napkins and paper towels end up in a cabinet in the laundry room. Sometimes an extra bag of chips or other items that won't spoil end up in there as well.
I also have shelves in my garage. These are a great place to store things like bigger dishes and containers that only get used for special occasions.
Finding more room in your kitchen
When you make the best use of the space you have, you'll be surprised how much you can store in a small kitchen. (Or the rooms nearby.)
If you're ready for some bigger changes, be sure to check out these thrifty DIY kitchen updates.
Happy organizing!