You already know you can add extra style to your outfits by adding accessories. But have you ever thought about accessorizing your accessories? You can with a purse scarf!
I recently bought a small summer purse, and it felt like it was lacking something. While the purse was functional, it was just a little blah. So, I added a pop of color with fabric, giving it just that perfect little style kick it needed.
Check out how I used scrap fabric to make this easy DIY purse scarf for the handbag handle. You're going to want at least one for every season!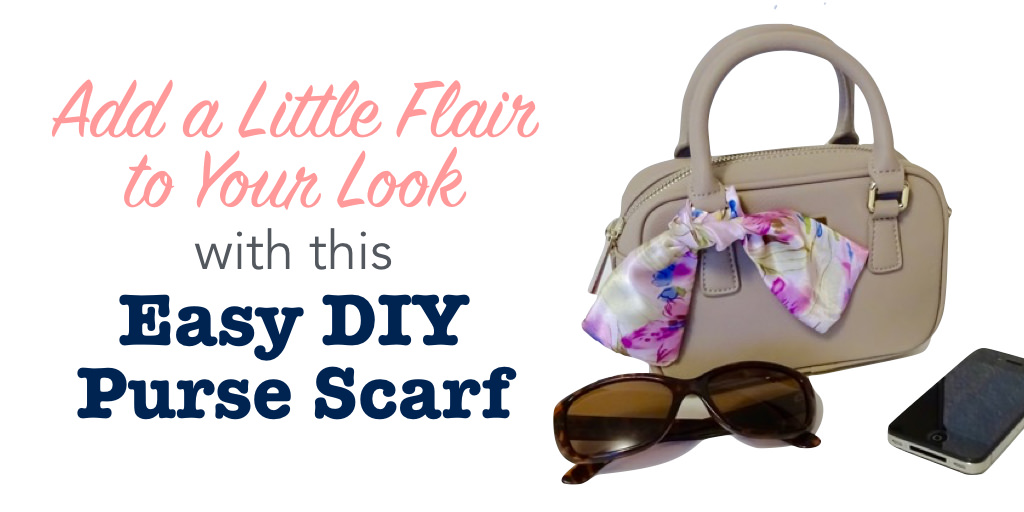 It's so cute and simple, I thought you'd want to see how to make one yourself.
HOW TO MAKE THIS EASY DIY PURSE SCARF
TOOLS & SUPPLIES
Fabric (About 15" x 6")
Sewing machine
Matching thread

Iron

Purse
1. Choose your fabric
I went hunting through my fabric supplies to find a piece I could use. This was left over from a dress I made, so it wasn't cut into a perfect rectangle. That doesn't really matter for this project.
My fabric piece was about 15" long by 6" wide. I did not bother to trim it straight, but you can if you want to do so with your piece.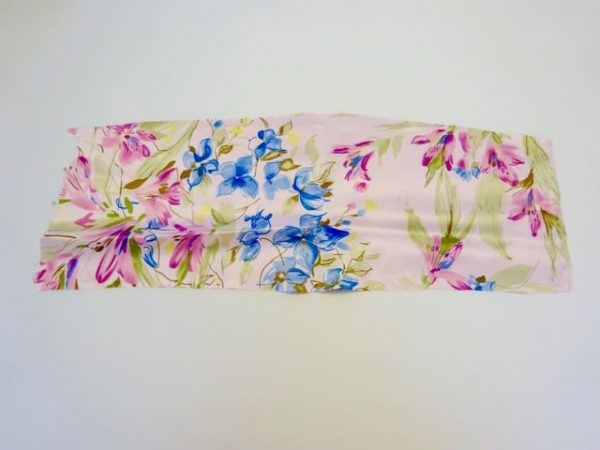 If you don't have a scrap you can use, check out the remnants bin at your local fabric store. You might also find a piece of fabric or a scarf at a thrift store, or you can repurpose an old piece of clothing.
2. Fold the right sides together and stitch the edges
Fold your fabric piece in half the long way, with the right sides together. (You should be looking at the back side of the pattern.) Since I didn't trim my scrap piece to the perfect shape, I just kind of eyeballed it.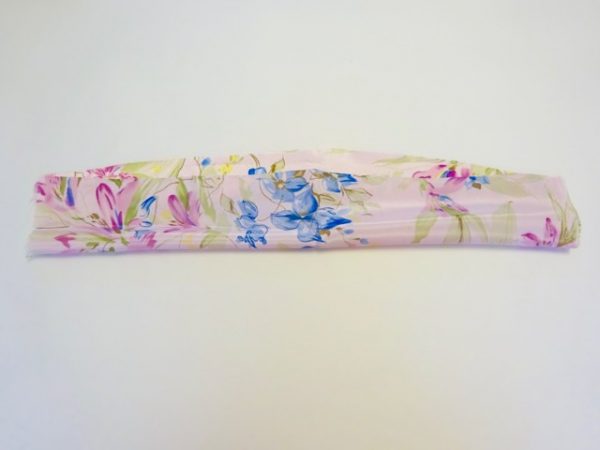 Now, stitch around the edges, using a zigzag stitch. I sewed straight lines, staying at least 1/2" away from the edge of the fabric.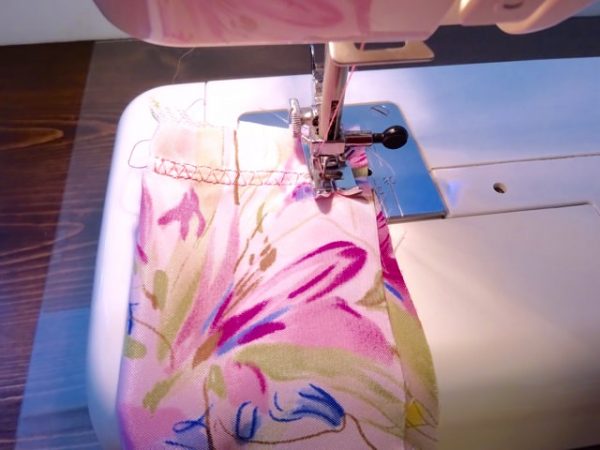 Sew around three sides, leaving about a 1" opening on the fourth short side.
3. Trim the edges and turn the scarf right-side out
I cleaned up the uneven edges of my fabric scrap by trimming them after sewing the seam.
Use pinking shears to cut at least 1/4″ from the stitching. (Leave more fabric near the opening.)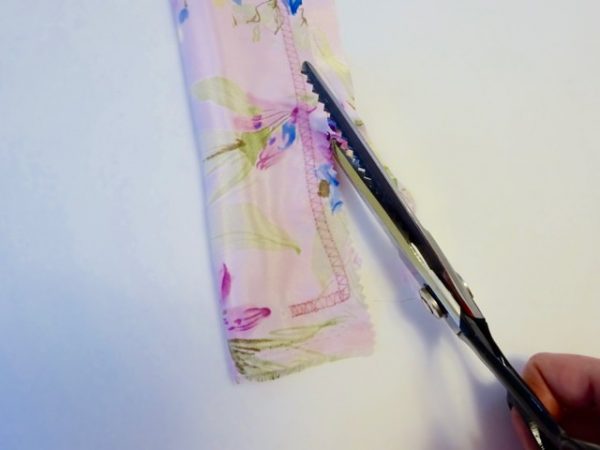 Use your fingers to start pushing the fabric through the 1" opening that you left. This will turn the seam to the inside, and the pretty side of the fabric will now be facing out.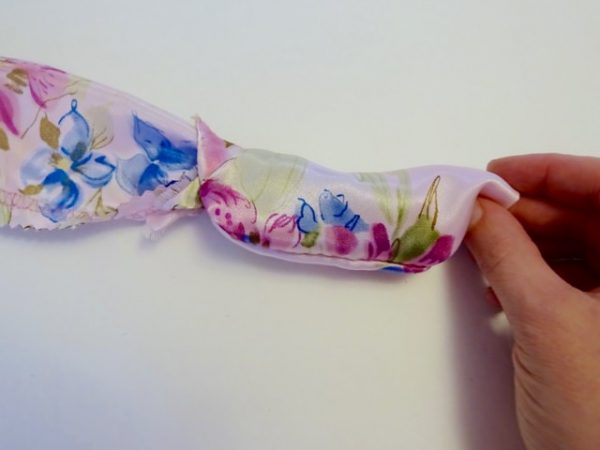 Turn the whole scarf through itself, and then tuck in the raw edges at the end.
4. Stitch the end closed
If this was for something other than a purse scarf, I might have made the effort to hide my stitches. In this case, I just used a matching thread to stitch the open end shut.
To close up the end, make sure your raw edges are completely tucked to the inside. Put the scarf back onto your sewing machine, and stitch as near as you can to the edge, in order to close off the opening.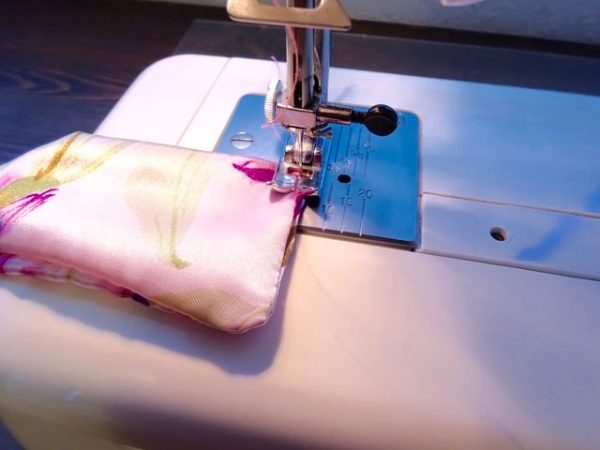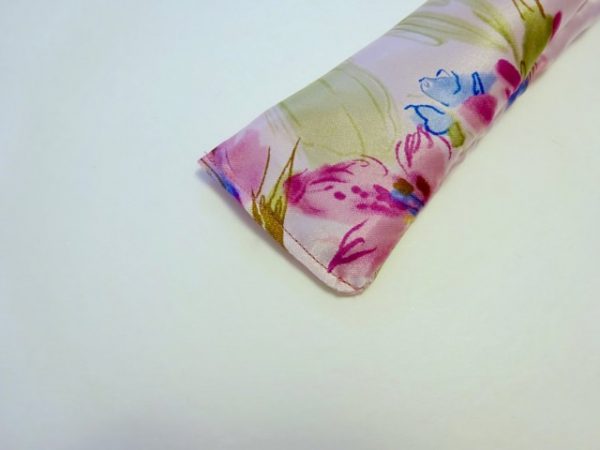 5. Iron the scarf flat
At this point, you probably have a shapeless tube of fabric. Fix that by pressing it flat with an iron.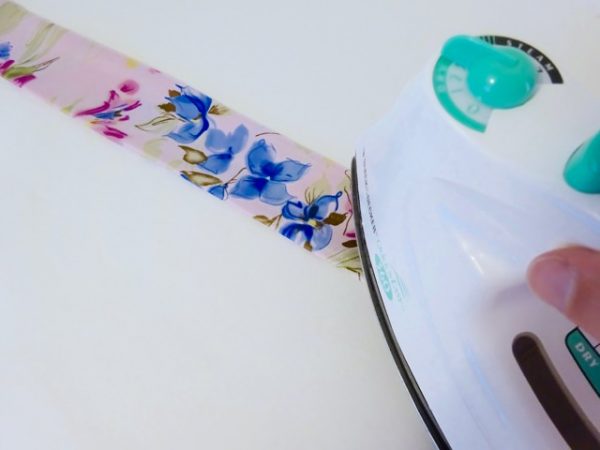 Smoosh the scarf out as flat as you can on your ironing board. Push it around until you get the seam as open as it will go. Then just press it with your iron to make a nice, flat band of fabric.
5. Tie on Your Handbag Handle
I tied my scarf to one of the handles on my purse (this is the style that I bought) with a simple square knot. This keeps it from flopping around and getting in the way.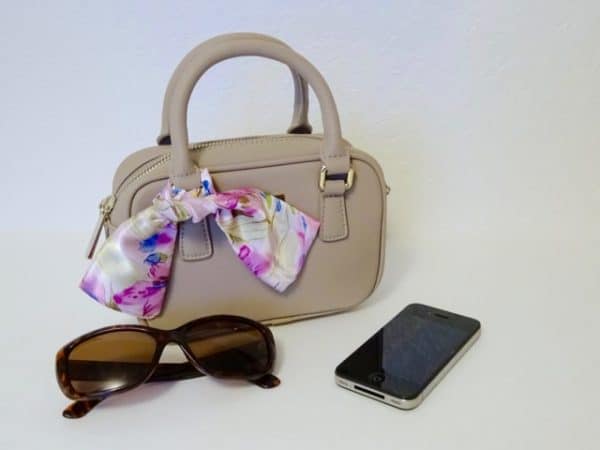 Tie one of these cute little scarves on your briefcase, your backpack, your luggage, or even your ponytail.
Make lots out of different fabrics, so you can add a touch of flair to any outfit.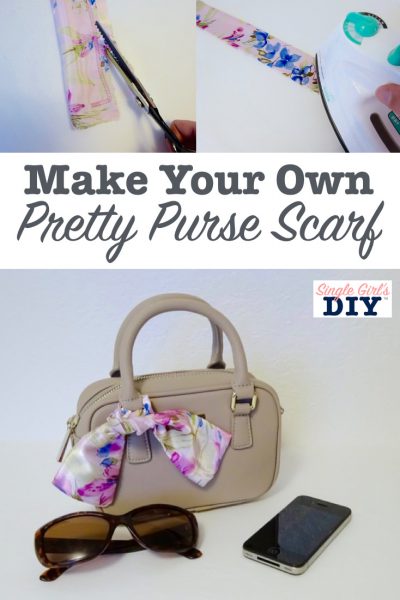 Why not make one of these easy DIY faux leather coin purses for your handbag, too?
And, if you have a lot of fun accessories, you might like these tips about how to keep accessories organized.
SaveSave