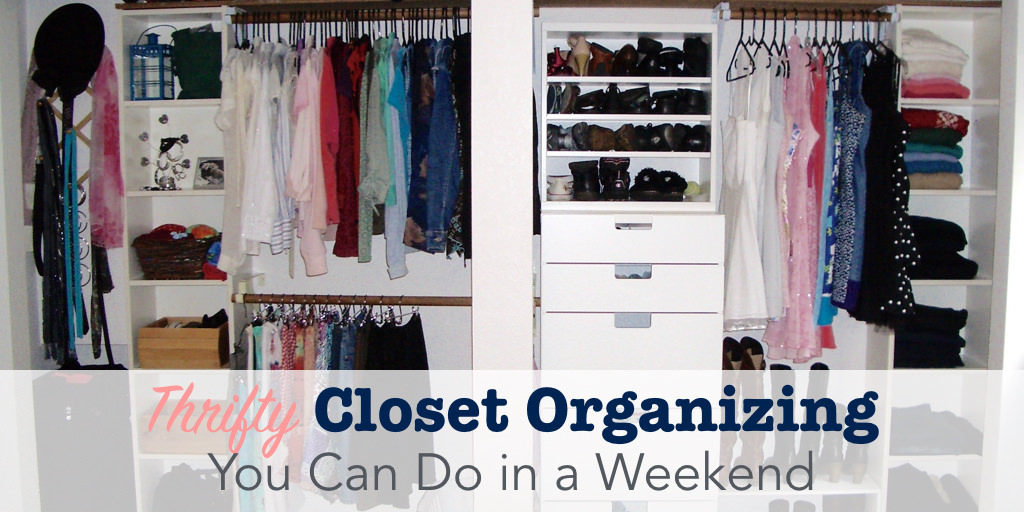 How are you supposed to be able to pick out a cute outfit if you can't find anything in your closet?  If your closet has just a bar and a shelf for organizing your clothes, it's amazing if you can ever find anything in there at all!
I have to admit, I have a little problem with clothes.  I love pretty things.  But in order to find and wear all the things I love, I need to have a really organized closet.
This is what my closet used to look like.  Just a basic closet with a standard single bar and shelf.  That's it.  How is anyone supposed to make that space functional?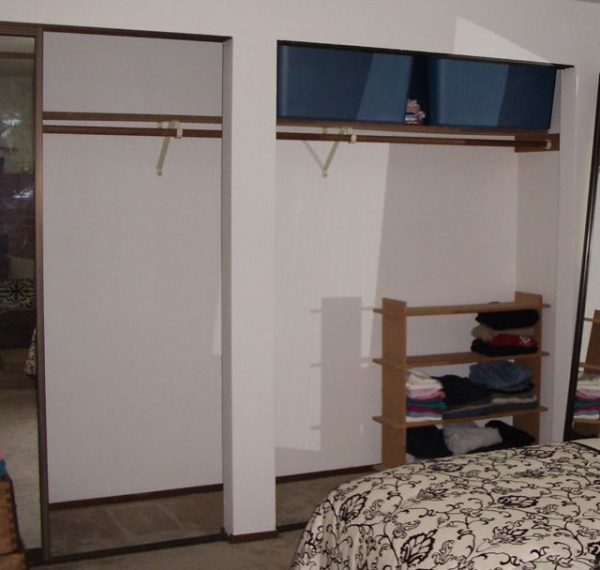 So, in just one weekend, I completely reorganized my closet.  I created new storage and systems, and I did it all for about $350.
See exactly what I did, so you can use these ideas in your own closet.
THRIFTY CLOSET ORGANIZING YOU CAN DO IN A WEEKEND
MATERIALS TO ORGANIZE A CLOSET
You can repurpose items you already own, such as hooks, bins, boxes, and shelves.  You can even move an existing dresser into your closet, rather than buying something new.
Closet shelf and bar brackets (I used six)
Two tall cubby-style shelving units
Scrap wood for extra shelves (optional)
Screwdriver
Measuring tape
Saw to cut bar and shelves to size
Before you go shopping for anything, be sure to write down detailed measurements of your closet space.  Remember to measure the width of your doors, too.
Here are five ways to organize your closet, so you can finally find what you want to wear, when you want to wear it!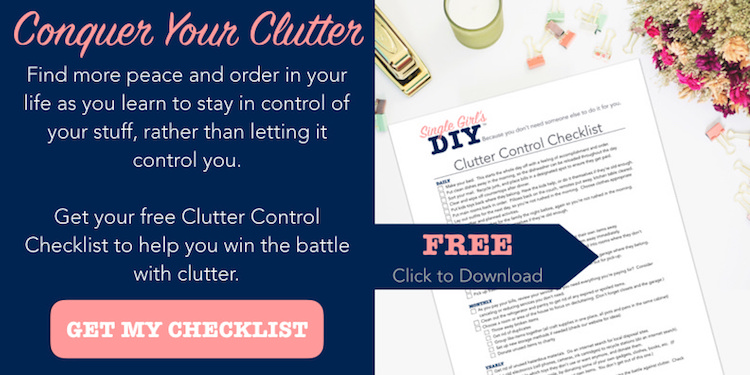 1. Shelves for Folded Items and Shoes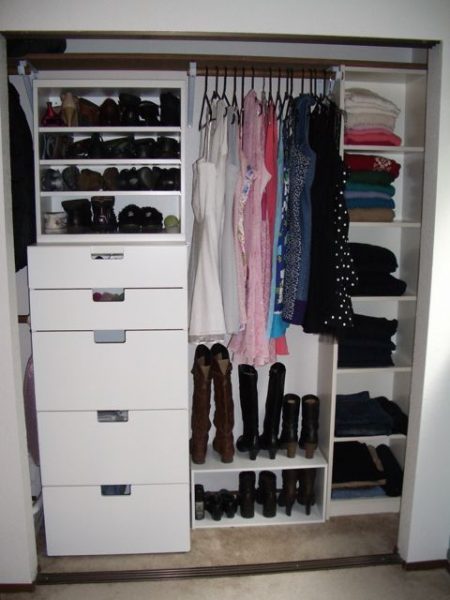 Room to hang clothes is great, but there are a lot of items that store better folded.  So I added LOTS of shelves to my closet.
Narrow cubby-style shelves are great for storing bulky folded items, such as sweaters and jeans. They also house bins, to store small things like bathing suits, purses, or scarves.  I installed one at each end of the closet.
I reused the existing shelf across the top of the entire closet.  With the taller cubby units, it was raised slightly.  This also allowed room for an additional hanging bar on one side. The top shelf holds luggage and other pieces that aren't used often.
Pro Tip:  Don't put the top shelf up too high, or you won't be able to use it.  The wall in front will get in the way of larger items.  Plus it's harder to reach.
Shoes also store well on shelves.  A dresser top unit with closely spaced shelves keeps the shoes organized and easy to see. Boots got their own shelf on the bottom right.
Thrifty Tip:  I saved some scraps of cardboard that the new furniture pieces came in.  Rolled up, the cardboard makes perfect boot inserts to hold them upright.
2. Drawers for Folded Clothes and Undergarments
Drawers are great for storing under garments, folded t-shirts, shorts, and athletic wear.
Pro Tip:  Make sure you can open the drawers when the closet doors are in place.  (This is why you should measure the width of your doors before going shopping!)
I like to store my t-shirts on end.  Held in place by bookends, this makes it easier to see what items I have, without digging through a pile.  Smaller items such as camisoles store well rolled up.
3. Multiple Bars for Hanging Items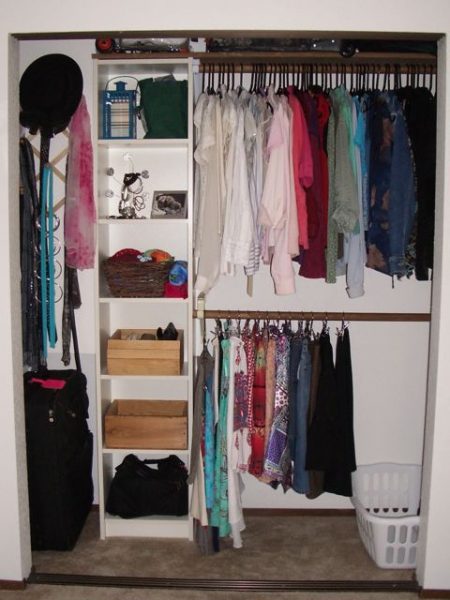 Hanging clothes helps to prevent wrinkles, so I try to hang as many of my clothes as possible.  Even if you live in t-shirts, hanging them will keep you from looking rumpled.
In my closet, I installed three bars for hanging items (two on the left side shown here, and one on the right, shown above).
Reusing the existing rod, I cut it into three sections. With brackets purchased at the local home improvement store, it was easy to hang the bars where I wanted them.
This eliminates wasted space below shorter items that were previously hung in a single row. Shirts are on the top, with skirts underneath. Longer items like dresses hang in the taller space.
4. Hooks for Accessories
Accessories are often overlooked in closet design, but they need a home, too.
My closet had the perfect space for a peg rack, where I hang belts, scarves, and hats. This is a rack normally used for cups, repurposed for accessories.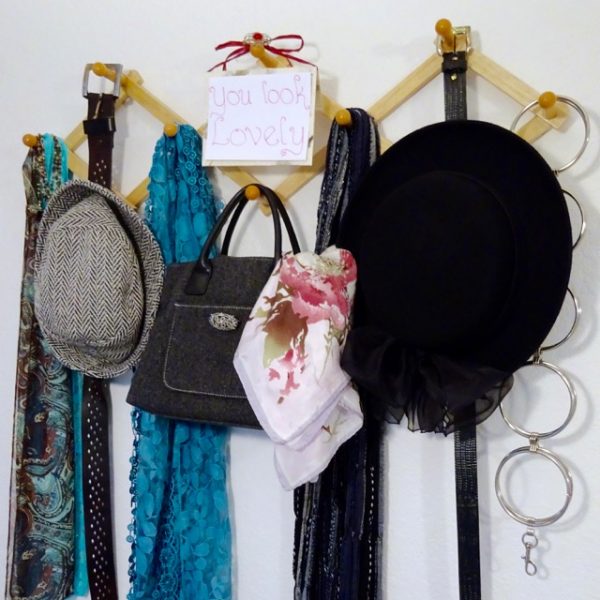 Get a whole list of clever organizing ideas in our article The Best Ways to Organize Your Hard to Store Accessories..
5. Sorting Methods to Make Things Easy to Find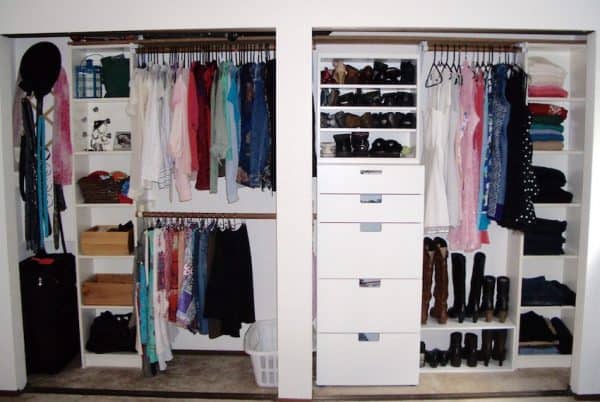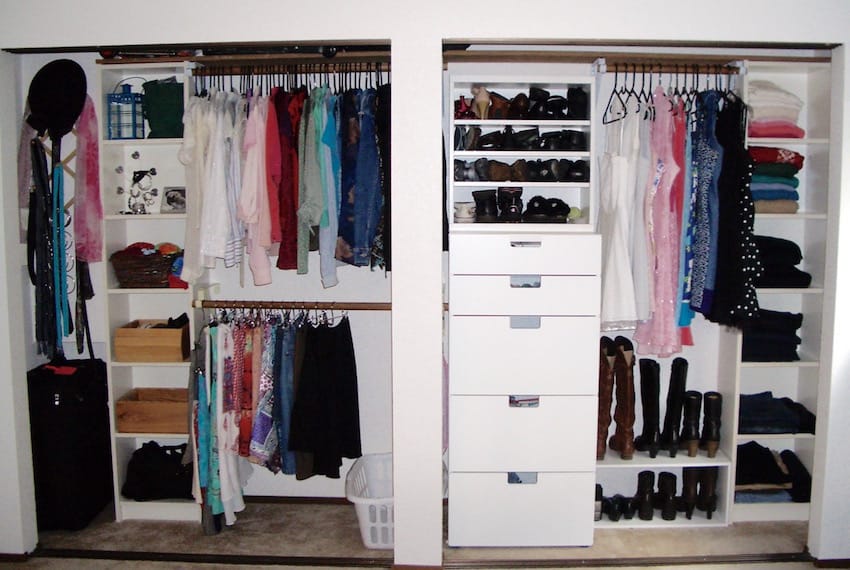 With all the new storage methods, each type of clothing now has its own place.
Group like-items together to make it easier to find what you want.  Shirts, skirts, dresses, jeans, sweaters, t-shirts, and shoes should each have their own designated part of the closet.
In my closet, I also like to do additional sorting by color. Items that are the same color get grouped together. This isn't necessary, but it makes it easier for some people to coordinate outfits.
Plus, it looks good.  To be honest, when I finished this makeover, I left the doors off for a few more days, just so I could admire how good it looked!
Happy Organizing!
An organized closet allows you to see and use your clothes better, but you don't have to spend a fortune to makeover your closet.
With a few thrifty pieces (I got mine at Ikea), or reusing items you already own, you can create a beautifully organized space in a weekend.
Be sure to let me know how your project turns out!
SaveSave