Suddenly struck by a winter snowstorm? If you're snowed in and don't have a shovel handy, you may not know the best way to clear your driveway, sidewalk or entrances to your home. Luckily, there are other household tools and alternative methods you can use to remove snow without a shovel.
It is important to remove snow on steps, walkways, sidewalks, driveways and porches to prevent slipping and falling. If you are leaving your house while snow is on the ground, it's important to have a snow-free surface to walk or drive.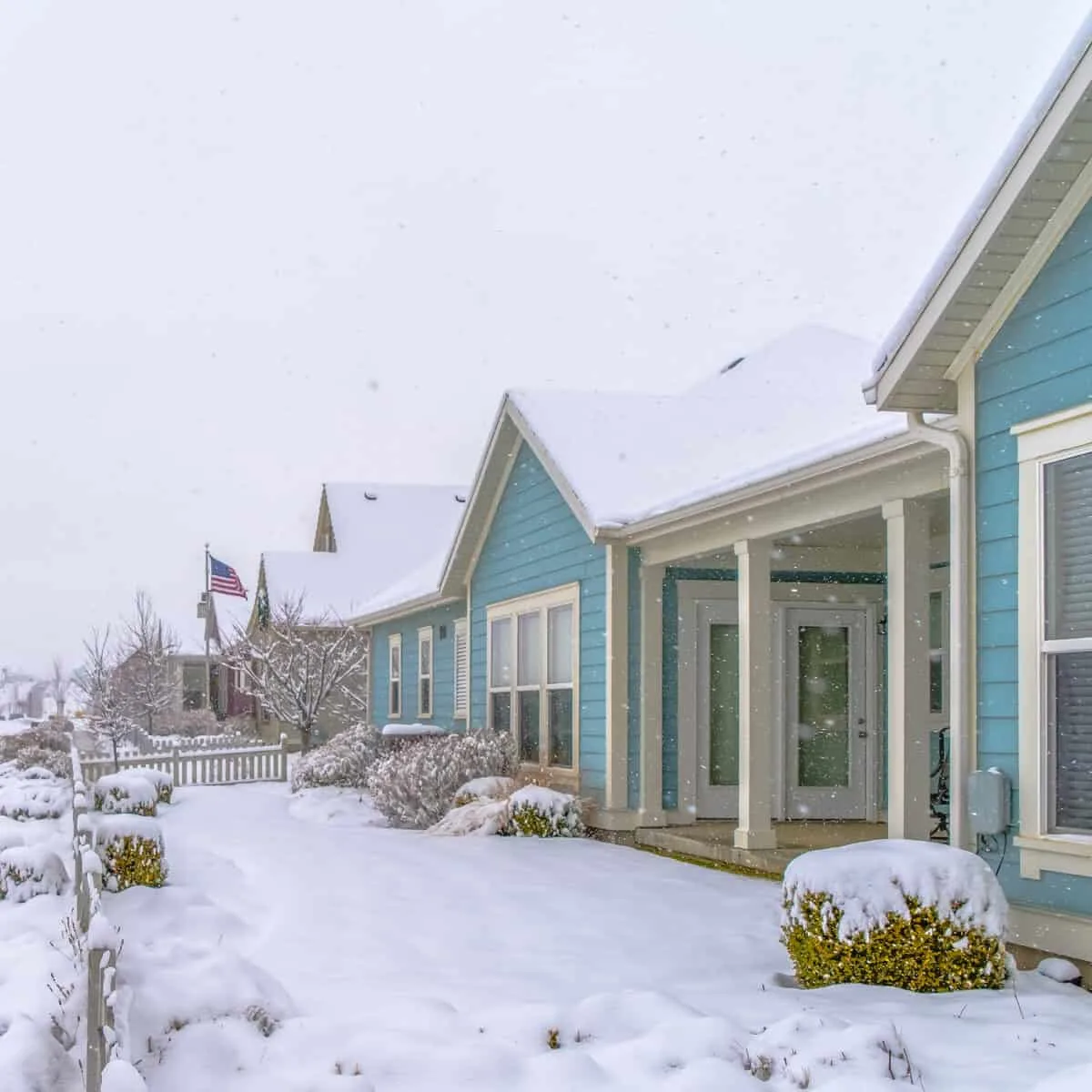 You might also like my tips on how to remove snow from composite decking without damaging it.
Leaf Blower
If you've got a leaf blower, then chances are you can remove snow without a shovel!
Leaf blowers are highly effective to remove light, fluffy layers of snow from your driveway or sidewalks. Ideally, they work on layers of snow 1 inch thick or less, though they can remove snow up to 4 inches thick. However, they will not work well on heavy layers of snow or icy snow.
On light layers of snow, your leaf blower may work better than a shovel. In fact, this is an excellent way to remove snow from a gravel driveway, since you won't accidentally be removing the rocks.
A battery-operated leaf blower is much better than one that has an electric cord that needs to be plugged in and laying across the snow. That's not good!
You will want a leaf blower with a long battery time (so you don't have to go out in the snow more times than necessary) and also with high power to easily blow the snow away. I suggest this Greenworks 40V cordless leaf blower which will serve you well all year round.
Broom
Almost everyone has a broom or rake at home. And these work great to clear snow without a shovel.
A broom is best for brushing away light layers of snow. You will want a push broom which works the best and requires less effort. However, if you have a standard broom, that will work, too.
Rake
Rakes will work on thick layers of snow. If you are raking snow in your driveway, be careful not to rake away gravel or rocks.
While a rake will remove large pieces of snow build-up, you will still need to use another method (such as a broom or leaf blower) to get rid of some of the snow, too.
Just remember, a rake will likely dislodge large amounts of gravel if using on a gravel driveway, so it is best used with caution.
Rock Salt
Placing rock salt on your steps, porch, walkways and driveway during the winter can save you lots of hassle in the long run. Spread rock salt evenly on the places where you will be walking, and it'll stop ice and snow from settling. Here's my essential guide for using rock salt to melt snow.
Morton Safe-T-Salt Snow & Ice Melt is inexpensive and lasts for years as long as it's in a sealed container. This product will melt snow down to temperatures of 5 degrees.
This is one of those things that you should invest in to be prepared for future snow storms if you are able. Waiting until there is snow forecast usually means the ice melt supplies will be bought out.
Very cold temperatures will require using calcium chloride crystals or magnesium chloride crystals. Snow Joe Ice Melt works for 24 hours at temperatures down to -25 degrees Fahrenheit.
Traditional snow and ice melts can be toxic and hazardous to pets, as well as cause damage to plants. If you are worried about exposure to pets or the environment, try this Melt-2-Go Nature + Pet Friendly Ice Melter. It's colored, so you know where you are spreading it. It won't corrode surfaces or dry out your skin, and it's eco-friendly.
DIY Alcohol Solution
A homemade alcohol solution is an excellent way to remove thin coverings of snow and ice from your driveway if you don't have any other tools to use.
It's not as effective as ice melts or leaf blowers, but it can work if you have nothing else to use.
DIY Snow Melt:
1 gallon hot water
Teaspoon dish soap
1/2 cup rubbing alcohol
Mix the ingredients together and pour on snow or ice. The snow will start to bubble and melt with the hot water. Alcohol has a lower freezing point than water, so it helps to prevent refreeze.
Tarp
With warning of a snowfall, you could prepare your driveway or walkways by laying down a large tarp.
Place a tarp on the driveway or sidewalk and let the snow fall on it. Then you can lift the tarp and pile the snow on the side.
Snow can be heavy, though, so the weight could be significant. However, if you can manage picking up the tarp this will remove lots of snow at once.
You can also lay a tarp on top of an existing layer of snow if you weren't prepared for the first round of snow, but you want to prevent more snow build-up with another winter storm coming.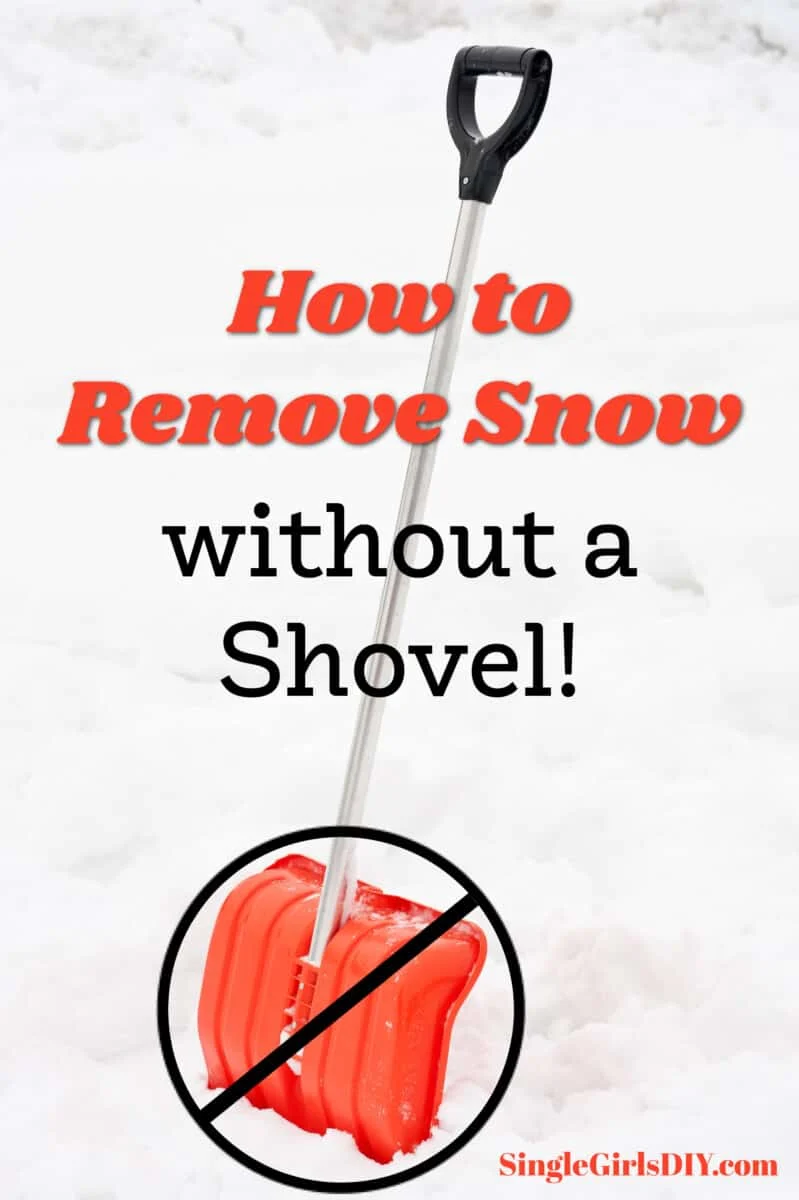 Roll up Dense Snow
If you really have no tools or supplies on hand to get rid of snow easily, you can use muscle-power to remove it.
Snow can be removed by rolling it into a log-shaped mound. This is similar to rolling balls of snow to make snowmen. However, you don't have to worry about making circles and just concentrate and rolling it away in large piles (kind of like rolling sod).
This isn't an easy task, but it is an option if necessary.
Snow Melting Mats
One ingenious way of ensuring your driveway or walkways remain snow-free during the winter is by using snow melting mats. By purchasing industrial-grade melting mats, you can warm up your driveway, sidewalks or porch and stop snow from ever accumulating.
These heated mats melt snow at a rate of roughly two inches per hour, so they are suitable for use in most winter blizzards. Snow melting mats mean you won't have to exert yourself using heavy machinery or a shovel, making it ideal if you are not physically able to use the other types of tools.
Snowblowers
Using a snowblower, if you have one at your disposal, is a quick and easy way of removing snow.
For a gravel driveway, you will need to make sure your snowblower is a two-stage so you can adjust the auger. An adjustable auger on your snowblower is essential — if it isn't raised enough, you will inevitably suck up chunks of gravel with the snow, causing damage to your machine. The gravel can also fly out of the snowblower at high speeds, potentially hurting yourself and others.
Snowplow
Homeowners with long, winding drives may find the previous methods difficult and tedious to use. A snowplow is a popular way of clearing snow in a hurry, but it can be challenging to use on a gravel path.
If possible, use a V-shaped plow to push the snow away from your drive, and make sure you position the blade high enough off the ground. Otherwise, you risk damaging the plow and your vehicle.
During heavy snowfall, it is best to lower the plow little by little to ensure you don't dig up large chunks of gravel by accident or damage the driveway or sidewalks. Overall, this method is fraught with potential dangers and is best left to professionals.
For winter weather driving, be sure to see my comparison of snow socks vs. snow chains for safe travel.