Salt spreaders are one of the best tools for spreading grit and rock salt on driveways, sidewalks, and roads. As helpful as they are, you might not need one for your home. Here's how salt spreaders work and the best salt spreaders to buy.
What Is A Salt Spreader?
If you are not used to icy conditions, you might not be familiar with rock salt and salt spreaders.
Common rock salts like sodium chloride, calcium chloride, and magnesium chloride are used before a snowfall, in order to stop roads, sidewalks, and driveways from icing over.
Rock salt stops snow and ice from forming. So you will always want to distribute rock salt before winter weather. Rock salt is usually distributed either by hand, with a shovel, or with a salt spreader.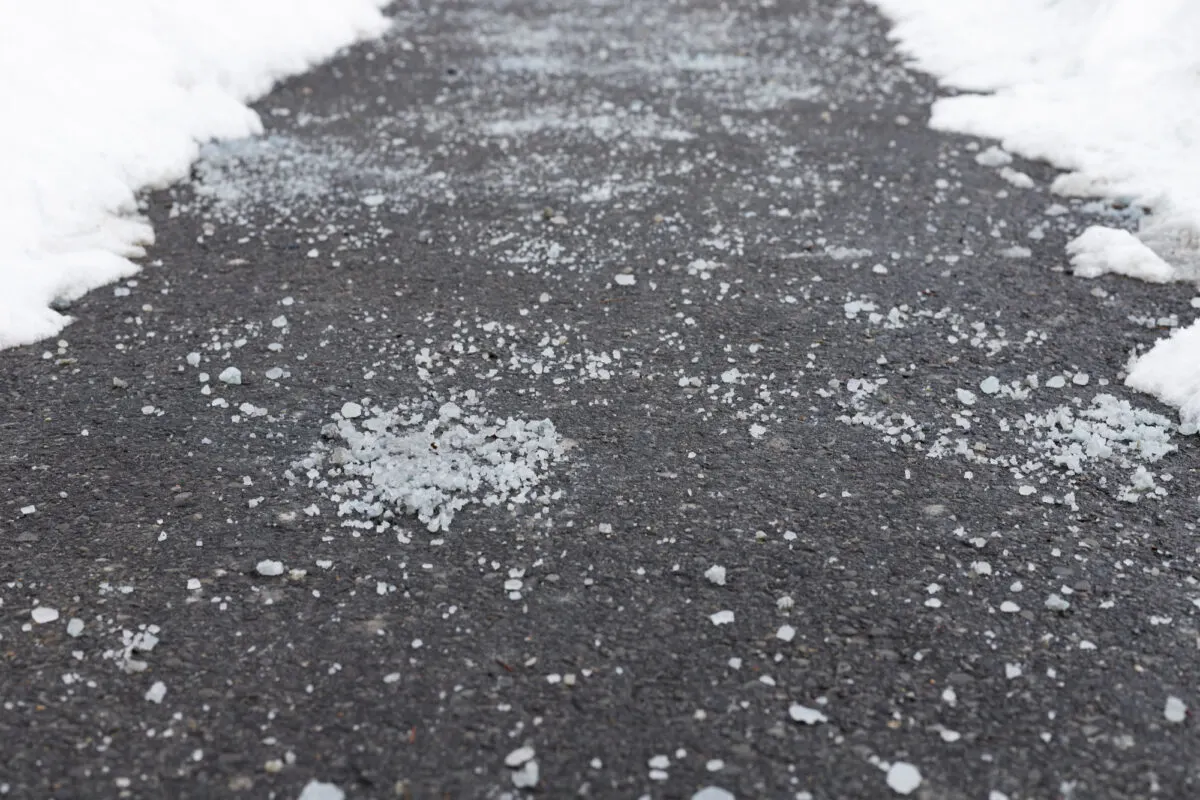 Salt spreaders are machines that evenly distribute rock salt or grit across a given surface. Salt spreaders can be converted to spread fertilizer, too.
Just fill up the hopper with your chosen rock salt or grit, and the salt spreader will slowly scatter the material, saving you some hard work. There are several types of salt spreaders available which include:
Walk-behind spreaders
Tailgate spreaders
Tow-behind spreaders
In-bed spreaders
Walk-behind spreaders, also known as hand push spreaders, are most common. They are operated similarly to a wheelbarrow and are best used on small areas like sidewalks and driveways. You can also use a walk-behind salt spreader for fertilizer, too.
A salt spreader for a truck, also known as a tailgate salt spreader, attaches to the back and is ideal for dispersing rock salt over roads.
Most walk-behind and rear-mounted models have no motor and distribute rock salt as they move along.
More expensive salt spreaders tend to feature additional parts, sturdier designs, and occasionally a motor for better distribution and control.
How Does A Salt Spreader Work?
Both walk-behind and truck-mounted salt spreaders work in similar ways. Once you have filled the hopper with rock salt, you will want to adjust the auger to the correct height for optimum distribution.
The auger pulls the grit from the hopper through the discharge chute and onto a spinner, which spreads out the rock salt evenly.
If you are operating a salt spreader from the cab of a truck, you will sometimes have a remote control that allows you to turn on and off the spreader, so you do not waste any rock salt.
Benefits Of A Salt Spreader
There are plenty of benefits to using a salt spreader rather than a conventional method of dispersing rock salt.
Salt spreaders require much less effort than manually sowing rock salt. If you are older or have a chronic injury, spreading rock salt by hand can be tricky. By using a salt spreader, you can scatter your grit quickly and easily, which means spending less time in freezing conditions.
By filling up the hopper, you will know you have enough rock salt to get the job done. Nothing is more annoying than running out of rock salt midway through gritting your driveway and having to head inside to grab another bag.
You are going to have a tough time evenly distributing rock salt by hand. You might deposit a large amount of grit in one place. Snow spreaders have a spinner that is designed to scatter rock salt evenly.
As salt spreaders evenly distribute rock salt, you will find they are much more efficient and use less salt, saving you from buying multiple bags of rock salt.
Salt spreaders, especially walk-behind spreaders, are versatile and can be used on an array of different surfaces.
Drawbacks Of A Salt Spreader
While there are plenty of positives to buying a salt spreader, there are also a few drawbacks to buying one of these machines.
Some salt spreaders are expensive pieces of equipment. If you live in a part of the country that only experiences a few inches of snow a year, you probably won't have to use your salt spreader a lot. In this case, you would be better spreading your rock salt with a shovel or this hand-held spreader.
As well as being expensive, salt spreaders can also breakdown often if not properly maintained. Plenty of parts of salt spreaders can break, including the drag chain, the hopper, the spinner, and electrical plugs.
While salt spreaders come in handy before snowstorms, they are no good once snow has fallen or ice has formed. If you find you have missed your chance, you will be better off using a snow shovel or plow to remove snow. (Here are other ways to remove snow without a shovel.)
If you are expecting a bitterly cold winter, rock salt may not be the best option for you. Standard sodium chloride rock salt stops being effective at around 15 degrees. Consider more expensive rock salts like calcium chloride or magnesium chloride if you are looking for better results in colder climates.
Best Salt Spreaders
Scotts Turf Builder EdgeGuard Mini Broadcast Spreader
If you are looking for a cheap and reliable way of spreading salt around your property, use the Scotts Turf Builder EdgeGuard Mini Broadcast Spreader. There is a reason this is the number one selling salt spreader. This spreader can be used for a variety of products, including fertilizer and seeds, and it is suitable for spreading rock salt.
This manually-operated walk-behind spreader is small in size, making it ideal for spreading salt around the outside of your home. This spreader comes fully assembled and has a foldable handle for easy storage. You will find the hopper can hold plenty of rock salt, so you won't have to keep filling up the spreader when gritting your driveway and walkway.
With a price point under $30, this is a cheap investment for homeowners.
Agri-Fab 45-0462 Push Broadcast Spreader
The Agri-Fab 45-0462 is perfect for anyone looking for a well-made mid-range salt spreader. This walk-behind salt spreader boasts a rustproof poly hopper, meaning your spreader won't get damaged while operating in snow, ice, or rain. You won't have any issues stopping and starting with this spreader, thanks to its solid rod gate control. This solid rod gate control means you won't waste any rock salt trying to close up the discharge chute.
This model of Agri-Fab comes with pneumatic tires that make it ideal for working on a variety of different surfaces. The Agri-Fab's spreader can hold up to 130lbs of rock salt, and cover over half an acre's worth of land. You won't have to worry about this salt spreader breaking either, as the Agri-Fab45-0462 comes with a 3-year warranty.
Chapin 8201A 80-Pound Residential Salt Spreader
The Chapin 8201A is a walk-behind salt spreader that is perfect for driveways and sidewalks. As the name suggests, this Chapin has a hopper capacity of 80 pounds, meaning you can cover a large distance without refilling. This salt spreader's gearbox is fully enclosed to avoid damage and is covered by a sturdy steel casing.
One unique feature of this salt spreader is the design of its discharge chute. The chute has a fully adjustable gate, so you have complete control over how much rock salt you scatter. The spreader also comes with side baffles, so you change the direction of the spread. You'll find the U-shaped handle means you'll be able to operate the machine comfortably.
With 12-inch pneumatic tires, this salt spreader is perfect for working on an array of surfaces.
SaltDogg TGSUV1B Tailgate Spreader
Looking for an easy-to-use salt spreader that fits on the back of your truck? If so, consider the SaltDogg TGSUV1B Tailgate Spreader. This salt spreader is easy to mount on to most SUVs and pickup trucks with 1-1/4 inch or 2-inch receiver hitch. This salt spreaders hopper is ideal for gritting roads, with a capacity of over 300lbs. The hopper is also corrosion-proof and is built to last.
The SaltDogg TGSUV1B is simple to use. Thanks to its gravity-fed system, all you need to do is drive along, and the spreader does all the work for you. The 9-inch spinner on this salt spreader is perfect for gritting a large area with a range of up to 14 feet.
Turning this spreader on and off is quick and easy, due to manual on/off switch powered by a 12V direct current electrical system.
Brinly P20-500BHDF Push Spreader with Side Deflector Kit
A perfect mix of simplicity and accuracy is the Brinly P20-500BHDF Push Spreader with Side Deflector Kit. This multi-purpose spreader can be used for rock salt, fertilizer, and grass seed.
The Brinly P20-500BHF comes with a built-in deflector, so you can easily control the spread of your rock salt, without getting it on your front lawn while gritting your driveway.
With a 50lb capacity hopper, you'll find this walk-behind spreader easy to push without having to fill up multiple times.
The frame is composed of steel, and its enclosed gearbox means it's unlikely to break. It also has 12-inch pneumatic tires, with excellent maneuverability. If your spreader does need repairs, Brinly has a product support line that will help you with any queries.
3039632R Grounds Keeper Salt Spreader
The 3039632R Grounds Keeper Salt Spreader is a superb all-round machine. This lightweight walk-behind spreader features a rustproof poly hopper which can hold around 100lbs of rock salt. The discharge chute is easy to control, thanks to its lever-action system. If you're planning on operating this machine during rain or snow, you'll find the hopper cover super useful.
One of the best features of this salt spreader is its commercial-grade alloy gearbox, which will hold up even the harshest winter conditions.
Another handy feature of this machine is the hopper screen, which stops clumps of rock salt getting lodged in the spreader's auger and discharge chute. With an axle motion on the spinner disc, this spreader has a superior distribution of up to 24 feet.
Thanks to this machine's 13-inch pneumatic tire, you'll find this spreader works perfectly on all surfaces. The frame is built from fully welded coated steel to help resist corrosion.
Titan 50 Lb. Fertilizer Broadcast Spreader
A versatile spreader suitable for fertilizers and rock salts, the Titan Broadcast Spreader is great for various situations. This spread is less expensive than a lot of other spreaders but operates just as well as most other models. The 50lb capacity hopper is more than enough to grit the entirety of your drive, sidewalk, and roadway.
The frame of this spreader is composed of high-quality steel, and the sturdy plastic drum won't rust or break. The handle is ergonomic and can be adjusted to three different positions, so you won't have to bend over to operate this machine.
This spreader is also relatively light and only ways 25lbs, making it perfect for anybody who's older or experiences back problems. This model Titan is compact, which makes it ideal for moving seamlessly around obstacles.
Conclusion
Overall, salt spreaders a simple and quick way to distribute rock salt along driveways, roads, and sidewalks.
If you live in a state that experiences frigid winters with lots of snow and ice, a salt spreader will save lots of manual labor in the long run.
As salt spreaders can be quite expensive, anyone who lives in an area where snowfall and cold temperatures are uncommon might be better of using a different method to deposit rock salt across your property and neighborhood.
Be sure to check out all of our helpful Emergency Preparedness articles for dealing with snow and ice.