When the temperature drops below freezing and the ground becomes dangerously icy, you might be wondering, "What's the best way to walk around outside without slipping and falling?" Ice cleats are a popular option among people who live in frozen conditions and need to walk safely in the snow.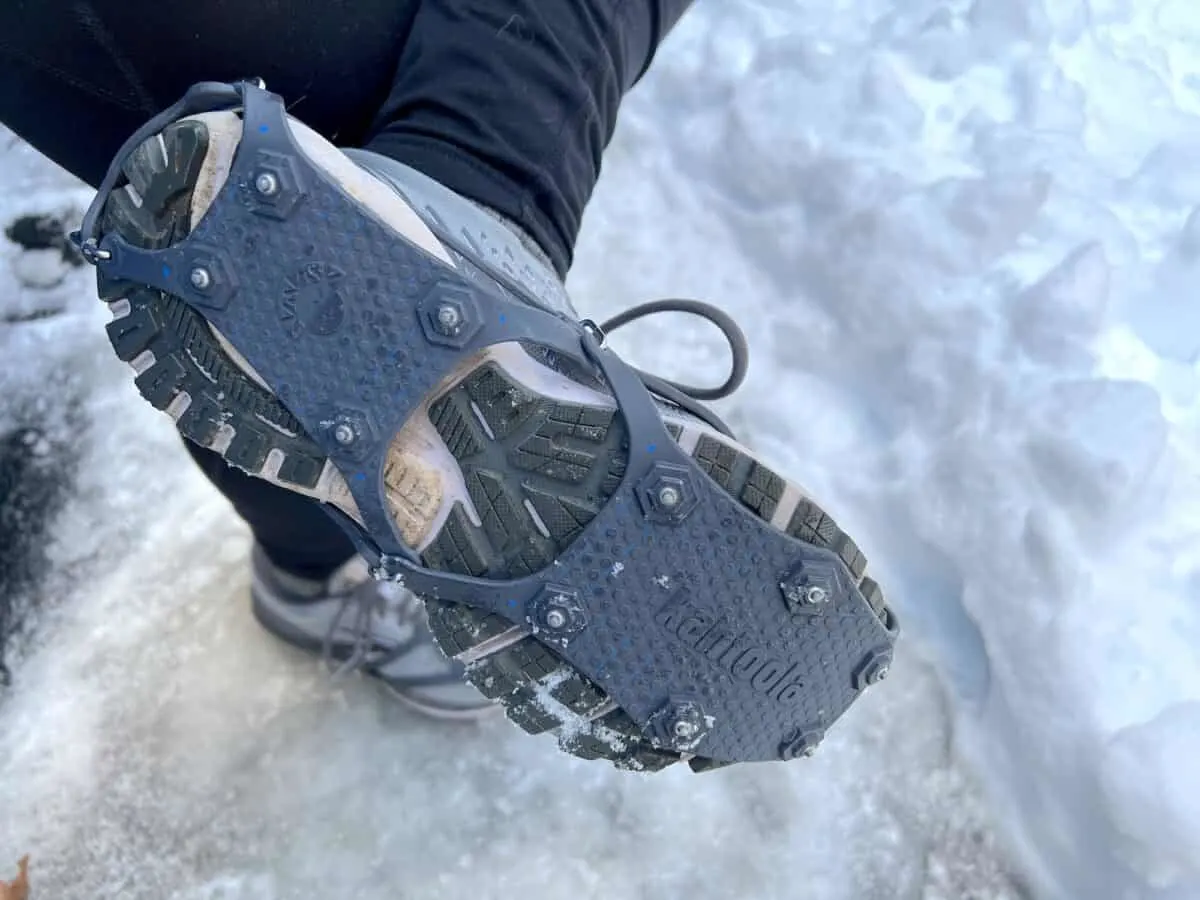 What Are Ice Cleats?
Ice cleats are an accessory that straps onto the bottom of any type of footwear. They vary in design, but usually feature rows of spikes or studs, which help you gain traction on snow and ice. Some snow cleats do not have any spikes at all, but instead feature rubber ridges and bumps to improve stability.
Ice cleats are different from crampons, which feature much larger spikes for use in snow during mountain climbing expeditions.
Ice cleats are easy to fit onto your shoes. Most ice cleats are made of pliable rubber, which stretch to fit around most size shoes. Some designs feature Velcro straps that tighten around your boots, so your cleats do not slip off while walking.
Many ice cleats are composed of thermoplastic rubber, which can withstand temperatures below -40 degrees Fahrenheit. The rubber is also lightweight, which means you won't feel like you are weighted down as you walk.
Ice cleats can be fitted onto a range of footwear from sneakers to hunting boots. They are easily removable, which is ideal when you need to wear a pair of shoes both outdoors and indoors.
Ice cleats have been around for hundreds of years, with scientists and historians tracing their routes back to the Vikings.
Many people now use ice cleats to go jogging or hiking in the snow to stay active even in inclement weather. In fact, ice cleats are now becoming more popular in day-to-day use.
This safety equipment also comes in very handy in industrial workplaces. Many companies require their staff to wear ice cleats while working outside, especially when operating heavy machinery during the winter.
Related Posts:
What To Consider When Using Ice Cleats
If ice cleats work so well, should you buy a pair?
While ice cleats are useful in some situations, they can also be a hindrance in others. Wearing ice cleats does not guarantee steady footing in wintery conditions, so you should continue to move cautiously on snow and ice.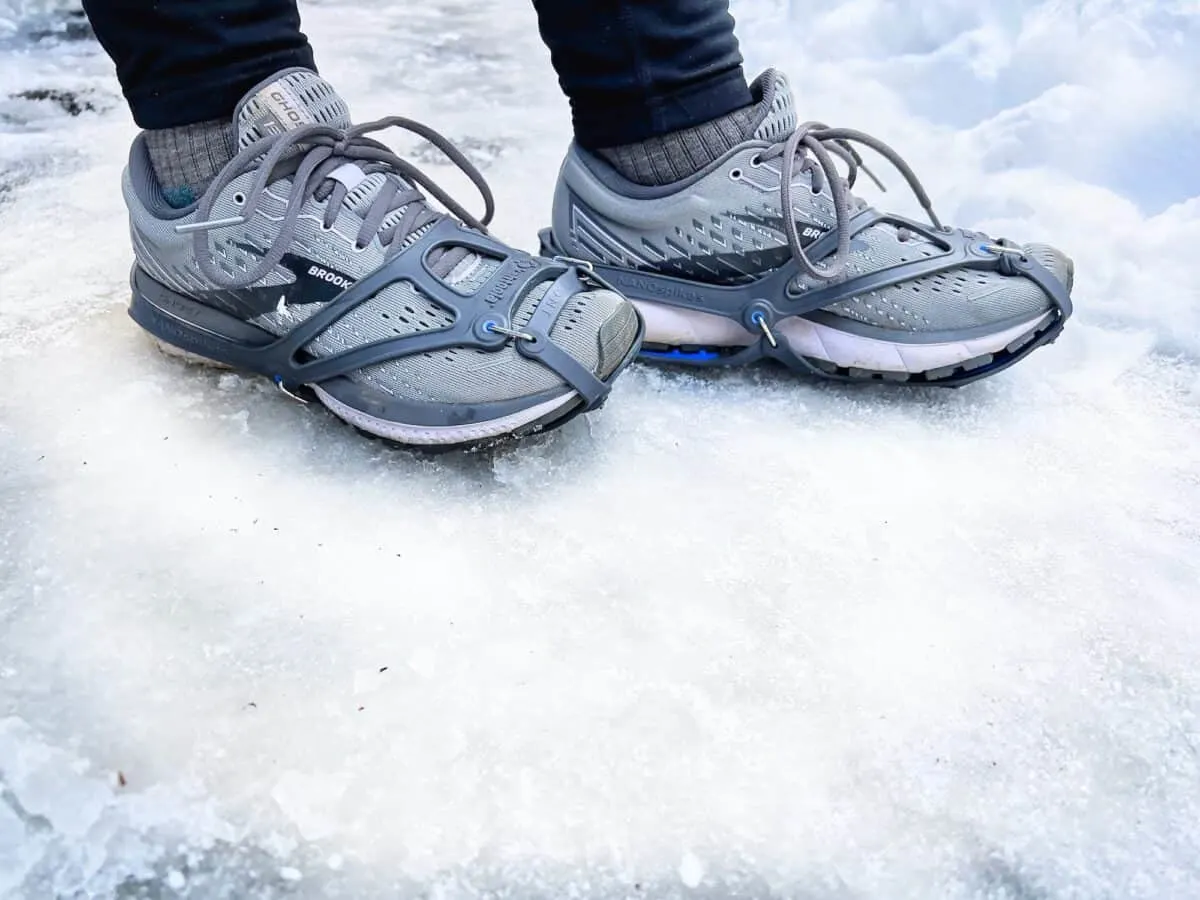 You should also be careful when transitioning inside while wearing ice cleats. It is easy to forget you are wearing them while outside. However, ice cleats can be hazardous inside. Some designs will cause you to slip if you do not take them off before entering a building.
Cleats with sharp spikes may also scratch hard flooring.
Many modern designs have a feature known as "Transitional Traction." Transitional Traction is usually present on rubber-soled ice cleats and allows you to walk inside without any issues.
Overall, wearing ice cleats can be highly beneficial. According to the Center for Disease Control and Prevention (CDC), slipping on ice and snow causes around 1 million injuries every year in the US alone. Of these 1 million injuries, approximately 17,000 are fatal.
With such a large number of injuries every year, it is essential to do everything you can to avoid slipping on the icy ground. Ice cleats can reduce the chance of falling, potentially saving you a lot of pain and thousands of dollars in medical bills.
You can purchase a pair of ice cleats for as little as $10, so it is not a large investment if you are unsure of how effective they will be.
Related Posts:
Different Types of Ice Cleats Available
There are a variety of different types of ice cleats to buy. Be sure you choose a variety with the features that make sense for the type of weather and conditions you will be wearing them in.
Kahtoola NANOspikes
I own a pair of Kahtoola NANOspikes traction footwear and am really surprised at how comfortable and lightweight they are. My video review of these cleats can be seen below:
Kahtoola NANOspikes are designed to seamlessly transition between dry and slippery pavement. There are 10 spikes per foot, made of embedded tungsten carbide tips.
The stretchy material will remain stretchy to slip over your shoes in temperatures down to -30 degrees Fahrenheit.
NANOspikes are designed for less intense winter weather. If you know you will be in a lot of ice and rugged terrain, the company makes other versions with bigger metal spikes.
Yaktrax Pro Traction Cleats
Yaktrax is one of the most popular ice cleat brands and with good reason. The Yaktrax Pro Traction Cleats are composed of rubber and are wrapped in 1.4 mm stainless steel coils that provide decent traction on slippery surfaces.
With an adjustable strap and stretch-to-fit rubber frame, these ice cleats will shape to any shoe with ease.
The Pro Tractions Cleats have been tested in temperatures of -41 degrees to ensure they work in even the coldest environments.
AGOOL Ice Cleats
If you would prefer a traditional spiked model, consider the AGOOL Ice Cleats. These cleats are constructed from thermoplastic rubber, which is durable, lightweight, and will stretch to fit onto different shoe sizes. They also feature an adjustable velcro strap to ensure a tight fit.
The bottom of these cleats boast 24 stainless steel spikes, which provide excellent traction and stability in snowy and icy conditions.
Limm Ice Traction Cleats
Limm Ice Traction Cleats have a practical and straightforward design. Composed of stretchable plastic, they can be folded up to fit in your pocket.
Their stretchable design means they fit comfortably on all shoes, including hunting boots and fishing boots.
They feature ten studs which provide ample traction on icy ground.
ICETrekkers Diamond Grip Traction Cleats
Another popular metal-based ice cleat is the ICETrekkers Diamond Grip Traction Cleats. These cleats consist of steel alloy beads attached to steel aircraft cable for superior durability and grip.
The unique design of these beads means these cleats provide 360-degree grip and are self-clearing, so you won't have any build-up of snow on the bottom of your shoes.
Winter Walking Low-Pro Ice Cleat
Winter Walking Low-Pro Ice Cleats are perfect for all conditions. One of the key features of these cleats is they feature a Transitional Traction design, meaning you can walk inside and out without worrying about slipping over.
These ice cleats have 26 tungsten carbide studs, which are barely visible but provide exemplary traction. These small studs also mean you will not damage hard flooring while walking indoors.
Related Posts:
Ice cleats are one of the best ways to prevent falls on ice and snow. They are proven to provide traction on icy ground by creating traction and friction through studs, spikes, and ridges.
Whatever ice cleats you decide to buy, they are one of the best ways to prevent accidents on the ice.