If you realize that you can't keep shoveling snow at home anymore, then you will probably want to invest in a snow blower. You can save a significant amount of money by waiting to purchase your snowblower in the off-season. I have found that the best time to buy a snowblower is at the end of winter. At this time, you will find that snow blowers are discounted to make way for spring and summer gardening tools. This is also the time where you are probably swearing that you never want to shovel snow again!
The discounts can vary depending on the make and model (see the best brands of snowblowers) and where you purchase the item. I have seen savings around 30% off consistently compared to the peak-season pricing.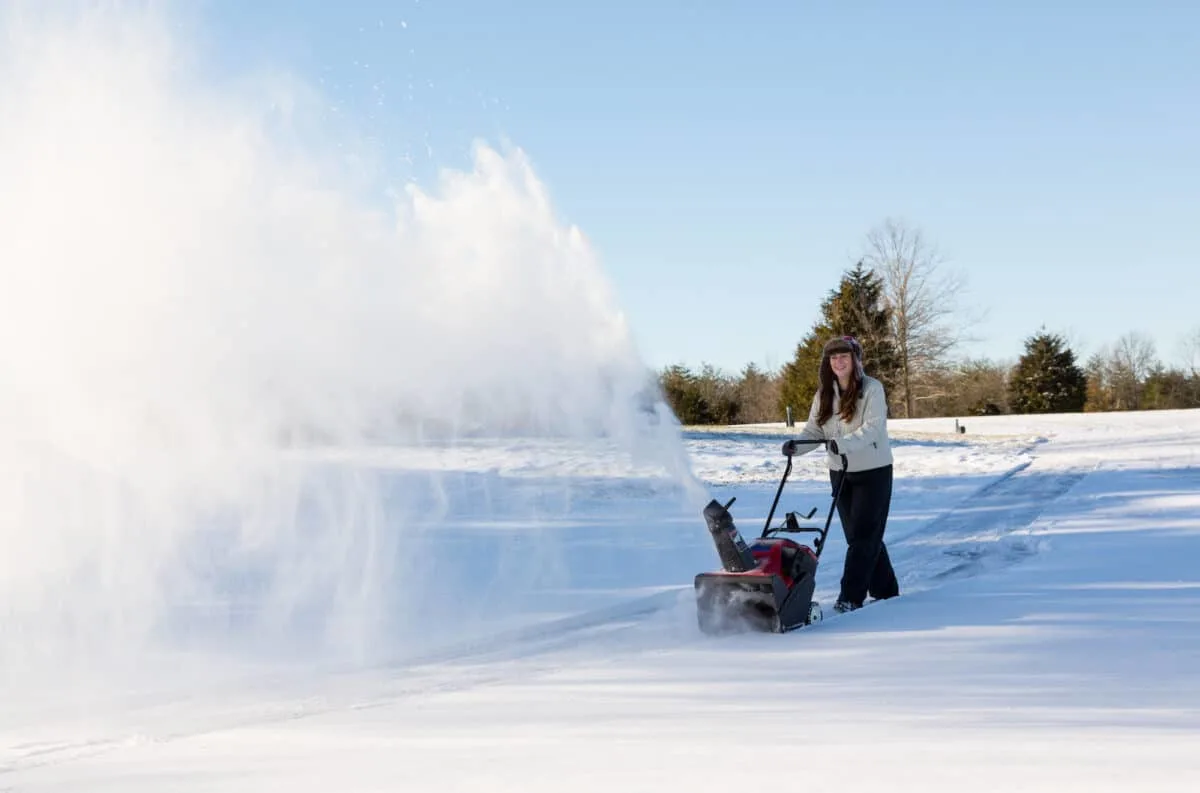 First, be sure you even need a snow blower and whether a snowblower is worth the money or not. Here's the minimum depth of snow you need to use a snow blower.
And, consider whether or not you will want heated hand grips for your snowblower. The cost could be worth the extra comfort and increased time of use.
The Best Time To Buy A Snowblower
Sadly, not all of us can afford to wait until the end of winter to purchase a snowblower. Luckily, there are some other times of the year where you may be able to get reduced pricing. I have found that you get the best price reductions listed below in stores, rather than online.
I assume this is because brick-and-mortar stores have less available space compared to online stores who have large warehouses and are less dependent on creating space for prime seasonal products for customers to see.
Spring
Stores use past-sales to figure out how many snow blowers they are likely to sell during the peak season. As this ends in the spring you will find that the majority of stores have very few snowblowers remaining. Since stores want to create space for other popular items that are sold in the Spring and through into the Summer, they introduce incentives that encourage customers to buy.
At this time you could even ask to buy the floor model (the snowblower they use as a demo). Stores are always wanting to sell these and often discount them by an additional 10% to 20%. These models still come with the same warranty, and often include the instruction manual. They just don't usually come with the box.
While the range of snow blowers is likely to be minimal compared to the peak winter months, the benefit of purchasing a snowblower at this time is that dealers are likely to give customers significant discounts in order to fast-track the clearance of the remaining stock.
Summer
Finding a snowblower in Summer is hard. If there are any snowblowers remaining from the late Spring sales they are often moved into the back to provide additional prime retail space for the best selling products.
However, some stores need to sell snowblowers even in the summer. Either because they don't have any storage in the back and therefore have to put all stock out onto the shop floor. Or because they need the revenue to reinvest into the business either in more stock or repairs.
With the sun out and no snow falling, people aren't worried about replacing an old snowblower (while donating their old snowblower) or the prospect of removing snow from their properties in a couple of months. Instead, they are concerned with cutting their lawn, replacing fence panels, etc.
Therefore the only way stores are going to entice people to purchase snow tools is by heavily discounting them. While finding snowblowers in retail stores may be difficult, and choice maybe limited the reward for doing so is likely to be a significant savings.
Early Fall Season
Personally, I opt to buy any replacement snow tools in early fall. It's one of the the things I do on my Fall Home Maintenance Checklist. I use this time to take stock of the products I have and make a list of what I am likely to need to replace. I then use online reviews and forums to find the best make and models of each item (I often find three so I have some flexibility when shopping) and hit the stores.
The months of August and September I have found are particularly good – especially in preventing yourself from getting to December and remembering that you do not have a machine to clear snow around your home.
While the prices might not be as competitive as they are in the late Spring and early Summer, the variety is significantly better as retailers begin to prepare for the winter months. Manufacturers also distribute new models of their most popular snow tools then.
Black Friday
Despite Black Friday being during the winter months in which you may find yourself using a snowblower, you can find some discounts. These discounts are often available online and in store and are very common for older models which are being discontinued and replaced by a new model.
Due to the demand for snowblowers in that season, availability can be hit and miss, especially given the discounts available. However, if you are happy to purchase a slightly older model, albeit brand new, then Black Friday can be the perfect time to do so.
End Of Winter
While the snowy season may be over by the end of Winter, manufacturers are keen to ensure that they sell the remaining inventory to make way for the new models they are releasing in a couple of months' time.
While the peak season for sales may have gone, there should still be a relatively good range of snowblower makes and models available in major retailers. An if you time it right, sales will just begin to appear which allows you to balance between saving money and still getting the snowblower you have decided is best for your needs.
However, you may have to wait 10 months to use it.
If you are replacing a snow blower when you buy a new one, here are some great ideas of where you can donate your old snowblower.
Worst Time To Buy A Snowblower
We've discussed the best time to buy a snowblower, but what about the worst? In the majority of cases is a simple equation between supply and demand. Although you may get lucky and find a discounted snowblower available during the peak season.
Snowblowers and other snow tools are most popular in the run-up to a snowstorm. At this time not only will you find prices to be at their highest as stores know customers will need to buy snow tools based on previous historical data (and well, common sense) but you will also find it difficult to find any availability as stores try and maintain replenishing the stock to meet demands.
I moved to Minnesota in November 2002, the week after we moved in there was set to be a huge blizzard. As this was our first home, I had to buy all new snow tools along with half of Minnesota (or so it felt). I rushed to the local Home Depot only to find that they had sold out of half the stuff I wanted.
I spent two days wandering multiple hardware stores to find the tools I wanted, and even then I ended up compromising on makes and models while paying significantly more than I would have had I been able to purchase my snow tools in the months listed above.
Related Posts:
Supporting Research
All of the above was my opinion based on almost twenty years of buying snow tools. However, I decided to use historical data from Amazon to be sure that my experience of discounts and availability would be the same nationwide.
Honda Two-Stage HSS1332AAT
I began by looking at the relatively new Honda two-stage HSS1332AAT. This model first made an appearance on Amazon in December 2018. At this time it retailed for around $3,185. However, it quickly sold out (the dotted line) and when it came back in stock it peaked at almost $700 more.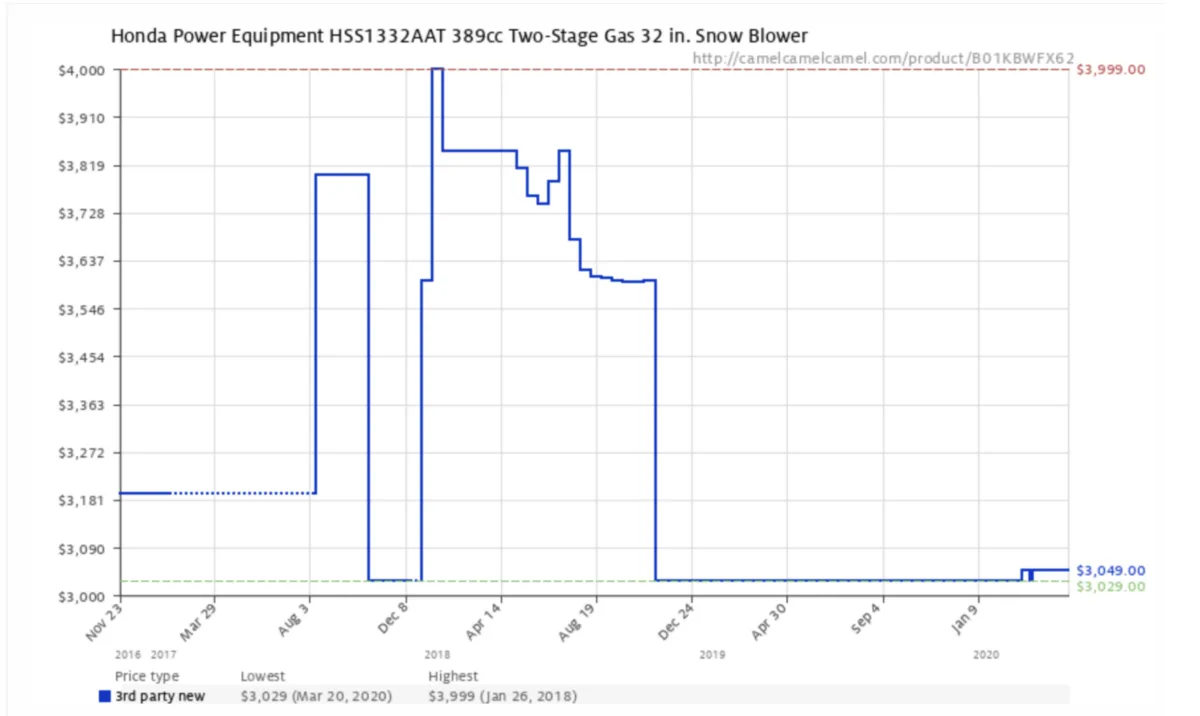 It went to one of it's lowest prices of all time shortly after (I assume for Black Friday) before returning to almost $4000 between January and June. It dropped in price again during Black Friday 2019 and has remained at this price since. This demonstrates that Black Friday can be a great time to buy a snowblower even though it's nearing peak season.
Ariens Two-Stage 921046
Next is the Ariens two-stage snowblower model number 921046. You can see at the bottom that the lowest this item has been is $1,103 which was in August 2019. Being the summer months this is as I expected.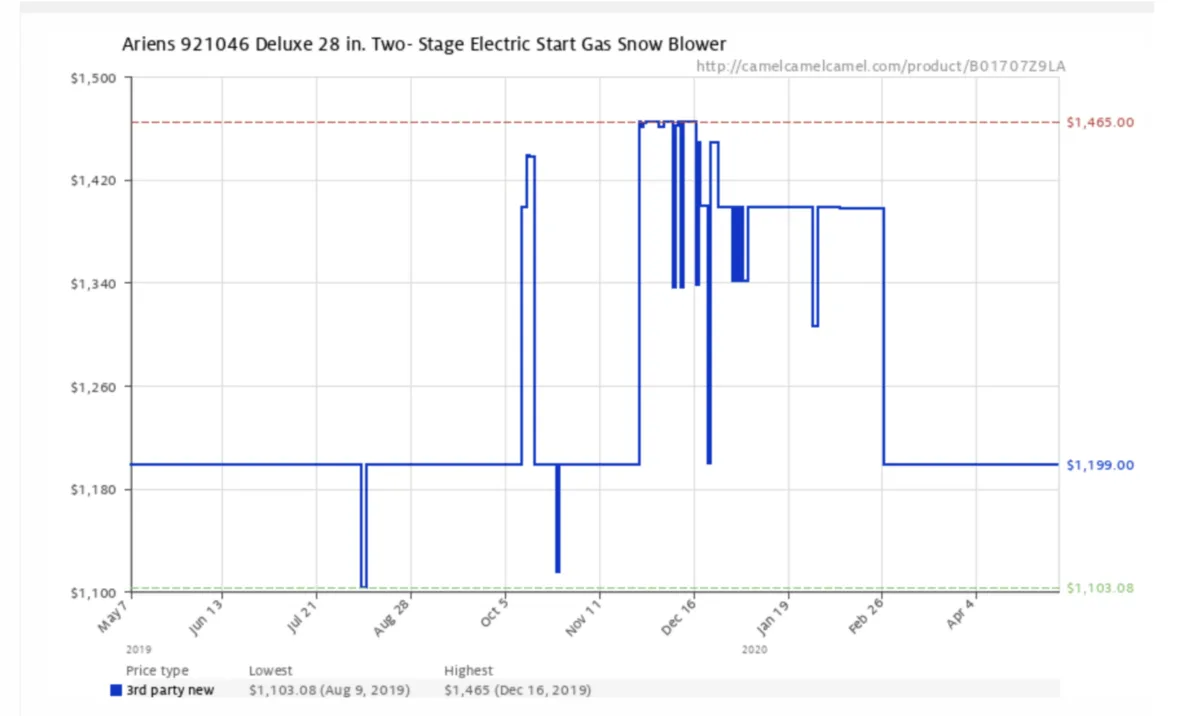 An the most expensive time to purchase the item was in the middle of December when the same snowblower was being sold for $1,465. Purchasing the snowblower in August at the $1,103 price you'd have saved 25% compared to the highest sale price of $1,465 in December.
Again, this is as expected as December is a month with high-snowfall and therefore an increased number of people will be looking to purchase snow removal tools.
Briggs & Stratton Single-Stage 1696506
Finally, we have the single-stage Briggs & Stratton model number 1696506. This snowblower has been for sale on Amazon since 2014.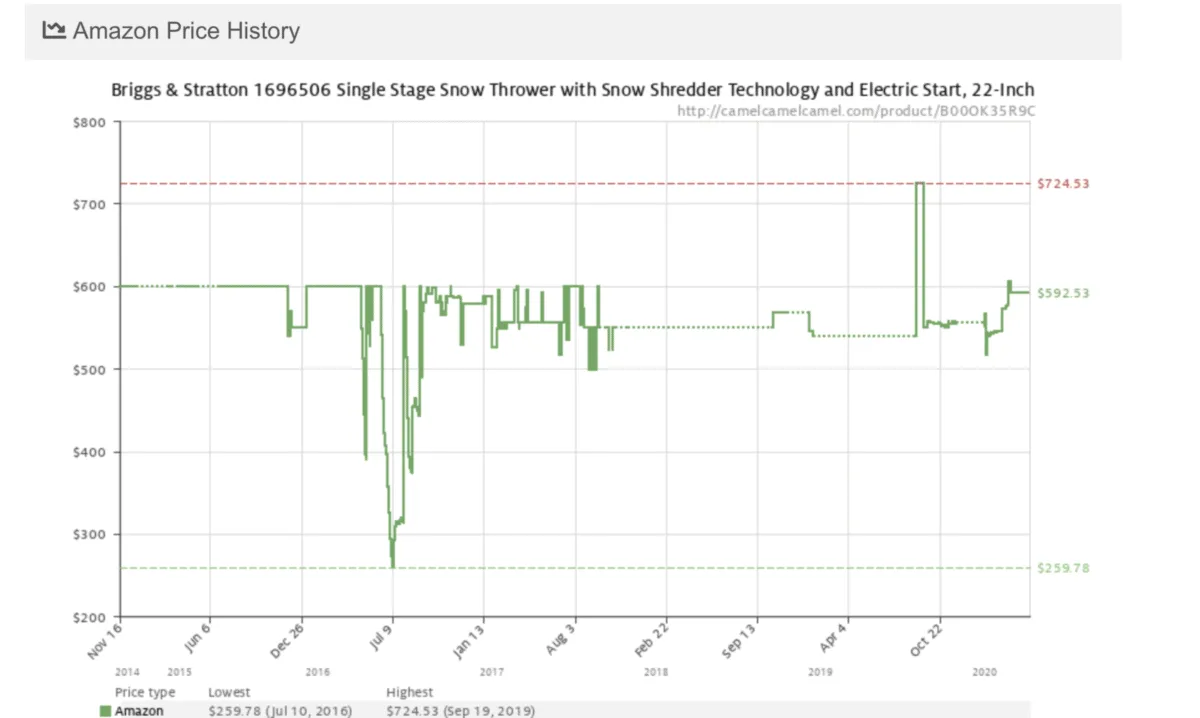 The snowblower stuck at the $600 price from when it premiered on Amazon in November 2014 through until November 2015 – at which point I assumed it was discounted by around $50 for Black Friday.
During the summer months of 2016 the price fluctuated significantly and actually reached it's lowest price ever of $259.78. However, the price stabled out between the $500 and $600 price range over the winter months as we expected.
The model went out of stock for a significant period of time during 2018 and early 2019 before reappearing in the winter of 2019 at a price of $724. The price dropped back down to around the $550 mark shortly after and the machine continued to hover around this point today.
Again, all this demonstrates is that the summer months provided those looking for a snowblower with the chance to purchase one at 50% off compared to the standard price.
There are many ways to remove snow! Check out these smart ideas to remove snow without a shovel. And here's how to prevent snow from sticking by using rock salt.