Snow chains are excellent for getting you out of trouble when snow blankets the roads. Carrying snow chains with you can be potentially lifesaving, especially when you are caught in a sudden blizzard. But are snow chains any good for when you are stuck in the mud? Keep reading to find out if your snow chains are any good for use on muddy country roads.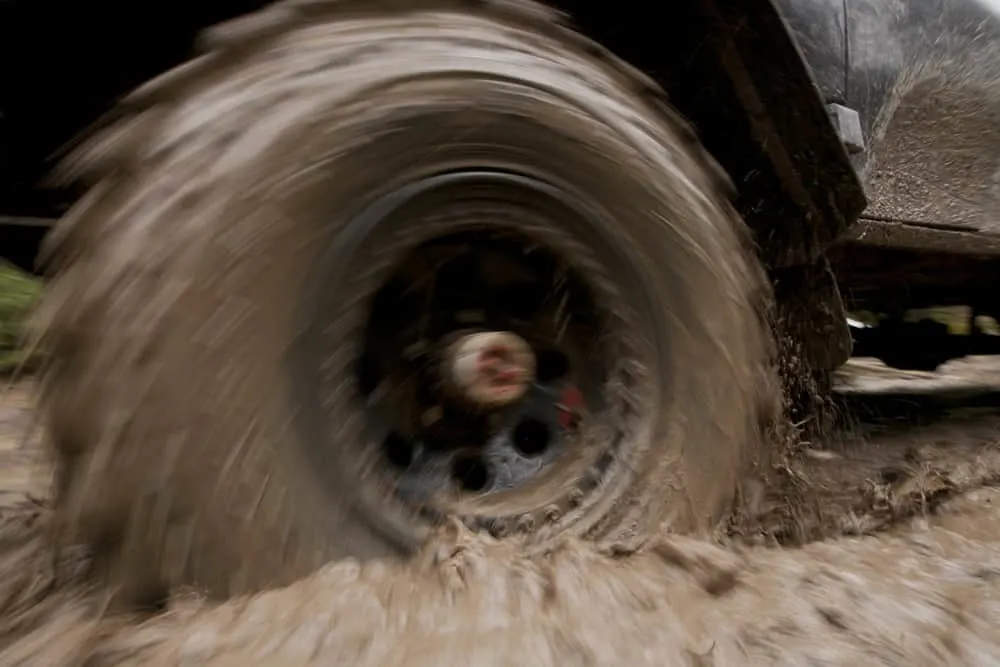 Can I Use my Snow Chains in Mud?
Snow chains can be very beneficial driving on muddy roads. Lots of snow chains are advertised as useful on snow, ice, and mud. In many ways, driving on snow and mud are similar. Your wheels won't be able to get the same traction on mud as they would do on your average roads. This lack of grip will cause your wheels to spin, sinking your automobile into the mud, getting you stuck.
If you are driving through a particularly muddy area for several miles, you will find snow chains will speed up your drive significantly. Just check your snow chain's manual to ensure you don't exceed the maximum speed, which is usually around 25 mph.
Considerations: Suitability and Legality
While snow chains can come in handy on muddy roads, they are not guaranteed to get you out of a tight spot. If you come across a particularly boggy patch in the road, you may be better off winching your car through the area.
You may also find you have to go on and off muddy roads frequently during your trip. If so, make sure you remove your snow chains on hard surfaces. Driving with snow chains on hard dirt roads or asphalt could seriously damage your tires, car, and snow chains.
You should also avoid using most snow chains on sand roads. Snow chains will not give you the same traction as they will on snow and ice. If you try to drive on sand with snow chains, you will find your tires cut straight through the sand and bury your wheels.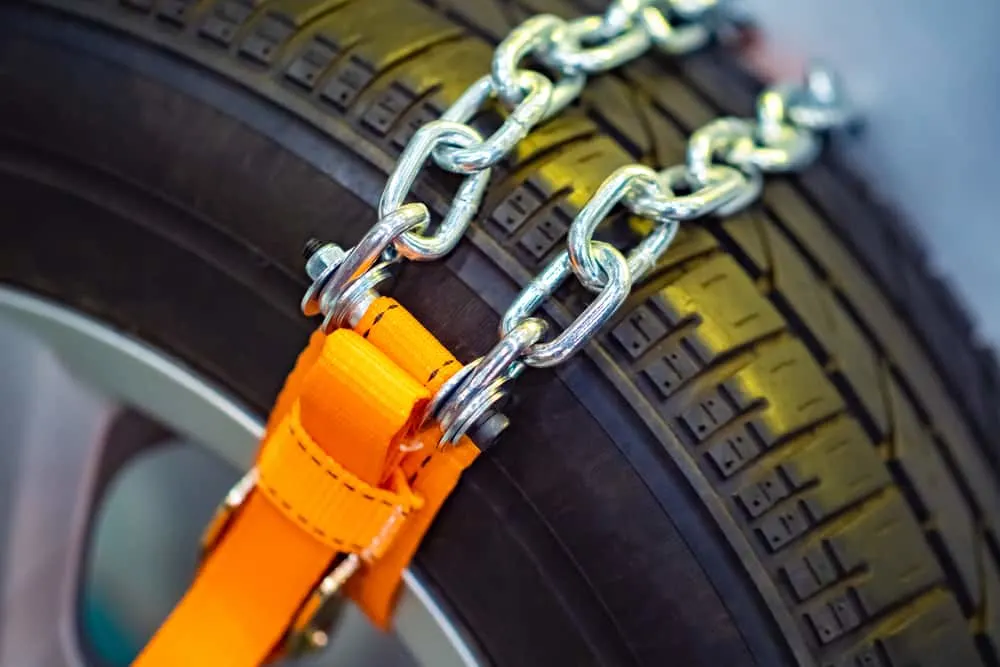 It is not always legal to use snow chains on dirt roads. Be sure to check with the correct authorities beforehand. For example, it is illegal to drive with snow chains in some national parks and other federally managed areas, as snow chains will damage the ground and potentially the park's ecosystem.
When buying snow chains, consider your vehicle's transmission. If you have a front-wheel or rear-wheel drive engine, you will only need to attach snow tires to the drive tires. However, anybody with an all-wheel drive transmission should consider using snow chains on all four tires to ensure all wheels have the correct traction.
Best Snow Chains for Mud
If you find yourself having to drive down muddy stretches of road regularly, it is worth picking up a snow chain set. You will find lots of different types of snow chains on the market that are advertised as being effective on muddy surfaces. Here are a few of the best models available today.
Peerless 0232805
Peerless makes some of the best multi-purpose snow chains available. Thanks to their self-tightening rachet installation system, Peerless 0232805 snow chains are suitable for SUVs, small trucks, and cars. The chains feature a standard diamond pattern chain link, ideal for car's anti-lock braking systems.
Security Chain SZ451 Super Z6
These innovative snow chains from Security Chain are perfect for use on an array of roads and vehicles. Rather than standard chains, the Security Chain SZ451 Super Z6 boasts diagonal alloy steel cables for added durability. These cables are only 1/4″ thick, making them great for use on automobiles with low tire clearance.
The Security Chain SZ451 Super Z6 also comes with extra rubber tensioners, a step-by-step instruction manual, and a nylon bag for easy installation and storage.
Trac-Grabber
While not a conventional snow tire, Trac-Grabber has been designed especially with mud in mind. Trac-Grabbers are more like traction blocks than they are snow chains. You strap one of the blocks to each tire, straighten up your wheels, and drive slowly forward at around 5mph.
Trac-Grabbers are even suitable for use on sand, making them a must-buy for any avid off-roader.
---
While snow chains work well in mud, they also work great in ice and snow, too. If you are buying them for year round use, follow these helpful tips for making sure your snow chains don't damage your tires and what you need to know for using snow chains on low profile tires.