Driving on snow and ice can be an ordeal, especially if your vehicle isn't prepared. Before getting on the road, you will want to make sure that you have got the right equipment to make it from point A to B. Snow chains and winter tires are two commonly utilized tools that stop your car from getting stuck during a blizzard. But which are better, snow chains or winter tires? Here is everything you need to know.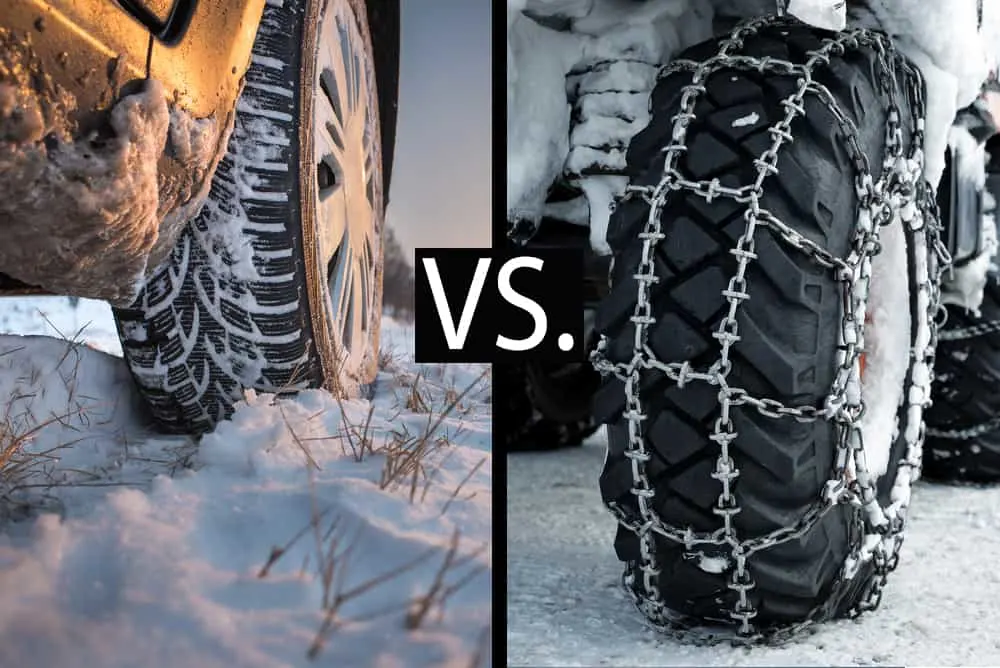 What Is the Difference Between Winter Tires and Snow Chains?
If you are not used to snowy roads, you might be unsure of the difference between winter tires and snow chains.
Winter tires are tires specially designed for winter conditions. The difference between winter tires and regular tires is that winter tires have a wider, deeper tread than stock tires, which gives them better traction on snow and ice. Often snow tires are also made of a softer rubber than traditional tires, which helps provide additional traction at temperatures below 7 degrees Fahrenheit. Some even come equipped with metal or ceramic studs; however, these tires are less common and better suited for deep snow on country or dirt roads.
Snow chains are different as they are removable devices that strap onto your vehicle's tires. Snow chains come in a variety of designs and are usually made out of a steel alloy. The grooves between the chains greatly increase grip on the road, making it much easier to drive on snow and ice.
You usually strap snow chains onto your drive tires but the chains can be attached to all four wheels for additional traction.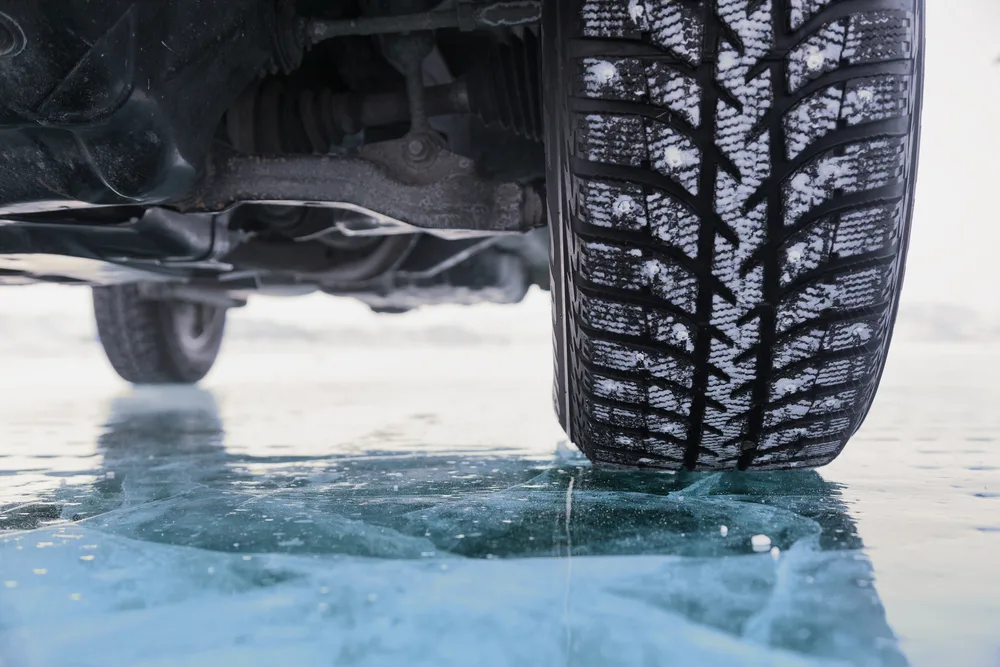 Winter Tires vs. Snow Chains
Winter Tires
Pros
Unstudded winter tires can be used on any road surface.
You can drive faster on winter tires than snow chains. The max speed on snow chains is around 30mph.
Winter tires provide better braking distances on snow than snow chains.
Cons
Studded winter tires are illegal to use at certain times of the year in some states, as they can damage the road similar to snow chains.
Non-studded snow tires will wear out over time of paved roads, limiting their usefulness over long periods.
Snow Chains
Pros
Snow chains are far less expensive than winter tires, making them ideal for occasional snowstorms.
Snow chains are much easier to fit onto your car than winter tires. They even work on low profile tires. Most snow chains can be attached to wheels within a few minutes.
Snow chains provide far superior traction over winter tires in deep snow.
Snow chains generally provide better grip than winter tires, especially in the deep snow.
Snow chains usually provide better braking distances on ice than snow chains.
Cons
Snow chains need to be removed when driving on paved roads with no snow or ice, as this could damage the road and your car.
Snow chains have been known to break and snap when used on dry surfaces or when used when driving at high speeds.
Not all snow chains are the same, so you need to do some research and careful consideration to find out which type is best for you before buying.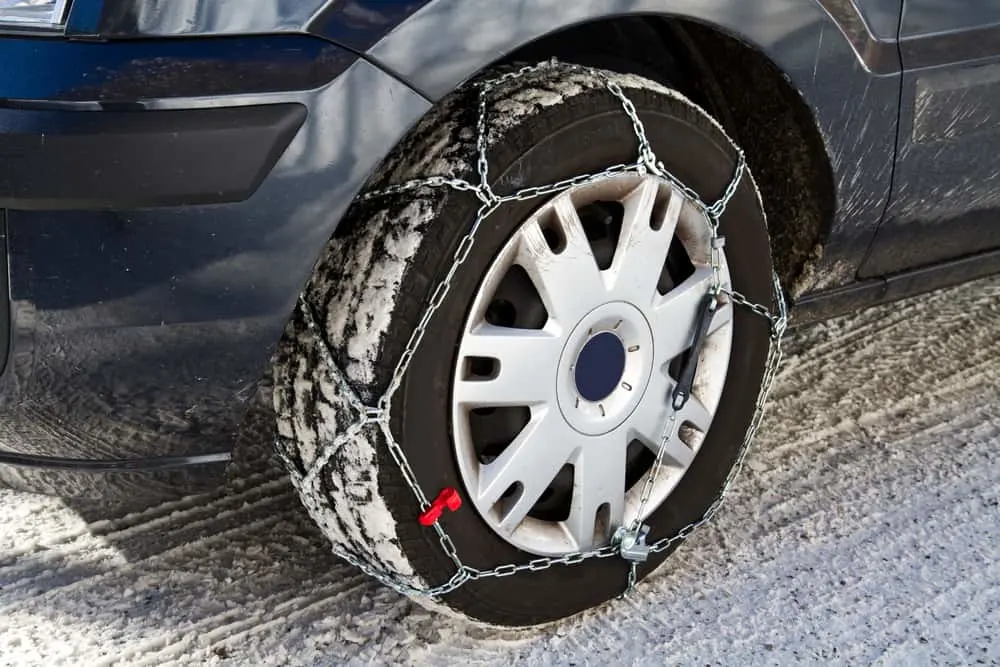 Which are Better: Winter Tires or Snow Chains?
Overall, there is no clear winner between snow chains and winter tires as they perform better in different conditions. Snow chains tend to perform better on ice and in deep snow, while winter tires perform best on lighter coverings of snow.
If you live in an area that experiences harsh winters with frequent snowstorms, consider buying a set of winter tires. You will find they come in useful, and you will not have to keep removing and applying snow chains. That being said, winter tires are pricey and should only be purchased if you feel they will get plenty of use.
Snow chains are an affordable alternative to winter ties, that perform the same if not better. Due to their low cost, snow chains are easy to replace if they break, and are ideal for drivers worried about getting caught in the occasional storm.
If you have muddy dirt roads during other times of the year, snow chains also work well in mud.
Best Snow Chains and Winter Tires Available on the Market
Whether you choose to get a set of winter tires or snow chains, it is worth considering which brand and style to pick, as there are many options available.
Sumitomo Ice Edge Studable-Winter Radial Tire
If you choose to buy winter tires, look at the Sumitomo Ice Edge Studable-Winter Radial Tire. These reasonably priced tires have wide, serrated treads for optimal performance on snow. One of the best features of these tires is Sumitomo's unique 3D siping pattern, which provided superior traction to other winter tires. You can also attach studs to these tires, making them great for use in all conditions.
Security Chain Company SZ143
Alternatively, you might opt for a set of snow chains instead, in which case consider something like the Security Chain Company SZ143. These snow chains feature a diagonal pattern cable design, making them durable and ideal for low clearance vehicles. One of these snow chains' best features is their "designed in" rubber tighteners that tighten around your wheels automatically. This feature means you won't have to get out of your vehicle and manually tighten them after installation.