Whether you get a light snowfall or powerful blizzards each winter, you might be wondering whether it is worth buying a snowblower to help keep your driveway and yard free from snow. A snowblower can be a great machine to have to easily clear away snow drifts. However, not everyone should buy a snowblower, which brings us to the question, are snowblowers worth the money?
As a general rule of thumb, a snowblower is worth the money if you get more than 20 inches of snowfall every year. At this point, the investment of between $200 and $1,500 is balanced out by the amount of work you save yourself from either paying someone for snow removal or using a shovel to remove snow yourself.
However, as with all things, there is no easy answer to the question for everyone. The following guide will help you determine whether the cost of a snowblower is worth it for you.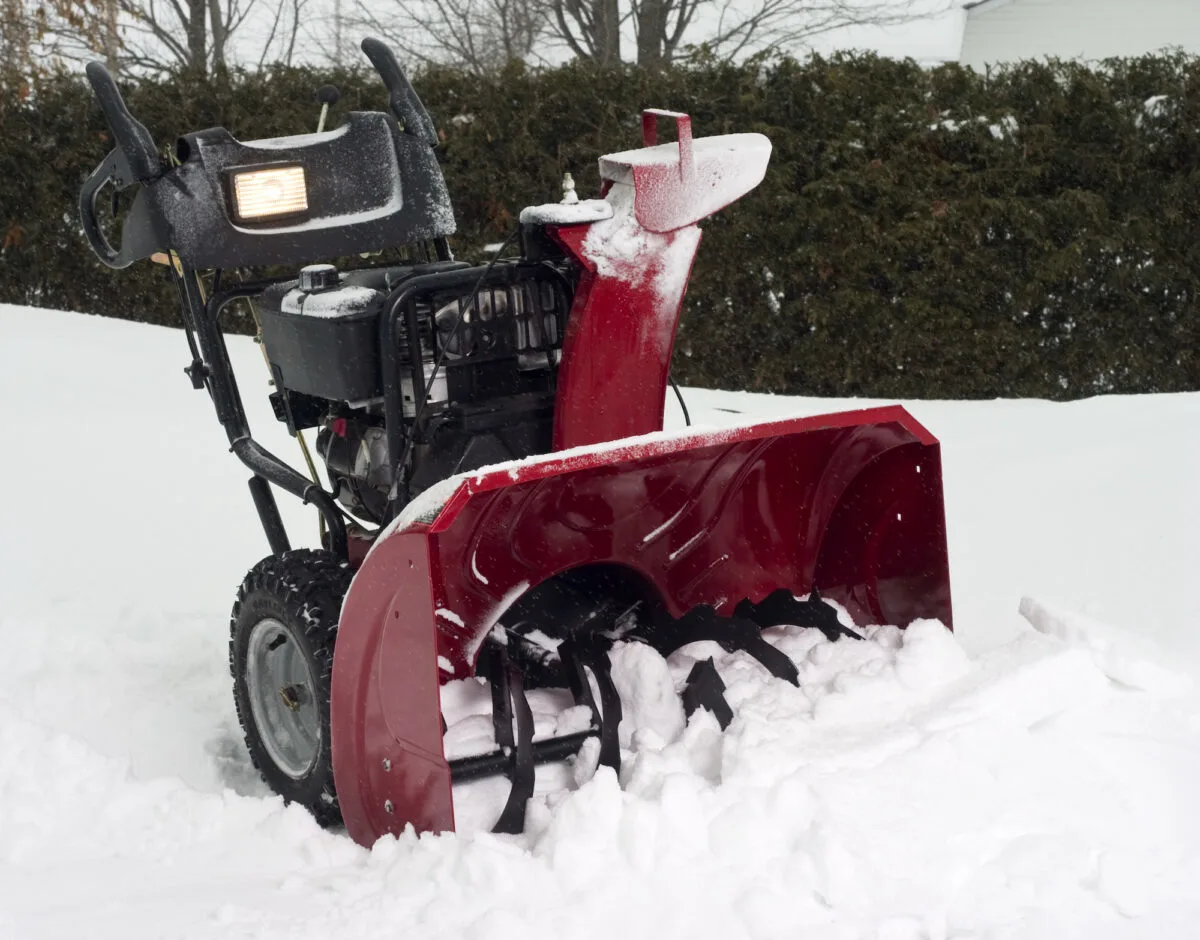 Table of Contents:
What is a snowblower?
How much do snowblowers cost?
Where are the best states to use a snowblower?
Best ways to use a snowblower
Are snowblowers worth the money?
What is a Snowblower?
If you are new to having to clear snow from your property, you might be wondering what is a snowblower?
A snowblower is a piece of machinery powered by gas or electricity that runs on either tires or tracks. Snowblowers collect snow using a rubber auger, which is then fed through a discharge chute, which throws broken up snow away from your property.
There are big differences between snowblowers and snow throwers, so be sure you know which type of snow removal equipment you should be considering buying.
There are three different types of snowblower: single-stage, two-stage, and three-stage. The main difference between these types is that two-stage and three-stage snowblowers feature extra components that help remove and break-up snow more efficiently.
A two-stage snowblower includes an impeller, which propels the snowblower forward and helps shoot snow through the discharge chute faster.
A three-stage snowblower features both an impeller and an additional dicing auger, which breaks down densely packed blocks of snow with little effort.
How Much do Snowblowers Cost?
The price of snowblowers differs greatly, depending on the brand, type, and power source. You will generally find that two-stage and three-stage snow blowers cost a lot more money than a standard single-stage snowblower, due to the use of an impeller in their design.
Generally, a gas-powered single-stage snowblower can be purchased for anywhere between $250-$600. At the higher end of this scale, you will find some of the best brands of snowblowers like Honda and Cub Cadet.
Both brands build high-quality engines with easy to replace components, saving you money in the long run.
There are accessories that can make snowblowers more enjoyable to use in winter weather, such as heated hand grips. While these are not necessary, they can help you comfortably use the machine for longer in colder weather.
If you are looking to save money, consider going with a battery-powered model like a Ryobi. New battery-powered snowblowers are generally inexpensive and can be bought for under $200. The reason battery-powered models are more affordable is that their battery tends to run low quickly.
Battery-operated snowblowers are also not as good at breaking up dense layers of snow as their gas-powered cousins.
If you have a lot of snow you need to blow, you are better off purchasing a two-stage or three-stage snowblower. These snowblowers contain additional mechanisms, which more effectively break up dense coverings of snow.
Two-stage snowblowers are much more expensive than their single-stage counterparts and can cost somewhere between $800- $2000. While much more expensive, these snowblowers are much easier to use than single-stage snowblowers as they propel themselves forward and clear snow quicker, thanks to their impeller.
If money is not a problem, a three-stage model could be the best solution for you. While not as common as single-stage and two-stage snowblowers, brands like Troy-Bilt and Craftsman do manufacture high-quality three-stage blowers. Three-stage snowblowers are expensive and can set you back anywhere between $1,500-$4,000 but are well worth buying if you are able.
Regardless of the type of snowblower you buy, here are the best times to purchase a snowblower and save up to 30% of the suggested retail price.
Or you can try to buy a used machine when people donate a snowblower to a thrift store or consignment store.
Where Are the Best States to Use a Snowblower?
Another important point to consider is whether you are going to get enough use out of your snowblower. Snowblowers are best purchased if you live in a state that experiences large amounts of snowfall every year.
If you live in Wisconsin, a snowblower is a smart purchase, as there is generally over 50 inches of snowfall every year.
Most states close to the Canadian border, like Minnesota, Michigan, the Dakotas, and Maine experience over 40 inches of snow each year, so you will no doubt have to break out your snowblower several times each winter.
While states like Idaho, New Jersey, Missouri, Kansas, and Kentucky do get some snow each winter, it's usually between 10-20 inches, meaning you might not have to use a snowblower.
Snowblowers cannot be used on small amounts of snow. Check the minimum depth of snow required to use a snowblower to see if it makes sense for you to own the equipment.
The further south you go, the less likely you are to need a snowblower. The following southern states rarely get more than a couple of inches of snow at a time, and you will be wasting money if you buy a snowblower:
Tennessee
North Carolina
South Carolina
Georgia
Alabama
In the South, a leaf blower might be all you need to effectively remove lightweight snow during the infrequent snowfalls.
If you do live in a state with heavy snowfall, it's crucial to know when's the best time to use a snowblower and how to do so effectively. If you know a snowstorm is on its way, make sure you clear any debris from your driveway and lawn, which could get sucked up into your snowblower and a blockage or damage to the motor.
Best Ways to Use a Snowblower
Your yard and driveway need to be adequately prepped in order to safely use a snowblower.
Rocks, dog ties, garden hoses, and old newspapers should be moved out of the way, as these commonly cause clogs in snowblower augers.
If snow is falling thick and fast, do not wait for it to stop snowing to start up your snowblower. While it may be tempting to wait until the snow stops, dense layers of snow are much harder to clear, and your snowblower won't be able to throw the snow far when snow layers are thick.
It is essential that you take it slowly and do not rush to clear your driveway or lawn. Taking in small amounts of snow is the best way to break up heavy coverings. Taking it slow will guarantee you do not wear out your snowblower's drive belts or cause a blockage in your discharge chute.
Clearing blocked discharge chutes is the leading cause of snowblower related injuries, so make sure you take care if you must clear a blockage.
You should also make sure you adjust the discharge chute to make sure snow is moved off your property and not just across your lawn. Nobody wants to have to clear the same snow twice, so ensure your discharge chute is positioned in the same direction as the wind and at an upward angle.
Snowblowers will require maintenance and possibly trouble-shooting when you use them each winter. Be sure that you are willing and able to deal with the upkeep of snowblowers, including:
Are Snow Blowers Worth the Money?
Overall, a snowblower is a handy piece of equipment for clearing a lot of snow at once. While you might be tempted to pick up a snowblower for a few inches, you can avoid spending hundreds of dollars by using some rock salt and a shovel instead.
However, some people cannot physically remove snow because of health problems or mobility issues. If you would injure yourself by shoveling snow, then a snowblower can prevent injuries and might be the best solution for you, if you receive enough snowfall to use one.
If your area typically receives a heavy snowfall once or twice a year, the investment into snow-removal machines might not make sense for you. In that case, it can be more economical to hire someone to clear snow from your property or learn how to remove snow without a shovel.
If you live in a state with moderate amounts of snow, like Idaho or New Jersey, consider using a single-stage or battery-powered snowblower, as these will clear light, fluffy snow easily and can be bought for under $200.
Snowblowers are definitely worth the money if you live in a region which experiences 40 inches of snow or more each year. It will make property maintenance easier and will save you a lot of time during the winter.