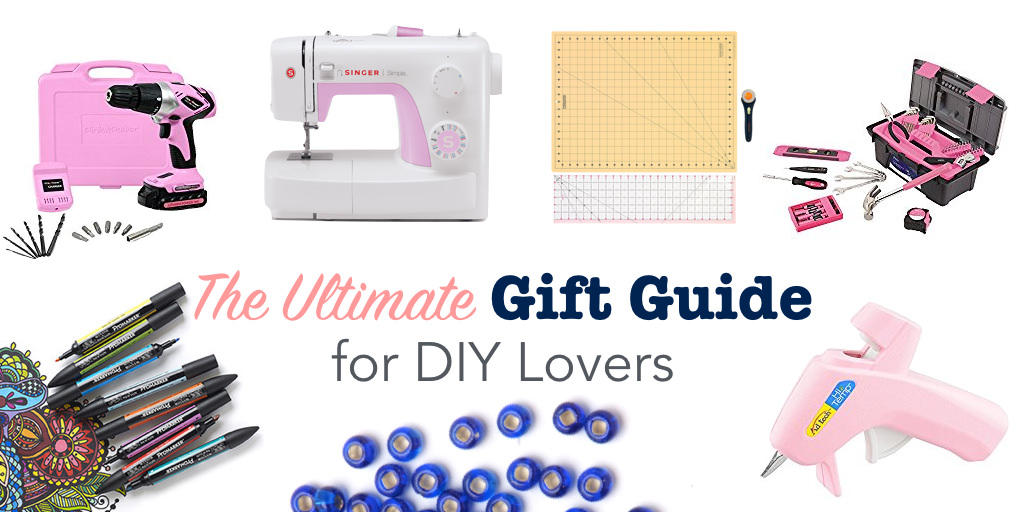 DIY-lovers can be easy to shop for, because there's always going to be some tool or supply they would love to have. But if you're not into DIY yourself, how do you know what to get?
Here's a list of some of my favorite things, in a range of prices, to help you out.
THE ULTIMATE GIFT GUIDE FOR DIY LOVERS
Stocking Stuffers / Low Priced Gifts
One of my most used tools is my glue gun. Every crafter needs one. You can pick one up for a just a few dollars, and make your DIY-lover's day.
These things are so handy, I have a multi-screwdriver in my garage, and in my car. My favorite feature is the ratcheting handle, which makes it quick and easy to turn screws.

Knitters always need yarn. Beaders always want new beads, charms, clasps, or tools. Pick their favorite craft, and pick up a few tools or supplies.
Perfect for creating projects, or writing gift tags to go with a project, I never seem to have enough colored pens and pencils on hand. These make a great inexpensive gift.
Add a little pizzazz to any project with fun and inexpensive edging scissors. They come in all shapes.
Under the Tree / Mid-Range Gifts
My rotary cutting kit is one of the most frequently used crafting tools I own. The self-healing mat, acrylic ruler, and rotary cutter get used for home decor, sewing projects, and more. (I used mine to make these super simple throw pillow covers.)
A DIY-lover with a lot of supplies will need a place to store them. I keep all my tools and supplies organized in plastic bins and a rolling cart.
A miter box lets you cut angles easily. You can DIY pictures frames, make a frame for the bathroom mirror, or whatever else you can think of.


If there's anything a DIYer loves, it's sources of inspiration. A craft book or subscription to a DIY-type magazine is sure to be a popular gift.
Something Special / High-End Gifts
After my glue gun, my sewing machine is the DIY tool I use the most. These come in all ranges of price and capabilities. For a basic DIYer, be sure to get one that can do zigzag stitches and button holes. Everything else is bonus.

I started my DIY adventures with just a small toolbox and few tools. Now I have extensive storage in my garage to keep all my tools organized. But I still have that original toolbox. I carry it in my car, because you never know when I project might pop-up. I also have a toolbox in my bedroom. A DIY lover will always be happy to get more tools.

A cordless drill was the first power tool that I bought for myself. (My other power tools were hand-me-downs.) This gift will get a lot of use.

The circular saw is the perfect starter power tool. You can make almost any basic project with one of these.
This one might not be so intuitive, but someone who loves making things will also love showing off their work. A camera for taking pictures of their creations will be a thoughtful surprise.
The Perfect Gift
When you find the perfect gift for someone, you get just as excited to give it as they are to receive it. I hope this list helps you find exactly what you're looking for.
Share your own ideas (or wish list) in the comments!