Word art and signs are everywhere these days. They've become extremely popular decor, because it's an easy way to convey a feeling or a message in a space.
This is a fun trend, but I'm always a fan of making artwork personal. This project is a great way to combine the word art trend with a personal touch.
MAKE CUSTOM WORD ART FROM YOUR OWN PHOTOS
MATERIALS
Camera
Prints of your photos
Look for Letters in Your Surroundings
When you start thinking of word art, start consciously looking around you. You may be surprised that you'll start seeing letters everywhere.
There's the obvious "Y" in a tree, but what else do you see? I spotted a "D" in a mailbox, a "P" in a decorative scroll.
Make it a game. When you see a hidden letter, snap a picture. You can create a collection of all sorts of letters. Or, you can look for the shapes to spell out one word in particular.
I was on the hunt to spell the word JOY with photos.
After I found the easy "Y," I spotted a "J" in a park bench. (Can you see it?)
It took a while to find the right object for the "O." Then, while walking around the botanical gardens in Atlanta, I spotted these options:
On their own, none of these photos are particularly interesting. It takes a little vision to create photo word art.
Turn Snapshots into Intentional Images
Once you have the letters you need, start with cropping. Change the orientation of the photo as needed, and zoom in on your letter. Adjust the cropping of each photo so that the letters are all about the same size.
Then, adjust the color. I printed my letter photos all in black and white. This makes them all uniform. Your eyes are drawn to the shapes in the photos, rather than the colors.
Sepia tone is also a pretty option. I've used this for photos of lighthouses I've visited, which hang in my living room. By making them all sepia toned, they look like a collection, rather than random snapshots.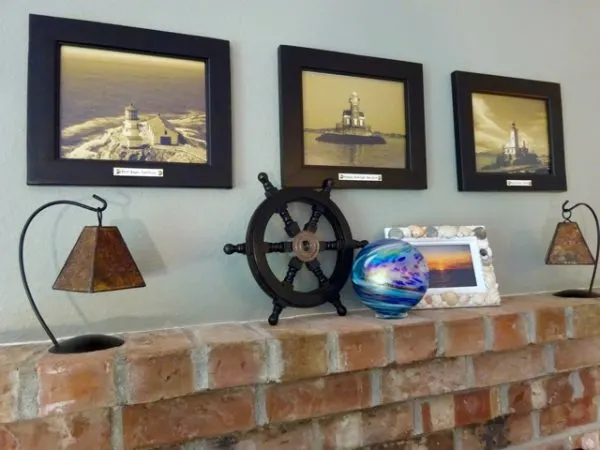 Assemble Your Photo Word Art
Finally, frame your photo letters. By combining all of the photos into a single frame, your eyes see it all as a unit, and your brain makes the connection to create the word.

Imagine if I had put each picture into a separate frame. It would likely take a lot more time for people to realize that the photos created a word. Some people might even wonder why I had such strange photos on my wall.
Personalize Your Artwork
My finished word art hangs on the wall behind my dining table. When people are gathered around the table, you can't miss it.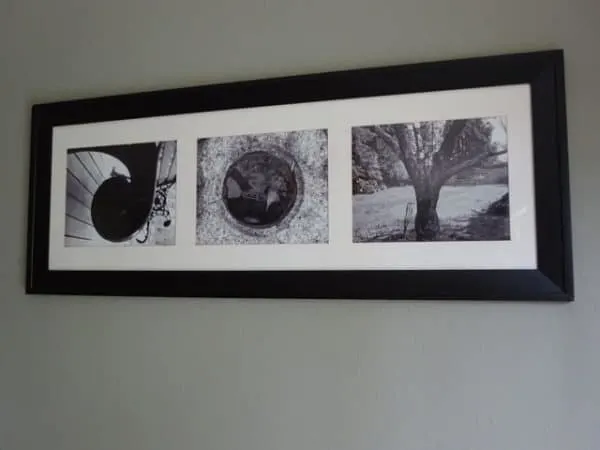 Not only does it convey a message that I love, each picture has a meaning to me. They're places I've been, and things that I've seen. And the whole thing is something I've created. Now that's my kind of art.