In this post: Improve the look and function of your garage with these garage update ideas and organization tips.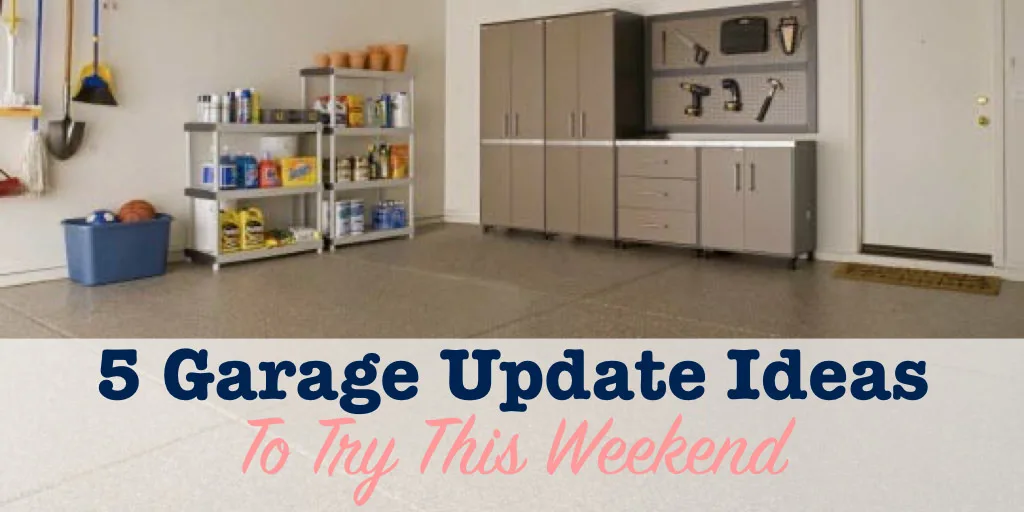 This is a guest post from the folks at Northwest Concrete Resurfacing. They came by to share some great tips with us about how to improve the look and function of your garage. I've also added a few comments of my own in italics. Enjoy!
FIVE GARAGE UPDATE IDEAS TO TRY THIS WEEKEND
Your garage doesn't have to look drab and cluttered. There are a number of things you can do to refurbish it and make it look a lot more dapper. So bring out your tools and get your creativity going. Spruce up it up with these garage update ideas and organization tips.
1. Do some painting
Breathe life into your garage and have fun playing with different color schemes. You can repaint the walls or add colorful accents for a touch of vibrancy. Find inspiration in nature with earthy tones or the different hues of a sunset. If you want to add color without overdoing it, muted tones like pastels or neutrals are the way to go.
NOTE: I painted the walls in my garage a simple white. The space feels so much cleaner and brighter, just from a single coat of paint. It makes me want to keep it more organized. It also feels more inviting when I want to work on a project in my garage.
Since my garage walls were bare sheetrock, I painted them with white primer, and didn't bother with a top coat.
2. Give the floor a makeover
Why bother updating the floor of the garage?
Well, your garage floor should look as good as it is sturdy. Applying an epoxy floor coating is your best option for this. Not only does it improve the durability of your garage floor, it makes it look a whole lot better with its visible gleam.
Epoxy coating also comes with a variety of colors to choose from for that look of function and unmistakable appeal.
3. Add some garage door accents
Installing decorative hardware on your garage door is a quick and easy way to give it some pizazz. There are garage door hardware kits with different design options to suit your taste. Opt for eye-catching elements that will complement the overall style of your garage. Decorative garage door hardware can be small additions that will make a big impact.
NOTE: I wish I lived in a house that would look good with those faux carriage house doors. I love that look so much, but my house is just too modern. It would look silly. Be sure to choose accents that work with the style of your house, but this is a great way to instantly boost curb appeal!
4. Get organized
One of the main reasons why garages can turn into massive piles of stuff, with no room for the car, is the lack of organization tools. Keep the clutter at bay by implementing some storage systems.
Organizers like pegboards and slat walls are creative and space-saving ways to keep items in their proper place. By giving your tools their own designated areas, your garage will look tidy and pleasant in no time.
NOTE: Be sure to check out our popular post on How to Organize a Garage that you Actually Use for some of my favorite storage ideas and organization tips.
5. Make a mudroom
Carve out a little space in your garage and turn it into a garage mudroom. This is an innovative way to spruce things up, and make the most use of your space.
Install mudroom lockers, and customize the space with decorative pieces for style and functionality. Other mudroom essentials you might add include a bench, an umbrella stand, and a coat hanger.
NOTE: I carved out a small space just as you enter the house from the garage. It has a spot to hang coats, store shoes, and keep my work bag and keys handy for going out the door.
Be sure to also check out this post for more storage solutions and organization tips.