Our first bed in a box was bought years ago, long before anyone thought it was a great idea to buy a bed that was delivered to your house in a box. We ended up loving this mattress and still do. Although we've bought many more since then!
If you are buying a mattress online, there are several important things to consider before hitting the purchase button. While a bed in a box is convenient, there are a lot of drawbacks that you need to be prepared for. The inexpensive price might not always be worth the convenience of online ordering.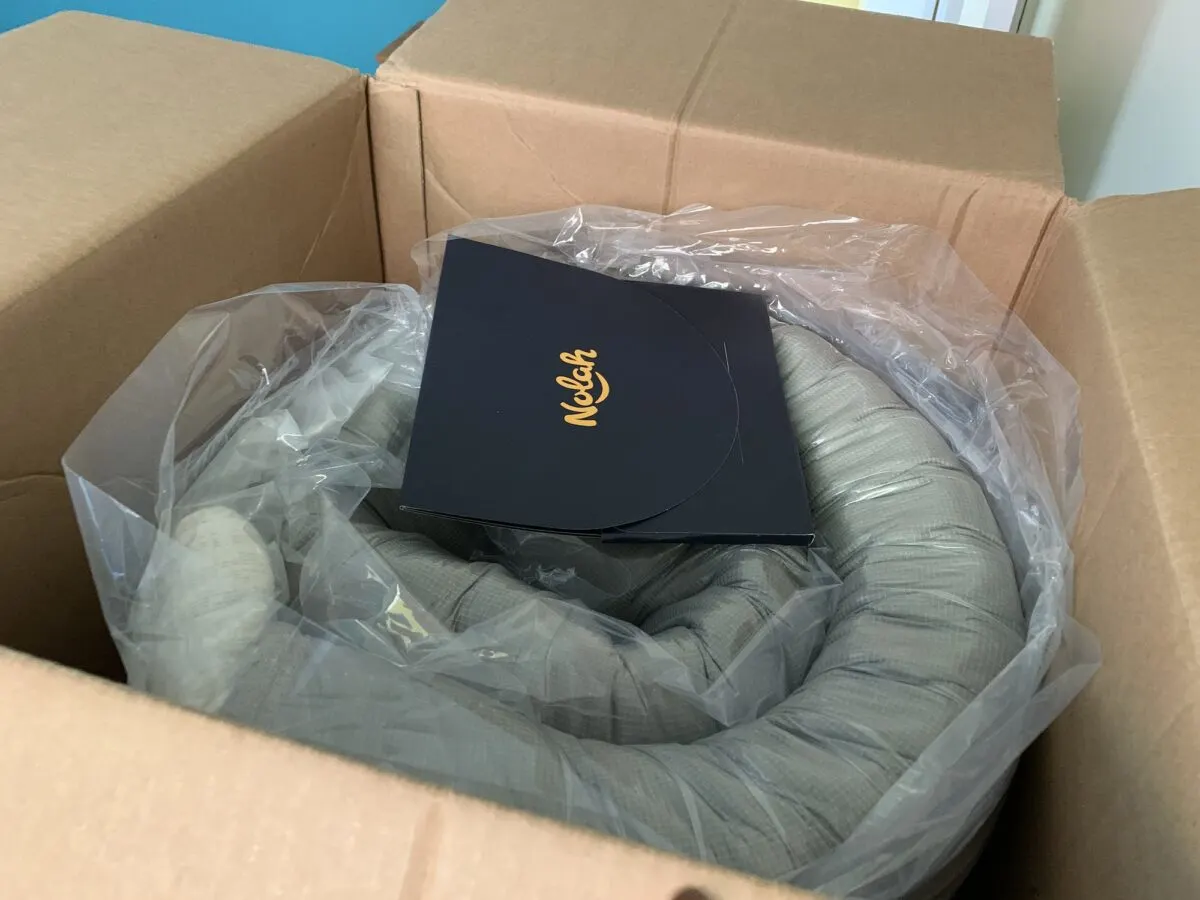 We have ordered several different types of beds in a box from many different companies. We have definitely learned some lessons along the way. Here's what you must know before buying a mattress online.
These tips are especially important if you live by yourself or are not physically able to lift heavy objects.
Bed in a Box Reviews:
I have ordered a bed in a box from many different companies as we've moved many times in a few short years.
Here are our Bed in a Box Reviews:
Plus we've ordered a mattress topper from: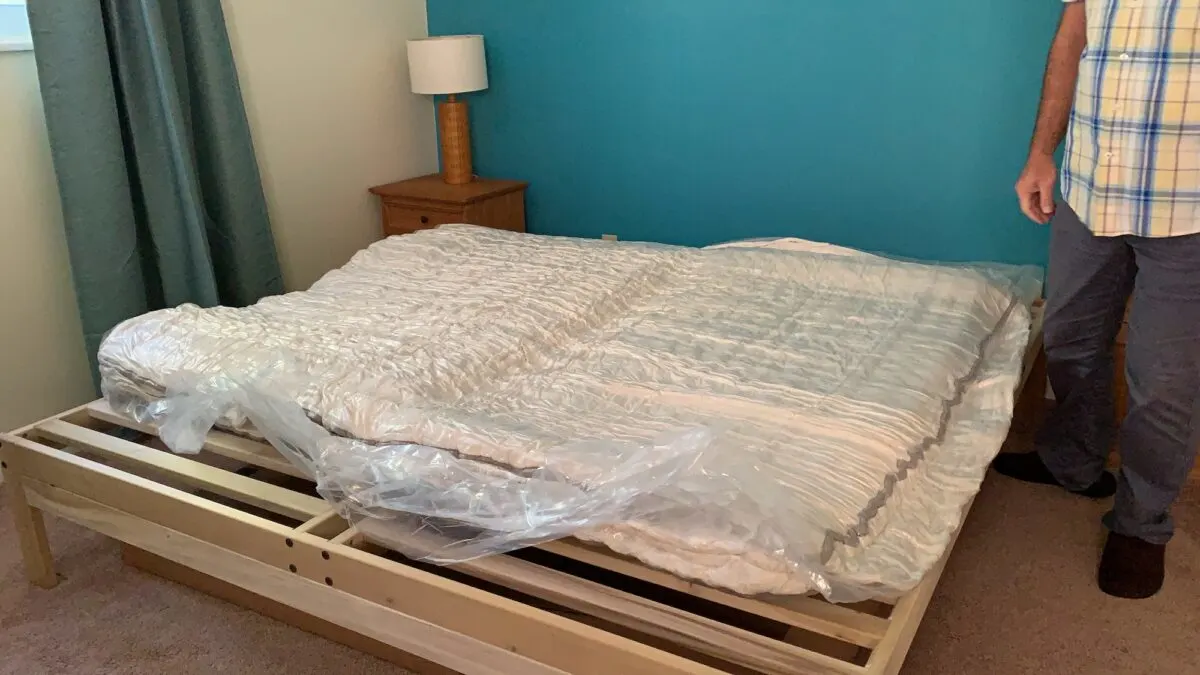 While you can find tons of "reviews" online for beds in a box, be careful where you're getting your information from. Selling mattresses is a big, profitable business (even for the bed in a box companies online).
A lot of reviews will just tell you specifications, but not a lot of real life experience having the bed in a box shipped, laying on it, and returning a bed in a box.
Free Shipping
The promise of free shipping for a bed in a box is one of the reasons why they are so popular. No one wants to pay extra for shipping and delivery, which is often the case when buying a mattress in a mattress store or furniture store.
However, that free shipping does come with some problems.
Free Shipping Only to Your Property
When you hear "free shipping," you immediately assume it's at least free shipping of the bed to your door. You might be wrong.
Most bed in a box mattress companies use either a major shipping company (such as FedEx) or freight delivery to bring the bed to your home, apartment or condo.
Here's the thing: Those companies don't necessarily have to deliver to your front door. All they have to do is deliver it to your property. Which could mean the front of your yard, a garage, the beginning of your land, etc.
How do I know this? Because I've had problems with three different bed in a box companies delivering my beds, and I've had to investigate to see what the rules were in having a mattress delivered.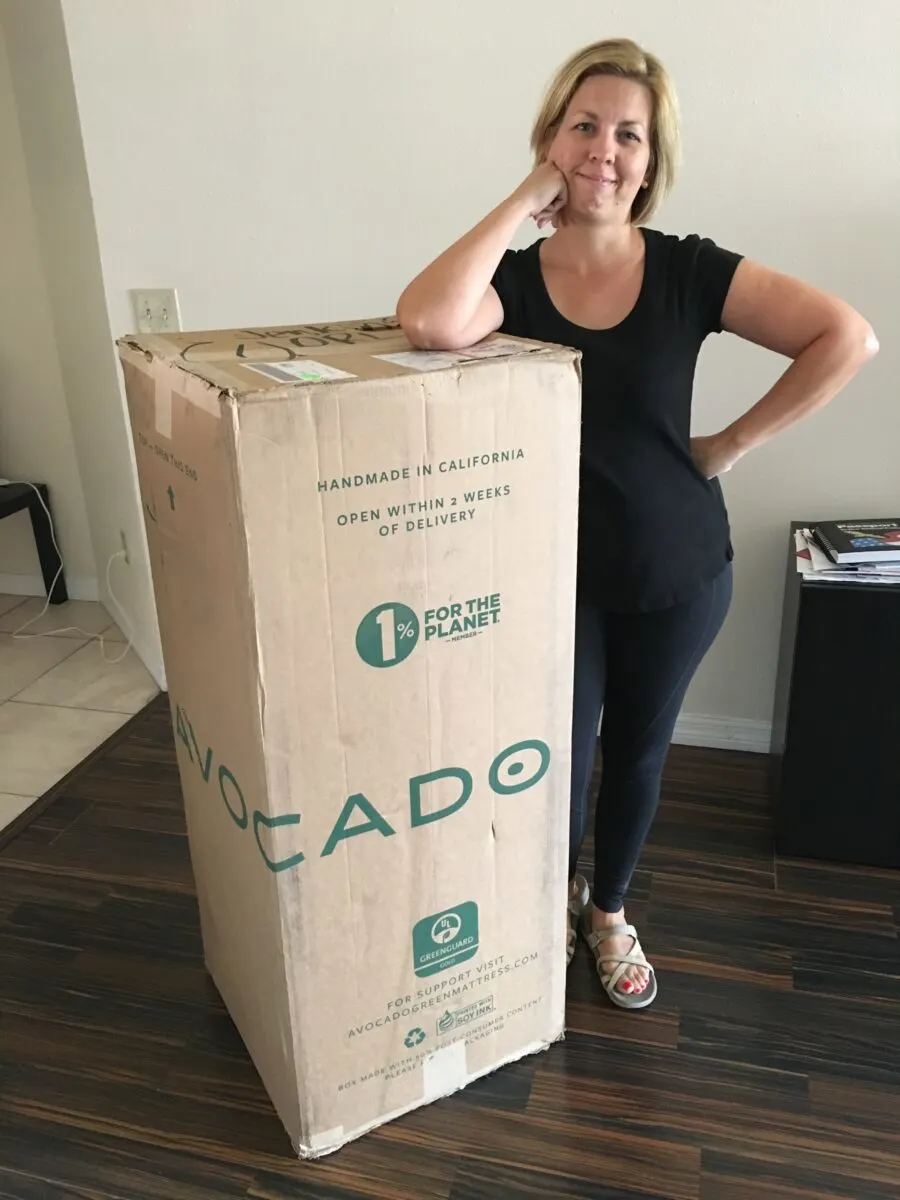 I've had one freight company bring a king-size mattress. The delivery guy complained that there was two steps leading from the sidewalk to the walkway to my house. He didn't want to bring it to my porch.
Another freight delivery company left the Avocado mattress box at the base of the steps leading to my second floor condo. The delivery guy actually said it "was too hard" to deliver the 80-lb bed up the stairs.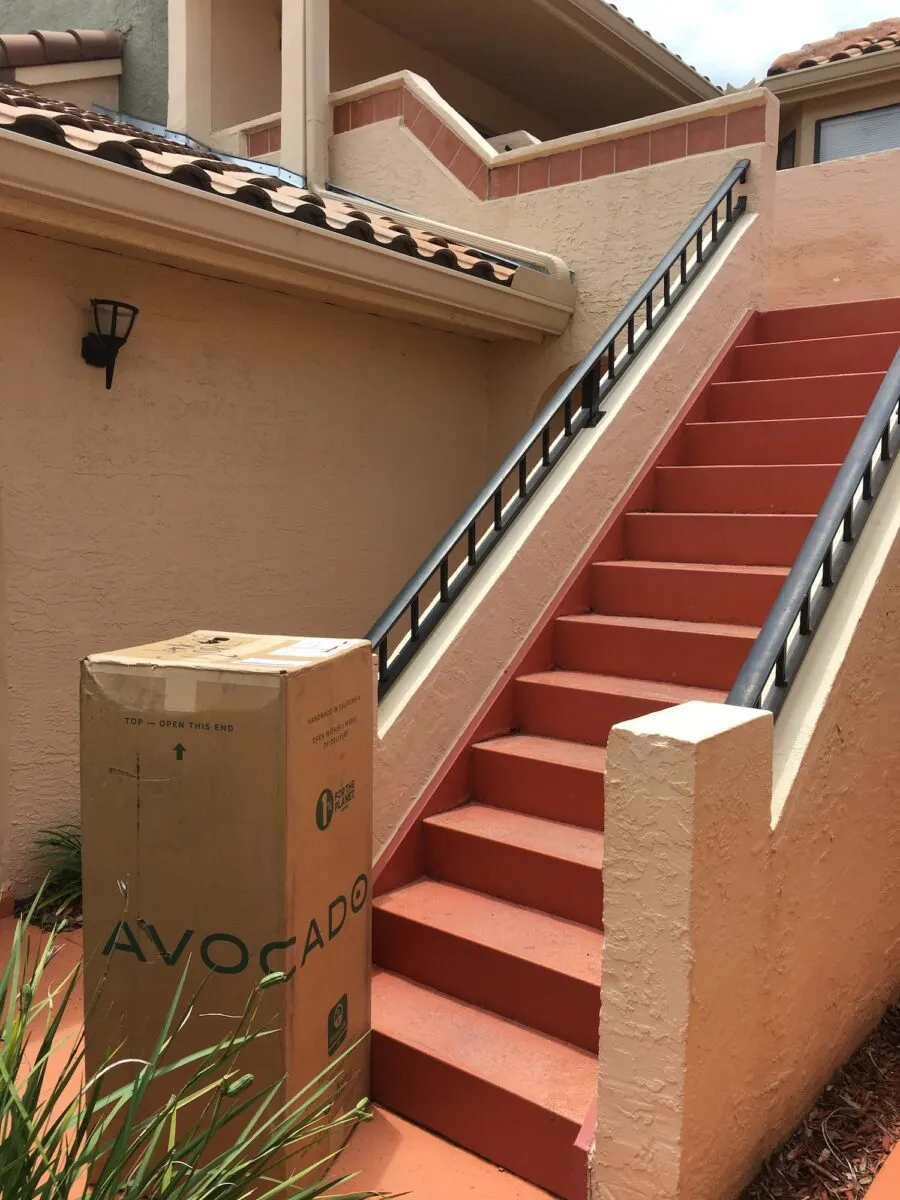 Hey, I get that. These boxes are heavy. But how am I supposed to get it upstairs if I don't have the equipment that the delivery guy does?
And then FedEx delivered a 113-lb Dreamcloud mattress and just left it propped up against our garage downstairs.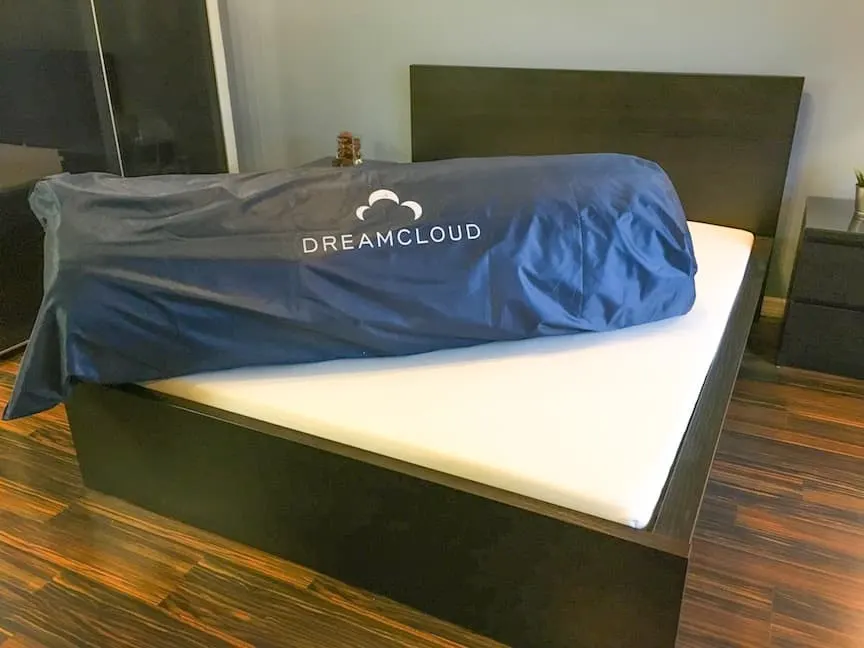 After being suitably pissed about the bed not being brought to my house, I contacted FedEx. They insisted that there was no special policy for delivering beds in a box or any weight limits on delivery to the door.
What FedEx did say repeatedly is that any delivery does not have to be left at your door, only on your property. And that they don't have to leave you a notice that it has been left.
So while your delivery guy might be nice and bring it to your door or upstairs, don't count on it, either.
But if you have no second floor or stairs issues, a bed in a box could be great for you.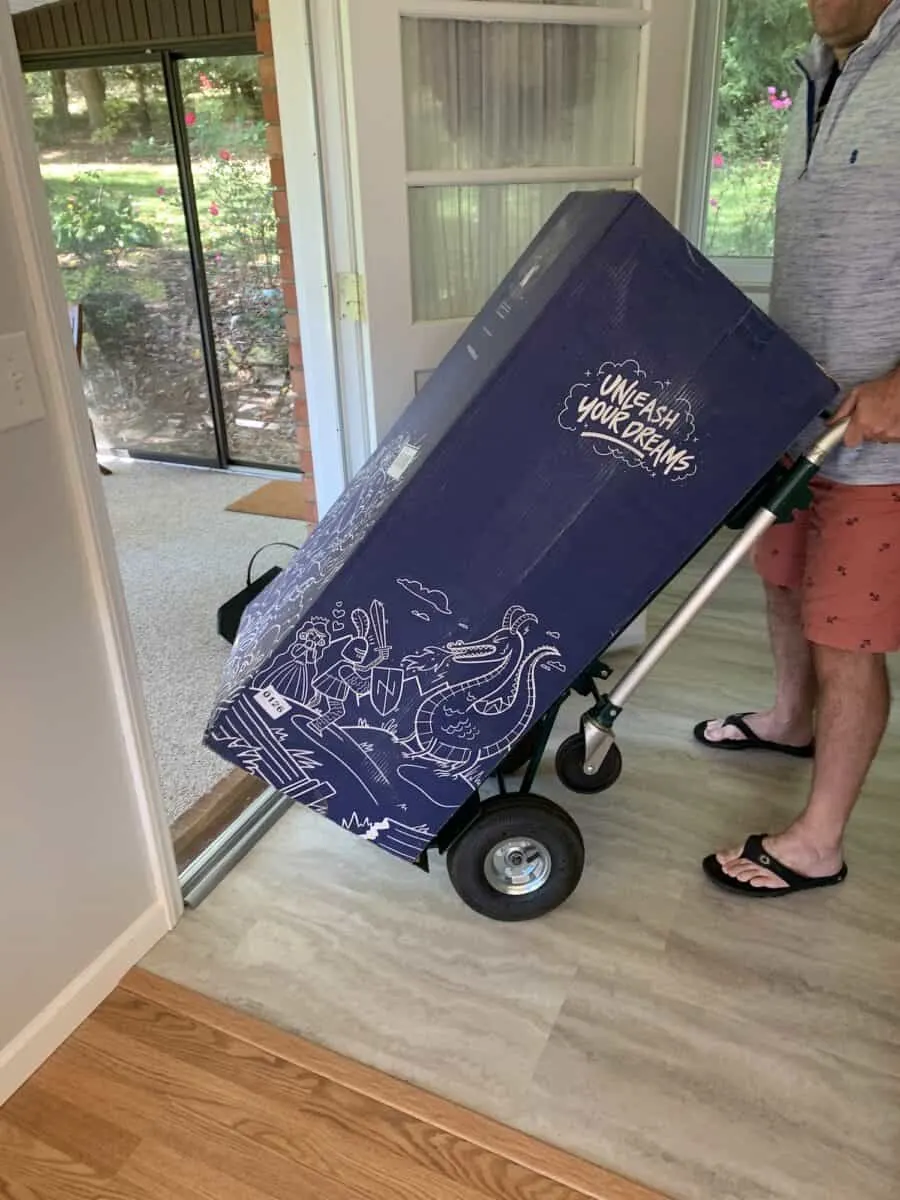 Related Posts:
Unknown Delivery Times
Some bed in a box companies, such as SleepOnLatex, give you very specific times of when to expect your bed. When I ordered my second bed from SleepOnLatex, it said it would ship within 24 hours (unless a King size) and it did.
The DreamCloud mattress that we ordered stated it would be shipped before a certain date. It turns out that it shipped two weeks early. Which was great, except we weren't both home to open it up and it took us by surprise that it was delivered.
My Avocado Green Mattress stated a 3-4 week delivery time frame. It ended up taking a month to deliver.
If you are always home every day and really don't need a bed by a certain time frame, then you might not mind these unknown delivery times.
But, it might be a serious problem if:
No one is home to accept the delivery
You have a vacation planned
You travel a lot
After moving, you really need a mattress right away
You are ordering a mattress for guests coming into town soon
If you want to specify delivery times of a bed in a box because of travels or work, then see the White Glove Delivery option below.
Pay More for White Glove Delivery
Most bed in a box mattress companies do offer an uncharge delivery service.
Usually called White Glove Delivery service, this option is something that you pay for.
It can cost $100-$200 or more.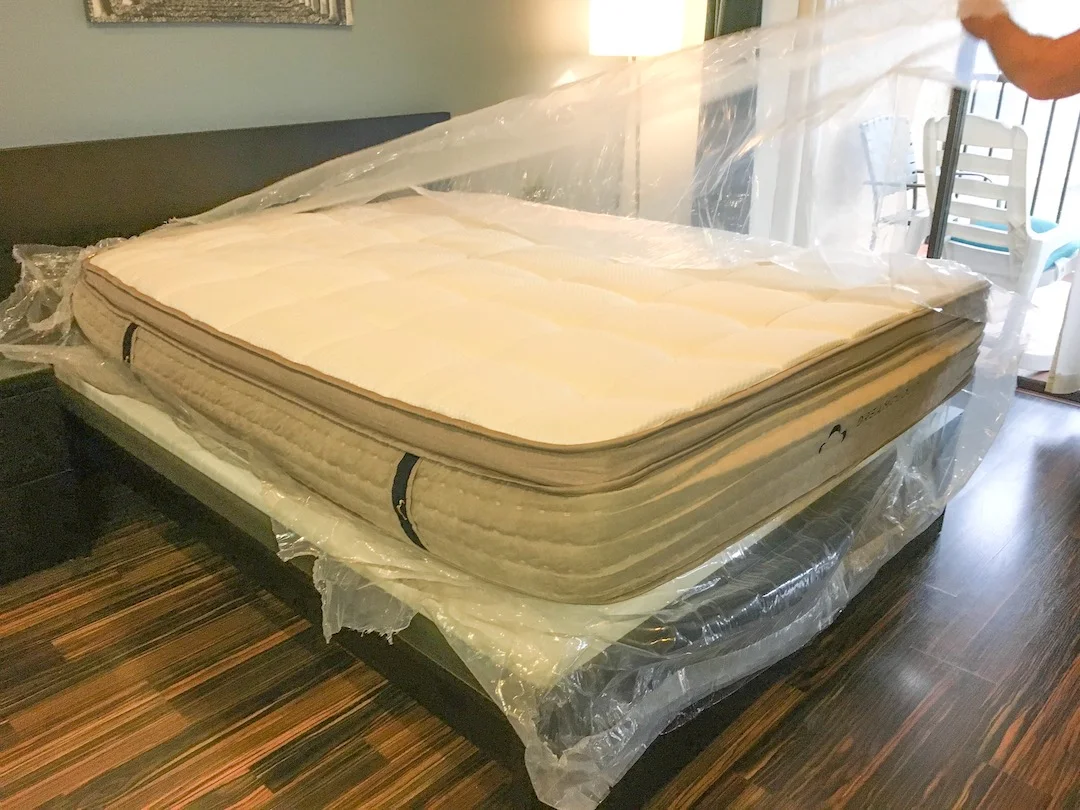 While you do need to pay for it, it can be worth it to be able to schedule the exact date and general time you receive your mattress.
Also, the delivery people will bring it into your home and set up the mattress, while also removing any old mattresses you might have.
Freebies Have to Be Returned
When buying a bed in a box online, you might be offered a discount code for free sheets, free pillows, free bedding, etc.
These freebies can definitely sweeten the deal when you are thinking of buying a bed in a box online.
And they can be a great deal for free bedding accessories.
But if you end up returning the bed for any reason, you will have to return (or pay for) the freebies that you received.
So keep that in mind.
Don't open the pillows, sheets or other free bedding until you are sure you are definitely keeping the bed and not returning it.
You cannot return the freebie items opened and get credit for them, in most cases.
When we returned our Avocado Green Mattress, we had to return the two free pillows that I had received with a discount promo code, too. I did not realize this before opening one of the pillows.
Thank God the answer to returning the Avocado Green Mattress was to donate it (and the freebies) to charity. So by donating the pillows, too, I could be reimbursed for them. But if I had to return them to the company, with one being open, I would have had to pay $75 for one pillow.
So, if there is a choice between a discount code for money off a bed in a box or freebie products, choose the money off.
Prices Always Change
Just like in furniture stores, the prices of a bed in a box can also change with sales and holiday sales. In fact, around Memorial Day, July Fourth, and Black Friday, the prices of beds in a box can be among the lowest that they are.
But maybe not so cheap that it should keep you from buying a bed when you actually need it, rather than waiting on a sale.
There are often discount codes for beds in a box on their sites all of the time.
You never know when a bed in a box mattress will change. You just got to get the bed when you want a good night's sleep tonight.
Returns Might Not Be Easy
Most bed in a box companies offer money back guarantees if you return within a certain time frame. Nectar and DreamCloud offer the most generous return times, with 365 nights to return their mattress.
Other mattress companies offer anywhere from 30 – 120 nights to get your money back if you don't like it.
We have had to return two mattresses. Each has been different.
Avocado asked that we donate the mattress, get a non-profit donation receipt, and could then get reimbursed. See more about returning an Avocado Green Mattress in this YouTube video:
Another mattress (Dreamcloud) sent 1-800-Got-Junk to the house to pick up the mattress from our home and do something with it. I'm not sure what.
I've seen some mattress companies require the mattress to be boxed back up and sent back to the company. That would be crazy and particularly difficult to do since the mattresses are heavy and hard to fold.